During these past few days, the cryptocurrency market went through quite a lot. The crypto market capitalization surpassed the $2 trillion milestone once again. This growth was considered an indicator by many, speculating that another bull run is about to commence.
However, on the 7th of September, a huge dip occurred, leaving two of the leading cryptocurrencies, Bitcoin and Ethereum, with an 18% decrease. To be exact, more than $350 billion left the crypto market in a matter of minutes, impacting nearly every major cryptocurrency.
Unlike Bitcoin and Ethereum, some cryptocurrencies did not experience that huge of a dip. On the contrary, there were some that continued their uptrend. One of them is Solana, a cryptocurrency that has experienced nothing but gains throughout the last 30 days. This crypto project has had quite the run this year, but the few past weeks have been extremely fruitful for its price.
So, what is Solana and why is it experiencing such growth? Throughout this article, we will do our best to explain what this crypto project is and what it aims to accomplish.
Solana (SOL) Fundamentals
To begin with, let us touch upon the background of this crypto project. It was founded by Anatoly Yakovenko, a former engineer, with the help of Raj Gokal and some other former engineers in 2017; however, it did not touch beta mainnet until early-2020. Because it was launched in 2020, Solana is a third-generation cryptocurrency, similar to Cardano and Tezos. As mentioned before, Solana is on beta mainnet, meaning that it is still being developed. That being said, Solana is still on its early stages and may experience more issues compared to fully launched crypto projects. Although Solana is quite young, it is one of the biggest contributors to the DeFi ecosystem, providing way more than the majority of the top cryptocurrencies.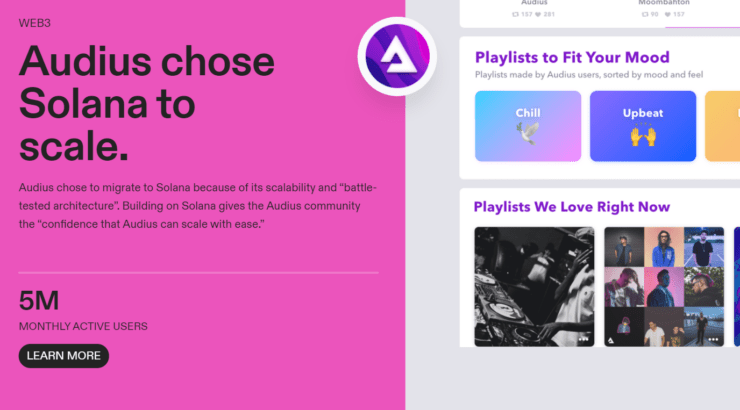 Solana is an open-source blockchain-powered project that provides a platform for decentralized apps to be developed, tested, and launched. To secure its network and validate transactions, Solana uses a Proof-of-Stake (PoS) mechanism where people who stake Solana act as validators. Unlike Proof-of-Work (PoW) networks, PoS networks are more environmentally friendly and do not consume large amounts of electricity. Even though the validators on the Solana PoS network still require electricity to operate, the amount of power they use is way lower than PoW networks such as Bitcoin or Ethereum miners.
Despite being a Proof-of-Stake network, Solana also uses something known as Proof-of-History (PoH). Through this technology, Solana aims to improve the efficiency of time-stamping transactions on its network. Because of these innovations, Solana is known as one of the Ethereum killers, along with Cardano and Polkadot.
Why Is Solana Considered An Ethereum Killer?
Offering a great platform for the development of all kinds of DApps, supporting smart contracts, and having cheap and quick transactions, Solana really does challenge Ethereum. While Ethereum can only do 25 transactions per second, Solana claims to be able to process more than 50,000 transactions per second – just look at the difference.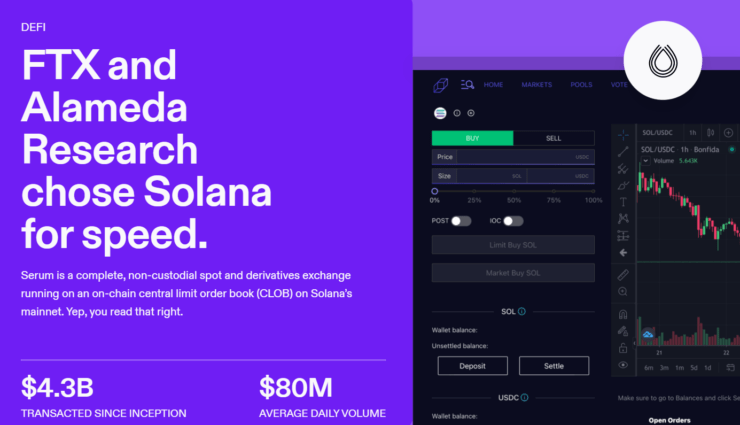 Moreover, the gas fees of Ethereum increase to astronomical highs quite frequently, making the process of moving your ETH extremely expensive. Ethereum claimed that the gas fees will decrease drastically when the London hard fork goes live – and so they did. However, the gas fees blew up once again with the NFT craze that has been going on for quite a while now. On the contrary, Solana has extremely low fees, with transactions costing around 0.000005 SOL. At the time of writing, that means that the transaction fees on the Solana network cost around $0.001.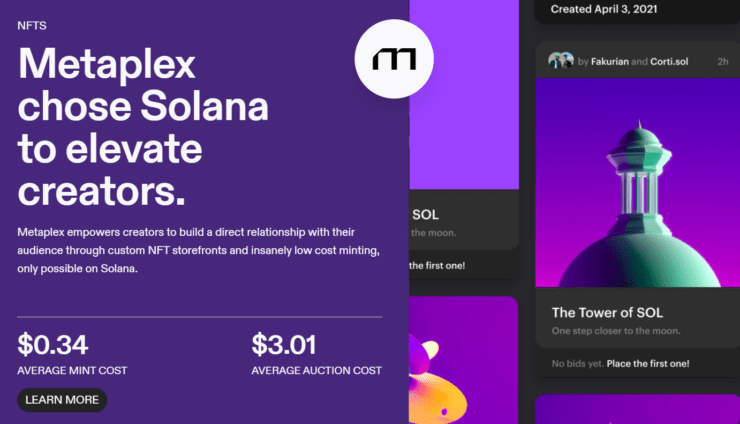 Issues With Solana
But, nothing is perfect, not even Solana. There are some issues with Solana despite its great infrastructure and technology. Since it is still in the beta stage, Solana has yet to improve its validator distribution system. To host a Solana validator, you must have a very powerful computer (Validator Requirements). This pushes people away from hosting such validators, which makes the Solana network less decentralized. Moreover, the fewer validators there are on a network, the more overwhelmed are the validators securing the network.
The period of intermittent performance degradation lasted approximately 62 minutes.

— Solana Status (@SolanaStatus) September 2, 2021
This causes frequent problems in the Solana network, making it suffer intermittent instability from time to time. However, these issues tend to last no longer than 2-3 hours.
Solana (SOL) 2022 Price Prediction
Solana has been skyrocketing lately, hitting the price of $200 at the beginning of September. Even after the whole market experienced a big fall on the 7th of September, Solana is one of the few cryptocurrencies that quickly recovered and is still standing strong.
LongForecast
A prediction regarding Solana was made by LongForecast. Their prediction shows that 2021 might be extremely fruitful for Solana, with this coin potentially hitting a monthly high of $540 sometime in 2021. If this prediction is correct, Solana may experience an increase of 367% on its value. By the end of 2021, LongForecast claims that Solana may reach a high of $753.
Crypto Academy
Crypto Academy, also a site with reliable predictions believes that Solana will be bullish in the remaining months of 2021. According to their forecast, Solana in 2021 could reach $500 but it is possible that if there will be another bullish run in December 2021 Solana could reach the price of 1000 based on the forecasts of Crypto Academy.
Nathan Sloan
Nathan Sloan, a big cryptocurrency Youtuber, made a video about the future of Solana some days ago. In this video, Sloan uses the 'Stock/Flow' method of analyzing the overall chart of Bitcoin. Later on, he does the same with the chart of Solana; and, according to his analysis, Solana is likely to pull off a 3x-5x during the next six months, possibly reaching a price between $420-$700.
Solana (SOL) Long-Term Price Prediction
As for the long term, only superior crypto projects will likely continue to grow and survive the challenges posed by the market, and Solana without any doubt is one of the most prominent crypto projects.
DigitalCoinPrice
The long-term forecast of DigitalCoinPrice is quite realistic, considering all of the factors that affect the price of a cryptocurrency. They claim that the $500 milestone is likely to be surpassed in the year 2024, during which SOL is expected to have a high of $547. Moreover, they predict that Solana might be trading at a price above $918 by December 2028.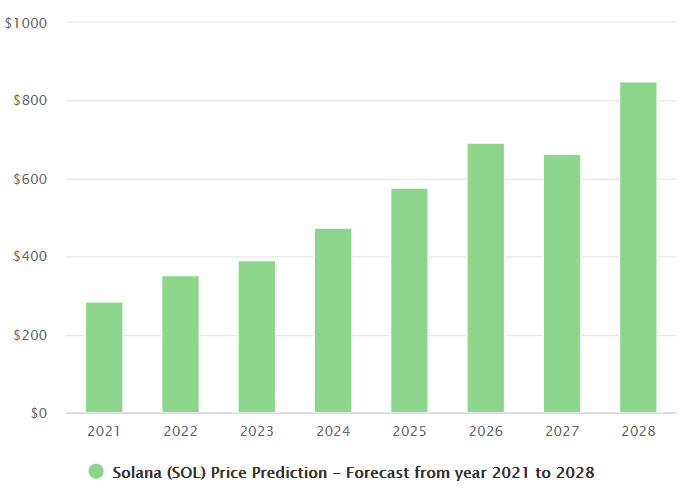 GovCapital
As claimed by GovCapital, Solana might have quite some positive years ahead. For the year 2022, GovCapital predicts that SOL may have a high of $426 and a low of $234. Moving on, the year 2023 might be the year when Solana surpasses its $500 milestone by reaching a trading value of $637. To wrap it up, GovCapital's forecast shows SOL sitting at a price between $1737-$1998 exactly after five years.
InvestAnswers
Another big Youtuber that has covered the future of Solana is InvestAnswers. On one of his videos regarding SOL, he showed some projections of the future price of Solana. According to his forecast, Solana might hit a trading value of $1,200 by the end of 2026 and $3,100 by the end of 2030 if the market is bullish. However, on a bearish note, Solana is may be trading at $800 per token by the end of 2026 and $2,200 by the end of 2030.
Will Solana Surpass Ethereum?
So, will Solana be able to surpass Ethereum? Well, we are not sure. Ethereum has been in the market for quite a long time, while Solana is still young. Even though Solana is way more efficient than Ethereum at the moment, Ethereum has built up a huge reputation throughout the years, being the second-biggest cryptocurrency for many years. Moreover, Ethereum is set to launch Ethereum 2.0, transferring to a Proof-of-Stake network and making Ethereum way faster. This means that Ethereum is here to stay.
Nevertheless, after some positive weeks, Solana became part of the ten biggest cryptocurrencies regarding market capitalization. At the time of writing, Solana holds the sixth spot in CoinMarketCap, with Ripple and Dogecoin as its runner-ups.
That being said, Solana is likely to catch up to Ethereum at some point in time. If Solana improves its ecosystem faster than Ethereum, it might even surpass its market capitalization sometime soon.
Frequently Asked Questions (FAQ)
Why is Solana Increasing?
Its infrastructure is the main reason for the huge growth that Solana experienced throughout the past few weeks. As people get more interested in Decentralized Finance (DeFi), Non-Fungible Tokens (NFTs), and Web3, the more the extremely efficient eco-system of Solana grows. Because it is outperforming its competitors, Solana's price is skyrocketing.
Is Solana Better Than Ethereum?
Yes and no… it depends on how you look at it. Solana is way more scalable than Ethereum, having lower fees and faster transaction times. However, it is still on beta mainnet, meaning that it is still under development. This makes it quite unstable at times. However, we must note that Solana is way faster, cheaper, and more scalable than Ethereum.
Is Solana Decentralized?
Yes, Solana is a decentralized blockchain network. It was built to enable scalable decentralized applications (DApps) for the world. Moreover, it claims to be the fastest-growing blockchain ecosystem in the world, having more than 400 projects being built on its ecosystem. Solana also claims to be the fastest blockchain in the world, being able to support more than 50,000 transactions per second.
Broker
Benefits
Min Deposit
Score
Visit Broker