Invest at least $250 in D2T to gain lifetime access to our VIP Signals
Get early access to Dash 2 Trade's Presale. Buy the D2T token now
Existing community of 70,000+ traders
Unlocks access to the leading crypto trading analysis, signals and trading tools
As featured in CryptoNews.com, FXEmpire.com, FXStreet.com and more
World class development team backed by Quant developers and VC investors
Binance initially introduced this cryptocurrency, as an ERC-20 coin built on the Ethereum Network. For those unaware, utility token BNB is the native crypto-coin of the Binance Chain and drives the Binance ecosystem.
The primary uses of this digital currency include reduced trading fees, creating smart contracts, paying for travel expenses, gifts, and investing in assets. There is plenty of upside potential with this digital currency.
Are you keen to learn how to buy Binance Coin online? We cover everything in this guide.
Starting with the most reliable platforms to facilitate your Binance Coin purchases, we also talk about the fundamentals. This includes how and where to buy this speculative asset, and some tried and tested strategies.
eToro - Buy and Invest in Assets

Minimum deposit of just 250 USD to get lifetime access to all the VIP channels
Buy over 2,400 stocks at 0% commission
Trade thousands of CFDs
Deposit funds with a debit/credit card, Paypal, or bank transfer
Perfect for newbie traders and heavily regulated

67% of retail investor accounts lose money when trading CFDs with this provider.
Table of Content
How to Buy Binance Coin in 10 Minutes – Quickfire Guide
Don't have time to read a full guide right now? Follow the quickfire guide below to buy Binance Coin in 10 minutes. Crucially, via a regulated brokerage.
Step 1: Sign up with a licensed broker with access to BNB coins – Capital.com has 3 licenses and will let you buy Binance Coin 100% commission-free
Step 2: Enter some basic details to reveal who you are- such as your name and date of birth
Step 3: The broker will require you to provide proof of your identity, like your passport/driver's license, and also validate your address with a utility bill/bank statement
Step 4: Fund your new account with an e-wallet, bank transfer, or credit/debit card
Step 5: Find BNB tokens and click 'Trade' to place an order – Capital.com permits fractional investments, so you can invest from just $25 in Binance Coin here!
Select a Trusted Binance Coin Broker
We emphasized the importance of licensing, because it's best to avoid unregulated crypto exchanges when looking to buy Binance Coin. Without financial authorities, we have no way of differentiating between a shady platform and a legitimate one.
With that in mind, as well as a list of important metrics such as low fees and market diversity – we have whittled the best brokers down to eToro and Capital.com. The latter is a CFD trading broker, which stands for Contracts for Difference.
VantageFX – Ultra-Low Spreads
VantageFX VFSC under Section 4 of the Financial Dealers Licensing Act that offers heaps of financial instruments. All in the form of CFDs - this covers shares, indices, and commodities.
Open and trade on a Vantage RAW ECN account to get some of the lowest spreads in the business. Trade on institutional-grade liquidity that is obtained directly from some of the top institutions in the world without any markup being added at our end. No longer the exclusive province of hedge funds, everyone now has access to this liquidity and tight spreads for as little as $0.
Some of the lowest spreads in the market may be found if you decide to open and trade on a Vantage RAW ECN account. Trade using institutional-grade liquidity that is sourced directly from some of the top institutions in the world with zero markup added. This level of liquidity and availability of thin spreads down to zero are no longer the exclusive purview of hedge funds.

The Lowest Trading Costs
Minimum deposit $50
Leverage up to 500:1
75.26% of retail investor accounts lose money when spread betting and/or trading CFDs with this provider. You should consider whether you can afford to take the high risk of losing your money.
Buy Binance Coin or Trade CFDs
Generally, investors and traders enter the Binance Coin market either in the traditional sense by purchasing digital currencies, or via CFDs for more flexibility.
See clarification on both options below.
Buy and Hold Binance Coin
A 'buy and hold' strategy involves more commitment than the aforementioned CFDs. You will look to buy Binance Coin and store it until you see an opportunity to make some gains on your investment. This might be across weeks, months, or years.
This could be well-suited to you if you don't want to trade regularly and monitor daily price trends.
To clear the mist, see an example below:
Binance Coin has fallen by 28% in recent hours
The historical analysis points to this being a temporary drop in value, thus – you place a $260 buy order
10 months later, BNB tokens rise by 41%
You were right, so place a sell order via your cryptocurrency broker
Your profit from this buy and hold investment is $106.60 ($260 x 41%)
We touched on storing your Binance Coins when using this strategy – as it's very important you pay this careful consideration. You have likely seen stories of unregulated cryptocurrency exchanges being hacked and consequently wiping out clients' investments as well.
If you are looking for a secure and convenient way to store your digital tokens – stick with regulated brokers. To save you the worry of leaving your Binance Coins at an unregulated space, or downloading your own wallet – you can store BNB tokens in safety at eToro.
As we said, this broker is respected, regulated, commission-free and you can invest from just $25 in Binance Coin.
Trade Binance Coin
If you prefer the idea of actively watching the markets for profitable price fluctuations – think about exchanging the value of Binance Coin via CFDs. The trading platform of your choice will enable you to go long or short on BNB coins.
The most common way to trade Binance Coin CFDs is against a fiat currency such as US dollars, or euros – displayed as BNB/USD and BNB/EUR respectively. You can also choose a digital currency such as Litecoin or Ethereum – shown as BNB/LTC, and BNB/ETH.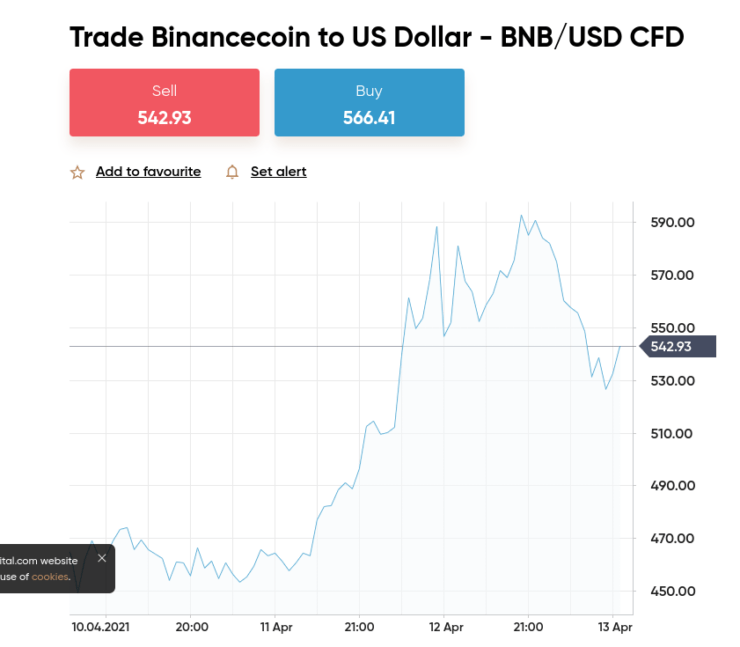 Although you will not own the underlying asset, the CFD mirrors the value of it. This means you can also make a profit from its fall in value, making it one of the most flexible ways to trade cryptocurrencies.
Let's offer a simple example of a Binance Coin CFD trade:
You are trading Binance Coin against US dollars – priced at $540
The BNB/USD CFD is also valued at $540
You think the pair is overpriced and will fall in the near future
As such, you place a sell order of $400
Within 2 hours of placing your order – BNB/USD has fallen in value by 20%
Your prediction was correct, so you place a buy order to cash out your gains
The profit gained from this CFD trade is $80
In many cases, you can also trade Binance Coin with leverage to boost your stake.
See a simple example of this BNB/USD trade with leverage below:
When placing a $400 sell order to short BNB/USD, you add 1:2 leverage
This boosts your stake to $800
Your original profit was $80- which is subsequently boosted to $160
Notably, pro traders will be offered more leverage than retail clients, partly down to previous experience and having a larger amount of capital.
Where to Buy Binance Coin
Now that you have a firmer grasp of the ins and outs of how to buy Binance Coin – we can divulge where to buy this popular digital currency.
Buy Binance Coin – Debit Card
Is debit card your preferred payment type? The lion's share of cryptocurrency brokers will let you buy Binance Coin using this method. However, this method of investing can soon eat into your profits if the fees are expensive.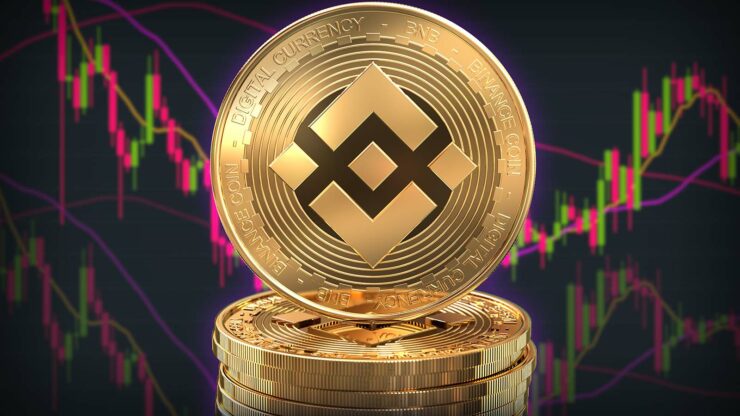 For instance, if you buy Binance Coin at crypto-platform Coinbase, you will pay a commission fee of 3.99% on each transaction. In stark contrast, at eToro you will only pay a small exchange fee of 0.5%. Furthermore, this is only charged if you don't deposit using US dollars.
Buy Binance Coin – Credit Card
At eToro, you can buy Binance Coin using a credit card and still only be liable for the non-USD fee of 0.5%.
Please note that some credit card providers charge a cash advance fee. Not only that, but many online brokers charge commission. Again, eToro is commission-free.
Buy Binance Coin – Paypal
Did you know, you can buy Binance Coin using your PayPal account? With that said, few crypto platforms will accept this payment method because of the high fees involved.
At eToro, you can buy Binance Coin via PayPal commission-free with small investments starting from just $25.
Binance Coin Strategies
In order to learn how to buy Binance Coin in a risk-averse way – think about strategies.
To give you an idea of what kind of BNB strategy might suit your investing style, we cover the most easily implemented below.
Dollar-Cost Averaging
Let's begin with dollar-cost averaging. This will see you taking your monthly investment pot and spreading it over multiple Binance Coin investments – crucially, buying at a different price every time.
Imagine you have $400 per month to grow your cryptocurrency basket. This strategy will see you making more than one small investment of $100 per week. You can build your portfolio steadily at eToro because the platform allows you to invest from $25
Buy the Dip
If you add 'buying the dip' to your strategy, you will make regular investments when Binance Coin seems to be at a cheap price.
See an example below:
Binance Coin has hit the news after falling by 24% in a trading day
Believing this will be temporary, you visit your chosen online broker to place a buy order
You continue to purchase Binance Coin whilst the asset is lower than usual
Here you are buying the dip, hoping to sell for gains when BNB tokens recover
Diversify
Whether you fancy investing in or trading stocks, indices, or forex – it's a good idea to diversify. If you have a portfolio filled with just Binance Coin, you will feel the consequences of volatility much more than if you had another market to fall back on.
Binance Coin Trading Signals
Have you considered Binance Coin trading signals? In case you have never heard of this popular strategy, it involves signing up with a service that sends you regular trading tips.
Here at Learn 2 Trade, we offer a top-rated signal service based on pro investors' research, on both a free and paid basis. We send our crypto signals via a Telegram group with almost 20,000 subscribers.
Each signal contains the tradable pair, whether we are short or long, limit price, and also stop-loss and take profit values to enter in the order box. This means you can passively enter and exit the market based on technical analysis you didn't have to conduct yourself.
How to Buy Binance Coin Online – Full Walkthrough
To learn how to buy Binance Coin to the fullest, you need a widely respected brokerage on your side – to enter the markets in safety.
We are using Capital.com because the website is super easy to navigate, and the broker charges no commission fees to buy Binance Coin.
Step 1: Sign Up With Binance Coin Broker
When you arrive at the Capital.com platform, look out for the 'Join Now' button. Next, you will see this box – so simply fill in the blanks accordingly and read the terms and conditions.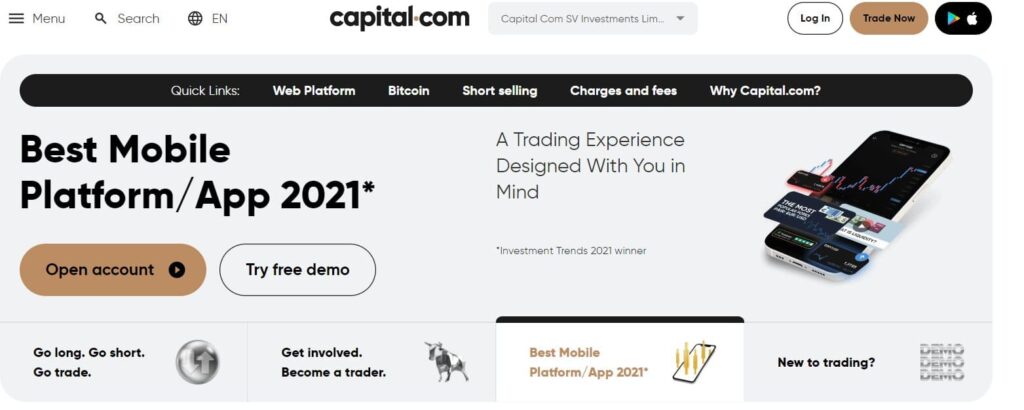 Now, you can check over the information you have entered and press 'Create Account' to receive your confirmation email.
Step 2: Upload Some Identification
You are one step closer to being able to buy Binance Coin. As Capital.com is regulated, such authorities legally require the broker to obtain some ID from you – like your passport.
For proof of address, a bank statement from the last 3 months will be accepted. You may also use a utility bill, as long as it features your name, address, and date of issue.
Step 3: Deposit Funds Into Your Account
On your account page at Capital.com, click on 'Deposit Funds'. Now, you can enter the amount you wish to add to your account.
There are heaps of payment types accepted at Capital.com – such as Mastercard, Visa (and Visa Electron), Skrill, Neteller, PayPal, and more. Confirm the deposit once you are happy with your choices.
Step 4: Buy Binance Coin
To buy Binance Coin at Capital.com commission-free you can search 'BNB' in the search bar on the main page. Once located, click 'Trade', and an order box will appear.
Here we are looking to invest $25 in Binance Coin. As always, check all the information is correct and hit 'Set Order'. The platform will do the rest for you.
Conclusion
It's no secret that the cryptocurrency markets are prone to extreme volatility. Some experience double-digit percentage price shifts in the space of one day. Only recently Binance Coin rose in value by 22% within 24 hours.
Bearing this in mind, it's important to be prepared for every eventuality by having a plan in place. Commonly adopted strategies include crypto trading signals, dollar-cost averaging, and buying the dip.
You might also want to try the Copy Trader feature available at Capital.com. The FCA, CySEC, ASIC, and NBRB regulate this online broker so you can buy, store, and trade Binance Coin commission-free – safely. This platform will let you invest in BNB tokens from just $25.
eToro - Buy and Invest in Assets

Minimum deposit of just 250 USD to get lifetime access to all the VIP channels
Buy over 2,400 stocks at 0% commission
Trade thousands of CFDs
Deposit funds with a debit/credit card, Paypal, or bank transfer
Perfect for newbie traders and heavily regulated

67% of retail investor accounts lose money when trading CFDs with this provider.
FAQs
What is the minimum amount of Binance Coin you can buy?
Commission-free broker eToro will let you invest in Binance Coin from $25. This is great if you cannot afford the cost of a full coin - which is currently around the $560 mark.
How much is Binance Coin likely to be worth in 5 years?
Some experts believe that Binance Coin will be worth $715.52 in 5 years' time. If you wish to keep abreast with the progress of this prediction, there are many online courses available based on the technical analysis needed.
Where is the best place to buy Binance Coin?
After comparing hundreds of online brokers offering access to this market - we concluded the best place to buy Binance Coin is eToro. This platform serves over 20 million investors and traders, is regulated by three financial bodies, and will not charge you a cent in commission fees. Furthermore, you can invest from just $25.
How can I sell Binance Coin?
The most convenient way to sell Binance Coin is via a trusted and licensed crypto platform such as eToro. Invest from $25 and when it's time to cash out your investment, you can place a sell order on your BNB tokens. The broker will credit your trading account accordingly.
Can Binance Coin make you rich?
There is no denying that making money from cryptocurrencies is difficult, as the market is so volatile. Many people choose to access Binance Coin via CFDs for the more flexible option of going long or short. This enables you to take advantage of such drastic price shifts. This is easily achievable at eToro, where you can either buy Binance Coin in a traditional sense or trade it with leverage - all commission-free. You might also look to trade passively via trading signals at Learn 2 Trade, or the Copy Trader feature at eToro.