Invest at least $250 in D2T to gain lifetime access to our VIP Signals
Get early access to Dash 2 Trade's Presale. Buy the D2T token now
Existing community of 70,000+ traders
Unlocks access to the leading crypto trading analysis, signals and trading tools
As featured in CryptoNews.com, FXEmpire.com, FXStreet.com and more
World class development team backed by Quant developers and VC investors
There are millions of people trading forex every day in the online investment space. The popularity of this ultra liquid financial market is not showing any signs of slowing down either. Of course, there are hundreds of trading platforms offering investors tight spreads and a plethora of different assets – but today we are talking about EuropeFX.
As you might have guessed from the name, this platform concentrates on forex trading. However, the site also offers a plethora of CFD instruments. This broker provides 'Straight Through Processing' (STP) for its orders – which means no dealing desk intervention.
In this review, we are going to run through everything there is to know about EuropeFX. This covers key metrics like commission and spreads, tradable instruments, safety, and how to sign up.
Table of Content
EuropeFX - Leading Forex and CFD Trading Platform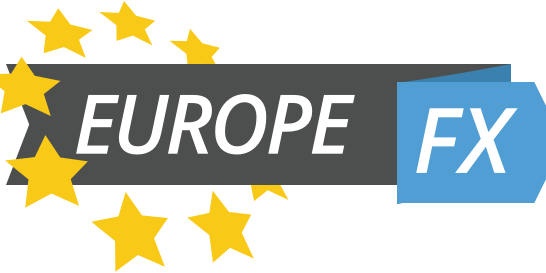 Trade a wide variety of forex and CFD instruments
Great pricing structure including very tight spreads
Connect your EuropeFX account to MT4
Fully regulated by CySEC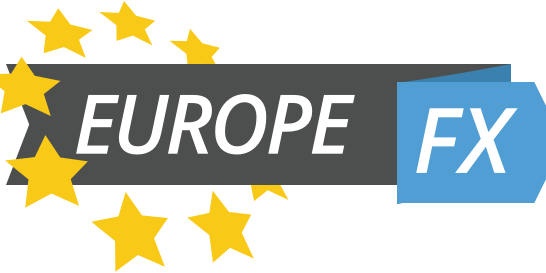 Your capital is at risk of loss when trading CFDs at this platform
What is EuropeFX?
As we touched on, EuropeFX is a trading platform specialising in forex and CFDs. Moreover, we found that there are more than 300 trading instruments here – such as CFDs on blue-chip stocks, commodities, global indices, and FX pairs like majors, minors and cross-pairs. This means you are able to not only buy but also short-sell.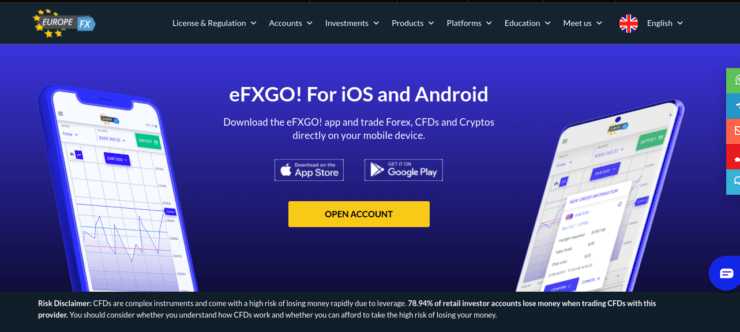 This company has only been present in the forex space since 2014, but that hasn't stopped it from gaining positive recognition from the online trading community. EuropeFX is fully regulated by CySEC in Cyprus (where the broker has an office). In addition to this, offices can be found in Australia and Germany.
We mentioned that EuropeFX offers a wide range of tradable assets – not to mention STP order execution, educational material and trading tools. All of the aforementioned we are going to talk about in the sections below.
What am I Able to Trade at EuropeFX?
Like we said there are over 300 tradable instruments on this platform. In terms of forex, the EuropeFX offers minors, majors and cross-pairs. The broker allows small lot sizes, which can be particularly good if you are finding your feet in trading and just want to test the waters.
In case you aren't aware, this is how lot sizes work in forex:
Micro size 1,000 units of the base currency

Mini size 10,000 units of the base currency

Standard size 100,000 units of the base currency
As you can see, micro means you can trade a fraction of the standard lot size.
It's always better when a broker platform offers multiple asset types to clients, mainly so that if you change your mind about what you want to trade – or simply want to diversify your portfolio – you don't need to find a new broker.
EuropeFX offers many assets as CFDs, meaning you can hypothesise on the fluctuating prices of the fast-changing financial instrument (or markets) in question.
We have put together a list of tradable assets you will have access to when signing up at EuropeFX.
Forex
Forex is one of the most liquid financial markets around the world. In fact, over $5 trillion is actively traded every single day. That's 25 times the amount traded in global equities. Although EUR/USD is the most traded currency pair in the world, there are heaps more to choose from at EuropeFX.
Here are just some of the forex pairs you can expect to see on the Europe FX platform:
Minor Pairs: EUR/GBP, CAD/JPY, GBP/JPY, GBP/AUD, EUR/JPY, EUR/AUD, GBP/CHF

Major Pairs: EUR/USD,

GBP/USD

, USD/CHF, USD/JPY, NZD/USD

Exotic Pairs: AUD/JPY, EUR/AUD, CAD/JPY, EUR/RUB, USD/SEC, EUR/SEK, USD/HKD, EUR/TRY
This company is a 5-digit broker, meaning that all prices are going to be quoted to you with reference to the fifth digit. The reason EuropeFX gives for quoting this way is to offer you tighter spreads. We'll talk more about spreads shortly.
The 'stop out' level when trading forex on EuropeFX is 50%. This means that when your margin levels fall below 50%, the broker will begin to automatically close positions. This will be the case until there are enough funds in your account to open more leveraged positions.
CFDs on Indices
It's worth noting that EuropeFX also offers index trading via CFDs. If you like to trade in a slow and steady manner with less risk than other forms of trading, then indices might be the right financial instrument for you.

First to mention is the FTSE-100, which replicates the 100 top-performing companies on the London Stock Exchange (LSE). Other indices on offer via this platform are the Dow Jones Industrial Index (DJIA), the Japanese Nikkei 225 (NI225), the Standard & Poor's 500 (S&P 500), and more.
You can trade all of the aforementioned indices on EuropeFX using the MT4 platform – which we cover later.
Stocks CFDs
When it comes to stocks and share trading, you won't be disappointed with what's available on EuropeFX. We found some of the biggest blue-chip stock companies in the world on this platform – such as Facebook, Google, Apple, and Nike.
The platform also has some great pharma stocks such as Dynavax Technologies Inc, Merck KGaA, Gilead Sciences Inc, Amgen Inc, Moderna Inc, and more.
Since recreational use of cannabis was legalised under the Federal Cannabis Act of 2018 (in over 30 states in the US), there has been a noticeable effect on stocks related to this commodity. More and more investors are taking an interest in the cannabis markets – consequently, an increasing number of trading platforms like EuropeFX are offering cannabis stocks.
EuropeFX offers three of the leading cannabis stocks on the platform which are Scotts Miracle-Gro, GW Pharmaceuticals, and AbbieVie Inc. All of the aforementioned cannabis stocks are available as CFDs.
Cryptocurrencies CFDs
Interestingly, the world's first decentralised cryptocurrency was introduced over a decade ago by Satoshi Nakamoto (a pseudonymous developer). In case you don't know, that first cryptocurrency we're referring to is Bitcoin. Fast forward to the year 2020 and it's thought that there are nearly 5,000 different cryptocurrencies in existence – if not more.
When using EuropeFX, cryptocurrencies can be traded on the MT4 platform. This means you can also make use of the fantastic tools and features available. We will shed some more light on tools you can access shortly.
So, you must be wondering which crypto coins you are going to be able to trade? At the time of writing, EuropeFX offers Bitcoin, Ripple, Litecoin, Dashcoin and Ethereum CFDs – all against the USD.
Commodities
If you've ever fancied trading assets such as oil and gold, then EuropeFX has you covered. The aim of buying or selling commodities is to make a profit from price fluctuations and shifts in global supply and demand.
On EuropeFX you are able to trade both hard and soft commodities. Below we've listed some of the commodities available to you on EuropeFX.
Copper, Gold, Copper

Wheat, corn, cotton

Natural gas, crude oil and more
EuropeFX Fees
Although brokers are in the business of making money – you'll want to stick with platforms that keep fees and commissions to an absolute minimum.
To create a clear picture of what you can expect on this platform, we've gone into a little more detail about the fees you might be charged at EuropeFX.
Spreads
Spreads on EuropeFX are as low as 0.1 pips. As we mentioned, this platform quotes prices using the 5th digit, allowing for fractional pricing like micro and mini lots.
0.1 pips is super competitive although remember that each instrument will differ when it comes to the spread on offer. Referring to the minimum spread – EuropeFX offers a 'raw spread' across all forex, indices, shares, cryptocurrencies, and commodities.
Commissions
Commission on EuropeFX is charged at a fixed percentage of 7% – which is then multiplied by the lot size.
As an example:
Let's say Amazon's share opening price is 1749.45

You want to trade 0.1 (lot size)

The commission is 7%

You pay €12.24 (1749.45 x 7% x 0.1 = 12.24)
EuropeFX also offers a discount on commission rates to clients. For more information or to make an official request – contact the customer support team and they will gladly consider you a fee reduction. Any commission discount granted will be offered for a limited period of 14 days.
Swap Fees
If you decide to leave a position overnight when trading via EuropeFX you are charged a swap fee (overnight fee). In a nutshell, this is an interest rate which is chargeable based on the contrast between the 2 currencies.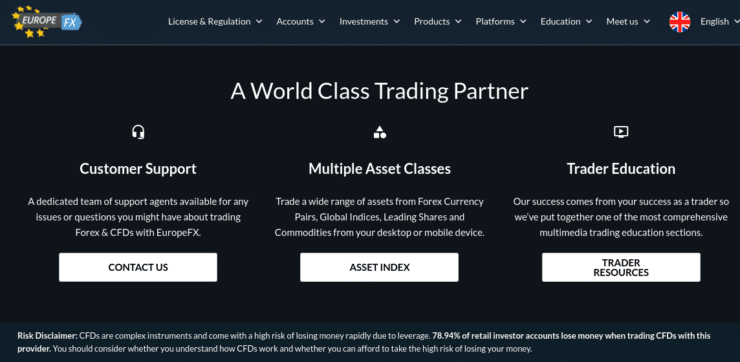 Should you want to calculate this swap rate for yourself the platform has a helpful calculation:
For forex overnight fees the calculation goes: (Contract Size*Lot Size*Swap rate/100)/360

For everything else: (Contract Size*Lot Size*Market price*Swap rate/100)/360
Extra Fees
When it comes to extra fees, we have to mention that there is an inactivity fee of 50 EUR/USD/GBP if you do not trade for 3 calendar months. Thereafter, the fee will be charged on a monthly basis.
Trading Platform Compatible Add-Ons
With regards to compatible trading platforms, EuropeFX certainly doesn't lack variety. Here you can make the most of MT4, eFXGO, RoboX, or the Mirror Trader feature.
We've put together a list of the most useful trading platforms which are compatible with a EuropeFX account.
MetaTrader4
MT4 is without a doubt one of the most successful and popular trading platforms in the space. There are so many tools for traders to take advantage of on this trading app. Not only can you trade multiple accounts on MT4, but you can use an EA to execute trades automatically on your behalf.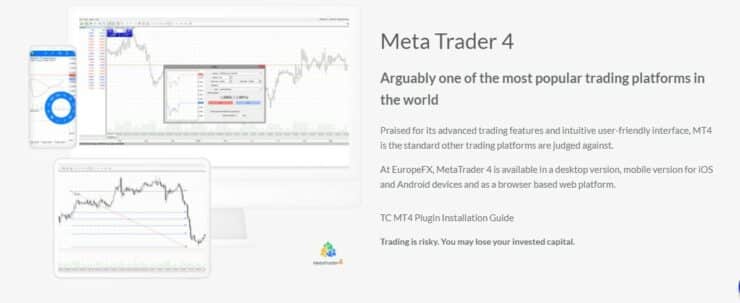 Below are some of the other highlights of trading via MT4:
Helpful technical indicators such as The Money Flow Index (MFI), ZigZag, Market Facilitation Index, Accelerator Oscillator, Trendline, Fibonacci, Envelopes, The On Balance Volume indicator (OBV), Stochastic – and lots more

Tools like: Xandra Summary, SL & TP values, Breakout Zones, SHI Channel True, Autofibo, Position Size Calculator, NewsCal, Undock Chart, i-Profit Tracker, Orders Indicator, and heaps more

Popular trend indicators include Bollinger Bands, Ichimoku, Exponential Moving Average (EMA), The Moving Average Convergence Divergence (MACD). Others are available

Tonnes of market order options to suit various investment/trading strategies

Passive trading with an automated robot
eFXGO
This app is available for both ioS and Android and enables you to trade CFDs, cryptocurrencies and forex from the palm of your hand. You are able to deposit into your account with ease, execute orders on multiple trading instruments – and even check out the latest financial and economic news.
eFXGO offers traders over 100 financial assets, an independent trading suite, advanced analysis features and customizable charting tools. In addition to that, there's in-app access to EuropeFX's very own analysis, live real-time rates, easy trade modification, and super easy order execution.
RoboX
RoboX is a smart trading machine which is tailored to combine your trading style with your favoured assets. Essentially, RoboX creates an algorithm which is made up of personalised strategies and risk management.
To get started you just need to fill in a questionnaire after following the RoboX link. The software will promptly use your answers to scan over a billion trading strategies and construct a personalised trading package/strategy for your needs.
Mirror Trader
Another EuropeFX platform add-on is the 'Mirror Trader' function. Much like automated trading, this enables clients to trade passively.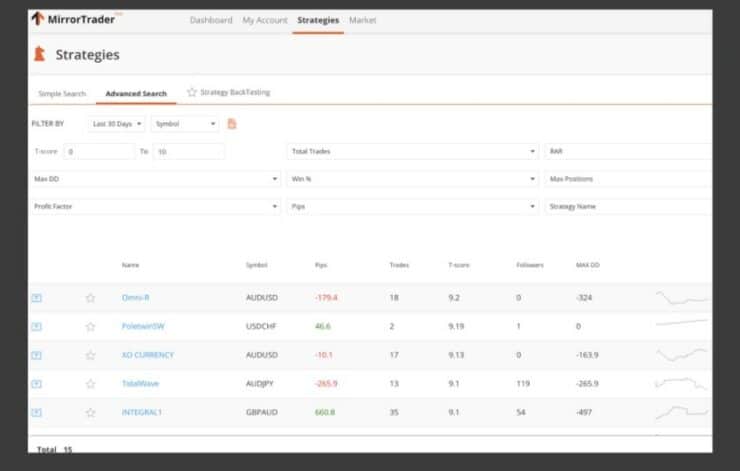 Mirroring an experienced trader with a successful history means that you can sit back and relax whilst someone carries out trades. Simply do some research, find a trader you like the look of, and mirror their portfolio. Whatever the person trades will be reflected in your own portfolio – but will, of course, be in proportion to your investment.
This feature is not only suitable for newbies who want to trade but don't know where to begin – but also investors who don't have the time to keep an eye on the conditions of the market 24/7. If you are not sure about letting someone automatically carry out trades without your say so, not to worry – as EuropeFX also allows you to mirror a trader manually.
Trading Tools and Educational Content
As far as tools and educational material goes, EuropeFX is really impressive. Below you will find a list of useful features available to you on this broker site
Automated Trading Software

Strategy Generators

Market Review

Market News

Webinars

Economic Calendars

Glossaries

TipRanks

Trading Central

Trading Signals

Video Academy
EuropeFX Deposits
As a new client on EuropeFX, you may sign up and deposit between €200 (minimum) and €2,000. However, please note that you must complete your KYC (know your customer) registration and submit all requested identification within 25 days.
Should you fail to complete this process and send copies of proof of address etc – all trades will be closed. Your funds will be returned to you, and your account will be terminated. This illustrates that EuropeFX takes its regulatory responsibilities very seriously.
Deposit methods accepted by EuropeFX include all major payment service providers like Visa, Mastercard, e-wallets and bank wire transfer.
The platform charges no transaction fees and as soon as you have completed your KYC, you can deposit as much as €50,000. It's important to remember that if you want to start trading on this site straight away, then you are better off using either a credit/debit card or e-wallet. The reason being that a bank wire transfer can take days to reach your account.
EuropeFX Withdrawals
Withdrawal methods on EuropeFX are credit/debit cards, wire transfer and e-wallets. Whatever currency you set up your account in will be used for withdrawals from the platform.
The withdrawal fee for any payment method is currently 25 EUR/USD/GBP. Should you end up requesting a withdrawal to a payment method in a different currency, EuropeFX will charge you an exchange rate fee and it can take at least a day to reach your account.
In terms of the withdrawal timeframe, the platform states that it can take anywhere between 1 and 5 business days – depending on the payment method you use.
Leverage
Leverage offered on EuropeFX depends on the instrument in question. We've listed below leverage caps we found on the platform to clear the mist:
Cryptocurrencies leverage up to 1:2

Shares up to 1:5

Indices up to 1:20

Gold up to 1:20

Non-Gold Commodities up to 1:10

Major Currencies up to 1:30
It is important to note that the above limits are for those based in Europe. If you reside outside of the EU – you could get up to 1:200. Irrespective of where you are based, if you are classed as a professional trader – you'll also have the opportunity to get up to 1:200.
Customer Support
24 hours a day, from Monday to Saturday, you can contact the customer support team via the following methods:
Online live chat

Telephone

Email
The platform also has a comprehensive FAQ section. This can save you waiting around for an answer which might be right in front of you.
Accounts
Let's start by saying that all accounts on EuropeFX include a free demo facility. In addition to this, all accounts include: STP order execution, max leverage of 1:30 (1:200 for professionals), stop-out level of 50%, seminars, variable spreads of 0.1 pips, and webinars.

If you're not sure what kind of account you need for your trading endeavours then please check out the list of available EuropeFX accounts below.
Risk-Free Demo Account
According to the platform, specification on the demo account is different from that of 'real accounts' – up to 75% less on swaps and commission.
We don't mind that at all – demo accounts are invaluable for both new traders and also experienced. This type of account enables you to trade with demo funds in a market which reflects live market conditions.

It's worth noting though that your demo account will be closed down automatically after 30 days. Now, let us run through the key metrics of other account types on offer via EuropeFX.
Bronze Account: Minimum deposit from €1,000
This account includes:
Relationship manager – trial period

Trading central daily – trial period

Trading central premium signals – trial period

1 session of private one on one trading academy

Trading commission standard
Silver Account: Minimum Deposit from €2,500
This account includes:
Relationship manager

Trading central daily newsletter

Trading central premium signals – trial period

Private one on one trading academy – Up to 3 sessions total

EuropeFX investments (Mirror Trader only)

Trading commission standard
Gold Account: Minimum deposit €10,000
This account includes:
Relationship Manager

Trading Central Daily Newsletter

Trading Central Premium Signals

Private One on One Trading Academy – Up to 4 Sessions Total

Private Trading Sessions – 2 sessions each month

Access to Event Room – 1 event per month

SMS Trading Notifications

EuropeFX Investments – Mirror Trader and RoboX

Trading Commissions – Up to 10% discount
Platinum Account: Minimum deposit €25,000
This account includes:
Relationship Manager

Trading Central Daily Newsletter

Trading Central Premium Signals

Private One on One Trading Academy – Up to 8 Sessions Total

Private Trading Sessions – 4 sessions per month

Access to Event Room – 2 Events per Month

SMS Trading Notifications

EuropeFX Investments – Mirror Trader and RoboX

Trading Commissions – Up to 25% discount
Premium Account: Minimum Deposit €50,000
This account includes:
Relationship Manager

Trading Central Daily Newsletter

Trading Central Premium Signals

Private One on One Trading Academy – Up to 16 Sessions Total

Private Trading Sessions – 8 sessions per month

Access to Event Room – 4 Events per Month

SMS Trading Notifications

EuropeFX Investments – Mirror Trader and RoboX

Trading Commissions – Up to 50% discount

VIP Services – Trial period
EuropeFX: Countries Not Accepted
Unfortunately, EuropeFX does not offer it's services to a number of jurisdictions, we've listed them for your convenience:
USA

Iran

Cuba

Crimea

Sudan

Syria

New Zealand

United Kingdom

North Korea
According to the EuropeFX website, there are also a few other countries not eligible for an account, but we couldn't find that information.
How to Open an Account With EuropeFX
By now you know all of the key metrics of the EuropeFX trading platform, and are probably keen to get started.
The good news is it's super easy to set up and you can be trading in 3 easy steps
Step 1: Sign Up
To get started, head over to the EuropeFX website and click 'sign up'.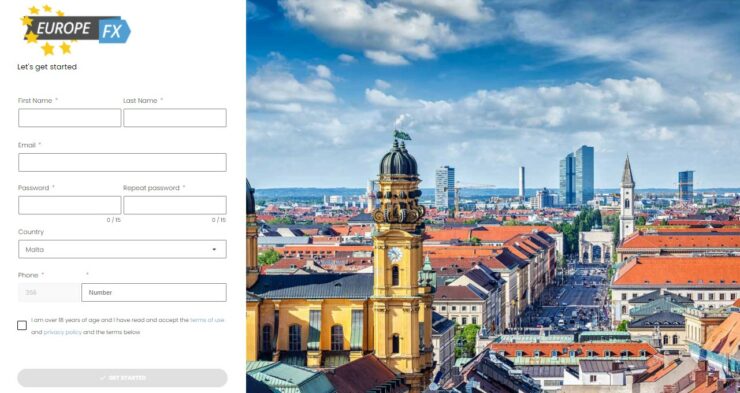 As you can see, at this point you need to fill in your first and last name, email address, unique password, country and telephone number.
Step 2: Deposit Your Account
Simply choose one of the payment method's available on the platform and make a minimum deposit of 200 EUR/USD/GBP.
Step 3: Begin to Trade
Now you've reached step 3, you can start trading on EuropeFX and taking advantage of the many tools and features we've told you about throughout this review.
If you don't quite feel ready to dive in, you can always take full advantage of the EuropeFX demo trading account.
Conclusion
All in all, EuropeFX is a very user-friendly platform, offering clients a diverse amount of financial instruments. This broker is fully regulated and holds a licence from CySEC, meaning your funds will be segregated from the company bank account. This strict regulation also means that the broker is regularly audited to ensure it follows the rules put in place.
The site is not only easy to navigate for beginners, but also offers a range of educational material, tools and technical analysis which is useful to experienced traders of all skill levels. We think the site is simple to use and the amount of tools and features available for traders at all levels of experience is impressive.
A huge plus with this platform is that it works with MT4, which as we said is packed to the rafters with useful tools, charts and analysis. Not only that but the broker offers a mirror trade feature meaning you can copy a successful trader like for like.
EuropeFX - Leading Forex and CFD Trading Platform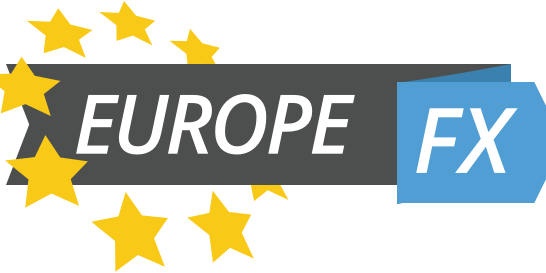 Trade a wide variety of forex and CFD instruments
Great pricing structure including very tight spreads
Connect your EuropeFX account to MT4
Fully regulated by CySEC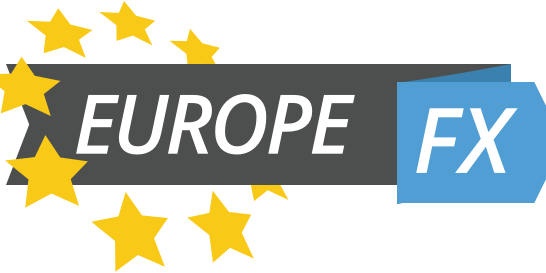 Your capital is at risk of loss when trading CFDs at this platform
FAQs
Will I have access to a demo account on EuropeFX?
Yes. EuropeFX includes a demo account with every account type.
Do I need to provide a photo ID to open an account on EuropeFX?
Yes, but you can begin trading straight away as long as you submit your full ID within 15 days.
What is the minimum deposit on the EuropeFX platform?
€200 is the minimum deposit to begin trading at Europe FX.
Is it safe to deposit funds into EuropeFX?
Data on this platform is secured by utilising 128-bit encryption. Any Transactions on the site are executed on PCI accommodating servers - not to mention the payment processors being regulated and licenced
Does EuropeFX have a live chat feature?
Yes. On the EuropeFX site, you can speak to the customer support team on live chat 24 hours a day, Monday - Saturday.
Can I trade EuropeFX forex and CFDs on MT4?
Yes. This popular trading platform is available on your mobile (android and iPhone) and desktop and is fully compatible with EuropeFX.
Is the EuropeFX platform regulated?
Yes, it most certainly is. This trading platform is regulated by CySEC of Cyprus.