Service for copy trading. Our Algo automatically opens and closes trades.
The L2T Algo provides highly profitable signals with minimal risk.
24/7 cryptocurrency trading. While you sleep, we trade.
10 minute setup with substantial advantages. The manual is provided with the purchase.
79% Success rate. Our outcomes will excite you.
Up to 70 trades per month. There are more than 5 pairs available.
Monthly subscriptions begin at £58.

Founded in 2016, Crypto.com is a full-service cryptocurrency platform that allows you to buy, sell, and trade over 250 digital currencies, among other perks. The ecosystem consists of an app, a decentralized exchange, a DeFi wallet, an NFT marketplace, and many other services, such as Crypto.com Pay, Crypto Earn, and Crypto Credit. On top of its many investing features, Crypto.com also offers its own digital currency – Cronos (CRO), as well as a dedicated Visa debit card which allows users to make crypto payments easily and earn rewards.
Today, Crypto.com serves over 10 million users in more than 90 countries, making it the world's fastest growing cryptocurrency app. It is built on a solid foundation of security, privacy, and compliance, and is the first cryptocurrency company to have ISO/IEC 27701:2019, CCSS Level 3, ISO 27001:2013, and PCI:DSS 3.2.1, Level 1 compliance, and independently assessed at Tier 4, the highest level for both NIST Cybersecurity and Privacy Frameworks, as well as Service Organization Control (SOC) 2 compliance.
With headquarters in Singapore and over 3,000 people in offices across the Americas, Europe, and Asia, Crypto.com is accelerating the world's transition to cryptocurrency.
The Pros and Cons of Crypto.com
The Pros
Over 250 cryptocurrencies.
Crypto.com Visa debit card.
Mobile application for Android and iOS.
Access to DeFi and NFT marketplaces.
Transparent, competitive fees with discount available.
The Cons
CRO is needed to get benefits including commission reduction.
Visa card rewards are paid out in CRO.
Long wait time for live support.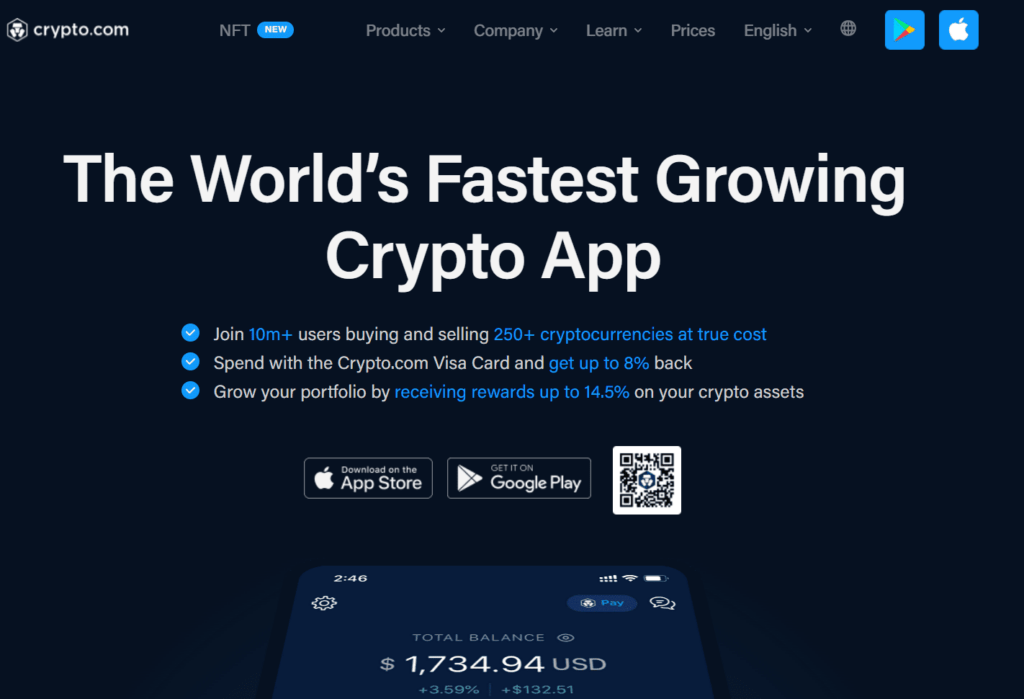 Introduction
Crypto.com is a fully regulated crypto company. It complies with all necessary financial laws and risk prevention regulations. As a result, users cannot use its services, application, or exchange anonymously. The platform is available in many countries, including the United States, Europe, Latin America, Canada, Australia, and Russia, as well as some countries in Asia and Africa.
Your capital is at risk of loss when trading CFDs at this platform
When you register, you will need to verify your identity. You will need to provide the platform with your:
Full real name

Image ID

Selfie
To get a Visa card from Crypto.com, you need to verify your residential address with a recent utility bill (less than three months from the date of payment). Account verification can take between a few hours to 3 business days.
Exchange
The Crypto.com Exchange is a specialized cryptocurrency-to-cryptocurrency exchange aimed at more experienced traders. It's accessible through a web-based platform that allows you to trade the underlying pairs of Bitcoin (BTC), Tether USD (USDT), and Cronos (CRO). It also offers derivatives and margin trading with leverage up to 50 and 3, respectively.
The Crypto.com Exchange is rated as the world's most secure cryptocurrency exchange by CER.live, having earned a host of security certifications. These include ISO 22301:2019, ISO 27001, ISO/IEC 27701:2019, SOC 2, and PCI:DSS v3.2.1 Level 1 compliance.
Though geared towards more experienced traders, the Exchange's interface is simple and easy-to-use, making it an apt choice for both advanced and beginner users.
The exchange can be connected to your Crypto.com application accounts. This makes it easy to transfer coins if you need to receive or withdraw funds.
Open Account
The easiest way to access Crypto.com services is to download the mobile app. It allows you to buy and sell cryptocurrencies, exchange fiat currencies, manage your crypto.com Visa card, access Crypto Earn, and Crypto Credit. Moreover, you can make purchases with cryptocurrency, and much more.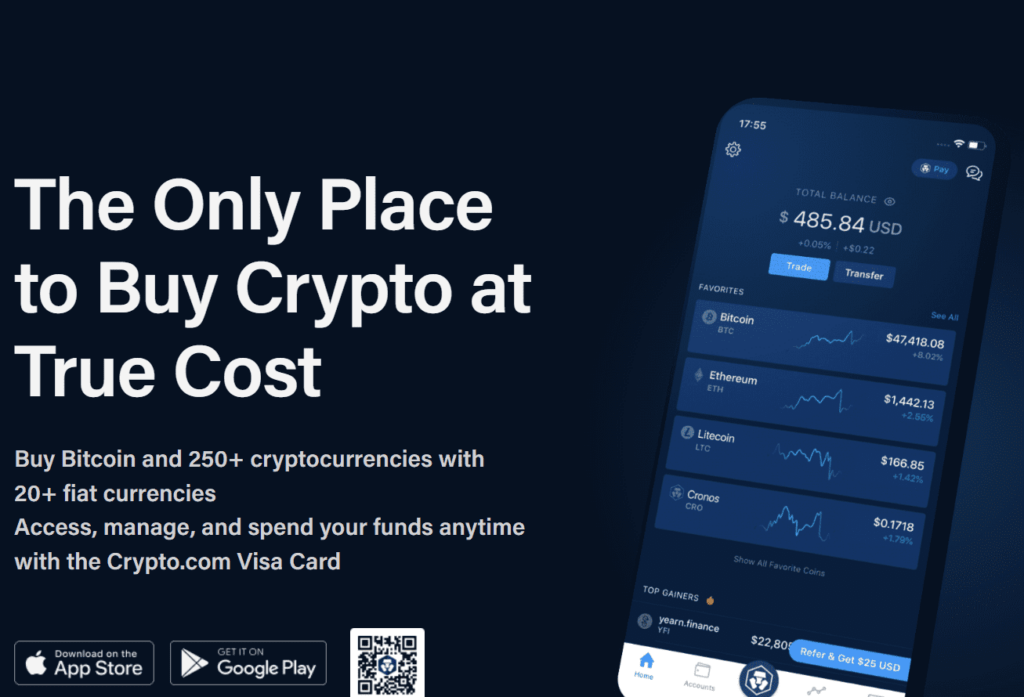 Once opened, select the signup, and start by entering your email and choosing a password.
When creating a new account, you will need to enter your full name and upload photos of your photo ID and selfies. You will then need to link a payment method such as a bank account. If you are linking a US bank account, you will be prompted to enter Know Your Customer (KYC) information to verify your identity. It includes your name, contact information, and insurance number.
Account verification can take between a few hours to 3 business days. The application allows you to monitor your portfolio, send coins to the Crypto.com Exchange, withdraw cryptocurrency to external wallets, and manage deposits on the platform. It acts as your financial center for both fiat and crypto transactions.
Fees
Commissions on Crypto.com
Commissions on Crypto.com are low compared to other centralized exchanges. Even though different products have different prices, this is one of the best ways to exchange fiat currency for cryptocurrency in the crypto industry.
Commissions in the Crypto.com App
The Crypto.com App is an easy way to buy, sell, receive and exchange cryptocurrencies. The application allows you to deposit cryptocurrency for free, as well as transfer cryptocurrency to cryptocurrency exchanges for free, and supports free transfers to the Crypto.com Exchange and DeFi wallet.
However, there is a fee for withdrawing cryptocurrency to an external address. The amount of the commission depends on the withdrawn currency.
Commissions on the Crypto.com Exchange
The Crypto.com Exchange charges fees for trading and withdrawals. Trading fees depend on the volume of your trades within 30 days. The base level of commissions is 0.4%, but it can be lowered. The larger your trading volume, the more discounts you get. In addition, you also have the option to set up CROs and pay trading fees with them. The more CRO you use, the bigger your trading discount will be.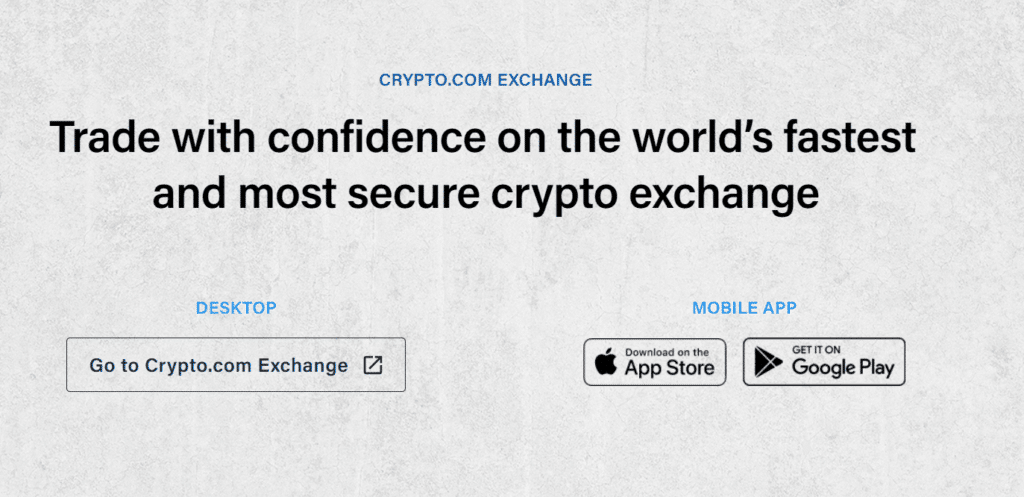 You will receive a 10% APR on your CRO rate as a bonus. To get it, you need to wager at least 5000 CRO and pass KYC verification to receive discounts on trading fees. The Crypto.com Exchange charges standard fees for withdrawing cryptocurrencies. However, there is no commission for cryptocurrency deposits.
Also, the Crypto.com App allows you to buy cryptocurrencies directly with a credit/debit card. Users pay between 0% and 3.5% credit/debit card fees, depending on the jurisdiction.
Crypto.com DeFi Swap Fees
Crypto.com DeFi Swap allows you to connect your personal Ethereum wallet for a simple and easy replacement of ERC-20 tokens. Typically, you will pay liquidity providers a 0.3% fee to keep smart contracts running.
You can connect DeFi Swap to your Crypto.com DeFi Wallet account. You can choose between medium, fast, and ultra-fast transaction confirmation speeds. The size of the commission will depend on this.
Security
Crypto.com uses various strategies to keep users and their assets safe, including two-factor authentication and a list of approved withdrawal addresses. Of course, it's crucial to use a strong password and adhere to other online security practices, as a significant part of the responsibility for the safety of assets lies with the users themselves.
Also, Crypto.com adheres to legal compliance procedures when making transactions and keeps user assets in cold storage to prevent hacks and loss due to other unforeseen factors. In the US, the Exchange works with banks insured by the Federal Deposit Insurance Corporation (FDIC).
Types of protection:
Crypto.com is ISO/IEC 27001:2013, ISO/IEC 27701:2019, PCI:DSS 3.2.1, Level 1 compliant and CCSS certified.

100% of funds are kept in cold storage. The Exchange uses a cold wallet insurance fund in case of loss of funds.

Coins held in hot wallets are corporate funds only. They ensure the smooth execution of transactions in their network of services.

Crypto.com closely monitors every transaction. It ensures that the platform does not launder money for criminals.

Crypto.com uses 2FA authentication for its mobile App and Exchange via biometrics or Google Authenticator. In addition, each address to which you send your funds from the Exchange must be whitelisted by you.
Crypto Credit
Crypto lending is a good option to get an instant loan. To do this, you will only need to deposit cryptocurrency. With Crypto Credit, you can use your virtual currencies as collateral and get an instant loan. No credit check is required.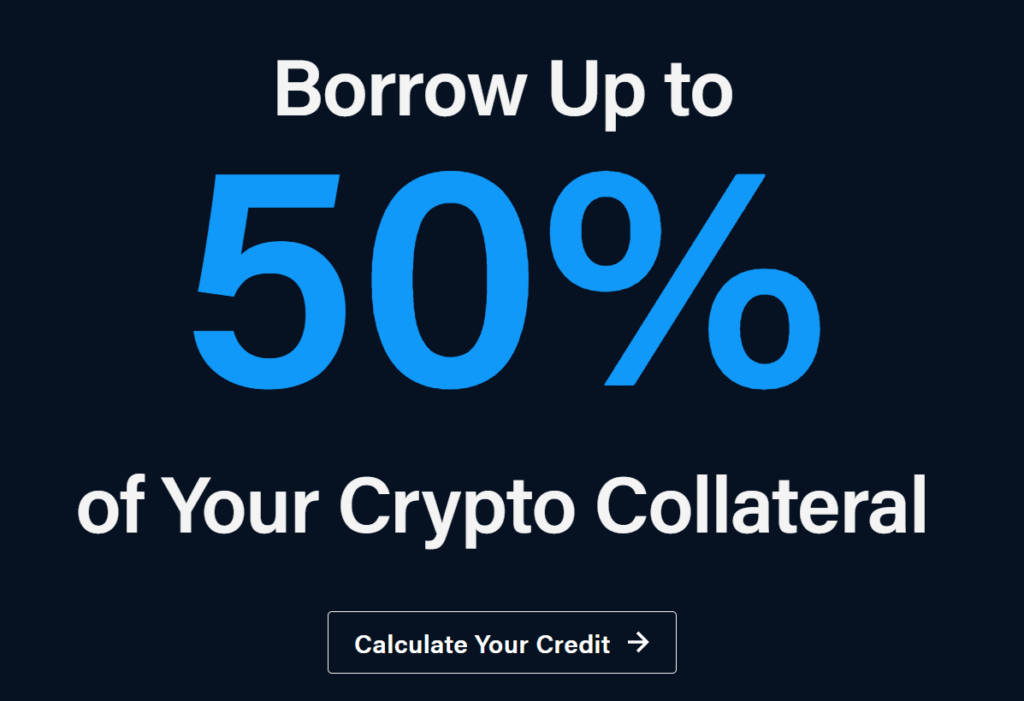 With CRO currency, you will have credit discounts. You can use CRO, LTC, BTC, ETH, XRP, EOS, and many other virtual currencies supported by Crypto.com. With Crypto Credit, you can pay whenever you want and there will be no time limit for your statement. You can also use the aforementioned virtual currencies as collateral.
Сrypto.com Wallet
When registering on the Exchange, the client automatically gets access to the Crypto.com DeFi Wallet, which is used to store assets. The technology ensures that only the account's owner has access to funds and private keys. To expand the capabilities of Crypto.com Wallet, users should connect to DeFi Swap. This will enable you to exchange tokens from the wallet.
After opening, you will need to set a digital password for the application and write down a passphrase consisting of 12 words. It must be written down on a paper sheet because it gives full access to the account. If you forget the phrase or reinstall the application, you will not be able to restore your account. After verification, all the possibilities of the wallet will open.
To fund your Crypto.com Wallet account, you need to:
Open the application.

Click the Receive button.

Select the type of coin that will be entered into the account.

Scan the QR code that appears or copy the address provided in writing.

The received data must be entered in the wallet, from where the account will be replenished.
Transactions can only be carried out with coins that are intended for contract wallets. For example, if you send DOGE to an ETH address, then the funds will simply disappear.
To withdraw funds from Crypto.com Wallet, you must:
Open the application.

Press the Send button on the main screen.

Select the coin to be sent.

Specify the number of funds to be sent and insert the address or scan the QR code.

Confirm the transaction.
NFT
An off-chain platform allows buyers and sellers to easily trade collectibles (NFTs) without any experience.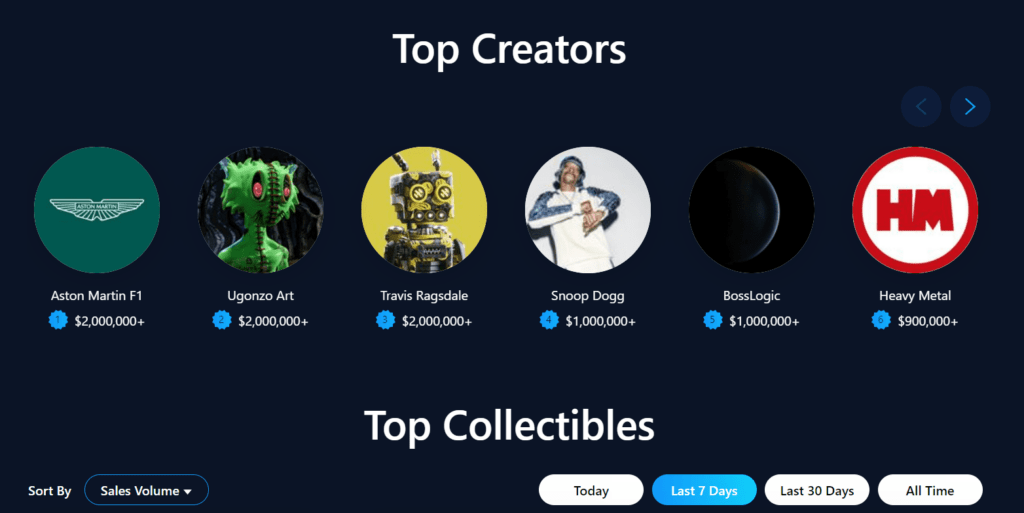 NFT is a unique immutable asset that exists in the blockchain network. The most famous examples are in-game items, digital art, and collectibles.
In addition, you can view and buy previously abandoned NFTs, as well as many other NFTs that users have created on the open market.
Affiliate Program
Like all major platforms, Crypto.com has a referral program to stimulate the flow of new customers. Existing users can share their referral links or referral code. New users using this link or code can earn up to $50 after signing up.
The user who provided the referral link or code can earn up to $2000 as a bonus if the referral has placed more CRO from the first bets.
Conclusion
Crypto.com is a friendly crypto trading platform that makes it super easy to acquire, exchange, and spend crypto. Besides, anyone can make use of its other crypto services like the Crypto.com Exchange, Crypto.com DeFi Swap and Wallet, Crypto Earn, and Pay, which makes it an excellent one-stop-shop for all-things-crypto.