Invest at least $250 in D2T to gain lifetime access to our VIP Signals
Get early access to Dash 2 Trade's Presale. Buy the D2T token now
Existing community of 70,000+ traders
Unlocks access to the leading crypto trading analysis, signals and trading tools
As featured in CryptoNews.com, FXEmpire.com, FXStreet.com and more
World class development team backed by Quant developers and VC investors
More and more Bitcoin Cash traders are looking for an easier way to gauge market sentiment. After all, that's how we profit from price fluctuations.
Whether it's a shortage of time or inexperience holding you back – you may want to consider adding Bitcoin Cash trading signals to your strategy.
Stick with us as we walk you through the ins and outs of how trading signals on BCH work. This includes what information you can expect to receive from our Bitcoin Cash trading signals and what to do with our suggestions.
Table of Content
Learn 2 Trade Free Crypto Signals Service

Get 3 Free Crypto Signals Each Week
Signals Cover all Cryptocurrencies
Option to Upgrade to Our VIP Group for Free
82% Win Success Rate
Average Monthly Gains of 30-40%

Best Bitcoin Cash Trading Signals for Beginners
It's no secret that learning technical analysis is not exactly child's play. However, the fact is, without this plethora of price charts, trading indicators, behavioral economics, and charting software – crypto trading would be a series of uneducated guesses.
See below some of the most identifiable trading indicators used by Bitcoin Cash traders today:
Stochastic Oscillator
Moving Averages
Bollinger Bands
MYC Trading indicator
Relative Strength Index
Moving Average Convergence/Divergence – MACD
and more
There are too many trading tools and indicators to mention, so it won't surprise you to learn that educating yourself on the intricacies of technical analysis can take years.
Fear not, the Learn 2 Trade Bitcoin Cash trading signals service is on hand to help.
How do Learn 2 Trade Bitcoin Cash Trading Signals Function?
In a nutshell, we have a carefully selected team of highly skilled traders and analysts examining the crypto markets for profitable Bitcoin Cash possibilities. We then share that information with you!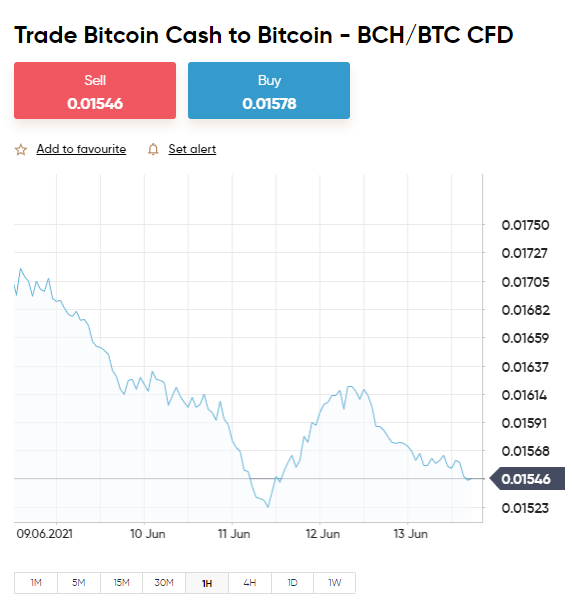 We have listed below 5 pieces of information that will always be included in our Bitcoin Cash trading signals:
Cryptocurrency Pair:

BCH/GBP

Short or Long:

Long

Limit Order Value:

£390

Stop-Loss Value:

£386

Take-Profit Value:

£401
The above example signal illustrates that after conducting in-depth research on the pair – profitable prospects have been spotted in going long. We are suggesting entering the market when the pair hits £390 and have also included a stop-loss and take-profit value.
What Will the Best Bitcoin Cash Trading Signals Include?
To lead on from the example above, we are now going to cover each metric in our Bitcoin Cash trading signals in more detail.
Bitcoin Cash Pairs
As is clear, we always include which Bitcoin Cash pair we see potential in. Bitcoin Cash can be traded against crypto-assets like Litecoin, Ethereum, and so on. This would be shown as BCH/LTC, and BCH/ETH respectively.
Bitcoin Cash can also be traded against government-issued fiat currencies such as US dollars, British pounds, Australian dollars, and euros. This would appear as BCH/USD, BCH/GBP, BCH/AUD, and BCH/EUR on your chosen crypto brokerage platform.
Newbies tend to find crypto-fiat pairs simpler to quantify when it comes to gains and losses. Here at Learn 2 Trade, we like to keep things fresh, so will often send signals for both types of crypto-pair – depending on where we spot an opportunity.
Short or Long
You will also be tipped on whether to go long or short on the pair.
For anyone unaware:
If the Bitcoin Cash trading signal says long on BCH/AUD – it means we can foresee a rise in value
On the other side of the coin, if we suggest going short – we think the value of the pair will fall
Therefore, at your chosen trading platform – you would need to do the following:
Place a buy order on BCH/AUD if the Bitcoin Cash trading signal says long
Create a sell order on the pair if the signal suggests going short
Our motivation is quite simply to provide our trading signals members with as many profit-making opportunities as we can. We dive into our free and Premium plans shortly.
Limit Order Value
A 'market' order quite simply tells your broker you are happy with the current or next available price. Whilst this might be used occasionally, we tend to include a 'limit' price in our Bitcoin Cash trading signals. The basis for this is that we are able to enter our chosen market at the price we want.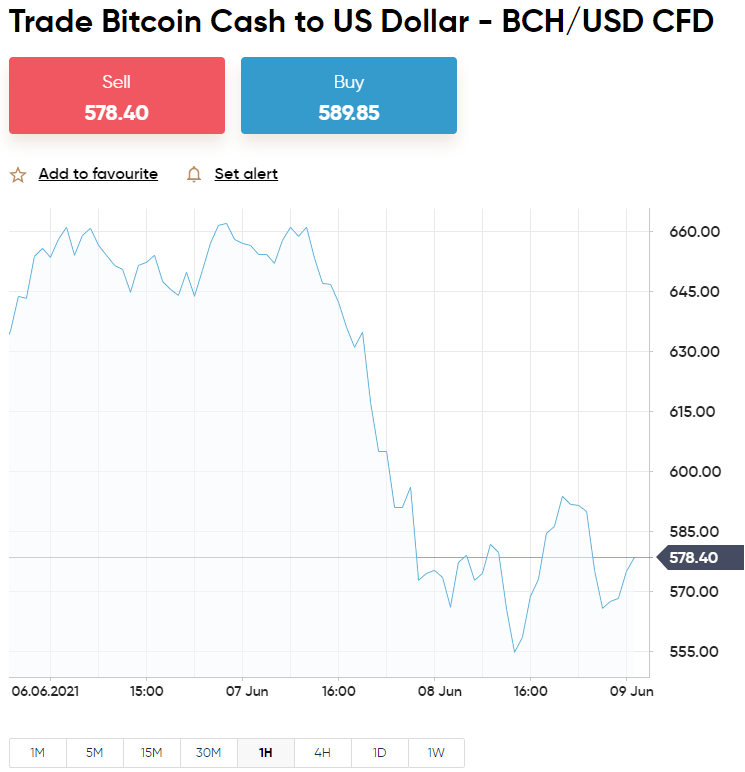 See an example of a limit order below, this time trading Bitcoin Cash against the euro:
BCH/EUR is priced at €455
Research suggests that if this pair surpasses €475 – it's time to go long
Consequently, the Bitcoin Cash trading signal will show a limit value suggestion of €475
As such, if BCH/EUR reaches a price of €475 you will enter the market via a long position – as the broker will execute your order automatically
If you don't cancel your order it will simply remain in place until the desired entry value is achieved. We provide full guidance on whether a limit order should be canceled via your Telegram member's group
Stop-Loss Value
We include a stop-loss value in all of our Bitcoin Cash trading signals because it is a form of damage limitation.
To explain further:
You are going long on BCH/EUR with a limit price of €475
The stop-loss suggestion on the signal is €470 – 1% below the limit value
Should BCH/EUR fall in value by 1% – the broker will close the trade
This ensures you are not able to lose more than 1% of your initial stake on this signal suggestion
Importantly, if this particular Bitcoin Cash trading signal has suggested going short – the stop-loss value would sit above the limit price
Take-Profit Value
Last, but by no means least, is the take-profit value – which is another element of your trading order that we always include.
Rather than just giving you tips to stop your losses, incorporating a take-profit value into each Bitcoin Cash trading signal allows you to lock in your gains.
In the above example, thanks to our signal suggestion – you stop your losses from going beyond 1%. As such, a take-profit is more likely to be 3% in the other direction (meaning 3% above or below the limit value). This is what's known as a 1:3 risk/reward which we talk about next.
Learn 2 Trade Bitcoin Cash Trading Signals: Risk and Reward
We mentioned that we invariably include a risk/reward ratio. This is generally 1:3, meaning for every $1, we would like to make $3 in gains. Other popular systems are 1:1.5, 1:4, and 1:5.
Always utilize the stop-loss and take-profit values we include, to get the most out of your Bitcoin Cash trade.
Quality Bitcoin Cash Trading Signals Telegram Group
Most of us are never too far away from our mobile phones, so it makes perfect sense that the go-to way to receive Bitcoin Cash trading signals is via Telegram!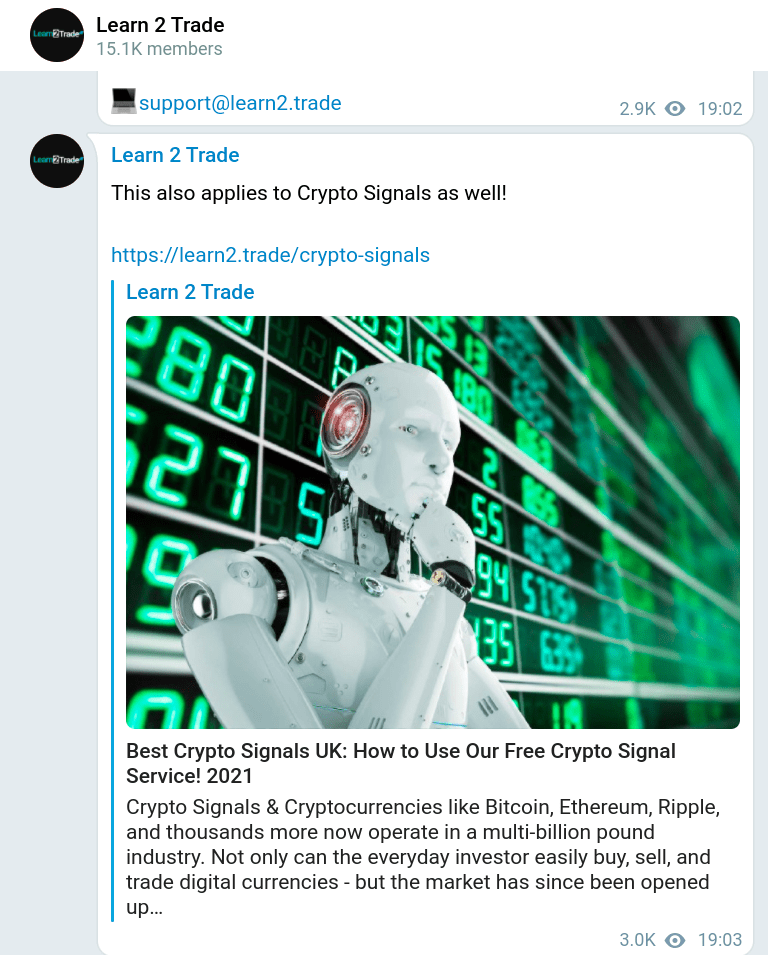 The Learn 2 Trade crypto trading signals group has thousands of members. There are a multitude of reasons that the app is so well received.
Such as:
Dependable and securely encrypted:

even with a poor signal, you won't miss trading opportunities with this app as it needs very little data to run. Furthermore, all messages are safe and encrypted, on both private and group chats

Real-time messages: Telegram uses cloud-based messaging tech. Put simply, this means that you will get Bitcoin Cash trading signals in real-time
Large group chats: Telegram groups are highly conducive to sending trading signals, as the app allows up to 200k members. Our crypto trading signals group is more like a community of like-minded traders.
Free of charge:

if you have an iPhone or Android you can download Telegram for free – before signing up to the Learn 2 Trade crypto trading signals group

Visual evidence: to involve you in our research process, we often include charts and graphs on the crypto pair in question
Free Bitcoin Cash Trading Signals
Our in-house team of crypto trading experts put in the same amount of leg work for our free Telegram members as they do with our Premium subscribers. Our free service provides 3 trading suggestions per week. Of course, each signal provides the crypto-pair, long or short order, limit, take-profit, and stop-loss prices.
It's your choice whether you would like to upgrade and increase the number of trading signals you receive. See below for more options in this respect.
Premium Plan Bitcoin Cash Signals
We have established that the free Learn 2 Trade crypto signals plan offers 3 suggestions per week. If you wanted to upgrade to our Premium plan, you can get your hands on 3-5 signals per day (Monday to Friday).
We are proud of the service we provide, so gladly offer a 30-day money-back guarantee with the Premium plan. Why not really take advantage of this great offer and use our signals alongside a free demo account?
Here's how you can test our signals without risking a cent!
Head over to a trading platform offering a demo account – eToro is a top-rated broker with a free demo loaded with $100,000 in paper money
When you receive a Bitcoin Cash trading signal from us – enter each detail into the order box (buy/sell order limit price, etc.)
Repeat this process for a few weeks
If you are dissatisfied with the result after trying us out – simply request a refund within the 30-day period
This is a completely risk-free way to take our crypto signals for a test-drive. There is literally nothing to lose by trading with virtual money alongside our money-back guarantee!
eToro - Buy and Invest in Assets

Minimum deposit of just 250 USD to get lifetime access to all the VIP channels
Buy over 2,400 stocks at 0% commission
Trade thousands of CFDs
Deposit funds with a debit/credit card, Paypal, or bank transfer
Perfect for newbie traders and heavily regulated

67% of retail investor accounts lose money when trading CFDs with this provider.
Premium Plan: Price Breakdown
The prices for our Premium crypto trading signal plan are listed below:
1 month: £35
3 months: £70
6 months: £120
Lifetime Access: £250
Learn 2 Trade Bitcoin Cash Trading Signals:
To get the ball rolling and start making the most of the Learn 2 Trade signals service – follow this simple walkthrough.
Step 1: Sign up to the Learn 2 Trade Crypto Signals Service
Decide which crypto signals account you would like to opt for – and sign up.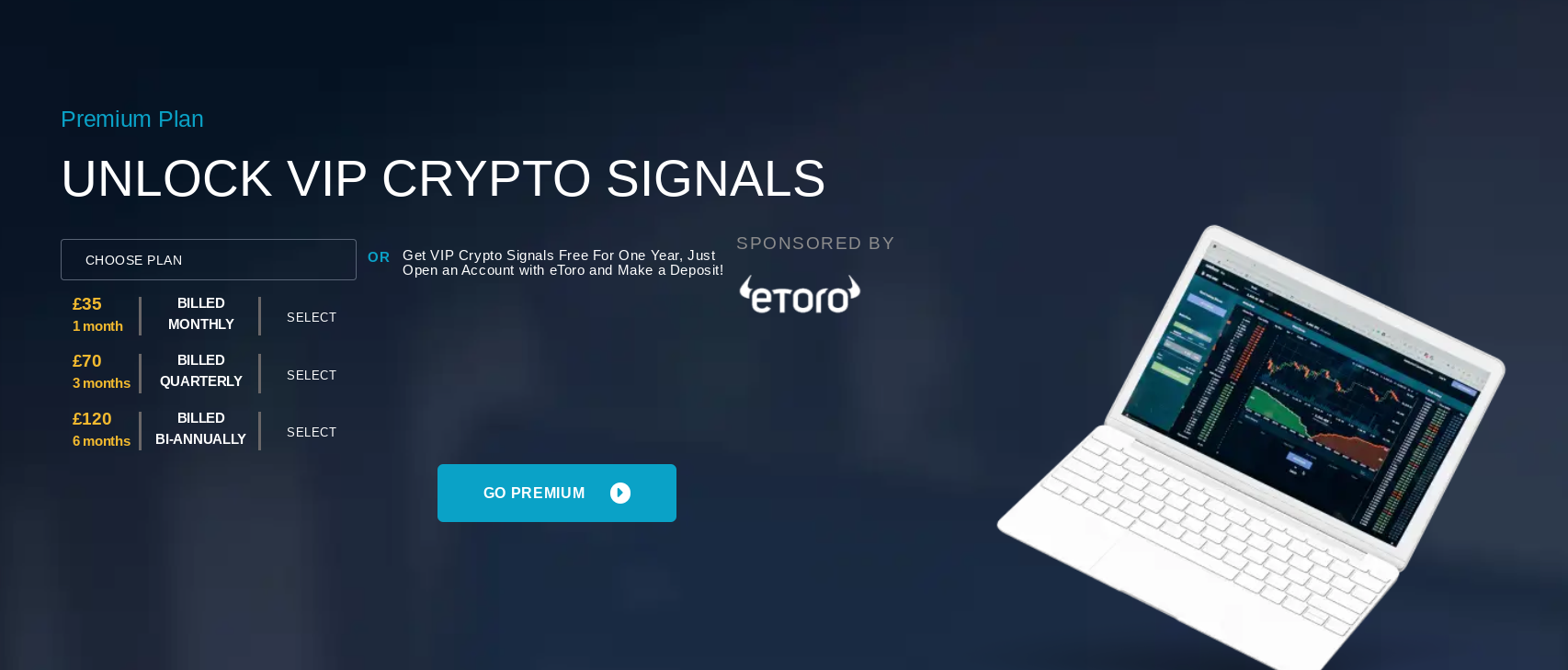 If you want more signals than the free account allows, consider the 1-month plan. If you decide that you don't want to process after signing up, cancel within 30 days and you can request your money back.
Step 2: Join our Bitcoin Cash Trading Signals Telegram Group
First, you need to head over to the appropriate app store and download the free Telegram app. Then come back to Learn 2 Trade and join our crypto trading signals channel.
Step 3: Customize Your Telegram Notifications
You can go into your Telegram settings and adapt the notification tone for our group. This ensures you never miss a Bitcoin Cash trading signal as it happens.
Step 4: Receive Bitcoin Cash Trading Signals and Create Orders
Sign up with a well-known cryptocurrency broker that holds a license from one or more regulatory bodies. The broker will execute the trading order for you.
As we noted earlier, Capital.com is a great option for this – as the platform offers dozens of crypto trading pairs – all of which can be traded commission-free. Plus, you can test our signals out risk-free by using the Capital.com demo account facility.
Step 5: Review the Bitcoin Cash Trading Signal
Check over all of the key metrics included within the trading signal you receive. Next head over to your chosen broker and transfer the information to an order box (via the demo account if you want to test us out first).
This includes whether the pair is a buy or sell, limit price, and stop-loss and take-profit orders.
If opting for Capital.com, click on the 'Open Trade' button to place your order.
Best Bitcoin Cash Trading Signals 2022: The Verdict
Here at Learn 2 Trade, we want everyone within our trading community to have the same opportunities to make consistent gains. As such, we perform endless hours of crucial research to deliver top Bitcoin Cash trading opportunities into your Telegram inbox throughout the week.
Whilst we offer a free service which includes 3 trading signals per week, we also offer a variety of Premium options. This will get you 3-5 signals per day.
Ultimately, you can try our Premium 1-month plan and we'll give you your money back if you are not pleased with the results – should you request a refund within 30-days of signing up.
Learn 2 Trade Free Crypto Signals Service

Get 3 Free Crypto Signals Each Week
Signals Cover all Cryptocurrencies
Option to Upgrade to Our VIP Group for Free
82% Win Success Rate
Average Monthly Gains of 30-40%

FAQs
Are Bitcoin Cash trading signals worth it?
There is no such thing as a guaranteed profit when trading. However, trading signals save newbies and time-starved traders from having to keep one eye on the markets at all times. At the end of the day, it's up to you if you choose to act on signals that are sent to you
Can I lose money with Bitcoin Cash trading signals?
Of course, there is the potential to lose money - as there is when trading in any capacity. Our team of analysts are, however, seasoned professionals that have a great track record in this space. As such, the in-depth technical analysis performed gives us a closer insight into market sentiment than you would be able to achieve on your own. Crucially, we offer a 30-day money-back guarantee with our Premium service.
How can I make money with crypto trading signals?
Crypto trading signals assist you in entering the market at the right time with the correct parameters. Whilst not every signal will result in gains, if you follow the suggestion to the letter via a free demo account - this will allow you to test our suggestions risk-free.