Service for copy trading. Our Algo automatically opens and closes trades.
The L2T Algo provides highly profitable signals with minimal risk.
24/7 cryptocurrency trading. While you sleep, we trade.
10 minute setup with substantial advantages. The manual is provided with the purchase.
79% Success rate. Our outcomes will excite you.
Up to 70 trades per month. There are more than 5 pairs available.
Monthly subscriptions begin at £58.

It has been over a decade since the first altcoin was introduced to the cryptocurrency world – Litecoin being one of the most well-known.
If you want to learn how to buy one of the hottest digital currencies in the cryptocurrency market – stay right there.
In this comprehensive guide, we detail how to buy Litecoin from start to finish. We also divulge some of the most commonly used crypto strategies and review the most trustworthy trading platforms in the industry.
eToro - Buy and Invest in Assets

Minimum deposit of just 250 USD to get lifetime access to all the VIP channels
Buy over 2,400 stocks at 0% commission
Trade thousands of CFDs
Deposit funds with a debit/credit card, Paypal, or bank transfer
Perfect for newbie traders and heavily regulated

67% of retail investor accounts lose money when trading CFDs with this provider.
How to Buy Litecoin in 10 Minutes – Quickfire Guide
In order to buy Litecoin online – you are first going to need to join a brokerage to gain access to this digital coin. Once you have decided which platform to use, you can embark on buying Litecoin with ease.
If you are yet to do your homework in this respect, not to worry, -we review the top 4 platforms shortly.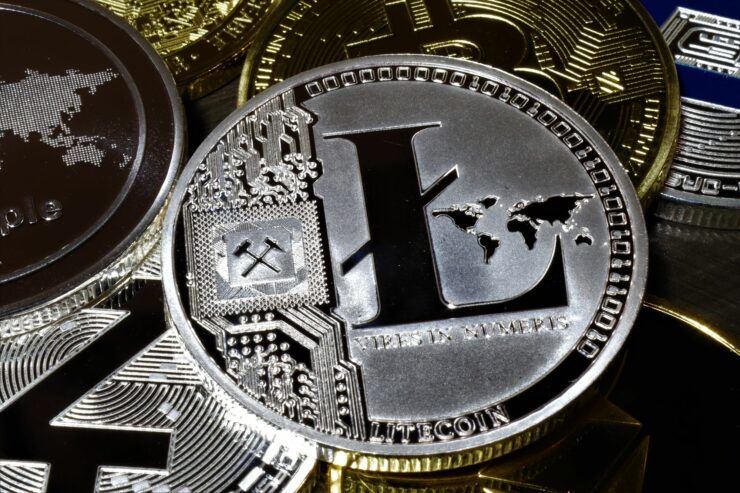 For those who are looking to buy Litecoin now, but are pressed for time – see a quickfire walkthrough below:
Step 1: As we said, you will need to join a brokerage – Capital.com is used by millions and you will not pay commission to buy Litecoin
Step 2: Complete the sign-up process including a username and a memorable password
Step 3: As per KYC, you will now be asked for some proof of ID and address – most people use their passport and a recent bank statement for this
Step 4: Click on 'Payment Methods' and select one from what's available – input the amount you would like to deposit
Step 5: Search Litecoin, enter the amount you wish to buy (minimum $25), and place your order.
You have just bought Litecoin at commission-free!
Select a Trusted Litecoin Broker
Online brokers provide access to the cryptocurrency markets. As such you need to buy Litecoin via a trusted platform.
There is more than one way to buy Litecoin, so we've saved you hours of research and reviewed the top 4 platforms offering this digital currency.
Notably, we have also included CFD brokers – as this enables you to go short on LTC coins, as well as apply leverage.
1. AvaTrade – CFD Broker and a Wide Range of Techincal Analysis Tools
AvaTrade is another commission-free CFD broker on our list that is able to provide you with access to Litecoin. There are also over a dozen other cryptocurrency CFDs, as well as more than 1,000 markets across indices, forex, ETFs, stocks, and bonds. Our guide found the typical spread on Litecoin CFDs to be 0.6% over the market.
Furthermore, this trading platform will offer leverage on Litecoin trades where permitted. The site states that this will be 1:2 for European clients and 1:25 for non-EU traders. The latter means for every $1 you stake, you can trade with $25. There are no concerns about the legitimacy of this platform. Not only has AvaTrade been around for over a decade - but the company is regulated in 6 jurisdictions. This includes Europe, Australia, Japan, and more.
Not all Litecoin traders like to dive right in. As such, AvaTrade offers a full educational center packed with various trading videos, indicators, and strategies. You will also find lessons on crypto order types and tips on advanced trading techniques. Furthermore, you can hook your account up to MetaTrader4 and utilize the wide range of trading tools on offer there.
Before going live with real money, you may want to try out the free demo account. This enables you to trade Litecoin CFDs without risking a cent of your own money. Instead, you will be using a paper trading balance of $100,000. In terms of accepted payment methods, you will see the most commonly used. This includes major credit/debit cards and wire transfers. Some people will be able to deposit funds using e-wallets such as Skrill, Boleto, and Neteller. Finally, the minimum requirement to start trading Litecoin CFDs at AvaTrade is just $100.

Trade Litecoin from $100
Regulated by 6 regulatory bodies
Litecoin CFDs come with 0% commission
Fee payable after 12 months account inactivity
75% of retail investors lose money when trading CFDs with this provider
2. VantageFX – Ultra-Low Spreads
VantageFX VFSC under Section 4 of the Financial Dealers Licensing Act that offers heaps of financial instruments. All in the form of CFDs - this covers shares, indices, and commodities.
Open and trade on a Vantage RAW ECN account to get some of the lowest spreads in the business. Trade on institutional-grade liquidity that is obtained directly from some of the top institutions in the world without any markup being added at our end. No longer the exclusive province of hedge funds, everyone now has access to this liquidity and tight spreads for as little as $0.
Some of the lowest spreads in the market may be found if you decide to open and trade on a Vantage RAW ECN account. Trade using institutional-grade liquidity that is sourced directly from some of the top institutions in the world with zero markup added. This level of liquidity and availability of thin spreads down to zero are no longer the exclusive purview of hedge funds.

The Lowest Trading Costs
Minimum deposit $50
Leverage up to 500:1
75.26% of retail investor accounts lose money when spread betting and/or trading CFDs with this provider. You should consider whether you can afford to take the high risk of losing your money.
Consider Your Litecoin Strategy
Strategies are used by both novice and expert Litecoin buyers. After all, having a plan aids you in maintaining better control over your finances.
If you don't know where to start, you will see the two best options below.
Buy and Hold Litecoin
If you decide to buy and hold Litecoin – you are purchasing digital coins and keeping a hold of them for months or years – before selling them.
Why you might ask? Some people don't wish to be concerned with the short-term price fluctuations this particular digital asset experiences. As such, you might be more interested in purchasing Litecoin at a low price and then selling it later on, for much more than you initially paid.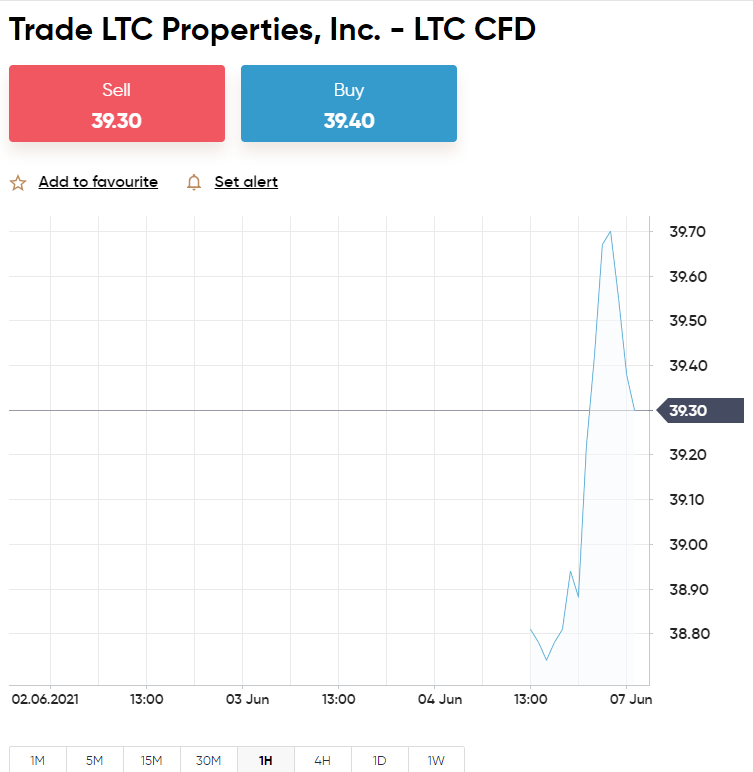 For further clarification, see a practical example of a Litecoin buy and hold strategy:
Based on current prices, you think that Litecoin represent a good investment
As such, you place a $300 buy order with your online broker
You leave your LTC coins in storage for a little over 9 months
Upon checking the price again, you see that Litecoin is now valued 21% higher than when you initially placed your order
You quickly grab the opportunity and cash-out by placing a sell order on your Litecoin purchase
From your $300 buy order, you made $63 in gains by holding onto your digital coins ($300 x $21%)
Importantly, you must pay some consideration to where you will store your purchase. You could sieve through the hundreds of crypto wallet apps available, and download one of those. The issue is that you then need to take on the responsibility of encrypting and securing the digital currencies yourself.
Our above example saw you storing your LTC tokens at your chosen brokerage. This is undoubtedly the safest and least complicated way to take care of cryptocurrencies. For example at eToro, you can buy, trade, and store your Litecoin investment in a regulated and safety-conscious space – at no extra fee.
Trade Litecoin
If you choose to trade Litecoin, this will usually be achieved via CFDs (Contracts for Differences) at your carefully selected trading platform.
We talked about trading CFDs throughout our trusted broker reviews. This is because they are so flexible and convenient for traders of all levels of experience. If you have ever engaged in forex trading, you will know that currencies are grouped into minor, major, and exotic pairs.
In cryptocurrency trading, pairs are usually categorized as either crypto-crypto or crypto-fiat. The former will see you trading Litecoin against a crypto-asset like Ethereum – traded as LTC/ETH. Alternatively, you might look for a pair like LTC/XRP which is Litecoin against Ripple, or LTC/BTC (Bitcoin).
The most common way to trade Litecoin is against a fiat currency such as euros or US dollars. For instance, if you see LTC/EUR, you are trading Litecoin against the value of the euro.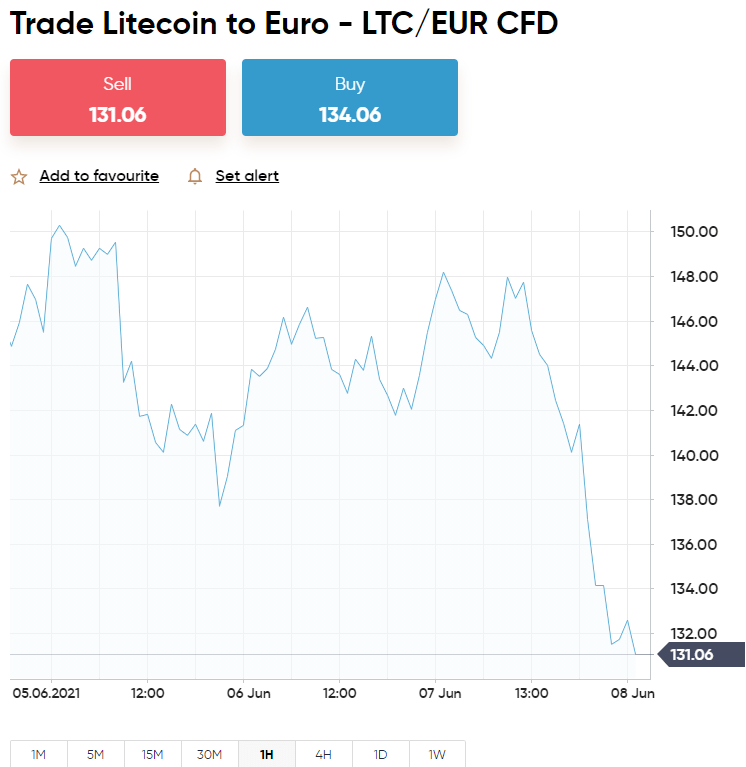 Importantly, CFDs will track the price of the underlying security. As such, if LTC/AUD is priced at $262, the CFD will be $262 as well. This means you can trade the direction of Litecoin's value without having to actually own it.
See an example below, to clear any confusion:
You want to trade Litecoin against the Australian dollar via a CFD – priced at $262
Having analyzed this market for a while now you think the pair has been hyped-up and will soon fall in value
With this in mind, you go short on LTC/AUD with an $800 sell order
Sure enough, 2 days later the trading platform is quoting $220 – this illustrates a 16% price drop
As such, your speculation was well-founded and you create a buy order to cash out your $128 profit ($800 x 16%)
The thing with crypto CFDs is that you are able to make a prediction in either direction. For instance, if you think Litecoin is undervalued and will soon skyrocket in price – you simply need to go long by placing a buy order with a trusted cryptocurrency broker .
We also mentioned leverage earlier. Importantly though – restrictions and limitations will be dependant on your jurisdiction. With that said, let's shed some light on what it entails.
See a simple example of a Litecoin CFD with leverage:
You create a sell order on LTC/AUD and are offered leverage of 1:2
That original $800 order is now boosted to $1,600 by your chosen trading platform
As such, instead of making gains of $128, you have leveraged your profit to an impressive $256
As you can clearly see, leverage allowed you to increase the value of your Litecoin trade. On the flip side, had LTC/AUD gone the other way and experienced a price increase, you would have ballooned your losses 2-fold. As such, always use leverage with caution.
Where to Buy Litecoin
Naturally, you will need to contemplate where you might look to buy Litecoin. With this in mind, we have listed some commonly used methods below.
Buy Litecoin Debit Card
Our guide found that the lion's share of online cryptocurrency platforms will let you buy Litecoin using a debit card. However, the fees can be steep. For example, both Binance and Coinbase charge between 3% and 4% on each transaction – depending on various circumstances.
In stark contrast, eToro will only charge a small deposit fee of 0.5%, for anyone not choosing to deposit using US dollars on the platform. In other words, if you pay in USD, you can buy Litecoin via debit card for free free.
Buy Litecoin Credit Card
Some platforms will allow you to buy Litecoin using a credit card. The main thing to be wary of is that you might have to pay a cash advance fee, which is typically around 3-5% of the transaction amount.
Furthermore, some trading platforms will also charge you from their end for using this particular method to buy crypto. Apart from the previously mentioned charge for not using USD, you will not pay anything to buy Litecoin via credit card at eToro.
Buy Litecoin Paypal
PayPal is one of the most well-known e-wallets of all and is considered by some investors to be the preferred deposit method. Despite the hundreds of brokers offering access to crypto-markets, not many accept this payment type.
Whether you wish to use this payment method for speed or convenience – you can buy Litecoin using PayPal at eToro – commission-free.
Litecoin ATMs
Crypto ATMs require the user to put fiat cash into the machine to buy Litecoin. On the screen, you will be given important details such as how many coins you will get for your offering.
Since the first Bitcoin ATM popped up in a coffee shop over 10 years ago, there are now thought to be over 10,000. They can be found all over the world, and whilst some will only enable you to buy BTC coins, there are hundreds of LTC compatible terminals. These can be found everywhere from the US and the UK to Spain, and South Africa.
Before getting ahead of yourself we should point out that these machines often come with huge commission fees. As such, you will be better off making your purchase via a commission-free broker like eToro.
Litecoin Strategies
We talked about the different strategies available, based on long or short-term Litecoin goals.
However, there are many simple systems you can add to build a solid strategy moving forward. See a few tips below to spark your imagination
Dollar-Cost Averaging
Dollar-cost averaging, also known as 'the dollar plan', involves sticking to a regular investment budget.
You may check out your finances and decide you can afford to top up your investment account with $400 each month. Accordingly, you can then think about your strategy and proceed to buy a specific amount of Litecoin per week or on a specific date of the month.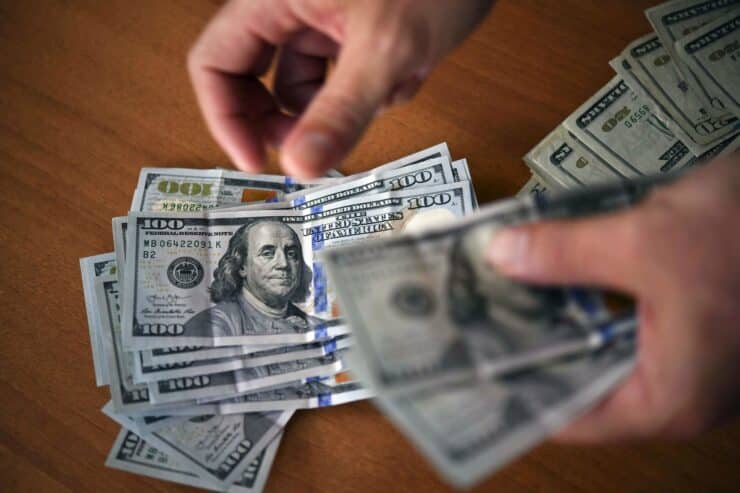 For instance, with a budget of $400 a month you might decide to buy $100 of LTC tokens every Thursday afternoon, or perhaps $50 every Tuesday and Friday. As you can imagine, this is a slow but steady way to increase your collection of Litecoin, crucially, without laying too much cash on the line.
Buy the Dip
If you like the simplicity of adding dollar-cost averaging to your Litecoin strategy – you might want to also try buying the dip. In fact, both can be used in conjunction with one another when the moment takes you.
Let's offer a simple example:
Litecoin has had a very eventful time of late, falling in value by 23% in just a week
Knowing how volatile this market is, you are all but certain the digital coins will soon recover
As such, you head over to your trading platform and place a buy order on Litecoin
This is what it means to buy the dip
In a nutshell, purchase your Litecoin whilst it is going cheap – so that you can reap the rewards in the future by selling when prices rise again.
Diversify
You will have no doubt seen the word 'diversify' used a lot in guides like this. The reason is – it's unwise to depend on success based on a single asset – Litecoin.
Sure, the speculative asset might be making you gains now, but everything can change in an instant in this arena. As such, why not think about investing in something completely different like stocks indices?
In most cases, the more of a contrast there is between the asset classes in your portfolio – the better. Consequently, if one isn't doing so great, you still have various different sectors to lean on.
Litecoin Trading Signals
When looking to buy Litecoin you may have seen crypto signals advertised? Put simply, this is a free or paid-for service offering traders and investors inside knowledge on market sentiment. This is obtained either through automated robots or actual seasoned traders.
For example, at Learn 2 Trade we offer a hugely popular Litecoin Trading signals service, which is offered via our Telegram group. Our signals are sent off the back of intense and advanced technical analysis, performed in-house.
Here, we offer a free service that includes the Litecoin pair we see potential in, what price to enter the market at, and what value to input as your stop-loss and take-profit. If 3 signals a week isn't enough you can try out the Premium account – which comes with a 30-day money-back guarantee. This will get you 3-5 crypto signals per day!
How to Buy Litecoin Online – Full Walkthrough
If you are looking to buy Litecoin for the very first time and need a bit of guidance – check out the walkthrough below. In doing so, you can buy Litecoin at regulated brokerage site Capital.com
without paying any commission.
Step 1: Sign Up With a Litecoin Broker
We are using Capital.com for this walkthrough because you can buy and trade Litecoin commission-free, with no fuss – in less than 10 minutes!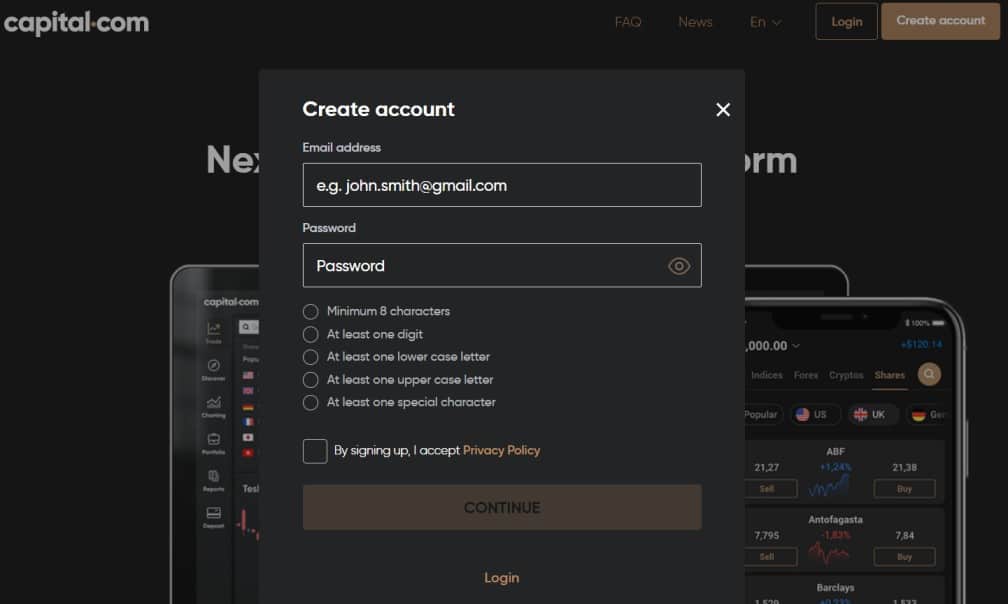 Upon landing at Capital.com look for the 'Create account' link and fill in the required information. This will include your name, location, home address, date of birth, and contact details.
Step 2: Upload Some Identification
After providing the broker with some basic details about who you are, you will be asked to upload some identification. This is standard amongst all regulated platforms.
The fastest ID for Capital.com to process is a passport. Once that is done, all you need to do is upload a copy of a recent utility bill or bank statement to confirm your address.
You may leave the documentation part right now, but this must be done before you are able to make a withdrawal later on. The document verification takes minutes regardless, thanks to automated ID validation.
Step 3: Deposit Funds Into Your Account
Once you have opened an account you will then need to make a deposit. At Capital.com, you can choose from a debit/credit card, Paypal, Neteller, and Skrill. This will be credited to your account instantly.
Enter the monetary amount you wish to deposit in the relevant box and confirm.
Step 4: Buy Litecoin
Now that you have deposited funds, enter 'Litecoin' into the search box at the top of the page.
Then, an order box will appear like the above. All you need to do is enter the amount you wish to invest – ensuring you meet a $25 minimum.
Finally, click on 'Set Order' to buy Litecoin commission-free!
Conclusion
When you are weighing up your options and considering how to buy Litecoin – consider focusing your attention on more than one asset, to hedge against crypto volatility.
Never go into the cryptocurrency market blindly or naively, so make sure you have one strategy or more lined up. Also, do your research and only entertain the idea of investing in Litecoin via a regulated brokerage.
At Capital.com, you can buy Litecoin with ease and you won't be liable for a cent in commission. Plus, you can instantly deposit funds with a debit/credit card or e-wallet and the minimum investment is just $25!
eToro - Buy and Invest in Assets

Minimum deposit of just 250 USD to get lifetime access to all the VIP channels
Buy over 2,400 stocks at 0% commission
Trade thousands of CFDs
Deposit funds with a debit/credit card, Paypal, or bank transfer
Perfect for newbie traders and heavily regulated

67% of retail investor accounts lose money when trading CFDs with this provider.
FAQs
What is the minimum amount of Litecoin you can buy?
No two brokers are the same. As such, the minimum amount of Litecoin you can buy depends on which platform you sign up with. eToro enables you to buy Litecoin at a minimum investment of just $25.
How much is Litecoin likely to be worth in 5 years?
Some crypto analysts predict that Litecoin could be worth $6,500 in 5 years time. If you would like to keep an eye on how likely this might be you will need to learn the ins and outs of technical analysis and keep tabs on reliable financial new sources.
Where is the best place to buy Litecoin?
The best place to buy Litecoin is eToro. The brokerage offers tight spreads, a variety of different markets, and is heavily regulated. If that's not enough, the broker charges ZERO commission to buy Litecoin.
How can I sell Litecoin?
The simplest way to sell Litecoin is at eToro. If you used a buy order to enter the market - simply create a sell order to cash out. The regulated broker will add the money to your trading account and you can withdraw it as you wish.
Can Litecoin make you rich?
A common misconception since the dawn of time is there there is an effortless way to get rich quick in the crypto space. However, this market is volatile, and trading Litecoin does not come without risk. Create a clear strategy, set a budget, and think about using trading signals until you learn the ins and outs of technical analysis