Invest at least $250 in D2T to gain lifetime access to our VIP Signals
Get early access to Dash 2 Trade's Presale. Buy the D2T token now
Existing community of 70,000+ traders
Unlocks access to the leading crypto trading analysis, signals and trading tools
As featured in CryptoNews.com, FXEmpire.com, FXStreet.com and more
World class development team backed by Quant developers and VC investors
We've all been there – the internet connection fails in the middle of an online purchase and you have to go through the whole process again. If you lose your connection in the middle of trading forex – the consequences can be a lot worse.
As such, using a forex VPS enables you to invest on a server which has been specifically assigned to your trading endeavours. Furthermore, if you plan to deploy a forex robot on MT4 – a reliable VPS is crucial.
One of the most notable benefits is that using a VPS allows for traders to open and close trades quicker. This is important for getting the best out of your software. In addition, a good quality VPS provides very low latency at your chosen forex broker.
With a forex VPS, you can trade using a completely uninterrupted connection. There are lots of VPS providers online and the system offered by each platform differs. With so much on offer, it can be hard to know where to begin.
We've put together a guide on the best forex VPS brokers. We cover what a forex VPS actually is, things to look out for, and the best forex VPS brokers of 2021.
Table of Content
AvaTrade - Established Broker With Commission-Free Trades

Minimum deposit of just 250 USD to get lifetime access to all the VIP channels
Pay 0% on all CFD instruments
Thousands of CFD assets to trade
Leverage facilities available
Instantly deposit funds with a debit/credit card

71% of retail investor accounts lose money when trading CFDs with this provider.
What is a Forex VPS?
Fundamentally, a forex VPS lets you use your forex brokerage subscription account on an exclusive server. VPS suppliers split powerful servers into small dedicated servers, with each VPS working individually away from the rest.
This is advantageous for various reasons. Firstly, you are able to make the most out of your additional trading software. Regardless of whether it's a forex robot (otherwise called a forex Expert Advisor or EA), a software algorithm or a forex signal provider.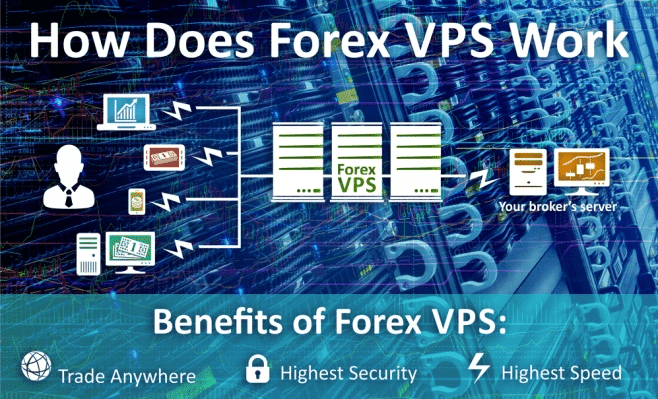 Generally speaking, if your product operates via a third-party trading platform like MT4 (MetaTrader4), then you won't be able to perform other tasks. The reason for this is that the pervading software needs unconstrained access to MT4 to work correctly.
Therefore, your device is essentially unusable when trading. Fortunately, a reliable VPS creates a side channel. Consequently, the forex VPS will enable your system to run on an exclusive, high performing and secure server.
As a result, you can rest in the knowledge that your automated system is buying and selling forex 24/7 without any impact on its speed, expandability or storage.
Another benefit of a forex VPS is how useful it is for traders who have an inclination to be out and about. For instance, instead of having to check how your forex robot is performing on your home computer, you can easily check on your mobile phone. Overall, a forex VPS is a beneficial extra for your trading endeavours.
Best Forex VPS Vendors?
Now that you are fully aware of what a forex VPS is and why it is such a helpful addition to you as a trader, you can select a suitable provider.
There are thousands of platforms offering forex VPS services – so deciding which one is best for your personal needs can be tough. With this in mind, we've scrutinised the top forex VPS vendors for 2021.
1. ForexVPS.net - Reliable Platform with 100% Uptime
ForexVPS.net is a hugely popular forex VPS provider, and you can get going in around 5 minutes. If you have little to no understanding of how these systems work you will find this platform a good place to start. When it comes to VPS reliability, ForexVPS.net promises clients 100% uptime.
In a nutshell, this means that your forex EA is able to buy and sell without interruption 24/7. As well as its 100% uptime rate, this provider assures clients that orders will be executed almost immediately (as fast as one millisecond). Moreover, the system works with all forex robots.
Not only this, but the ForexVPS.net offers traders that all-important 24/7 customer support. As we said, this is perfect if you are inexperienced when it comes to forex VPS software and need help.
Onto the subject of cost, there are 4 VPS packages to select from. Packages start from $29.99 per month for the basic account; this includes 60 GB of space and several server localities. If you need more, there's the standard plan which is priced at $53.99 a month, including 90 GB of disk space.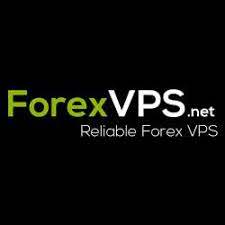 100% uptime rate
24/7 customer support
4 packages to select from
Considered expensive compared to other VPS providers
No free VPS offer
2. FXFM - Easy to Open an Account
FXVM is a leading VPS service with a variety of different plans on offer. There is something to suit most forex traders. If it's the case that you just want to evaluate your forex robot 24/7, for $19 a month you can get your hands on 40 GB of space. This is inclusive of one or two MT4/MT5 platforms.
If you need a bit more than that, you can opt for the $199 plan. This includes 120GB space and up to 32 platforms. The most expensive option will be more fitting if you intend on running several trading systems at once. Either way, FXVM VPS only takes around 5 minutes to get started.
You are able to use FXVM packages on MT4/MT5 platforms as well as any forex EA system. In addition to this, you have a choice of various international servers.
FXVM VPS offers new clients a 30-day trial, meaning you are able to test it out properly. It's always a good thing to be able to try before you buy and commit yourself to the provider. Should you be dissatisfied with the service provided, you can request a full refund.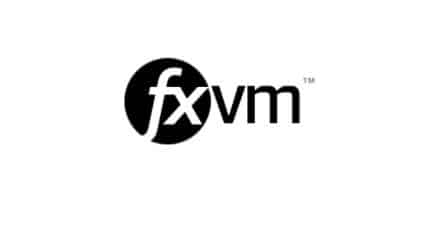 Quick and easy to open an account
Wide variety of technical tools and educational content
Live latency results accessible
3. FxSVPS - Low Monthly Payments
If the price is a driving factor for you when choosing a forex VPS platform then FxSVPS will suit you to a 'T'. The monthly payments on this account start at just $2.50, which is one of the lowest prices we've come across.
When it comes to RAM, your $2.50 is only going to provide you with between 800 MB and 1,600 MB of space. As a result, it will only be a good option for you if you only have basic requirements for your forex VPS.
If you decide that is an adequate amount for you, you can expect an exclusive IP address and 1 to 2 CPUs. With FxSVPS you can usually get started in less than 3 hours. The platform gives you access to 24/7 customer support.
If you need more than what's on offer, you can opt for the Exclusive Plan. This plan costs $7.50 each month and is inclusive of between 2 GB and 5 GB of RAM.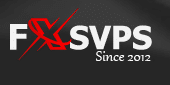 Competitively priced
Worldwide servers
7 day money-back guarantee
5. MyForexVPS - Fast Deployment of Servers
My Forex VPS is a good quality VPS provider and is very reasonably priced to boot. The first plan to mention is the Solo NL Plan which costs $12.99 and is inclusive of 2 GB of RAM. Furthermore, you can expect a CPU of 1,600 MHz and between 1 and 4 forex platforms.
For those of you who plan on running more than ten forex EAs at once, there's the Guru NL Plan. This account costs $52.99 and includes a CPU totalling 6,900 MHz and 6 GB of RAM. On top of that, you can access up to 25 forex platforms.
If you have an elaborate forex robot strategy this plan should be sufficient for high volumes. My Forex VPS is designed to be used with both MT4 and MT5.
This forex VPS platform provides really low latency levels, meaning it's much easier for you to avoid potential slippage and requotes. My Forex VPS has had an average uptime rate of nearly 100% for the last 8 years, so 24/7 trading should be easy.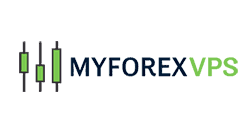 CPU 1,600 MHz
Low latency levels
100% uptime
Some
Limited information about RAM
How to Select the Best Forex VPS
When you're deciding on which forex VPS is right for you, you might be swayed by the price. Of course, the cost is important for money management and making sure you can cover the subscription. With that said, there are other considerations you should be mindful of when choosing the perfect VPS for you.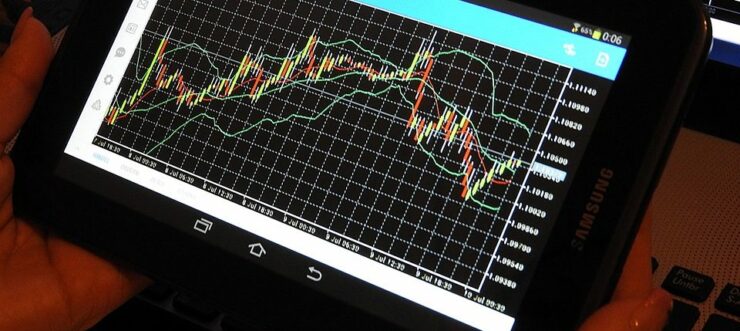 We've compiled a list of some key metrics for you to bear in mind when you're researching VPS providers.
How Much RAM/Disk Space
No matter which forex VPS vendor you subscribe to, there will be limitations in place with regards to how much disk and RAM space you are permitted to use. If your strategy only includes trading with one or two forex robots, then storage won't be a problem.
On the other hand, if you intend on trading several forex EAs, you will need more RAM and Disk space for your trades to run smoothly. Should you try to trade with more than a few trading robots and lack the space, this could potentially be damaging to your trading systems.
Cost
Price matters and is obviously something that traders need to think about before signing up to a VPS provider. For example, there is no need for you to layout nearly $200 a month if you only average less than $100 a month in profit. Most importantly, you need to find an equilibrium between cost and forex VPS performance.
Latency Levels
The speed at which trading orders are performed on MT4/MT5 is called 'latency'. For this reason, it's important to make sure your latency levels are low.
Keeping your latency levels to a minimum is going to prevent you from turning a profitable trade into a losing one. A high latency level could lead to slippage, consequently resulting in losses.
The best forex VPS brokers have been known to let customers select VPS servers from various locations. Investors should ideally select the VPS location dependent on that of the brokerage. If not in the same country, then at least the same continent.
Unlimited Platform?
Some VPS providers also put a cap on the number of models which can be run. It's always better to not be too limited by your VPS provider, as investors shouldn't be restricted to just one broker or trading account.
VPS Security
Unquestionably, the security provided by your VPS is one of the most important features investors should assess. Generally speaking, this feature will come with the account. However, it's a sensible idea to double-check. In particular, DDoS protection is also extremely beneficial for traders.
Technologies
VPS providers use virtualization technology, which is often the first thing traders look at when considering potential VPS brokers. There are now even more technologies employed by these providers. A few examples are Open VZ, Xen and Hyper-V – but there are more available.
Uptime Guarantee
A lot of forex VPS providers place a cap on the number of systems which can run at the same time. As such, it's a good idea for traders to look for a VPS vendor that enables unlimited platforms. Although this isn't always possible, the ideal situation is to be able to run various accounts including forex robots.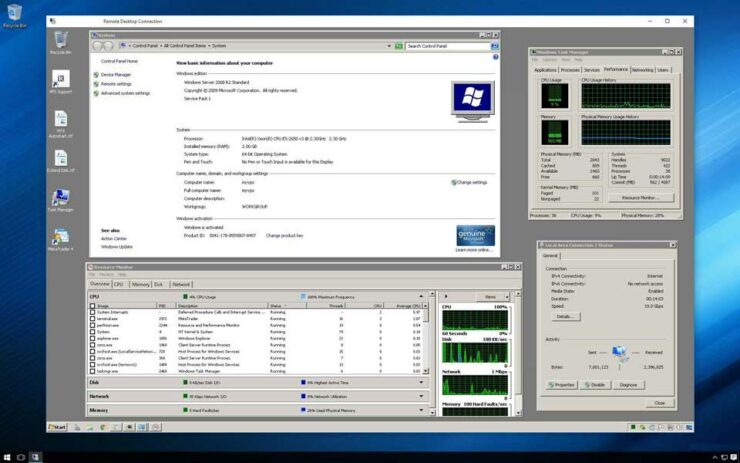 Another thing you can do is weigh up how reliable the VPS vendor is. The best way to check this is by assessing the platform's uptime. This refers to the length of time the forex VPS can run smoothly.
When the VPS stops working effectively, your forex EAs will be unable to trade at all. In the majority of instances, you should aim for platforms offering at least 98% uptime. This way you can be sure that your system maintains access to the forex markets 24 hours a day, 7 days a week.
Support
The importance of a great customer support team when forex trading is immeasurable as you never know when you might require assistance. The best VPS providers offer 24/7 customer support to clients, keeping in line with forex market hours.
For instance, let's say that you are using a highly lucrative forex robot which trades on your behalf around the clock. If you discover in the early hours of the morning that the VPS is inactive, you will want to contact your VPS provider for immediate assistance.
In the trading game, time is money. The longer your trading bots are out of action, the more it is going to cost you. For all of the reasons above – it is important to look into evaluating the capabilities of the platform's customer support team before committing yourself.
How to Sign up With Forex VPS
Assuming you would like to start trading with a VPS provider today, we've put together a helpful 5 step guide to assist you. The same guidelines apply to the vast majority of forex VPS providers.
Step 1: Select Your Forex VPS Provider
To start with, you're going to need to carefully select the best forex VPS provider for your trading needs. If all you want is a reputable platform offering lots of storage and a decent amount of RAM, along with 100% uptime – ForexVPS is a good option.
This option means you can rest easy knowing that your trading robots are working 24/7 – not to mention the 5 minutes set up time.
Step 2: Choose a Plan
Next, you need to choose a plan which fully suits your forex trading needs. In other words, considering how much you plan on using the VPS system. Assess the storage space, RAM and how many platforms you can connect to.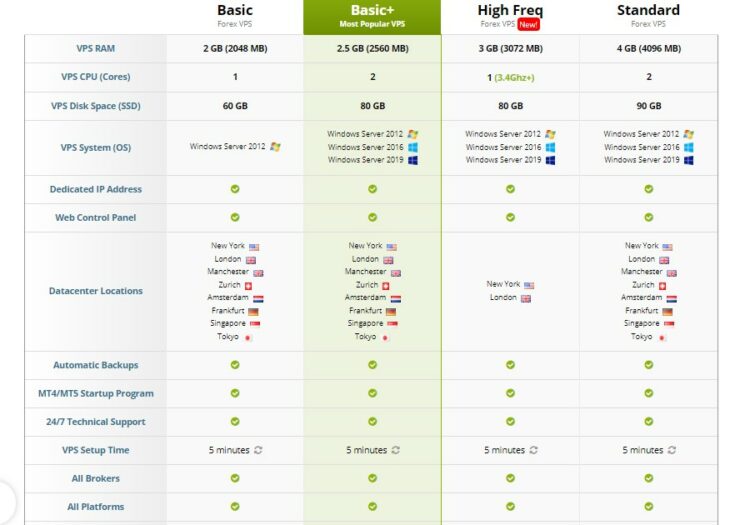 For instance, you might be better off starting with the cheapest monthly plan on offer. Should you decide you little a little more in the way of bandwidth, then it's easy to upgrade your package.
Step 3: Purchase Your Forex VPS Subscription
Now you have chosen your plan, you will need to deposit some money to begin your forex VPS subscription. The vast majority of forex VPS platforms allow for clients to pay upfront by 3-6 months. As a result, you might get it for a better price.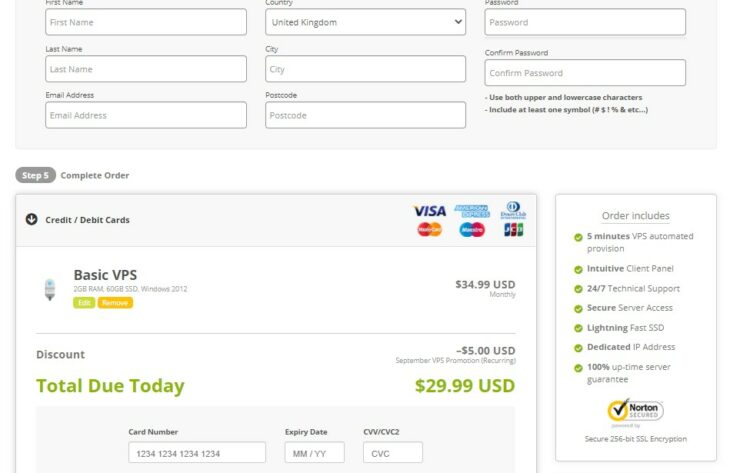 When it comes to ForexVPS there is a good selection of payment method options, which include:
Mastercard

Visa

American Express

PayPal

Skrill

Bitcoin

JCB
All deposits will be processed immediately.
Step 4: Connect to Forex VPS
With regards to setting up your forex VPS, this is fairly simple. If you are a beginner and want a one-click process, some VPS providers (such as ForexVPS) provide a Google Chrome VPS extension. This eliminates the need for you to download or configure any software.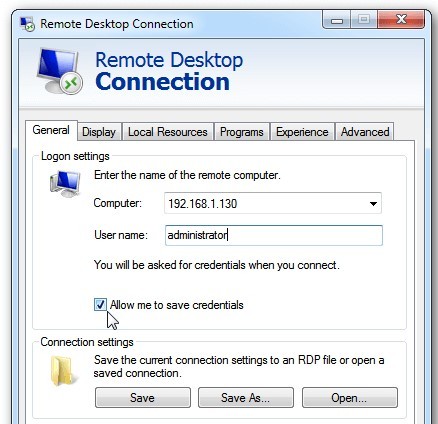 If you would rather install the software yourself, you can do this by inputting your VPS IP information on 'Windows Remote Desktop Configuration'. Simply enter our password when instructed to do so.
Step 5: Set up MetaTrader4 on VPS
Regardless of whether or not you already have a forex robot set up on your MT4 platform – you will need to reinstall the VPS software for it to work. The reason for this is that you are required to add the trading EA and MT4 system to the forex VPS.
After you've signed up, moved your robot file to the MT4 platform, and activated your EA – your forex bot system should now be operating using your VPS!
In Conclusion
If you are planning on using a forex EA to trade, then finding a trustworthy VPS provider is vital. This is going to prevent the need for you to keep your PC or laptop on 24/7.
Besides this, whilst the forex robot is trading you will be unable to use the device for anything else.
Moreover, by using a forex VPS system, your trading bot will have full 24/7 access to the worldwide forex markets – all thanks to the exclusive VPS server.
AvaTrade - Established Broker With Commission-Free Trades

Minimum deposit of just 250 USD to get lifetime access to all the VIP channels
Pay 0% on all CFD instruments
Thousands of CFD assets to trade
Leverage facilities available
Instantly deposit funds with a debit/credit card

71% of retail investor accounts lose money when trading CFDs with this provider.
FAQs
What's a forex VPS?
A forex VPS (Virtual Proxy Server) enables you to trade forex robots on a private server. This means that you don't have to keep your MT4 running 24/7 on your laptop (or PC etc).
Are forex VPS dependable?
The answer to this question depends on the VPS provider. You need to look out for 100% guaranteed uptime for the best results. When trading downtime can be really detrimental to trades.
What is the leading forex VPS?
ForexVPS is one of the leaders in the forex VPS space at the moment. Costing just $29 a month, this provider offers clients 100% guaranteed uptime.
How much RAM/Disk space is needed for forex VPS?
RAM requirements are very much personal to each trader. If you like to use loads of forex robots and go hard at it, then you are better off choosing a VPS provider which offers packages with loads of RAM (and multiple platforms).