Service for copy trading. Our Algo automatically opens and closes trades.
The L2T Algo provides highly profitable signals with minimal risk.
24/7 cryptocurrency trading. While you sleep, we trade.
10 minute setup with substantial advantages. The manual is provided with the purchase.
79% Success rate. Our outcomes will excite you.
Up to 70 trades per month. There are more than 5 pairs available.
Monthly subscriptions begin at £58.

Learning in-depth technical analysis and having a grasp of how to draw price charts is considered a necessity in this game. For a fighting chance at success at least.
As such, you may be looking for the best Litecoin trading signals because you are a newbie investor and want to get started right away. Or, perhaps you simply don't have the time to keep one eye on the crypto markets around the clock.
In this guide, we explore how Litecoin trading signals function and what they comprise. We also explain the ins and outs of the Learn 2 Trade crypto signal service – covering both the free and Premium plans in great detail.
Learn 2 Trade Free Crypto Signals Service

Get 3 Free Crypto Signals Each Week
Signals Cover all Cryptocurrencies
Option to Upgrade to Our VIP Group for Free
82% Win Success Rate
Average Monthly Gains of 30-40%

Best Litecoin Trading Signals for Beginners
We touched on the importance of being knowledgeable on technical analysis when trading digital currencies like Litecoin.
Some of the most common indicators used by seasoned pros include:
MYC Trading indicator
Stochastic Oscillator
Moving Averages
Relative Strength Index
Bollinger Bands
Moving Average Convergence/Divergence
and many more
As you can imagine, there are heaps of other chart patterns and statistical indicators to consider. Each will illustratee metrics such as strength, volume, trends, and historical price data.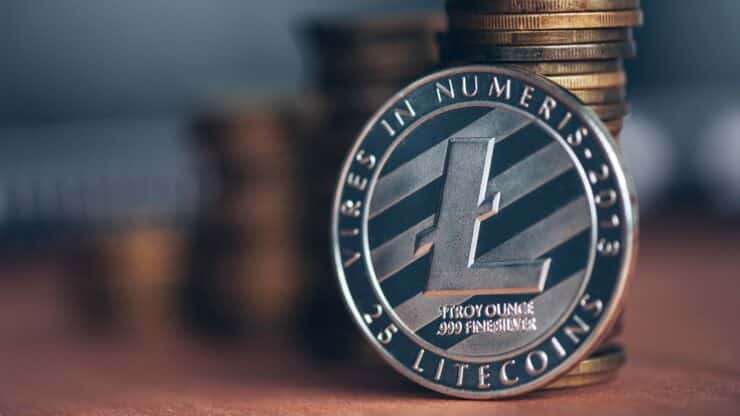 Furthermore, it takes years to learn these charting tools effectively. This is where Litecoin trading signals come into the picture. Crucially, we perform this intensive research so you don't have to!
How do Learn 2 Trade Litecoin Trading Signals Function?
As noted earlier, our team of in-house trading experts takes on the task of analyzing Litecoin and the wider crypto markets. We then share our results with you – similar to trading tips.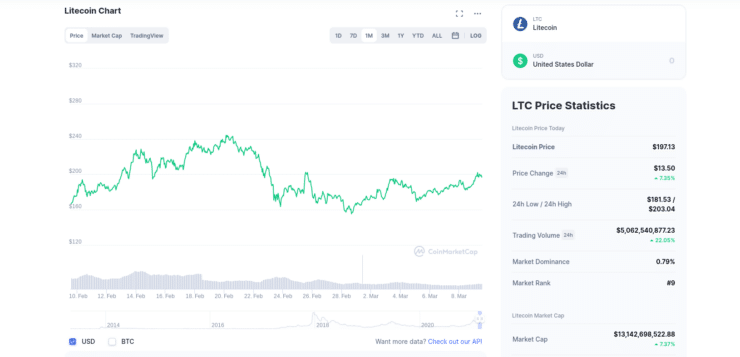 Our Litecoin trading signals invariably include everything you need to enter and exit the market in a risk-averse manner.
To give you a clearer picture, see below the key pieces of insight included in our Litecoin trading signals:
Cryptocurrency Pair: LTC/AUD
Short or Long: Long
Limit Order Value: AU $260
Stop-Loss Value: AU $255
Take-Profit Value: AU $270
In the above example, we see an opportunity to go long on Litecoin against the Australian dollar. As you can see, this also includes the suggested 'limit', 'stop-loss', and 'take-profit prices.
In a nutshell, our experts spot a profitable opportunity after an in-depth analysis of the markets – and send our findings to members of our crypto signals Telegram group.
What Will the Best Litecoin Trading Signals Include?
There are 5 key parts to all of our Litecoin trading signals, which you can see a brief explainer of below.
Litecoin Pairs
In case you have never traded digital currencies before – Litecoin will be traded as part of a pair.
The first option is to trade it against another crypto-asset such as Bitcoin, Ripple, Bitcoin Cash, or Stellar (to name a few). This is known as a crypto-cross pair and will appear as LTC/BTC, LTC/XRP, LTC/BCH, and LTC/XLM – respectively.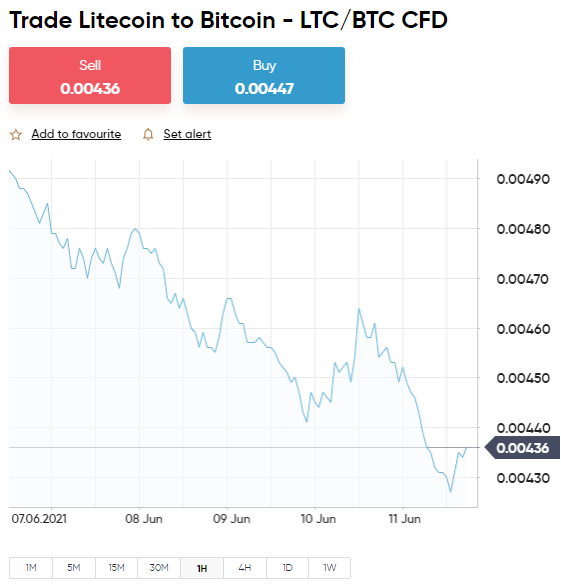 On the other hand, you can also trade Litecoin against fiat currencies. This will see you speculating on the exchange rate compared to currencies such as the Australian dollar, US dollar, euro, etc. Moreover, any profits and losses will be much easier to calculate.
Some cryptocurrency brokers even offer a market on Litecoin against the Swiss franc (LTC/CHF). Others offer just a few of the most common pairs – so do look out for what will be accessible at the trading platform.
Our seasoned team here at Learn 2 Trade scrutinizes a plethora of data on both past and present trends, price shifts, and much more. This covers the whole of the cryptocurrency markets. As such we do not limit our Litecoin trading signals to just crypto-fiat pairs or vice versa.
Short or Long
By utilizing Litecoin trading signals, the agonizing choice between going short or long will no longer be a concern to you. Each and every signal will illustrate to you whether you should go long or short on the digital pairin question.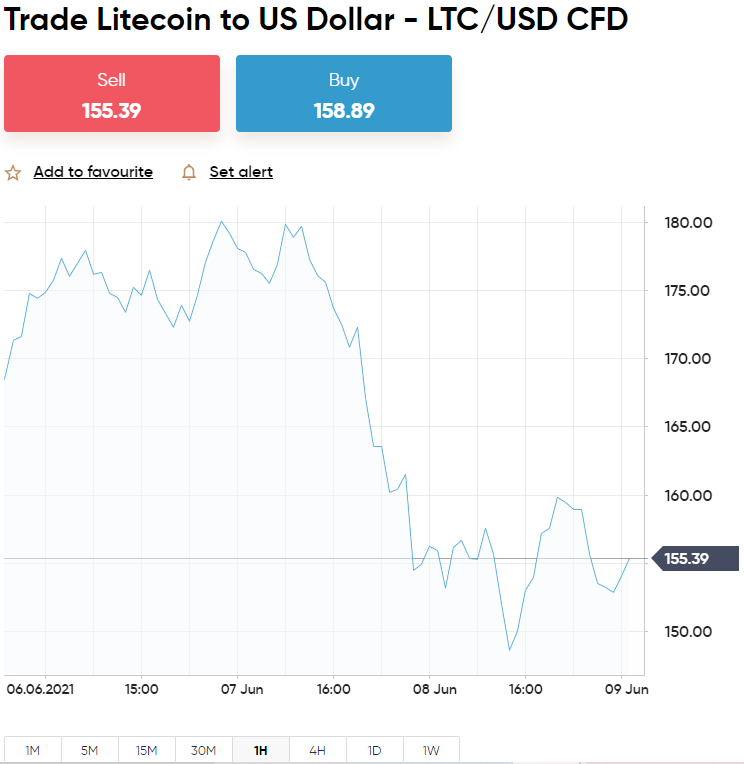 To clear the mist, see an example using Litecoin against the Australian dollar:
After examining heaps of information we think LTC/AUD is going to increase in value –
As such the signal will suggest you go long on the pair
Otherwise, if evidence points towards a decrease in value – the signal will tell you to go short
Next, over at your chosen online brokerage:
If the Litecoin trading signal recommended going long on LTC/AUD – a buy order is needed
On the other hand, if the signal says the best option is to go short – a sell order is needed
We are completely impartial here at Learn 2 Trade – meaning we have no preference for one crypto coin or another. Our ambition is to give time-starved or inexperienced Litecoin traders a chance at making regular gains from this volatile market. Whilst, of course, saving you some leg work.
Limit Order Value
In terms of order types, traders enter the crypto trading scene in one of two ways – a 'market' order or 'limit' order.
The vast majority of our Litecoin trading signals include a limit order price. This is because, unlike in the case of a market order – which gives you the current or best price, a limit order allows us to be price-specific upon your entry into the market.
With this in mind, we will always include a limit order value with our Litecoin trading signals. That is unless an immediate market order is called for!
See a clear-cut example of a limit order below – where you are trading LTC/EUR:
LTC/EUR is currently priced at €266
After extensive research, we think that if this pair breaches €275 – it's wise to go long
As such, the limit order value on your signal is €275
If or when LTC/EUR hits €275 – the broker will action your order automatically so you enter the market at that price
The order will remain how it is until the price point is hit, or you decide to cancel your limit order entirely. We will, of course, let you know whether or not you should leave the order outstanding or cancel it from within our Telegram group.
Stop-Loss Value
Another key metric that can be found in all of our Litecoin trading signals is the 'stop-loss' value. This is the price at which we suggest cutting your losses and exiting your position.
See an example:
Still using the same signal on LTC/EUR
An entry price of €275 was suggested using a limit order
The stop-loss value in the signal is €272 – which is the equivalent to 1% below the suggested entry price
As such, you cannot lose more than 1% on this position
If the crypto-fiat pair falls to €272 – the broker will close your trade for you automatically
Crucially, if the Litecoin trading signal had nodded to going short – the stop-loss would naturally be set to 1% above the limit price.
Take-Profit Value
As we said, the stop-loss order in the previous example prevented your losses from going past the 1% point. The take-profit order allows us to be specific about when to close the position and lock in gains. For example, the signal suggested a stop-loss order should be placed 1% above or below the limit price – depending on our prediction.
Therefore, the take-profit might be placed 3% above or below the entry price (the opposite direction to your stop-loss). Our Litecoin trading signals always take both risk and reward into account. As such, we will always include a take-profit value.
Learn 2 Trade Litecoin Trading Signals: Risk and Reward
We tend to adopt a 1:3 risk/reward strategy in our Litecoin trading signals. As such, if we suggest going long, the take-profit will be 3% above the entry price. If all analysis points towards a short position, the take-profit will be 3% below the limit order. This means we expect 1 from every 3 trades to result in a profit.
Other favoured strategies include 1:1.5, 1:2, and 1:4. Nevertheless, these risk/reward strategies are made much easier by incorporating stop-loss and take-profit orders.
Quality Litecoin Trading Signals Telegram Group
The lion's share of Litecoin trading signals can be found via a Telegram group.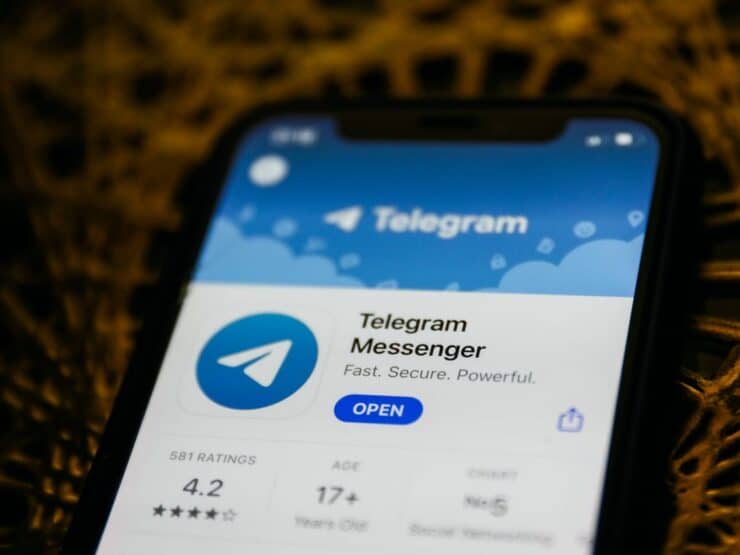 Advantages of Telegram trading signal groups include:
Dependable and securely encrypted: boasts in excess of 500 million users and requires barely any data to work well. Best of all, all messages are encrypted for security and privacy
Real-time messages: receive Litecoin trading signals in real-time, thanks to cloud-based messaging
Large group chats: enables groups of up to 200,000 people. Swap tips, private chat, share stickers – join a community of like-minded traders
Free of charge: download the Telegram app for free on iPhone or Android. Next, sign up to our crypto trading signals group to get started
Visual evidence: our Liteoin trading signals often include price charts and crypto graphs to exhibit the results of our research
Free Litecoin Trading Signals
Our analysis work around the clock to provide quality Litecoin trading signals – irrelevant to whether it's for the free or premium service. The free option is inclusive of 3 signals per week.
Some signal providers only offer part of the information for free, making you pay to see the rest. We include the same information in our free signals as we do in the Premium plan – only there are obvious benefits from upgrading – see below
Premium Plan Litecoin Signals
3 Litecoin trading signals per week is great, especially when it's free! However, if you do decide you need more, you can sign up for the Learn 2 Trade Premium plan. Our experts will instead ping your inbox with between 3 and 5 suggestions per day. This is every day for 5 days out of the week.
We are proud of the work we put into our trading signals. As such, we offer a 30-day money-back guarantee to anyone who isn't happy after taking us for a test run. A great way to know for sure is to try out a brokerage demo account that mirrors the real crypto markets.
Head over to a regulated broker that offers Litecoin markets and sign up for a demo account
When you receive a Telegram trading signal from us, enter the particulars into the order box via the virtual account
Repeat this process for 2/3 weeks – making a note of gains and losses each time
Top-rated crypto broker eToro is regulated by the FCA, ASIC, and CySEC – and offers a $100k virtual demo account. Not to mention heaps of cryptocurrencies to trade commission-free. Ultimately, if you are not happy with our service, contact the customer support team at Learn 2 Trade and request a refund within 30 days – no questions asked.
Premium Plan: Price Breakdown
Find below a price breakdown of the Premium plan below:
1-month plan: £35
3-month plan: £70
6-month plan: £120
Lifetime Access: £250
The majority of newcomers start with the £35 1-month plan. After all, we offer a money-back guarantee, so if you try it out via a free brokerage demo you have nothing to lose.
8cap - Buy and Invest in Assets

Minimum deposit of just 250 USD to get lifetime access to all the VIP channels
Buy over 2,400 stocks at 0% commission
Trade thousands of CFDs
Deposit funds with a debit/credit card, Paypal, or bank transfer
Perfect for newbie traders and heavily regulated

Don't invest in crypto assets unless you're prepared to lose all the money you invest.
Learn 2 Trade Litecoin Trading Signals:
If you feel ready to begin receiving Litecoin trading signals – follow our walkthrough below!
Step 1: Sign up to the Learn 2 Trade Crypto Signals Service
Sign up for the Learn 2 Trade crypto signals service – opting for either the free or Premium plan.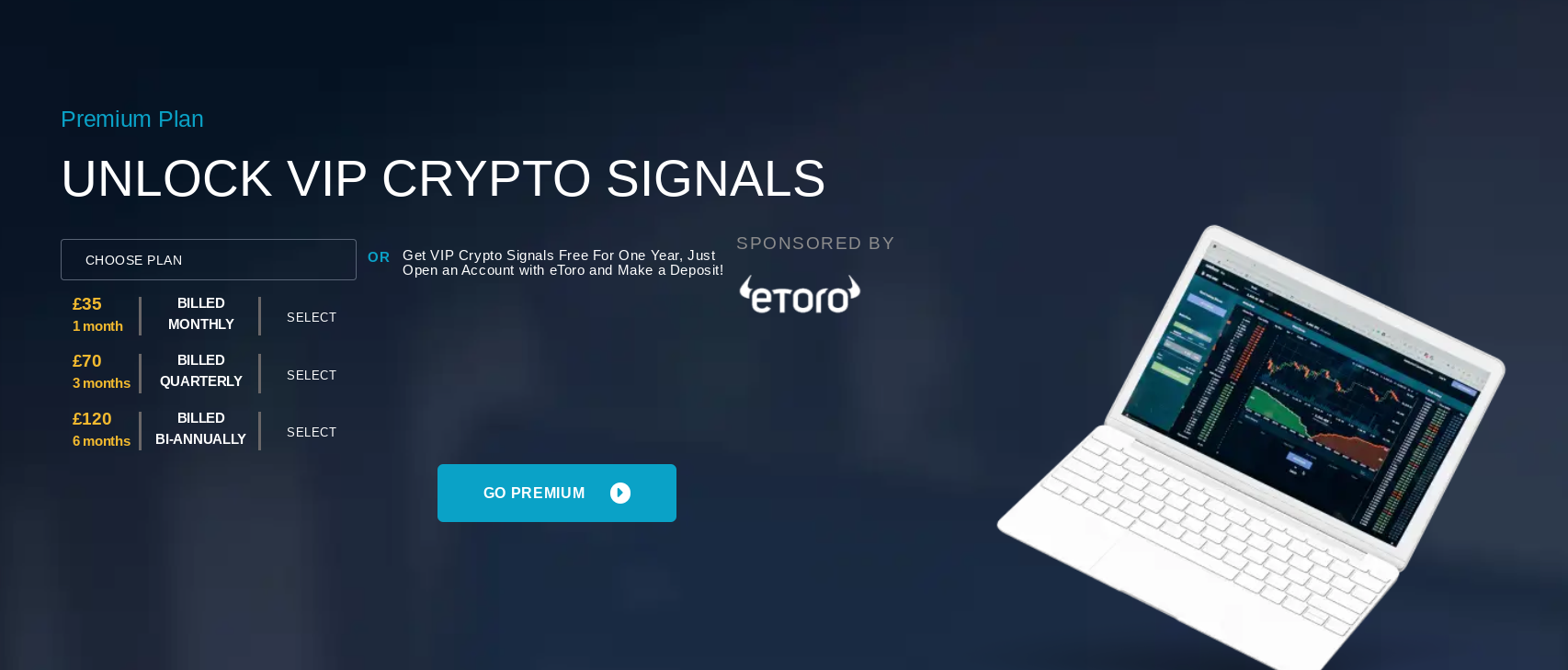 You might want to start with the 1-month plan alongside a free brokerage demo account to get the ball rolling.
Step 2: Join our Litecoin Trading Signals Telegram Group
Download the free Telegram application for your iPhone or Android device and sign up to become a member of our Telegram crypto-signals group.
Step 3: Customize Your Telegram Notifications
Customize your Telegram notifications, so that you never miss a beat when it comes to receiving our Litecoin trading signals in real-time.
Step 4: Recieve Litecoin Trading Signals and Create Orders
Now, you will begin to receive crypto signals to guide you in your trading endeavours.
Step 5: Review the Litecoin Trading Signal
When a trading signal lands in your Telegram inbox – head over to your chosen broker.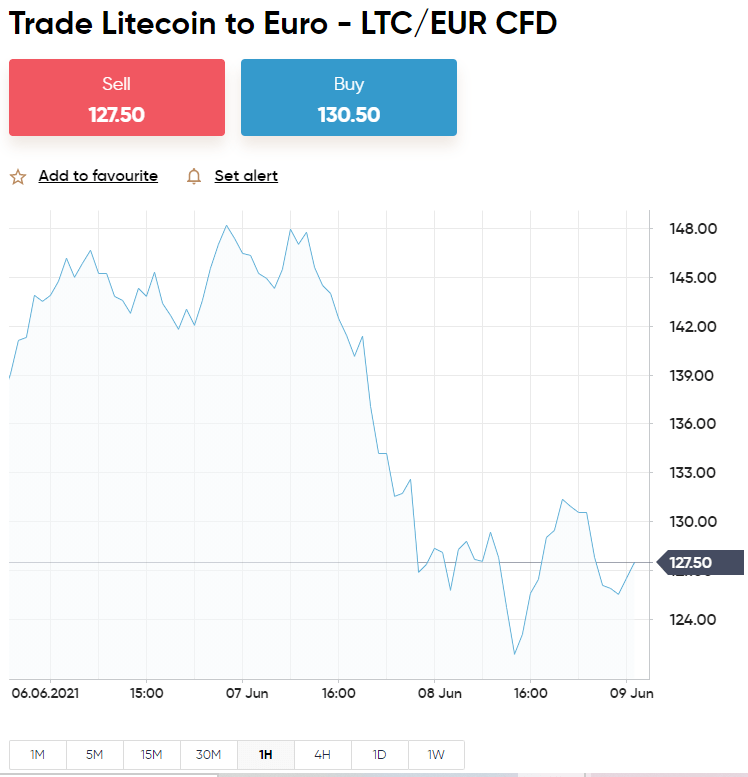 Next, enter the details included in the crypto trading signal and click open the trade. As you will have deployed both stop-loss and take-profit orders (as per our guidance) – your Litecoin position will be closed automatically when one of these prices are triggered.
Best Litecoin Trading Signals 2023: The Verdict
It's well-known amongst the trading community that you won't have much chance of beating the markets without knowledge of technical analysis. That is unless you let a team of pros do the hard work for you.
Each Learn 2 Trade Litecoin trading signal tells you which pair to trade and whether to go long or short. We never send a signal that doesn't include risk-management – ensuring that this always comes in the shape of stop-loss and take-profit orders.
Whilst we offer 3 free signals a week, by upgrading to the Premium plan – you will be sent 3-5 suggestions per day – 24/5. Furthermore, if you're not satisfied, you can request a refund within 30-days. Finally, a safe environment to test our service is at regulated broker Capital.com. The free demo account is pre-loaded with $100,000 to practice with and there are 18 cryptocurrencies on offer.
Learn 2 Trade Free Crypto Signals Service

Get 3 Free Crypto Signals Each Week
Signals Cover all Cryptocurrencies
Option to Upgrade to Our VIP Group for Free
82% Win Success Rate
Average Monthly Gains of 30-40%

FAQs
What are Litecoin trading signals?
Litecoin trading signals present potentially profitable opportunities within the market. This is usually offered via the free messaging service Telegram. The best signals include the pair, whether to buy or sell, and limit, take-profit, and stop-loss prices
Can I use Litecoin trading signals and leverage together?
If you can access leverage in your country of residence, then you can boost the stake of any Litecoin trading signal. The amount offered (if at all), will depend on where you live, the asset you are trading, and how much you can afford from your trading account to start with
What do I do when I receive a Litecoin trading signal?
Upon receiving a trading signal via Telegram - head over to the online broker of your choosing to enter the details of the suggestion into an order box. Many people start off using a free demo account. eToro is easy to navigate and will offer you a demo facility with $100k in practice money