Invest at least $250 in D2T to gain lifetime access to our VIP Signals
Get early access to Dash 2 Trade's Presale. Buy the D2T token now
Existing community of 70,000+ traders
Unlocks access to the leading crypto trading analysis, signals and trading tools
As featured in CryptoNews.com, FXEmpire.com, FXStreet.com and more
World class development team backed by Quant developers and VC investors
Irrespective of whether you an experienced pro or a beginner looking to test the waters – if you want to start trading online, you first need to find a reliable and reputable broker.
Unfortunately, finding the right brokerage platform can be daunting these days. The internet is saturated with trading sites advertising themselves as the most advanced and user-friendly.  But, rarely is this the case.
That's why we have put together a list of the Best Brokers for Beginners in 2022
In this guide, we will also tell you what metrics you need to look for when choosing a brokerage platform for yourself. This includes the likes of regulation, fees, payment methods, tradable markets, and more. 
Table of Content
AvaTrade - Established Broker With Commission-Free Trades

Minimum deposit of just 250 USD to get lifetime access to all the VIP channels
Pay 0% on all CFD instruments
Thousands of CFD assets to trade
Leverage facilities available
Instantly deposit funds with a debit/credit card

71% of retail investor accounts lose money when trading CFDs with this provider.
Best Brokers for Beginners 2022 – Our Top 2 Picks
Finding the right online broker is not a slap-fast decision to make. There are various factors to consider before you sign up on a platform. 
To start with, it is best for you to work only with regulated brokers. Such providers give you access to the financial markets at competitive fees, while ensuring that your interests as an investor are protected. Then you also need to ensure that the broker offers your chosen asset class and preferred payment option. 
Other aspects such as trading tools, user experience, learning materials, and customer service should also be taken into account. Further down this guide, we will discuss each of these parameters in much more detail. 
For those in a hurry, we will start with our selection of the best brokers for beginners in 2022.
1. AVATrade – Best MT4 Broker for Beginners
AvaTrade is a well-trusted global trading platform with licenses in Europe, the UK, Australia, South Africa, Japan, and Abu Dhabi. Traders primarily prefer this brokerage for the extensive selection of platform features. For example, AvaTrade integrates with both Metatrader4 and Metatrader 5 for technical traders.
In addition, they also have an exclusive trading platform called 'AvaOptions.' If you would like to learn from other traders, you also link up with social trading platforms such as 'DupliTrade' and 'Zulutrade.' These also allow you to automate your trades based on an expert investor's portfolio.
In terms of financial assets, you get access to stocks, forex, commodities, indices, ETFs, and cryptocurrencies. These are all offered via CFDs instruments. Similar to the other brokers on our list, AvaTrade does not charge any commission. All you need to open an account is a minimum deposit of $100. In addition to traditional payment methods such as bank transfers or debit cards, AvaTrade also works with Paypal, which makes it one of the best South African Brokers that Accept PayPal.
For research and educational purposes, the platform has a plethora of resources, from trading guides, economic indicators, videos, explanations on strategies, and more. And if you need the convenience of a mobile app, you can download AvaOptions or AvaTradeGo.

Reasonable minimum deposit of $100
Regulated in multiple countries
Heaps of commission-free assets to trade
Inactivity fees considered high
75% of retail investors lose money when trading CFDs with this provider
Visit Avatrade now
2. Capital.com – Commission-Free Beginner Broker (Minimum Deposit Just £20)
Capital.com is regulated with the FCA, CySEC, ASIC, and NBRB. The platform offers over 2,000 assets across indices, forex, commodities, stocks, and cryptocurrencies. And as you need to meet a minimum deposit of 20 USD to get started, you can begin trading by limiting your stakes to the smallest amounts.
You can fund your account through a debit/credit card, bank transfer, or an e-wallet. Most notably, beginners will be pleased to know that this platform does not use complex trading jargon. For those who want to trade with leverage, Capital.com offers this on all of its markets. Trading at Capital.com is also a 100% commission fee experience for all investors.
Moreover, you will get some of the tightest spreads in the market here - resulting in lower trading fees. If you would rather choose to trade through your mobile phone, there is an exclusive trading app as well. You can buy, sell and place trading orders through the mobile app. Last but not least, novice traders can also benefit from the platform's extensive guides on trading, different instruments, market analysis, and more.

Trade thousands of assets commission-free
Very competitive spreads
FCA, CySEC, ASIC, and NBRB regulated
No traditional assets - CFDs online
78.77% of retail investors lose money when trading CFDs with this provider
Best Brokers For Beginners – Types of Platforms
As you can see from the list above, the best brokers for beginners give you access to many different trading assets – from the likes of stocks and forex to cryptocurrencies. 
With that said, the type of online broker you choose will depend on the type of financial instrument you want to trade. 
Here is a list of the most common brokerage types you will find in the trading domain. 
Best Stock Brokers for Beginners
Stock trading has been around for many decades. Traditional brokerage firms usually give you access to several stock marketplaces. 
For instance, in the US, the cc (NYSE) is one of the most popular markets to trade. Whereas, in the UK, you will find most shares listed on the London Stock Exchange. 
When you are investing in stocks, you will be taking ownership of the underlying asset. In other words – if the stock in question has a dividend distribution policy, then you will be entitled to receive your share. 
If you are planning to buy shares – your earnings will depend on whether the stocks go up in value. 
On a platform such as eToro, you can buy and trade over 2,400 stocks from 17 different exchanges. The best part is that you do not need to pay a single penny in trading commission. 
Best Forex Brokers for Beginners
Forex trading refers to the process of buying or selling one fiat currency in exchange for another. In simple terms, you will be speculating on the future value of an exchange rate. 
In the global financial marketplace, the forex trading scene is only second to stocks. Often times, the total daily trading volume in the forex scene exceeds  $5 trillion.
To give an example – let's say you are trading the forex pair USD/EUR. This means you are speculating on the value of US dollars against the value of the Euro. If you think the exchange rate will rise, then you will place a 'buy order'. 
On the other hand, if you think the exchange rate will fall, you will place a 'sell order.' 
The most popular forex pairs traded globally are USD/EUR, USD/GBP, USD/AUD, and USD/JPY. If you live in a place where CFDs are legal, then a regulated broker can also allow you to trade currencies with leverage. As such, if you apply leverage of 1:20 on a stake of $100, you will be able to trade with $2,000 (20 x $100). 
Best Commodity Brokers for Beginners
Commodities are basic commercial goods such as grains, metals, natural gas, and oil. On popular trading platforms such as eToro, you will get access to everything from gold, silver, corn, wheat, and cocoa. 
Commodities are actually deemed to be one of the best ways to diversify trading portfolios. They are also used as a means to hedge against market volatility. 
As you can guess, it isn't easy to trade commodities in their tangible form. Hence, most online brokers allow you to trade commodities via CFDs. This means you will not own the commodity itself, but you still be able to profit from its future price movements. 
Apart from CFDs, commodities are also traded through futures or options contracts. That said, these require more experience and understanding of the market. 
In case you want to capitalize on a commodity like gold in the long-term, then the better alternative is to invest in an ETF. These are instruments that are backed by the value of the underlying asset. On eToro, investing in commodity ETFs is possible without paying any commission. 
Best CFD Brokers for Beginners
As we already mentioned, CFDs track the real-world value of a financial asset. If you choose an online broker providing CFDs, you are likely to get access to a vast library of financial instruments to take your pick from. 
To give you an idea, CFDs are available for stocks, forex, commodities, indices, ETFs, bonds, and as of late, cryptocurrencies. Some of the best brokers for beginners will permit CFD trading at zero-commission and competitive spreads. 
It is worth noting that, similar to buying shares, trading stock CFDs might also allow you to receive dividend payments. If the broker permits this, the payment will be reflected in your CFD cash account balance. 
Best Cryptocurrency Brokers for Beginners
Compared to the other financial instruments we have discussed, cryptocurrencies are relatively new to the trading scene. That said, the sector has witnessed exponential growth in the last few years. For example, Bitcoin has since surpassed $40,000. 
Considering the future potential, the best brokers for beginners are venturing into the cryptocurrency trading market. 
eToro is one such broker that offers 16 different digital coins and almost 100 crypto-trading pairs. You need to meet a minimum investment of just $25 to start trading crypto assets on eToro – meaning you do not have to risk huge amounts of capital to gain exposure. 
And above all, you can engage in cryptocurrency trading at eToro without paying any commission.
At this point, it is important to note that CFDs on cryptocurrencies are prohibited in several countries – including the US and the UK. Consequently, those seeking leveraged crypto CFDs from a restricted nation will not be able to do this with a regulated brokers. 
Regardless, if you are looking to trade cryptocurrencies online, you are best advised to stick with  licensed online brokers such as eToro. 
How to Find the Best Brokers for Beginners of 2022?
The number of online brokerage platforms in the space seems to be rising month on month. It is therefore becoming increasingly challenging, even for the experts, to filter out the best ones. 
For example, the right brokerage for a high-volume trader might not be the right platform for a beginner who is trying to invest casually. 
On the flip side, there is a set of parameters that are common to all of the best brokers for beginners. In this section, we will give you a checklist of these factors to help you in your search for your ideal broker. 
Regulation and Safety
As we have emphasized throughout this guide  the most crucial concern when trading online is the safety of your funds. This is because you will have to entrust the safe keeping of your trading account to your broker. 
Therefore, it is imperative that this broker is licensed under at least one regulatory body. As obvious, if the answer is none – it is best to take your business elsewhere. 
The most well-known regulatory bodies are the FCA (UK), ASIC (Australia), CySEC (Cyprus), and thd SEC (US).

There are several other governing bodies that are just as reputable and competent, albeit, they are based in different locations.

Brokers holding a license are required to follow a set of rules enforced by the regulatory body in question.
This includes the segregation of traders' funds, compliance with reporting, and auditioning standards.
All the best brokers for beginners that we have discussed on this page hold licenses from one or more market regulators. For example, eToro has licenses from the FCA, ASIC, and CySEC. 
Supported Assets
Once you have ensured that the online broker is licensed, you can proceed to see what assets there are on offer. 
Below is a list of the different types of asset classes available at the best brokers for beginners:
Stocks

Stock CFDs

Forex

Commodities

Indices

ETFs and Mutual Funds

Futures and Options 

Cryptocurrencies
You will find that while some brokers give you access to all of these financial instruments, others specialize in a single asset, such as cryptocurrencies. 
It is best to decide which type of broker is right for you based on your trading goals. 
Ownership or CFDs
As we stated above, there are two ways to trade. One is to buy and own the asset.  The other is to trade via CFDs – which are derivatives that reflect the actual market price of the financial instrument.
It is important that you determine which way you want to go so you can choose a broker accordingly. For instance, if you want to own stocks, you will want a commission-free broker that doesn't charge you any ongoing fees.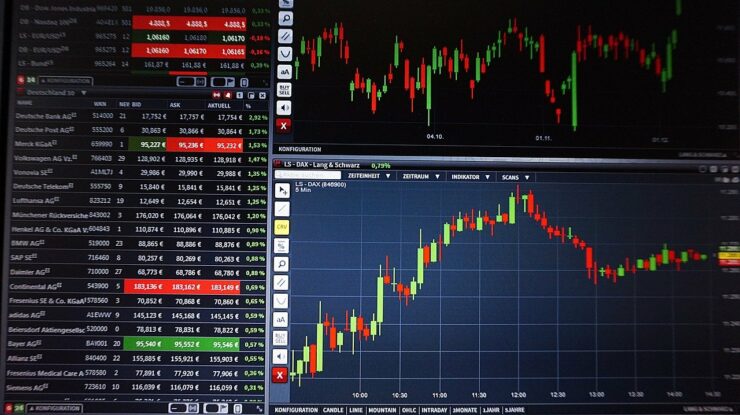 This way, you can hold onto the stocks in the long run, without any fees eating away at your profits. 
At the other end of the spectrum are the CFDs, which allow you to trade without taking ownership of the underlying asset. CFD trading will also invite the benefits of short-selling and leverage. 
However, note that if you are keeping your CFD positions open overnight – you will be charged a daily financing fee. 
Trading Platform
The majority of brokers these days allow you to invest and trade via their website. This means there is no need for you to install or download any software to place your trades. 
Instead, you can access the platform through your brokerage account on a web browser and start trading right away. 
That said, you can also trade via third-party trading platforms such as MT4 or MT5. In this case, you will want to make sure that your chosen online broker also integrates with the respective platform. 
If you want to trade on the move, it is recommended that you choose a brokerage with a native mobile app. 
Best Brokers for Beginners – Online Brokerage Fees
As it goes, the best brokers for beginners give you access to tons of features at the tap of your fingers. However, much like any other business, you will have to pay them a fee in return.
The fees charged by online brokers vary significantly from one platform to another. In order to understand what you are paying, you need to have an understanding of the different types of trading fees.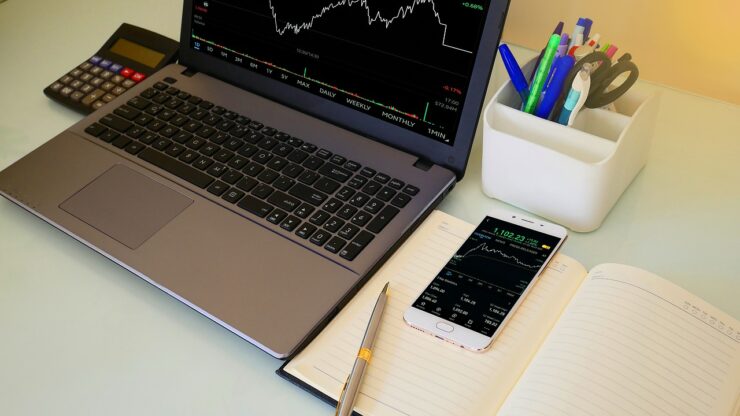 The higher the trading fee, the lower your potential profits. Therefore, this is a serious consideration to make in your search for the best brokers for beginners. 
Below, we have an overview of the different types of fees to expect:
Dealing Fees
Dealing fees are commonly applicable for conventional assets such as stocks, ETFs, and mutual funds. This is calculated as a fixed rate for each trading order you place. 
Let us give you an example:
Let's say your chosen online broker charges $5 to invest in stocks. 

Regardless of what your stake is, you will have to pay $5 when you open the trade. 

When it's time to sell your shares, you will pay the $5 dealing fee to your broker again. 
Not every broker will charge you this 'dealing fee.' For example, on eToro, traders can invest in stocks and ETFs without paying any dealing fees.l whatsoever.
Trading Commissions
The most common type of fee charged by CFD trading sites is the commission. It is expressed as a variable fee against the size of your investment. 
Suppose your online broker charges a commission of 0.5%. 

You decide to open a silver CFD trade at an amount of $1,000 – hoping that it will increase in value. 

This means that your commission on this trade is $5. 

At the time of selling, silver is valued at $1,500. 

When placing a sell order, you will have to pay a commission of $7.50 (0.5% of $1,500). 
As you can see, you will have to pay commission at both ends of a trade – once when you are entering the market, and then again, when you are exiting. 
With that said, you can also find online brokers that allow CFD trading at zero commission, like eToro.
Spreads
Unlike commissions, all online brokers will charge you a spread. In trading jargon, the spread is calculated as the difference between the buy and sell price of an asset. 
The best brokers for beginners offer tighter spreads so that you can keep most of your profits to yourself. 
Spreads are most commonly calculated in percentage ter. However, in short-term trading and forex spaces, you will also see the spread indicated in pips. 
If your broker charges you a 0.7% spread, it means that you will have to make a profit of at least 0.7% to break-even. 

If the spread is 3 pips, then you need to make gains of 3 pips to break even. 
Anything beyond the spread will be accounted as your profit. 
Deposits and Withdrawals
We mentioned that in order to trade online, you first need to fund your brokerage account. The best brokers for beginners have a wide range of payment options for you to deposit money. 
eToro has several payment methods at your disposal – from bank transfers, credit/debit cards, and third-party e-wallets such as PayPal and Skrill. 
On the other hand, there are also brokers who make this process tiresome for traders, with payments taking several days to process. 
You should also check if there are any withdrawal fees applicable and how long the platform takes to process your cashout request. Ideally, the withdrawal should be processed within 1-2 working days. 
Tools for Beginners
No matter how good an online broker is, it should also be easy to navigate. As a beginner, you want a platform that is designed for traders across all levels. 
In our view, if you are an absolute beginner, there are a few other key aspects that you should look for in an online broker. 
Educational Tools
The internet has no shortage of educational tools for traders. But of course, it will be easier for you if your online broker has guides and explainers on the platform itself.
For instance, on eToro, there is an entire section dedicated to trading education. You get access to daily market analysis, webinars, podcasts, video tutorials, and more. 
In addition, beginners at eToro can also use a demo account to learn to trade before you start investing in the real world. 
Automated Trading
Automated trading is a beneficial tool both for expert traders as well as beginners. It allow you to invest passively, without having to do any research or place trading orders yourself. 
For instance, regulated broker eToro has a 'Copy Trading' feature – where you will be investing in an experienced trader so that you can copy their portfolio. 
In simple terms, if your chosen trader decides to invest in Bitcoin, the same will be executed in your portfolio. And if they decide to buy shares in Tesla, you will do the same – and so on. 
Although this process is automated, you can still choose to add or remove assets at any moment – meaning you still gain full control over your portfolio. 
eToro also has a 'CopyPortfolio' feature, where you can choose a portfolio to invest in based on your desired trading strategy. CopyPortfolios are professionally handled by the eToro team.
In both ways – you can take advantage of a 100% passive investment experience – making it perfect for beginners. 
Customer Service
When you are entrusting your money to a service provider, it is crucial that you have access to responsive and helpful customer support around the clock. 
These days, the best brokers for beginners are equipped with multiple means of customer service, from online chat to forums. This allows you to resolve any concerns without even needing to make a call.
However, if you are an individual who prefers to speak to a customer service professional, make sure that they have a phone-in option as well. 
You might want to stay away from online brokers that only offer support via email. This means you will not get real-time assistance, and even in emergencies, you might have to wait for days to receive a response. 
For the most part, the best brokers for beginners offer customer service while the markets are open – on a 24/5 basis. 
How to Get Started With the Best Brokers for Beginners Today 
If you have carefully read our guide up to now, you know what to look for in an online broker. As a beginner, you should give importance to the educational resources and ease-of-use. 
We will conclude our guide by explaining how you can open up your first trading account. 
As Capital.com is our top pick for the best broker for beginners – we will walk you through how you can sign up on this platform to start trading. 
Step 1: Open an Account
Like any other online service, you will first need to create an account to begin trading on Capital.com. Go to its website, and click on the 'Join Now' button. You will have to provide your personal information and contact details. 
You will also be asked to provide a copy of your photo ID for identity verification and proof of address. This is to comply with KYC rules and anti-money laundering laws.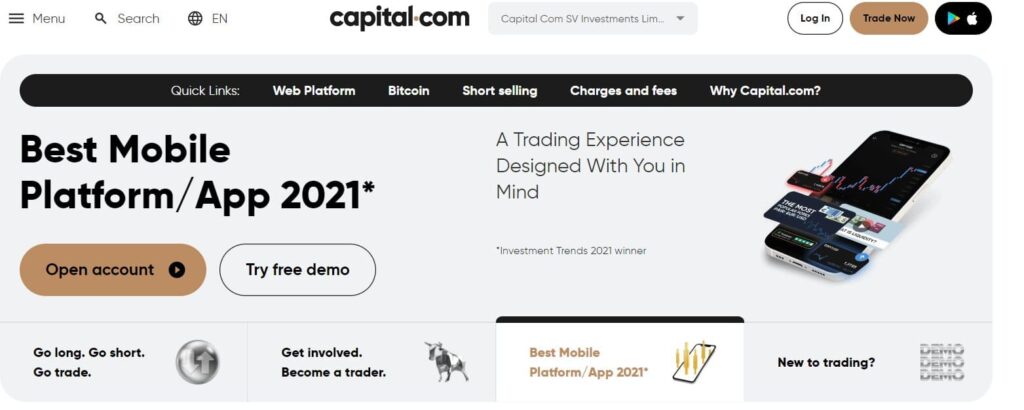 You can skip this step at the time of signing up. However, you will need to come back to it when you need to make a withdrawal request or deposit an amount over $2,250. 
The whole process will take less than 10 minutes, and once your account is confirmed, you are good to go. 
Step 2: Make a Deposit 
The next step is to fund your trading account. On Capital.com, the minimum deposit required is only $200. 
If you want to add funds instantly, you can choose a payment method from one of the following:
Credit card

Debit card

PayPal

Neteller

Skrill
You can also go for a bank transfer. However, it might take a few business days for the money to show up in your account. 
Step 3: Search for Asset
With your trading account equipped, now you can search for your chosen market. Capital.com makes it easy for you to find your preferred asset by merely searching for it. 
For instance, if you want to trade Bitcoin, you can search for Bitcoin or BTC in the search bar. If you want to buy stocks of Netflix, you can search for Netflix or NFLX. 
Then, click on the respective asset to load the trading page.
Step 4: Place Order
Now, all that is left is for you to set up your first trading order. 
Let us take the example of Netflix shares. If you think the price of Netflix is going to increase, you will place a buy order. 
On the other hand, if you expect the price of Netflix shares to fall, you will be placing a sell order instead.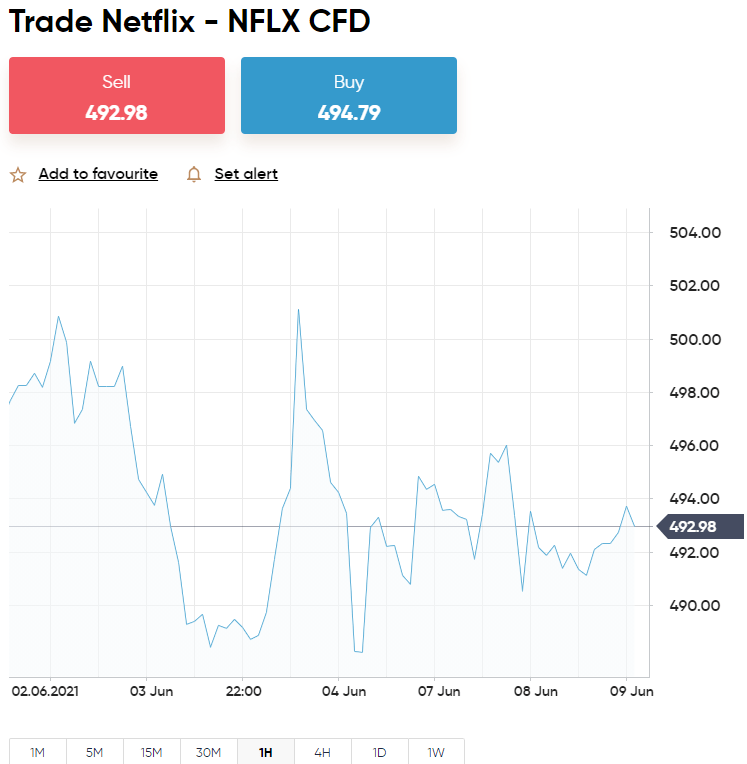 Once you know the order you want to place, you can proceed to enter the amount you want to invest. In this example, we are looking to stake $100 on Netflix. 
When you are ready, click on the 'Open Trade' button to execute your first commission-free trade on Capital.com. 
Best Brokers for Beginners – The Verdict
No matter what your trading goals are, you will be able to find a suitable online broker that can meet your requirements. However, considering the countless options available on the internet, choosing the right online broker can be an overwhelming process for beginners. 
To sum up the key points from our guide – you'll want the online broker to be regulated, easy-to-use, offer low fees, and give you access to market research and educational materials. By following our criteria, you will have no trouble in finding the best broker that fits your bill. 
And if you want to skip the research – we recommend that you start the process by checking out Capital.com. We find the platform is one of the best brokers for beginners in the online space. Moreover, at Capital.com, you won't be charged any commission fees and will have access to thousands of trading instruments.
AvaTrade - Established Broker With Commission-Free Trades

Minimum deposit of just 250 USD to get lifetime access to all the VIP channels
Pay 0% on all CFD instruments
Thousands of CFD assets to trade
Leverage facilities available
Instantly deposit funds with a debit/credit card

71% of retail investor accounts lose money when trading CFDs with this provider.
FAQs
Which is the best stock broker for beginners?
For those who want to trade stocks online - we recommend considering eToro. The platform is regulated by the FCA, ASIC, and CySEC and gives you access to over 2,400 stocks in 17 trading markets. Moreover, you can trade stocks at a 0% commission fee.
Is it safe to use an online broker?
Yes, it is safe to use an online broker - given that many are regulated by a reputable body like ASIC, SEC, FCA, CySEC, and NBRB.
How much is the minimum deposit amount needed to start trading online?
The minimum deposit varies from one online broker to another. The best brokers for beginners allow you to start trading with small amounts. For example, at Capital.com, you can start trading for as little as $20.
Which is the best online broker for beginners in 2022?
After extensive research and reviewing hundreds of online brokers, we found that eToro excels in several aspects. The social trading platform is heavily regulated, gives you access to thousands of financial instruments, and offers trading at zero-commission. For beginners, there is also a plethora of educational resources and automated trading features.
Which online brokers offer cryptocurrency CFDs?
CFDs are prohibited in a few countries - including the US. In the UK, you have access to CFDs on most assets, except for cryptocurrencies. With that said, most other regions around the world do allow you to trade crypto CFDs. eToro is a great option in this regard, as the platform offers over 100 cryptocurrency pairs that can be traded commission-free.