Service for copy trading. Our Algo automatically opens and closes trades.
The L2T Algo provides highly profitable signals with minimal risk.
24/7 cryptocurrency trading. While you sleep, we trade.
10 minute setup with substantial advantages. The manual is provided with the purchase.
79% Success rate. Our outcomes will excite you.
Up to 70 trades per month. There are more than 5 pairs available.
Monthly subscriptions begin at £58.

You might be here because you are too busy to monitor the markets and need a short-cut, or perhaps you would just rather trade in a semi-passive way?
Here at Learn to Trade, our Polkadot trading signals are the result of comprehensive technical analysis – performed by our in-house experts.
This saves you from having to keep one eye on Polkadot at all times. Instead, we research the crypto markets so that you no longer have to. In this guide, we divulge what our trading signals include and how to use them to the fullest.
Learn 2 Trade Free Crypto Signals Service

Get 3 Free Crypto Signals Each Week
Signals Cover all Cryptocurrencies
Option to Upgrade to Our VIP Group for Free
82% Win Success Rate
Average Monthly Gains of 30-40%

Best Polkadot Trading Signals for Beginners
As we mentioned, our select team performs in-depth analysis in the Polkadot (DOT) markets – in order to provide you with potentially money-making trading opportunities.
Just a hand full of the indicators used for this Polkadot analysis includes:
Average True Range

Moving Average Convergence/Divergence

Aroon

Moving Averages

Supertrend Indicator

Relative Strength Index

Stochastic Oscillator

Absolute Price Oscillator

and many more
There are many categories of trading indicators such as momentum, mean reversion, trend, volume, and more. Such research also involves studying a plethora of historic price action charts and statistics related to Polkadot.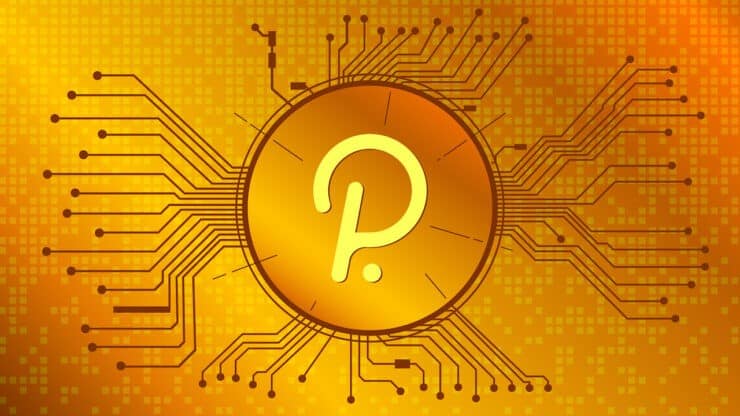 As you can see, performing technical analysis isn't a simple case of checking out a graph on your favorite Polkadot pair – it can take months or years to fully grasp.
How do Learn 2 Trade Polkadot Trading Signals Function?
Here at Learn to Trade, the end-goal is that we want our Polkadot trading signals to enable you to make the most of price shifts in this volatile marketplace.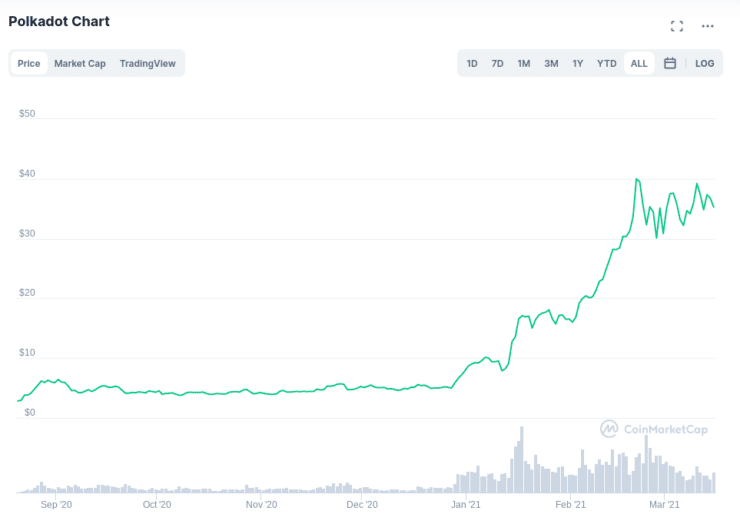 All Polkadot trading signals include:
Cryptocurrency Pair:

DOT/USD

Short or Long:

Short

Limit Order Value:

$38

Stop-Loss Value:

$38.40

Take-Profit Value:

$36.85
Here, our Polkadot trading signal is for DOT/USD. This means that we are trading Polkadot against the US dollar. The signal shows that after intensive research, we suggest going short on the pair for the best gains.
We mentioned that the goal is to make you regular profits. This will be achieved by you following the above key metrics within our signals to the 'letter'.
You would next need to place the order with a top-rated cryptocurrency broker. We cover each step next – for those who haven't received a signal before.
What Will the Best Polkadot Trading Signals Include?
We've already mentioned that we like to keep our Polkadot trading signals consistent, meaning we offer the same key elements on each suggestion. See below each metric mentioned above – only in more detail.
Polkadot Pairs
Each Polkadot trading signal starts with the pair our research suggests should be traded. For instance, one day we might see prospects in DOT/AUD (Polkadot against the Australian dollar), DOT/USD (US dollar), or perhaps DOT/GBP (British pounds).
All of the aforementioned pairs fall into the crypto-fiat category – meaning you will be trading against tangible currencies issued by governments.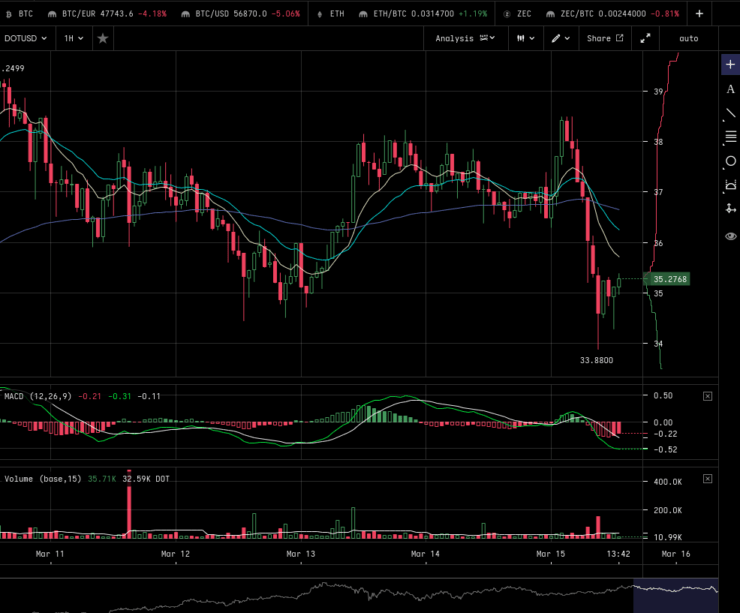 Other Learn 2 Trade trading signals will see potential profit in crypto-crypto pairs. For those unaware, this comprises two digital currencies traded against each other. This might be DOT/LTC (Litecoin), DOT/ETH (Ethereum), or DOT/BTC (Bitcoin).
If you already have an online broker in mind, make sure they are able to offer a range of cryptocurrency markets.
Short or Long
As well as which pair we think will bring you a positive outcome when crypto trading, we always include whether to go short or long.
For those who are unaware of what this means, see below for clarification:
Our analysts speculate that DOT/AUD is going to experience a rise in value
Consequently, the signal suggestS going long on this pair
If we foresee a Polkadot pair falling in price – we will suggest going short
When filling in your order box at your chosen broker:
Create a buy order if the trading signal suggests going long
Alternatively, you need to place a sell order if the messages says to go short
Limit Order Value
Traders tend to enter a position using a 'market' order if they like the price and want the order actioned immediately. Our crypto signals usually incorporate a 'limit' order, as it enables us to enter the Polkadot market at the most attractive price.
See a simple example below:
DOT/AUD is currently priced at AU $48.50

After in-depth analysis, we think the best price to enter a long trade and is AU $52
Ergo, the limit order that our trading signal suggests is AU $52
When

DOT/AUD reaches AU $52 – the broker is going to execute the order automatically

This order can be canceled whenever you see fit – for instance, if the pair don't seem to be moving. We will, of course, let you know if this is the case.
Stop-Loss Value
Stop-loss orders save you from having to keep one eye on your Polkadot trade around the clock. To explain further, a stop-loss order stops any losses from going past a specific point. This will usually be a percentage of your entry price.
See an example below:
The signal says to go long on

DOT/AUD at

AU $52
The stop-loss value is AU $51.50 – note this sits 1% below the suggested entry price of

AU $52

If DOT/AUD decreases to AU $51.50 – your position will be closed automatically by the trading platform
As such, you cannot lose more than 1% on this Polkadot position
Importantly, and as we have touched on – if this signal instead proposed going short – the stop-loss would of course be set to 1% above the entry price (limit).
Take-Profit Value
Stop-loss and take-profit orders are complete opposites but work in a similar way. Sometimes in this industry, you blink and an opportunity is missed.
The take-profit value we include in all of our Polkadot trading signals is a specific way to lock in your gains. In the last example, the stop-loss was 1% below the limit and so the take-profit should be above. Had the tip been to go short – it obviously goes in reverse.
By including the stop-loss and take profit prices from our trading signals – you are able to set boundaries to ensure that as well as covering any losses, you are able to nail down your gains.
Learn 2 Trade Polkadot Trading Signals: Risk and Reward
The vast majority of seasoned traders incorporate a risk vs reward ratio in their strategy. Our Polkadot treading signals generally use 1:3, which shows that for a $1 stake we aim to make no less than $3.
Quality Polkadot Trading Signals Telegram Group
An ever-increasing number of traders opt to sign up for Telegram trading signals.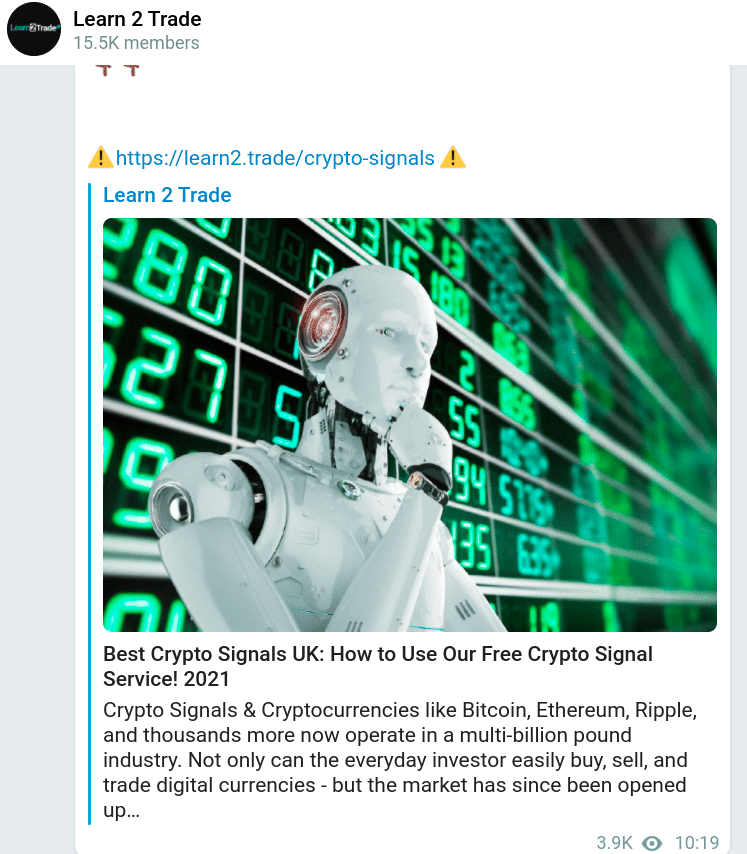 Just some of the reasons this messaging app is so popular are listed below:
Large group chats: our trading signals group is made up of thousands of cryptocurrency traders, which is all thanks to the unprecedented amount of people Telegram will allow within one group
Real-time messages: there's no need to worry about missing any profitable Polkadot trading signals, as messages appear in real-time. This app uses increasingly popular cloud-based technology
Visual evidence: where possible we incorporate a graph or chart alongside every trading signal we send
Dependable and securely encrypted: all messages are encrypted by the app, and even with limited data Telegram runs smoothly
Free of charge: Telegram can be downloaded free of charge from Google Play and the App Store (Apple)
Free Polkadot Trading Signals
For those of you who don't feel ready to take the plunge with our Premium plans, which we talk about next – there is a free option.
Our in-house team of analysis's work tirelessly to find money-making potential in the crypto markets. In terms of the number of signals you can expect to receive, this will be 3 per week on the free plan.
With that said, the same 5 key factors will be covered. This means that the limit, stop-loss, and take-profit prices will never be greyed out – irrespective of whether you are on the free or Premium plan.
Premium Plan Polkadot Signals
When electing to sign up for a Premium plan instead, you can expect anywhere from 3 to 5 per day (over 5 days). Furthermore, we extend to you a 30-day money-back guarantee if you aren't impressed within that period.
As such, you can utilize our signals using a demo account at your chosen broker in a risk-free manner.
Here's what you need to do:
Do your homework and sign up with a trading platform offering a free demo account facility and multiple crypto-assets
Each time a new Polkadot trading signal arrives – transfer the information over to your demo order box
Repeat this process for a few weeks, making sure to jot down any profits or losses after each trade
If after testing us out for a few weeks you are dissatisfied, it hasn't cost you a cent of your own trading budget. Just make sure that if you do utilize that money-back guarantee, you do so within the time frame specified.
8cap - Buy and Invest in Assets

Minimum deposit of just 250 USD to get lifetime access to all the VIP channels
Buy over 2,400 stocks at 0% commission
Trade thousands of CFDs
Deposit funds with a debit/credit card, Paypal, or bank transfer
Perfect for newbie traders and heavily regulated

Don't invest in crypto assets unless you're prepared to lose all the money you invest.
Premium Plan: Price Breakdown
If up to 3-5 signals per day sound like it's more up your street – see a price breakdown below:
1 month: £35

3 months: £70

6 months: £120

Lifetime Access: £250
We mentioned earlier that there is a risk-free way to try out the Learn 2 Trade crypto signals via a free demo. The best way to do this is with the 1-month plan, as you are laying less money out initially.
Learn 2 Trade Polkadot Trading Signals:
To get started right now, follow this easy 5 step guide to begin using Learn 2 Trade Polkadot trading signals.
Step 1: Sign up to the Learn 2 Trade Crypto Signals Service
Take a look at the aforementioned Premium crypto signals or elect to sign up for the free plan.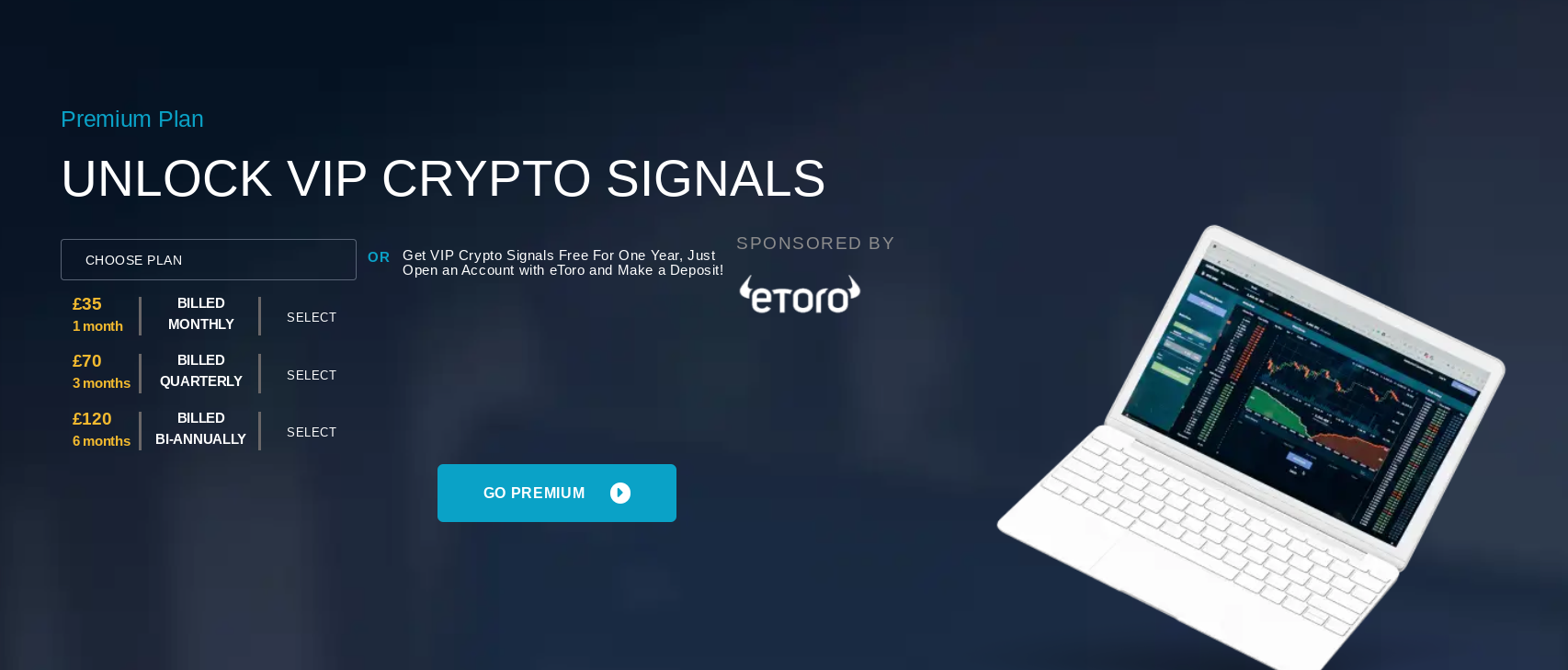 To recap, the free account comes with 3 signals, sent on a weekly basis. The Premium plan comes with 3-5 trading suggestions per day, alongside a 30-day money-back guarantee.
Step 2: Join our Polkadot Trading Signals Telegram Group
Head over to the appropriate app store (iPhone or Android) and download Telegram at no charge. Next, join us in the Learn 2 Trade crypto signals Telegram group
Step 3: Customize Your Telegram Notifications
Customize your Telegram alerts – so that you know the second a Polkadot trading signal hits your mobile inbox.
Step 4: Recieve Polkadot Trading Signals and Create Orders
Join a regulated trading platform that can safely offer you access to digital currencies such as Polkadot. It's a case of the more the merrier when it comes to available crypto-coins, as you never know where the next profitable trading signal will come from.
Step 5: Review the Polkadot Trading Signal
Last but not least, to stand a chance at making money from our research-based legwork – you will need to copy the contents of each trading signal over to the brokerage.
Put simply, head over to your chosen crypto provider and either open a demo or standard account. Next, enter all of the information included in the Polkadot trading signal into the order box and confirm the position.
Best Polkadot Trading Signals 2023: The Verdict
Whether you opt for the free Learn 2 Trade crypto signals service or the Premium plan with a 30-day money-back guarantee – you will receive suggestions on every important part of placing a Polkadot trading order.
This includes the DOT pair we think is heading towards favorable trading conditions, as well as a nod to go short or long, and a limit order value. Additionally, all of our Polkadot trading signals include risk-management in the form of a suggested stop-loss price and take-profit.
Learn 2 Trade Free Crypto Signals Service

Get 3 Free Crypto Signals Each Week
Signals Cover all Cryptocurrencies
Option to Upgrade to Our VIP Group for Free
82% Win Success Rate
Average Monthly Gains of 30-40%

FAQs
What are Polkadot trading signals?
Polkadot trading signals are on a par with trading tips. Here at Learn 2 Trade, we have a team of seasoned traders scouring the markets for money-making conditions. The information gained from the advanced technical analysis is then sent to our Telegram members as a trading signal.
How much money will I make from Learn 2 Trade Polkadot trading signals?
It is impossible to quantify how much money you will make. We do our very best to offer the most profitable trading signals based on hours of in-depth research. Not only that, but we also offer a 30-day money-back guarantee for those who are dissatisfied after trying us out. Furthermore, you can try us out for risk-free using a demo account via an online broker
Why is Telegram used for Polkadot signal service groups?
Telegram enables up to 200,000 people within a single group message and is encrypted for your safety and privacy. Furthermore, you can run this app using hardly any data at all, and will receive signals in an instant thanks to the cloud-based tech used.