Service for copy trading. Our Algo automatically opens and closes trades.
The L2T Algo provides highly profitable signals with minimal risk.
24/7 cryptocurrency trading. While you sleep, we trade.
10 minute setup with substantial advantages. The manual is provided with the purchase.
79% Success rate. Our outcomes will excite you.
Up to 70 trades per month. There are more than 5 pairs available.
Monthly subscriptions begin at £58.

Whether or not cryptocurrencies overtake fiat in terms of real-world application remains to be seen. With that said, there is no doubting that the demand for this highly speculative asset-class continues to surge.
Today we talk about how to buy Cardano, without all of the complicated jargon.
This includes popular strategies and a practical rundown of how to get started. In addition to this, to save you hours of scouring the internet, we have also reviewed the top trusted brokers for your deliberation.
8cap - Buy and Invest in Assets

Minimum deposit of just 250 USD to get lifetime access to all the VIP channels
Buy over 2,400 stocks at 0% commission
Trade thousands of CFDs
Deposit funds with a debit/credit card, Paypal, or bank transfer
Perfect for newbie traders and heavily regulated

Don't invest in crypto assets unless you're prepared to lose all the money you invest.
How to Buy Cardano in 10 Minutes – Quickfire Guide
The first thing to mention is that in order to buy Cardano in a safe and timely manner you are best to do so via a trusted cryptocurrency broker.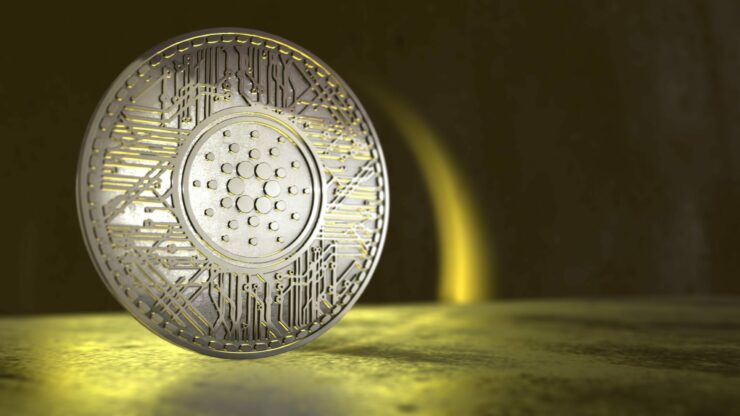 If you haven't got enough time to read the entirety of this guide right now, you can follow the 5 steps below.
Step 1: Join an online brokerage – if you are yet to decide, Capital.com serves over 20 million clients and does not charge any commission when buying crypto
Step 2: Tell the platform who you are – name, date of birth, address, etc
Step 3: When asked, upload some ID – your passport and a bank statement dated within the last 3 months will suffice
Step 4: Deposit some funds into your new account – choose a payment type and enter a value in the 'amount' box
Step 5: Search for and buy Cardano – you can purchase this coin at Capital.com from a minimum investment of $25 whilst paying zero commission
And that's it – you've just bought Cardano!
Select a Trusted Cardano Broker
A broker is an essential bridge between you and the cryptocurrency markets. As such, you should choose wisely. To help you get started we have reviewed the top 2 platforms that provide access to Cardano.
Although you might want to straight-up buy Cardano, it's important to note that there are much more flexible options available – notably CFDs. Such instruments enable you to trade Cardano on a long or short basis – often with leverage. As such we have included both options for your consideration.
VantageFX – Beginner-Friendly Crypto CFD Trading Platform with $50 Minimum Deposits
VantageFX VFSC under Section 4 of the Financial Dealers Licensing Act that offers heaps of financial instruments. All in the form of CFDs - this covers shares, indices, and commodities.
Open and trade on a Vantage RAW ECN account to get some of the lowest spreads in the business. Trade on institutional-grade liquidity that is obtained directly from some of the top institutions in the world without any markup being added at our end. No longer the exclusive province of hedge funds, everyone now has access to this liquidity and tight spreads for as little as $0.
Some of the lowest spreads in the market may be found if you decide to open and trade on a Vantage RAW ECN account. Trade using institutional-grade liquidity that is sourced directly from some of the top institutions in the world with zero markup added. This level of liquidity and availability of thin spreads down to zero are no longer the exclusive purview of hedge funds.

The Lowest Trading Costs
Minimum deposit $50
Leverage up to 500:1
75.26% of retail investor accounts lose money when spread betting and/or trading CFDs with this provider. You should consider whether you can afford to take the high risk of losing your money.
Consider Your Cardano Strategy
The majority of experienced crypto traders understand that not all positions will result in financial gain, rather than expecting to come out on top every time. The most effective way to counter your long-term risk is to think about what your strategy might be when looking to buy Cardano.
See the most commonly adopted Cardano strategies below.
Buy and Hold Cardano
You can probably hazard a guess at what the 'buy and hold' strategy entails. However, to clarify, you will be purchasing Cardano and holding on to it for as long as you see fit. This could mean keeping your ADA tokens for years.
So, you might be wondering when to let go of your Cardano investment? People who buy and hold look to ignore the short-term price spikes in the market and instead focus on maintaining a moderately secure portfolio. You will sell when you believe you will make the most gains.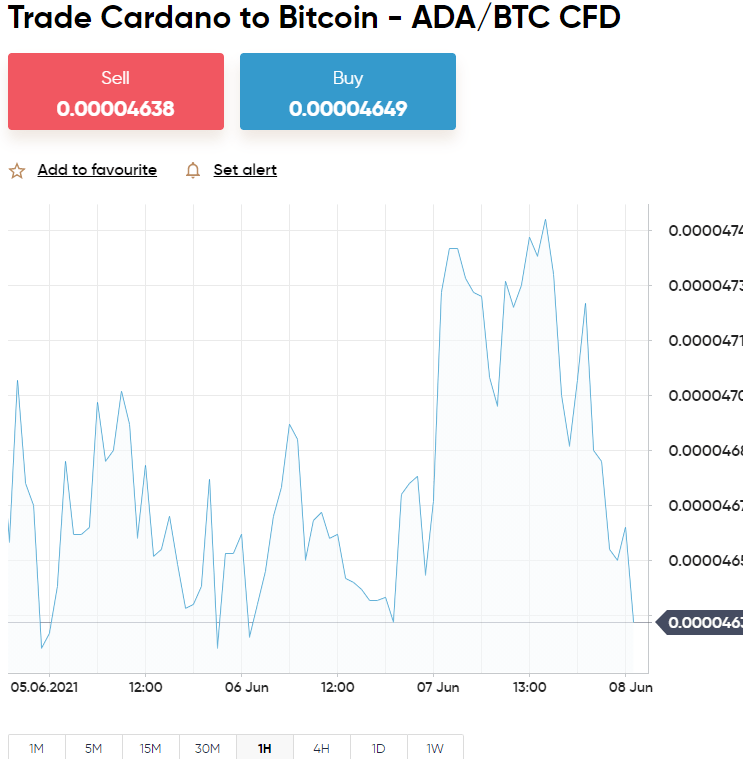 Let's clear any confusion by offering a simple example of a buy and hold strategy in play:
It's February and after heading over to your chosen online brokerage, you feel that at just $0.78 per coin, Cardano is undervalued
As such, you place a $400 buy order immediately
September comes around and Cardano is now priced at $0.98 – this shows a 26% increase in 7 months
As you can see, on this occasion you correctly predicted that ADA tokens would see a price increase
Subsequently, you exit your position with a sell order – feeling happy with your profit of 26%
From your initial $400 investment you made $104 in gains
When investing in Cardano, you also need to think about storage. Of course, unlike fiat currencies, digital coins aren't kept in actual wallets.
You have two options when it comes to the storage of Cardano. The first is to take full responsibility for it yourself and store your coins in a private crypto-wallet. This will require you to protect your wallet from viruses, password hackers, and thieves – which is no easy feat.
The second option is to store your Cardano at a trusted brokerage – this way you don't need to worry about lengthy passwords or crooks. At acclaimed crypto trading platform eToro, you can buy and store ADA out of harm's way – without paying commission!
Trade Cardano
As we touched on, CFDs (Contracts for Difference) are great if you want to be able to long or short your chosen asset. For instance, if you think that Cardano is about to lose value at a rate of knots – you can profit from that by entering the market with a sell order.
An important feature of CFDs is that they always mirror the present market value of the underlying asset – meaning you can speculate, without taking ownership.
When it comes to trading Cardano via CFDs, this will usually be as part of a pair. This could be what's known as crypto-fiat pair, inclusive of a legal tender. A crypto-fiat pair including Cardano will be shown as ADA, followed by the second currency. For instance, ADA/AUD (Australian dollars), ADA/USD (US dollars) ADA/GBP (British pounds). Undoubtedly, the most traded pair here is ADA/USD. As such, this asset can be found on most trading platforms.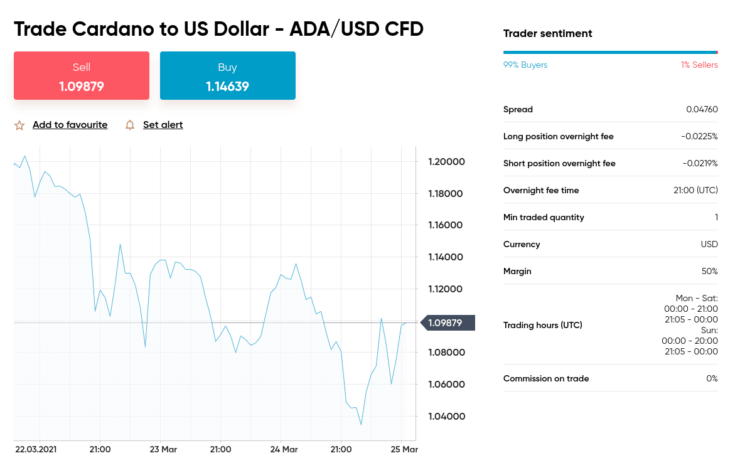 Alternatively, you might want to trade a crypto-crypto pair. As you likely guessed, crypto-crypto pairs will see you trading Cardano against a digital token like Litecoin or Bitcoin. This would be shown as ADA/LTC, and ADA/BTC respectively. -The latter is the most commonly traded in this case.
See a practical example of a Cardano CFD trade to clear the fog:
You are interested in trading ADA/USD, which is valued at $1.50
Accordingly, the ADA/USD CFD instrument at your chosen broker is also priced at $1.50
Believing this price is way above what it should be, you envisage a price drop
As such you go short on the pair by creating a $600 sell order at the trading platform
After 48 hours, the value of ADA/USD has fallen by 22%, to $1.17
You hypothesized correctly – and pleased with your gains you place a buy order to exit your position and cash out
From your initial $600 stake you made $132 extra in gains ($600 x 22%)
If in this example, if you thought ADA/USD was going to see a rise in value – you would need to go long with a buy order.
Furthermore, we touched on leverage in our broker reviews, but let's offer an example to clarify:
You apply leverage of 1:2 on the above $600 ADA/USD trade
Your Cardano position is now worth $1,200
As such, your gains from this trade are boosted from $132 to $264
If you had speculated the pair would rise in value – you would have instead doubled your losses on this Cardano position. Crucially, CFD broker restrictions exist in many countries. As such, whether or not you are offered leverage will ultimately depend on if it is permitted, or restricted where you reside.
For instance, Australians are confined to a maximum leverage of 1:2 – as used in the above example. On the other hand, US and UK citizens are prohibited from accessing crypto CFDs in their entirety.
Where to Buy Cardano
Whilst deciding what might be the best way to buy Cardano – you might also want to consider where you are going to purchase your coins.
Below we discuss some of the best ways to buy Cardano.
Buy Cardano Debit Card
These days most online services can be paid for using a debit card – and Cardano is no different. The thing to be mindful of is that not all trading platforms will offer this payment type. Not only that, but sometimes when they do it comes at a hefty cost.
For instance, crypto provider Binance charges between 3-4% for every debit card transaction, albeit, the amount you pay depends on where you live.
eToro on the other hand stipulates a 0.5% FX fee to buy Cardano with a debit card. But, this charge only comes into play if you are not depositing in USD. The reason is simple, this trading platform operates using US dollars.
Buy Cardano Credit Card
The first thing to note about trying to buy Cardano with a credit card is that providers often tend to charge high fees. That's if they even allow you to use your credit card for this purpose.
Top-rated broker eToro accepts credit card deposits and the only fee you will pay is the aforementioned 0.5% – if not paying in the broker's stipulated currency of USD (also check with your provider).
Buy Cardano Paypal
Rarely do trading platforms allow you to buy Cardano with PayPal. It's said that processing a deposit in this way is more expensive for the brokerage.
If this is your desired payment type – head over to eToro where you can buy Cardano commission-free using PayPal! In fact, eToro also supports several other popular e-wallets – including Neteller and Skrill.
Cardano Strategies
Firstly, the Cardano strategies you are interested in will depend on your investing style. For instance, where one person might be happy adopting a simple dollar-cost averaging system – others also opt to join a crypto Telegram group to save having to get to grips with complex technical analysis.
To give you an idea of what strategy you might want to use yourself, see a few ideas below.
Dollar-Cost Averaging
A great way to reduce the impact of such a volatile market is to add dollar-cost averaging to your strategy.
When electing to buy Cardano using this strategy, you will consider how much you can or wish to add to your crypto investment pot on a regular. For instance, you might decide to purchase $200 of ADA tokens per month – placing a $50 buy order each week.
Regardless, the idea is to never invest beyond that amount, no matter how tempting it might be. This way you are slowly but surely able to build up the contents of your Cardano portfolio – without ever risking too much at any one time.
Buy the Dip
For those who have never heard of the expression 'buy the dip' – during times when a particular asset is experiencing choppy waters – people invest whilst it's at a low price. This is buying the dip in a nutshell.
You will find an example below for clarification:
Market sentiment dictates that a large, but short-term price drop is widely considered to be on the cards for Cardano
Subsequently, you wait for the drop before placing multiple orders to grow your collection of ADA tokens
Your goal is to buy Cardano at a lower price than it is thought to be worth
This is buying the dip and only usually presents a small window of opportunity
This strategy can be used hand in hand with the previously mentioned dollar-cost averaging.
Diversify
Although you may only have eyes for Cardano now, you really should consider diversifying your portfolio at some point. The reason many seasoned investors do this is that it's a good way to protect yourself when some of your investments are floundering.
For instance, let's say you buy Cardano, but also invest in an index like FTSE 100. If your ADA coins lose value, you still have the basket of stocks from within your index investment to fall back on. For this reason, many experienced investors create a diverse portfolio that includes everything from digital currencies and stocks, to gold, silver, and ETFs. To diversify your portfolio you can use multicurrency wallets which support numerous crypto assets. You can also easily create a Cardano wallet address in the majority of the wallets
Cardano Trading Signals
Some people prefer to skip the analytical stuff and make use of crypto signals instead. For anyone who has never tried this – it's a case of leaving the sophisticated research and analysis to someone else. This means all you have to do is decide whether to act on the order suggestions sent to you.
For instance, here at Learn 2 Trade, we offer both Premium and free Cardano trading signals. In laymen's terms, we have a team of seasoned traders who are assigned to seeking out profitable opportunities, by performing in-depth technical and fundamental analysis.
The final verdict is then sent out to our thousands-strong crypto Telegram group as a signal. Our signals always include the pair, a limit price, and also a suggested value for the stop-loss and take-profit side of things.
How to Buy Cardano Online – Full Walkthrough
For any newbies reading, we have included a full walkthrough detailing how to buy Cardano from start to finish.
On this occasion, we are using Capital.com – as the regulated broker allows you to invest in Cardano from a minimum of just $25 and you won't pay any commission!
Step 1: Sign Up With a Cardano Broker
Capital.com is super user-friendly and signing up takes less than 10 minutes on average. Go to the official platform and look for the signup button labeled 'Create account'.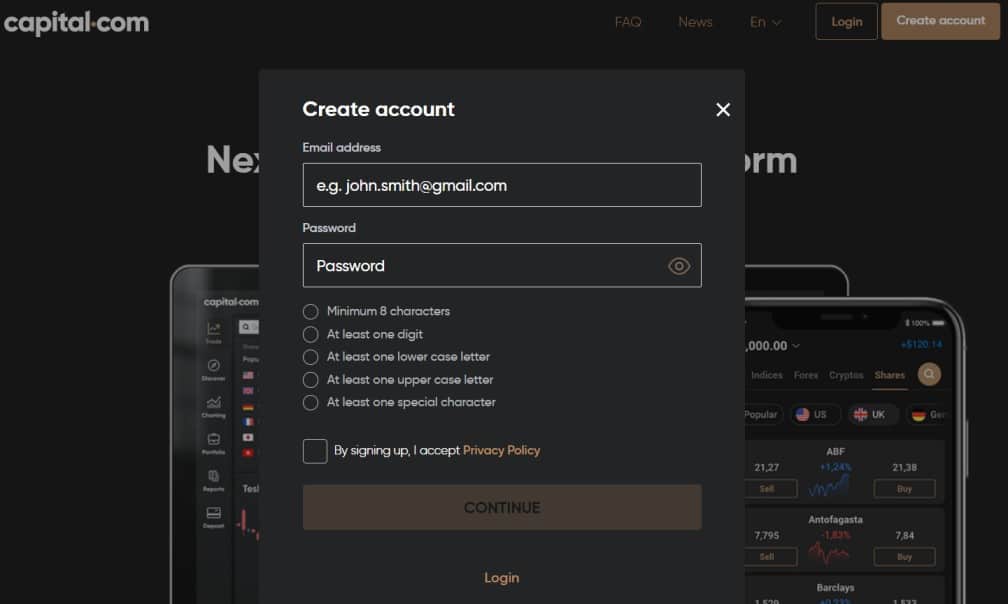 As you can see, this is a simple case of entering your name, creating a password, and following the instructions on-screen. Once you have completed this part of the process, you should receive an email straight away confirming your new account.
Step 2: Upload Some Identification
Next, click on the link within the email to go to your Capital.com account and you can complete your profile.
This will entail adding a government-issued ID like your passport, to prove it's really you. You will also need to include proof of address in the shape of a recently dated (within 3 months) bank statement or electricity bill.
All regulated trading platforms must obtain this documentation, in order to operate within the rules set out by the aforementioned regulatory bodies.
With that said, at Capital.com, you can still use your unverified account for as long as you wish. However, note that you will have to complete it before you can withdraw funds, or deposit more than $2,250.
Step 3: Deposit Funds Into Your Account
By this point, you have an account at Capital.com and are one step closer to buying Cardano. Now, you need to deposit some funds.
As you can see, Capital.com makes every step as easy as possible. Enter the amount of money you wish to deposit in the 'Amount' box, select from the drop-down payment method list and enter your particulars.
It's advisable to double-check the information entered before clicking 'Deposit'.
Finally, note that if you want to buy Cardano straight away, you will be better using a credit/debit card or e-wallet – as bank wire transfers can take 2-7 days.
Step 4: Buy Cardano
The moment you have been waiting for – you can now buy Cardano! First, you will need to your chosen market – as Capital.com is home to a huge library of assets.
Simply type 'Cardano' into the search facility – and once found, you can hit 'Trade' to bring up the order box needed to buy ADA coins.
Think about how much you would like to purchase and enter the amount in the box. Don't forget, you can buy Cardano from a minimum of just $25 at Capital.com. Click 'Set Order' when you are satisfied and the platform will process your order immediately – commission-free!
Conclusion
All in all, it has never been more convenient for your average Joe Investor to buy Cardano. However, you need an online broker on your side.
Choose with caution when looking for a safe place to purchase Cardano. The most important considerations are regulation, asset diversity, and low fees. Additionally, it's always wise to include a strategy or two into your investment plan to ensure you stay on track.
At Capital.com, you can buy Cardano under the watchful eye of four tier-1 regulatory bodies, without paying a cent in commission fees. Furthermore, you can easily utilize a dollar-cost averaging strategy as the minimum investment starts at just $25!
8cap - Buy and Invest in Assets

Minimum deposit of just 250 USD to get lifetime access to all the VIP channels
Buy over 2,400 stocks at 0% commission
Trade thousands of CFDs
Deposit funds with a debit/credit card, Paypal, or bank transfer
Perfect for newbie traders and heavily regulated

Don't invest in crypto assets unless you're prepared to lose all the money you invest.
FAQs
What is the minimum amount of Cardano you can buy?
The minimum amount of Cardano you can buy depends on various factors - the main one being the broker in question. For instance, eToro will allow you to buy Cardano from $25, whereas some platforms either have a high minimum - or charge the earth in fees. The latter means that even if you are allowed to purchase $10 worth of Cardano - the fees make it unviable.
How much is Cardano likely to be worth in 5 years?
Some experts predict that Cardano could reach new heights of $2.88 in 5 years' time. However, without a crystal ball, you are best keeping an eye on the markets yourself and adding another string to your bow in the shape of in-depth technical analysis.
Where is the best place to buy Cardano?
We saved our readers hours of legwork and came to the conclusion that the best place to buy Cardano is at commission-free broker eToro. In addition to Cardano, the popular online broker offers heaps of assets and is watched over by regulatory bodies ASIC (Australia), CySEC (Cyprus), the FCA (UK), and FINRA (US). Furthermore, the trading platform will allow you to buy Cardano from as little as $25 - plus you can store your coins for free in the eToro wallet.
How can I sell Cardano?
If you sign up with a respected broker like eToro, selling your Cardano couldn't be easier. Because you are able to buy and store your crypto-assets in a safe place, - when it comes to cashing out, you simply have to create a sell order. The platform then adds the money to your account.
Can Cardano make you rich?
There really is no such thing as getting rich quickly when investing in Cardano or any asset. With that said, there is potential to make money if you make use of third-party tools that are designed for newbies. For instance, you might decide to cut out the need to analyze the markets by investing in a Copy Trader at eToro, or sign up to the Learn 2 Trade crypto signal service. Whatever strategy you adopt, it's important to be realistic - especially in such a volatile market as digital currencies.