Invest at least $250 in D2T to gain lifetime access to our VIP Signals
Get early access to Dash 2 Trade's Presale. Buy the D2T token now
Existing community of 70,000+ traders
Unlocks access to the leading crypto trading analysis, signals and trading tools
As featured in CryptoNews.com, FXEmpire.com, FXStreet.com and more
World class development team backed by Quant developers and VC investors
Today we discuss everything you need to know about Bitcoin trading signals – including how they work, and metrics each one will include. Furthermore, we offer a checklist guide to choosing the best broker to execute your Bitcoin trading signals in real-time. To get started you can join our free forex signals telegram group to stay informed on promising bitcoin trading opportunities. You can find a step-by-step guide on this below.
No one has ever woken up one morning with a firm grasp of performing technical analysis. After all – research is essential for crypto trading and ultimately – this is a skill that can take months or years to master.
As such, more and more people are looking to utilize Bitcoin trading signals. Whether to learn the ropes or perhaps just trade in a semi-passive manner – signals allow you to avoid the need to research pricing charts throughout the day.
Table of Content
Learn 2 Trade Free Crypto Signals Service

Get 3 Free Crypto Signals Each Week
Signals Cover all Cryptocurrencies
Option to Upgrade to Our VIP Group for Free
82% Win Success Rate
Average Monthly Gains of 30-40%

Best Bitcoin Trading Signals for Beginners
As we touched on, technical analysis can take years to learn. The process involves thoroughly researching price trends on various timeframes of past and present. All with the help of dozens of trading indicators and charts.
This includes:
Stochastic Oscillator
Relative Strength Index (RSI)
MYC Trading Indicator
Moving Averages (MA
Fibonacci Retracement
Moving Average Convergence/Divergence (MACD)
Bollinger Bands
and more
Without an understanding of in-depth analysis, you may as well just pick your next trading move out of a hat. The information provided in such indicators shines a light on where Bitcoin has been, and therefore where it might be headed – in terms of price.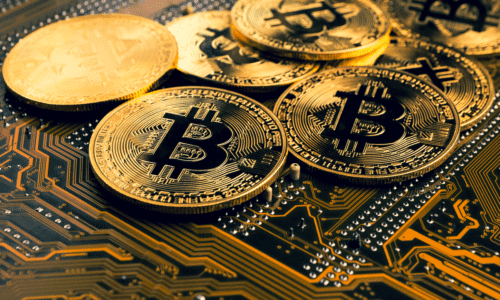 As such, you are in a much better position to make tough decisions by having access to this data. That is unless you make the most of Learn 2 Trade Bitcoin signals. Our in-house analysts perform the crucial research – so that you don't have to.
How do Learn 2 Trade Bitcoin Trading Signals Function?
A Bitcoin signal is like a trading tip or suggestion. Put simply, you will join our Telegram signals group and begin receiving real-time end-to-end order suggestions. This means you will never have to time the markets or miss a potentially advantageous trading opportunity again.

The signals we provide suggest to our members whether to go long or short and include price suggestions on stop-loss and take-profit orders. We delve into this in more detail shortly.
Just to give you an indication of what to expect, each signal will include a set of information like the following:
Cryptocurrency Pair: BTC/XLM
Short or Long: Long
Limit Order Value: $121,200
Stop-Loss Value: $118,770
Take-Profit Value: $126,045
As is clear from our Bitcoin signal above – each one will invariably include the pair to be traded. In this case, the signal is suggesting that analysis points to going long on BTC/XLM. Moreover, we will also incorporate risk/reward, in the form of 'stop-loss' and 'take-profit' order prices.
What Will the Best Bitcoin Trading Signals Include?
For those who are not quite versed with how Learn 2 Trade works, next we shed some light on the 5 key elements of our Bitcoin signals.
Bitcoin Pairs
All Bitcoin trading signals should start by telling you which pair the suggestion is for.
As you likely know, Bitcoin can be traded against other cryptocurrencies such as Ripple, Stellar, and Litecoin. This will be displayed to you as BTC/XRP, BTC/XLM, and BTC/LTC respectively.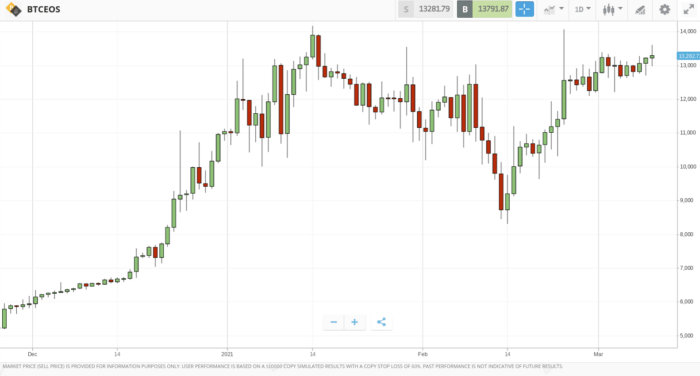 However, the most popular way to trade Bitcoin is to predict the exchange rate against a fiat currency such as US dollars or euros. This is especially the case for newbies, as it's much easier to quantify gains and losses – not to mention predict the market sentiment. Bitcoin being traded against the US dollar, Australian dollar, or euro would be shown as BTC/USD, BTC/AUD, and BTC/EUR.
Our team of analysts here at Learn 2 Trade study a wide range of information, and perform in-depth analysis on all historical and present data relating to the respective Bitcoin trading pair. Crucially – Bitcoin is the king of the castle when it comes to digital currencies, meaning it invites plenty of profitable opportunities.
Short or Long
Next up, our Bitcoin trading signals will always make a suggestion on whether to go short or long. This particular part of the order tells the broker what direction you think the market will go (all being well).
See below for clarification, using BTC/XLM for continuity:
If we think the price of BTC/XLM is going to see a rise in value – our Bitcoin trading signal will tell you to go long
Alternatively, if research suggests the pair will fall in value – our Bitcoin trading signal will tell you to go short
For further clarification:
If the crypto trading signal is telling you to go long – you should create a buy order with your online broker
A short signal means you need to place a sell order instead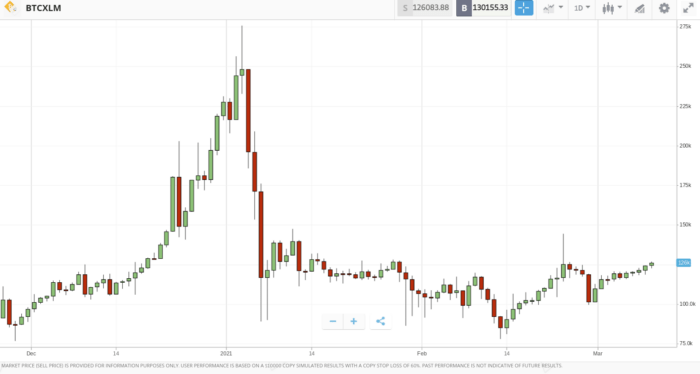 The main goal for all involved is for everyone to grab as many potentially profitable opportunities as possible. Such favorable market conditions will be spotted by our team of seasoned Bitcoin analysts – and passed on to our Telegraph members.
Limit Order Value
Unless the information our research brings to light indicates the immediate execution of a 'market' order – our signals will always include a 'limit' order value.
For newbies out there, you can enter the market one of two ways. This is either immediately using a 'market' order – in which case you get the current or next best Bitcoin price. Alternatively, you can enter the crypto market with a price-specific 'limit order.
This is where Bitcoin trading signals come into play:
Let's say you are trading Bitcoin against the euro which is priced €42,650
After hours of analysis, we think that if BTC/EUR surpasses €45,210 – it's a good idea to go long
As such, we include a limit order price of €45,210
This means that you will not enter the Bitcoin market until it has risen to €45,210 – or you cancel it
As you can see, not only are you able to receive Bitcoin trading signals without performing research – but once you place an order, your broker will execute it at the correct time.
Stop-Loss Value
Bitcoin trading signals should always come with a 'stop-loss' order – as well as the aforementioned Bitcoin pair, short/long, market/limit price. At Learn 2 Trade, our experts include a stop-loss value on all signals.
Stop-loss orders enable our members to be price-specific regarding what point they would like to cut all losses and close the trade. This doesn't mean you won't make losses – instead it prevents your losses from getting out of hand via a water-tight risk management strategy.
As such, going back to our first example of Bitcoin Trading signals, let us explain how this works:
We suggested entering the market with a limit order set to $121,200
The stop-loss price is $118,770 on the BTC/XLM trade
This is 2% below the suggested entry price
As such, you won't lose more than 2% from this trade
Instead, the broker will automatically close it when the pair falls to $118,770
Had the signal suggested going short on the pair – the stop-loss order would be set above the entry price, for obvious reasons.
Take-Profit Value
Another key metric you will always find in our Bitcoin trading signals is a 'take-profit' value. This order is comparable to the previously discussed stop-loss. Notably, take-profit orders will lock in your gains instead.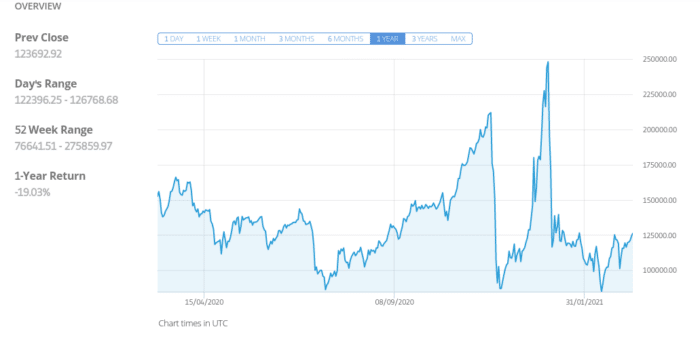 Going back again to the initial example, our signal suggested a take-profit price of $126,045. This is 4% above the limit order price As such, if you incorporate both – you are able to automatically close your Bitcoin position- either when the position loses 2% or makes gains of 4%.
By making the most of stop-loss and take-profit orders, you are able to maintain some control over your risk and reward – on each position you take.
Learn 2 Trade Bitcoin Trading Signals: Risk and Reward
As we have touched on, our team here is always mindful of the risk vs reward balance. Earlier our example used a risk/reward ratio of 2:4 – meaning for every $2 spent we expect $4 back.
With that said, we at Learn 2 Trade tend to utilize a 1:3 risk/reward ratio. This means in our earlier example the stop-loss would be set to 1% above or below the limit. And, the take profit would be 3% above or below – depending on whether the signal suggests going long or short. With this ratio, you only really need for 1 trade from every 3 to work out in your favor.
Quality Bitcoin Trading Signals Telegram Group
The best Bitcoin trading signal providers in the space offer their service via Telegraph.
This is largely due to the safe and instantaneous way in which signals can be sent – Usually to a large group of traders. Importantly, the app encrypts messages.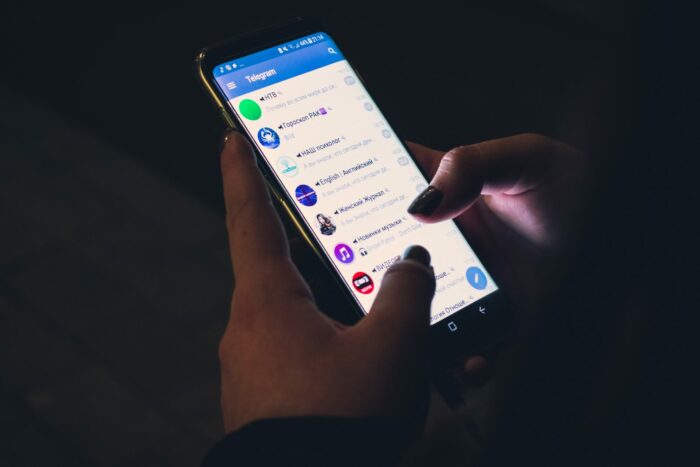 See below a list of benefits to receiving Bitcoin trading signals via Telegram:
Dependable and securely encrypted: client-to-client encryption on all messages, requires very little data to operate. Trusted by more than 500 million users
Real-time messages: as well as using cloud storage to share files, cloud-based messages ensure you receive new Bitcoin trading signals in real-time
Large group chats: thousands of members have joined our crypto trading signals group. Members are able to share messages, tips, and stickers – creating a community feel
Free of charge: simply download the free app, connect to wifi or data, join the Learn 2 Trade group – and you are good to go
Visual evidence: Our signals often include charts and graphs – which is to illustrate to members why the signal looks the way it does. For instance, we might include a historical price chart to back up our findings
The mutual end goal is for like-minded Bitcoin traders to come together and take advantage of our extensive research – by means of acting on the signals we send.
A popular feature on Telegram is that you can change the notification tone for a specific group, even when your phone is on silent. This means that when you hear a customized notification, set by you – you will know it is a new Bitcoin trading signal coming through.
Free Bitcoin Trading Signals
Not much in life is free. With that said, we do offer a free crypto trading signal service here at Learn 2 Trade. Our in-house experts utilize customizable technical indicators, advanced chart drawing tools, and more – to deliver 3 free signals per week to the palm of your hand.
Sure, this kind of analysis isn't learned overnight. However, unlike some providers, we don't blackout vital signal information such as the stop-loss price and demand extra fees for revealing it. Instead, we offer a bare-bones free service, and it's up to you if you want to upgrade to get the most out of our Bitcoin trading signals.
Premium Plan Bitcoin Signals
By signing up for the Premium plan, the same team of professionals will instead send 3-5 signals to your Telegram inbox every day on a 24/5 basis. This does come at a cost, which we talk about next. However, we are so confident in our service that we will offer a 30-day money-back guarantee if you are dissatisfied!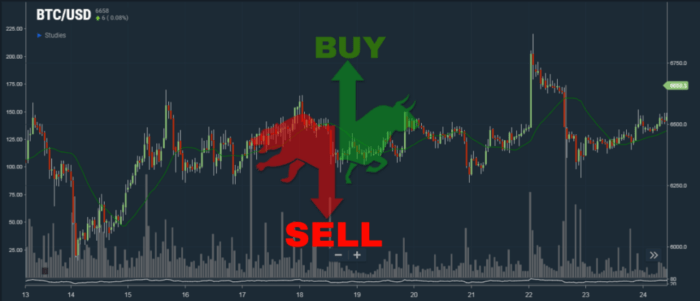 Furthermore, our 30-day money-back guarantee goes hand-in-hand with the demo service offered at some online brokers.
See a walkthrough below:
Sign up with a reputable broker offering Bitcoin trading markets and a free demo account – Social trading platform eToro fits the bill to a 'T'
When you receive a Bitcoin trading signal via the telegram group – create the order using your demo (virtual account) – eToro comes with $100,000 in paper funds
Next, you need to keep a note of your profits and losses from this virtual Bitcoin trade
Do this for 2-3 weeks, to get a feel for how it's working for you
After this, you can tally it all up and see what you think!
By taking advantage of eToro's free demo account, you are able to try out the Learn 2 Trade signal service to its fullest. Crucially, without risking your own hard-earned cash. Then, if you don't like it – you always have the 30-day money-back guarantee to fall back on.
Premium Plan: Price Breakdown
We pride ourselves on fee transparency, so all of our crypto signals have clear pricing structures.
See below:
1 Month Learn 2 Trade Premium plan: £35
3 Months Learn 2 Trade Premium plan: £70
6 Months Learn 2 Trade Premium plan: £120
Lifetime access to Learn 2 Trade Premium Plan: £250
If you have never used Bitcoin trading signals before, you may want to start with the 1-month option at Learn 2 Trade. This way you can make use of eToro's free demo, and our money-back guarantee – without taking any risks. Alternatively, you might be tempted by the 6-month plan – which is a saving of £90.
Note: If you like the service and opt to sign up with one of our partnered Bitcoin brokers – you can gain access to the Premium plan for free!
How to Choose a Broker for Bitcoin Trading Signals
Before you will be able to make the most of our Bitcoin trading signals – it's imperative you find a good broker. There are hundreds of legitimate and fantastic online platforms offering access to digital currencies – but also plenty of shady ones.
As such, when it comes to choosing a Bitcoin provider, there are many important factors to take into consideration.
Regulatory Standing
Following on from the mention of shady brokers – regulatory bodies keep the space clear of them. By this, we mean that if the trading platform you are researching is legitimately licensed by a reputable financial authority – you can trust you are safe spending money there.
The most well-known regulatory bodies include the FCA (UK), ASIC (Australia), CySEC (Cyprus), FINRA (US), and more.
Regulatory bodies ensure that online brokers follow strict rules such as KYC procedures, fee transparency, client fund segregation, and regular audits. As such, you know that a licensed broker takes regulation seriously, and must jump through hoops to keep its license.
Available Markets
It's important to check which markets will be available to trade before signing up with an online broker. Whilst the majority of trading platforms offer Bitcoin, our signals often contain pairs including fiat currencies and of course alternative crypto-assets.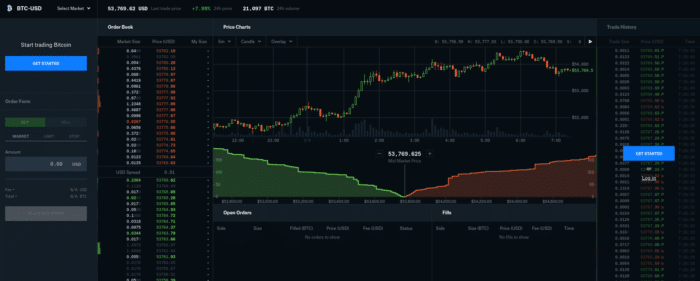 As such, you need to make sure there is a diverse selection of Bitcoin pairs available to trade – for every trading signal eventuality.
Spread and Commissions
Many of our Bitcoin trading signals aim to bring you frequent but small profits. With this in mind, you need to be careful about the spread and commissions eating away at your profits. The most suitable online brokers for Bitcoin trading signals will be able to offer you super-tight spreads and low commission fees.
Top-rated cryptocurrency broker eToro will enable you to place the orders suggested via our Telegram signals without charging you a cent in commission. This way, the only fee you need to think about is the spread (the difference between the buy and sell price).
Leverage
No two Bitcoin traders are the same. As such, if you only have access to a small amount of capital consider leverage. A leverage ratio of 1:2, for example, will amplify a $100 position to $200. Always remember that leverage can magnify your gains as well as losses. This is because it is comparable to a loan from the Bitcoin trading platform.
Payment Methods
If you have a particular payment method you need or want to use – check it's compatible before signing up. After all, to make your Bitcoin trading signals a reality – you are going to need to deposit funds into your account.
Whilst modern brokers, such as eToro, allow you to deposit using credit and debit cards, as well as e-wallets – some might only accept bank transfers. Which, as you likely know, can delay your trading endeavors and lead to missed opportunities.
eToro - Buy and Invest in Assets

Minimum deposit of just 250 USD to get lifetime access to all the VIP channels
Buy over 2,400 stocks at 0% commission
Trade thousands of CFDs
Deposit funds with a debit/credit card, Paypal, or bank transfer
Perfect for newbie traders and heavily regulated

67% of retail investor accounts lose money when trading CFDs with this provider.
Learn 2 Trade Bitcoin Trading Signals: 5 Step Walkthrough
By this point in our guide – you are likely ready to begin your Bitcoin trading signals journey. As we said, you are going to need a regulated and trusted broker offering plenty of Bitcoin markets.
For this 5-step walkthrough, we are using Capital.com. The reason behind this is the broker serves over 17 million traders globally and is fully regulated. Furthermore, the easy-to-navigate platform makes signing up a doddle for people of all shapes and sizes – and you won't pay any commission.
Step 1: Sign up to the Learn 2 Trade Crypto Signals Service
First, you must become a member of Learn 2 Trade by signing up for our crypto signals. You can choose our free signals first if you want to get a feel for our Bitcoin trading suggestions.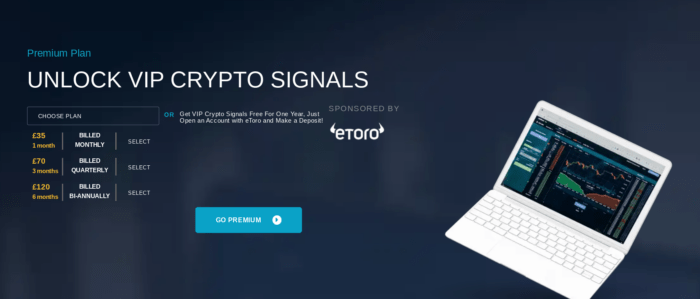 Alternatively, you can stick with the standard 1-month plan. Simply pay the £35 monthly fee and make the most of our trading signals at Capital.com using a demo account packed with $100k in virtual money.
If you decide it's not your cup of tea – just contact us to request your money back. This must be done within 30 days.
Step 2: Join our Bitcoin Trading Signals Telegram Group
Now you can sign up for our Telegram crypto signals group. This enables you to receive regular Bitcoin trading signals to your inbox, in real-time.
If you don't have Telegram already, head over to Google Play or Apple Store and download the app for free. Getting set up takes minutes.
Step 3: Customize Your Telegram Notifications
To ensure you never miss a Bitcoin trading opportunity again, turn custom alerts on, so you are altered to a Telegram signal coming in.
As noted earlier, our signals include information such as the Bitcoin pair, whether to go long or short, limit price, and stop-loss/take-profit order values.
Step 4: Recieve Bitcoin Trading Signals and Create Orders
You will begin to receive Bitcoin trading signals in real-time via our Telegram service. As such, when you have signed up with a broker you can start grabbing opportunities straight away.
Step 5: Review the Bitcoin Trading Signal
Finally, review the Bitcoin Trading signal we have sent, and copy the details over to the order box at your chosen brokerage.
Once you are happy that everything is correct – hit 'Open Trade' and Capital.com will execute your order accordingly. Crucially, the stop-loss and take-profit orders will be automatically actioned when either price is hit.
Best Bitcoin Trading Signals 2022: The Verdict
Historically, people who elect to trade Bitcoin with absolutely no knowledge of technical analysis fail miserably. Fortunately, things have changed and there are shortcuts available.
Bitcoin trading signals at Learn 2 Trade guide you through every aspect of a potentially profitable opportunity. This includes whether to go long or short, as well as risk/reward – in the form of stop-loss and take-profit price suggestions.
Signing up to our signal service and Telegram group enables you to let our team of pros do all of the legwork involved with technical analysis. In terms of brokers, Capital.com will facilitate your Bitcoin trades without charging you a cent in commission fees. The platform is regulated by the FCA, ASIC, CySEC, and NBRB, they accept heaps of payment methods!
Learn 2 Trade Free Crypto Signals Service

Get 3 Free Crypto Signals Each Week
Signals Cover all Cryptocurrencies
Option to Upgrade to Our VIP Group for Free
82% Win Success Rate
Average Monthly Gains of 30-40%

FAQs
What are Bitcoin trading signals?
Bitcoin trading signals are comparable to trading tips. Usually sent via a Telegram group, a signal will include the pair, whether to go long or short (buy or sell), and also a limit, stop-loss, and take-profit price suggestion. Head over to a reputable brokerage site and enter the order details detailed in the signal. eToro is regulated and offers a free demo account with $100,000 in virtual money.
How much money will I make from Learn 2 Trade Bitcoin trading signals?
There is no black and white answer to this question. Whilst we cannot guarantee that every trade will result in a win, our in-house team of expert analysts perform hours of intensive research to produce our signals. Furthermore, we offer a 30-day money-back guarantee on our signal service - should you not wish to proceed.
Why is Telegram used for Bitcoin signal service groups?
Telegram is fast becoming the go-to service for Bitcoin trading signals. There are many reasons why. Telegram is free to download and the messaging service offers real-time messages thanks to cloud-based technology. Furthermore, all messages are encrypted for your privacy, group chats can contain thousands of other traders simultaneously, needs barely any internet data to function, and enables us to shares pricing charts.