Invest at least $250 in D2T to gain lifetime access to our VIP Signals
Get early access to Dash 2 Trade's Presale. Buy the D2T token now
Existing community of 70,000+ traders
Unlocks access to the leading crypto trading analysis, signals and trading tools
As featured in CryptoNews.com, FXEmpire.com, FXStreet.com and more
World class development team backed by Quant developers and VC investors
The founders of EOS had scalability, speed, and flexibility in mind when creating this digital currency.
Looking to educate yourself on how to buy EOS from the comforts of home? You are on the right page.
We are going to clear the mist on the most convenient ways to buy and store EOS, as well as provide comprehensive reviews on the most trusted online brokers. You will also find some useful EOS investment strategies for your inspiration.
eToro - Buy and Invest in Assets

Minimum deposit of just 250 USD to get lifetime access to all the VIP channels
Buy over 2,400 stocks at 0% commission
Trade thousands of CFDs
Deposit funds with a debit/credit card, Paypal, or bank transfer
Perfect for newbie traders and heavily regulated

67% of retail investor accounts lose money when trading CFDs with this provider.
Table of Content
How to Buy EOS in 10 Minutes – Quickfire Guide
To buy EOS safely, it's recommended to do so via a licensed brokerage firm. Follow this quickfire guide to get started and buy EOS today!
Step 1: Sign up with a regulated cryptocurrency broker – at Capital.com, you can buy EOS without paying any commission
Step 2: Next, enter your name, address, date of birth, and contact details
Step 3: To back up the information given in Step 2, you need to send a copy of your ID (such as a passport) and a recent bank account statement or utility bill
Step 4: Deposit some funds into your new account, choosing from a debit/credit card, e-wallet, or bank transfer
Step 5: Perform a quick search for EOS and create an order stating the amount you wish to buy – you can invest in EOS from $25 at Capital.com commission-free
Haven't yet chosen a brokerage to access this asset? Check out our review of the top 3 EOS platforms in the next section.
Select a Trusted EOS Broker
There are hundreds of EOS exchanges in the online arena – some are more trustworthy than others. A great place to start is to look at the regulatory standing of the company in question. Licensed platforms are a far more secure option. With that said we also look at market diversity, features, fees, and more.
See below a rundown of our top 3 EOS brokers 2023, all of which offer leverage and charge no commission.
1. AvaTrade – Regulated by 6 Jurisdictions - Trade EOS CFDs With Optional Trading Tools
Last but not least, this well-known broker has been serving the trading community for over 10 years. AvaTrade is another commission-free CFD platform, meaning you can speculate and trade on the price of EOS coins going in either direction. A small fee to factor in is the spread - like all trading platforms.
This guide found the spread to be 1.5% over-the-market on EOS, and tight on many other markets too. When you are ready to add more assets to your portfolio, you can choose from a range of CFDs on indices, bonds, stocks, ETFs, commodities, and more crypto-assets. There should be no safety concerns at AvaTrade. After all, multiple jurisdictions, including Australia, the EU, and South Africa, have approved and regulated this broker.
The team at AvaTrade designed the platform to work well with MT4/5. To clarify, you can link your account to your chosen third-party trading platform to perform technical analysis, as well as make use of automated EOS trading features and a free demo facility loaded with $100,000 in paper funds. Once signed up, you can start trading EOS from $100 on this CFD platform. Accepted deposit methods include credit and debit cards, wire transfers, Bitcoin, and e-wallets like Neteller and Skrill.

Trade EOS CFDs from $100
Regulated by 6 jurisdictions
Pay ZERO commission
Expensive admin fee after 12 months inaction
75% of retail investors lose money when trading CFDs with this provider
2. VantageFX – Ultra-Low Spreads
VantageFX VFSC under Section 4 of the Financial Dealers Licensing Act that offers heaps of financial instruments. All in the form of CFDs - this covers shares, indices, and commodities.
Open and trade on a Vantage RAW ECN account to get some of the lowest spreads in the business. Trade on institutional-grade liquidity that is obtained directly from some of the top institutions in the world without any markup being added at our end. No longer the exclusive province of hedge funds, everyone now has access to this liquidity and tight spreads for as little as $0.
Some of the lowest spreads in the market may be found if you decide to open and trade on a Vantage RAW ECN account. Trade using institutional-grade liquidity that is sourced directly from some of the top institutions in the world with zero markup added. This level of liquidity and availability of thin spreads down to zero are no longer the exclusive purview of hedge funds.

The Lowest Trading Costs
Minimum deposit $50
Leverage up to 500:1
75.26% of retail investor accounts lose money when spread betting and/or trading CFDs with this provider. You should consider whether you can afford to take the high risk of losing your money.
Buy EOS or Trade CFDs
When you are researching how to buy EOS, think about how you see that playing out. For instance, in our reviews, we mentioned trading CFDs and the flexibility they offer. This is great for short-term speculation without you needing to take ownership.
On the other hand, if you simply want to buy EOS as a long-term investment – you'll be better off owning and storing the digital coins outright.
See below to clear the mist on which strategy is best suited for your EOS trading goals.
Buy and Hold EOS
One long-term strategy option is to 'buy and hold' EOS, which is identified as a fairly traditional way to invest. The idea, of course, is to buy low, sell high. If you are wondering how long you will need to hold on to your coins, that depends on the market sentiment.
For instance, you might adopt this strategy because you envisage EOS growing exponentially in value over a long period. This could see you storing your digital coins for several months, or in many cases years.
On the subject of storage, there are a few options to consider, which we talk about after a practical example:
After analyzing the markets you think that EOS is undervalued and will rise again
With this in mind, you place a $2,000 buy order with your broker
16 months pass and EOS has increased in price by 19%
You are happy with your gains so you place a sell order to close the EOS position and cash out
Your total gains from this initial $2,000 investment amounts to $380 ($2,000 x 19%)
Back to where you might store the EOS tokens – you could look into storing your purchase at one of the many cryptocurrency exchanges online. The problem lies in the lack of regulatory standing, meaning if the platform falls victim to theft you could lose everything.
Secondly, you could download a crypto-wallet, however, this sees you taking responsibility for sophisticated encryption and security of the investment yourself.
If the aforementioned cryptocurrency storage options leave you feeling apprehensive, consider keeping your investment at an online brokerage. For instance, at eToro, you can store digital currencies at no extra charge, whilst paying zero commission fees on the purchase itself.
Trade EOS
Many people that trade cryptocurrencies choose to do so via CFDs (Contracts for Differences) at a regulated trading platform. EOS CFDs are tasked with monitoring the real-world price of the digital asset, which prevents the need to store your coins. As such, your job as a trader is to correctly predict whether the price of EOS will rise or fall. Speculate correctly and you will make a profit.
The best online brokers will be able to provide you with access to a variety of EOS CFD options. This could include crypto-crypto pairings like EOS/BTC (Bitcoin), as well as crypto-fiat pairs like EOS/USD (US dollars).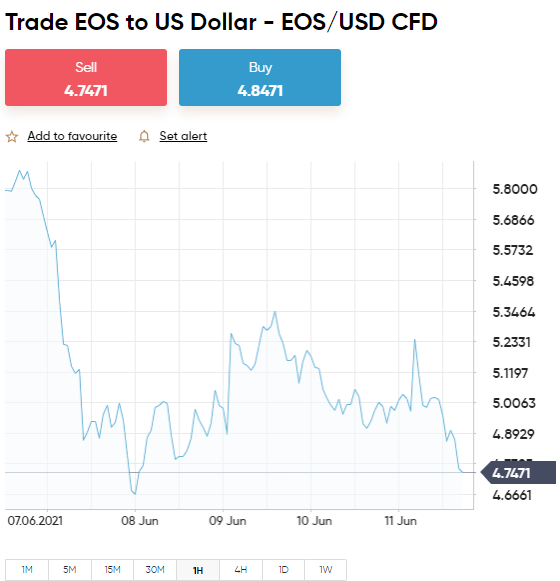 Let's take a look at an example of how an EOS CFD operates in practice:
You are trading EOS against the British pound – priced at £4.50
In turn, the EOS/GBP CFD is also valued at £4.50
You think the pair will see a price crash so place a $250 sell order to short it
A mere 6 hours later, EOS/GBP is priced at £3.96
Your prediction was correct, as the crypto-pair has fallen in value by 12%
To close your position and secure your gains you place a buy order
You made a profit of $30 on this EOS/GBP CFD trade
For those with no CFD experience, these contracts usually come with the optional extra of leverage. This enables you to open an EOS position of a greater monetary value than your account permits. Crucially, depending on your jurisdiction, there may be limits or even a complete ban in place when it comes to leverage and crypto CFDs.
Nevertheless, find a simple example of a leveraged EOS trade below:
Still using the same example, you place a sell order valued at $250 on EOS/GBP
Only this time, you apply leverage of 1:2 on the position
Your EOS/GBP trade is now worth $500
As a consequence of speculating correctly, you made a profit of $30
But, because you added leverage of 1:2, your gains are also multiplied by 2 – taking your profit from $30 to $60
Kindly note that if you reside in the US or UK, you are not permitted to trade leveraged cryptocurrency CFDs of any kind.
Where to Buy EOS
So far in this guide, we've reviewed the best cryptocurrency brokers, and talked about how to buy EOS. But, what about where to buy this popular digital coin?
You have plenty of options in this respect, which we explain in more detail below.
Buy EOS Debit Card
One of the most widely accepted payment methods worldwide is a debit card. As such, if this is your preferred way to buy EOS, you will find heaps of platforms that can facilitate your purchase.
Having said that, it is of the utmost importance that you check whether making a purchase this way will come at an extra cost. For instance, if you wish to buy EOS with a debit card at eToro, the only fee payable is a 0.5% FX fee.
Importantly, eToro won't charge you anything if you are making a deposit in US dollars – so you can avoid the 0.5% FX fee completely.
This is in stark contrast to popular cryptocurrency platform Binance. If you buy EOS using a debit card there, you will be charged anywhere between 3 and 4 percent on each transaction. Coinbase is also costly at a whopping 3.99% per debit card purchase.
Buy EOS Credit Card
Have you thought about buying EOS using a credit card? This payment method is convenient and allows for speedy transactions. However, this can, unfortunately, come with fees attached, like a 'cash advance' for example.
As such, it will be best to check with both the cryptocurrency broker in question and also your card provider, to see what charges may be payable.
The good news is that eToro allows you to buy EOS with a credit card at a fee of just 0.5%. Once again, if you're depositing with a payment method backed by US dollars, you will avoid this 0.5% fee.
Buy EOS PayPal
You may be surprised to learn that despite PayPal being used worldwide, not all crypto brokers can facilitate this payment method. At eToro, on the other hand, you can invest in EOS via PayPal with ease. Remember, if you are from the US and using USD to make your purchase, you will not have to pay the FX conversion fee of 0.5%.
EOS Strategies
Sticking to a trading discipline can really help you when preparing yourself for all possible outcomes in the digital currency markets.
We've listed below some accessible EOS strategies to consider when creating your own investment plan.
Dollar-Cost Averaging
To avoid the extreme volatility experienced by the cryptocurrency markets, some investors choose to partake in dollar-cost averaging. This will see you making small but regular investments.
To give you an example, let's say that having checked your finances, you would like to actively buy $400 worth of EOS tokens every month. You might decide to make a $50 purchase twice a week, so the goal will be to grow your portfolio periodically – reducing the effect of price volatility.
Buy the Dip
Buying the dip is a simple concept used by many. This particular strategy entails waiting for EOS to experience a fall in value and making purchases whilst it is believed to be underpriced.
See an example of buying the dip below:
EOS has decreased in value by 31%. However, you foresee a price increase in the very near future
As such, you head over to your chosen cryptocurrency broker and start buying EOS at this discounted price
This is buying the dip – as you will hope to sell EOS later on when or if it rises again
Diversify
Cryptocurrency investors and traders opt to diversify their portfolios for various reasons, such as falling markets.
Think about buying EOS and then adding stocks, forex, commodities, or more digital currencies to your basket of assets. This is going to balance out your portfolio so that if EOS performs terribly, you won't feel the financial repercussions as much.
EOS Trading Signals
EOS trading signals are gaining popularity, with an increasing number of investors and traders turning to Telegram groups to gain market insight. So how does it work? In a nutshell, EOS trading signals save you from having to perform sophisticated analysis.
Instead, an automated service or skilled trader will take care of the research side of things. Here at Learn 2 Trade, we offer free and premium crypto signals so that you can take more of a backseat approach to EOS investing. This invariably includes the cryptocurrency pair that we suggest trading and the required limit, stop-loss, and take-profit order prices.
How to Buy EOS Online – Full Walkthrough
Because Capital.com came out at number 1 in our EOS broker reviews and enables commission-free crypto purchases – we are using this platform for our step-by-step walkthrough.
If you are ready to hit the markets and want to buy EOS right now, follow the 4 simple steps below.
Step 1: Sign Up With EOS Broker
Go to the Capital.com platform and click 'Create account'. You will see a box appear with a sign-up form to be filled in.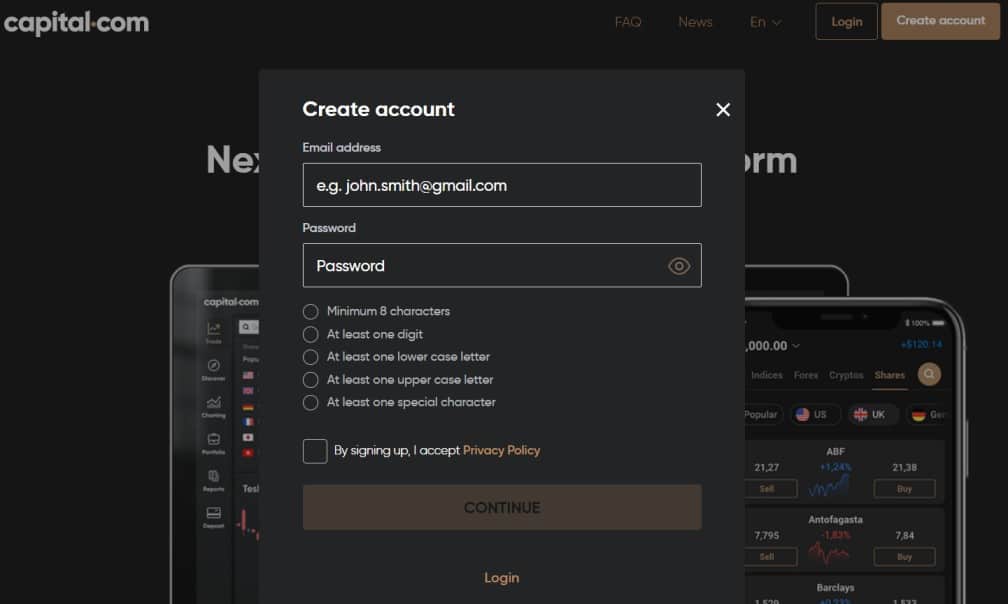 Here you will need to enter some personal information and contact details.
Step 2: Upload Some Identification
When prompted, you should upload your photo ID. The majority of traders use a passport for this bit, as this is the fastest for Capital.com to validate.
As per the rules placed on regulated platforms, you also need to prove your home address. Simply send a digital copy, scan, or clear photo of a bank statement issued within the last 3 months (some other documents are also accepted).
Whilst you may leave this part of the process for the time being, this will delay your first withdrawal. The platform clearly states that your profile must be completed before you can make a deposit of $2,250, or request to withdraw funds. As such, it's best to quickly upload the documents now.
Step 3: Deposit Funds Into Your Account
After you have registered at Capital.com you can deposit some funds into your new account. This is simply a case of selecting your preferred payment method and entering the amount you would like to deposit. Capital.com supports debit/credit cards, e-wallets, and bank account transfers.
Step 4: Buy EOS
Now that you have some money in your account, think about how much EOS you would like to buy. You can go straight to the EOS trading page by using the search facility at the top of the screen.
Once you have located the relevant market, you can place an order to buy EOS. As we touched on throughout this guide, you can invest in EOS from as little as $25 at Capital.com!
Simply enter your stake and click on the 'Set Order' button to complete your commission-free investment!
Conclusion
There you have it – in a world where the majority of us have access to the internet, it's never been easier to buy EOS. With that said, it's not sensible to throw everything you have into digital currencies. For instance, why not diversify with a completely different asset like commodities to hedge against volatility?
Either way, regulated broker Capital.com will allow you to invest in EOS from just $25. Moreover, the broker offers access to indices, ETFs, thousands of stocks, over 50 forex pairs, and heaps of other cryptocurrencies. This will enable you to create a mixed basket with ease. Furthermore, this trading platform is super-user friendly and will not charge you a cent in commission to buy or trade EOS!
eToro - Buy and Invest in Assets

Minimum deposit of just 250 USD to get lifetime access to all the VIP channels
Buy over 2,400 stocks at 0% commission
Trade thousands of CFDs
Deposit funds with a debit/credit card, Paypal, or bank transfer
Perfect for newbie traders and heavily regulated

67% of retail investor accounts lose money when trading CFDs with this provider.
FAQs
What is the minimum amount of EOS you can buy?
Each broker will stipulate a different minimum investment. At eToro you can easily invest in EOS from just $25. Furthermore, you won't pay any commission fees.
How much is EOS likely to be worth in 5 years?
Some experts in the space predict a long-term price increase over the next 5 years and see EOS reaching $106.77. The only way to monitor this is by learning how to conduct your own advanced research using charts and indicators. Alternatively, consider crypto trading signals to point you in the right direction in terms of profitable opportunities.
Where is the best place to buy EOS?
This guide found that the best place to buy EOS is eToro. You can purchase, store and trade EOS and heaps of other markets without paying commission. Moreover, this broker operates under the ruling of watchdogs the FCA, CYSEC, ASIC, and FINRA - whilst supporting small investments from just $25.
How can I sell EOS?
If you buy EOS via eToro, this is by far the most convenient way to sell it. Sign in to your account and place a sell order to cash out your investment. You can withdraw your funds as soon as the sale is completed, provided you have uploaded your ID documentation.
Can EOS make you rich?
There is no sure-fire guarantee that EOS can make you rich - irrelevant to whether a buy and hold or a short-term trading strategy works best for you. As such, it's best to consider passive forms of investing like crypto signals or Copy Trading whilst you learn the inner workings of technical analysis.