Invest at least $250 in D2T to gain lifetime access to our VIP Signals
Get early access to Dash 2 Trade's Presale. Buy the D2T token now
Existing community of 70,000+ traders
Unlocks access to the leading crypto trading analysis, signals and trading tools
As featured in CryptoNews.com, FXEmpire.com, FXStreet.com and more
World class development team backed by Quant developers and VC investors
When it comes to trading, many people assume that they need to dedicate many hours to monitoring the market to find opportunities and execute orders – however, this simply isn't true.
Today, with the help of trading bots, investors can navigate the volatile cryptocurrency markets more efficiently while letting advanced algorithms do the hard work for them.
In this guide, we discuss the 10 best crypto trading bots available in the market. We explore in great detail the features offered by top crypto trading bots and explain what makes them unique.
Table of Content
The Top 10 Crypto Trading Bots of 2023
Here are some of the best crypto trading bots that may interest investors:
Dash 2 Trade – Overall Best Crypto Trading Bot With Advanced Analytics
Haasonline – Deploy Customized Trading Bots Without Coding Requirements
Bitsgap – Automated Trading Bot With a 7-Day Free Trial
Shrimpy – Popular Crypto Portfolio Management Platform With Trading Bots
Cryptohopper – AI-Powered, Automated Crypto Trading Bots
WunderTrading – Crypto Bots with TradingView Alerts
TradeSanta – Automated Trading Bots Accessible With Free Trials
Pionex – 16 Free In-Built Crypto Trading Bots
Coinrule – Access 250+ Trading Template Strategies
3Commas – Pre-Set Bots and Social Trading Platform
Choosing the best online trading bots can help investors in the long run. Therefore, we have included comprehensive reviews of the best crypto trading bots listed above.
A Closer Look at the Best Crypto Trading Bots
In simple terms, crypto trading bots are software programs that execute orders on an investor's behalf. These bots monitor the market 24/7 to buy and sell cryptocurrencies based on predefined conditions, making it possible for human investors to trade passively.
With this in mind, in the sections below, we review the best crypto trading bots of 2023.
1. Dash 2 Trade – Overall Best Crypto Trading Bot With Advanced Analytics
Dash 2 Trade is an upcoming revolutionary crypto analytics and trading signal platform designed to help investors. It packs a suite of advanced tools, which includes automated trading bots and other analytics features, allowing users to identify trends and opportunities quickly. The Dash 2 Trade platform comes with an advanced auto-trade feature. Traders can set up trading strategies on Dash 2 Trade and plug them directly into their crypto broker's account via an API. Moreover, users can also gain more control over their trades using order types such as markets and limits.
It is also possible to configure other parameters like entry and exit points using technical metrics provided by the platform. And what's more, traders can also test out their hypothetical strategy in real market conditions and analyze how it performs before implementing them. In addition to the trading bot, Dash 2 Trade also provides investors with buy and sell signals as well as on-chain data. To ensure the accuracy of these signals, Dash 2 Trade employs sophisticated algorithms and utilizes more than ten technical indicators.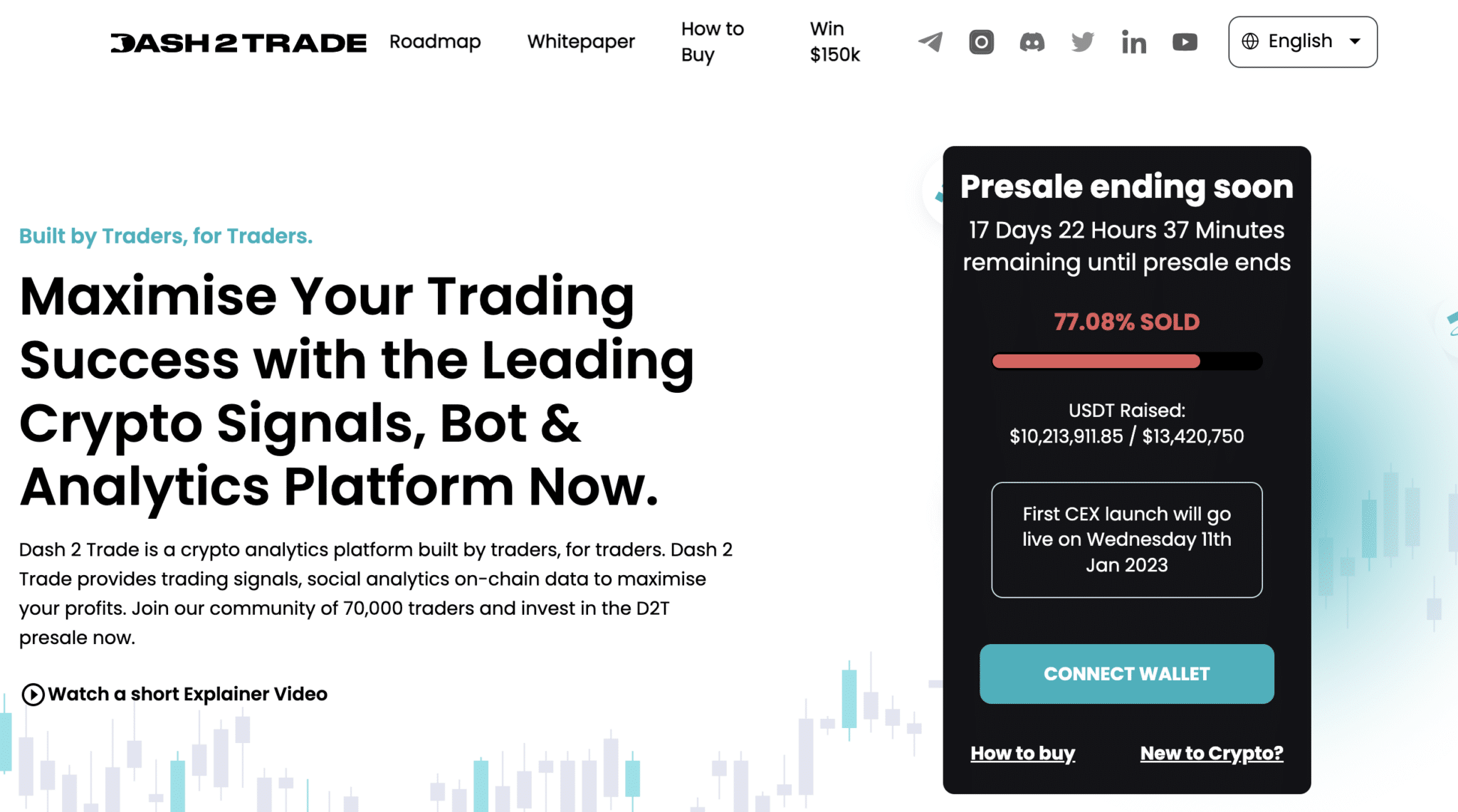 Moreover, the platform carries out regular performance reviews of its trading bots in order to optimize them and help users generate more consistent profits. Dash 2 Trade also offers many other useful tools for crypto traders, such as price alerts and even a bespoke scoring system for presale projects. All in all, Dash 2 Trade allows its users to make informed decisions while providing them access to risk management tools. The platform is powered by D2T, which is the native currency of this ecosystem. Investors will be able to pay for subscriptions using D2T tokens.
As of writing, the D2T token is in its presale stage and will officially be launched on crypto exchanges on January 11, 2023. The platform has successfully raised over $10 million already, which speaks volumes about the popularity of the project among the investing community. Not only that, but traders also have the chance to win $150,000 worth of D2T tokens through a random draw. Crypto traders can maximize their chance to win by increasing their number of entries by fulfilling certain conditions – such as by tweeting about the token and by joining the platform's Discord community.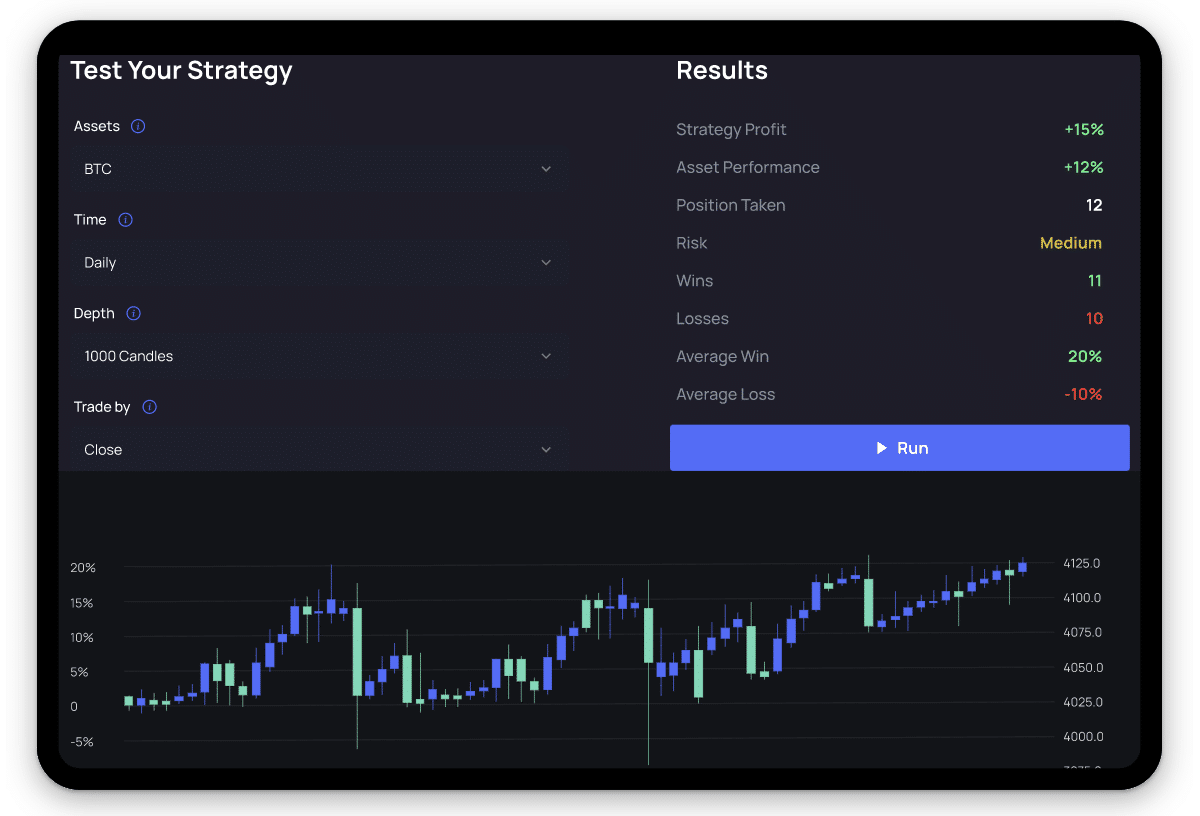 Additionally, traders will also be required to have at least $150 worth of D2T in their accounts at the time of the draw to be eligible for the blockbuster prize. Dash 2 Trade has already been verified by Coinsniper, which adds to the credibility of the project. With Dash 2 Trade, users can get free access to the dashboard, although the features will be limited. To get access to full functionality, the starter pack costs 400 D2T tokens per month, and the premium version at 1,000 D2T.
Based on the price of D2T tokens at the time of writing, the starter pack amounts to just $20 – which is a highly competitive price. That being said, bear in mind that Dash 2 Trade is a work in progress. The platform aims to launch its auto trading bot by Q2 2024, along with other features.
The Pros
Easy to use and intuitive interface
Options to backtest a trading bot
Social sentiment and off-chain data
Connect to crypto exchanges via API
The Cons
Subscriptions can be paid only using D2T tokens
Visit Dash 2 Trade
2. Haasonline – Deploy Customizable Trading Bots Without Coding
Haasonline is a well-known crypto trading bots platform that has been around since 2014. It offers a wide selection of powerful bots to give investors an edge in their crypto trading. With Haasonline, users simply have to link their crypto exchange with pre-built bots.
These trading bots have access to a range of indicators and data feeds to help with analysis and planning. HaasOnline's trading bots are compatible with over a dozen of the most popular exchanges in the space, such as Binance, Kraken, Bitfinex, HitBTC, Bitget, OKX, and Poloniex.
Investors can also take advantage of the price differences on multiple platforms by running the inter-exchange arbitrage bot offered by Haasonline. Additionally, this platform also offers an advanced backtesting and copy trading feature that allows users to try their strategies in real market conditions based on historical price data.
Users can also set up multiple simulation environments and even change parameters on the fly, giving them great flexibility with their live testing. Another notable feature of Haasonline is its scalability and flexibility, allowing users to create their own trading bots or utilize pre-configured strategies for various markets and assets. In addition to this, it offers a wide range of customizations, such as automated trailing stops, stop loss orders, leverage scaling, position sizing, and various technical indicators.
With Haasonline's secure bots, users can trade without worrying about fees or volume restrictions. Plus, with quick deployment times, traders can get up and running in no time. Interestingly, HaasOnline has also developed a HaasScript language that allows investors to generate scripts for customizing the bots based on their needs. The good thing is that traders won't be required to possess any coding expertise to use this programming language.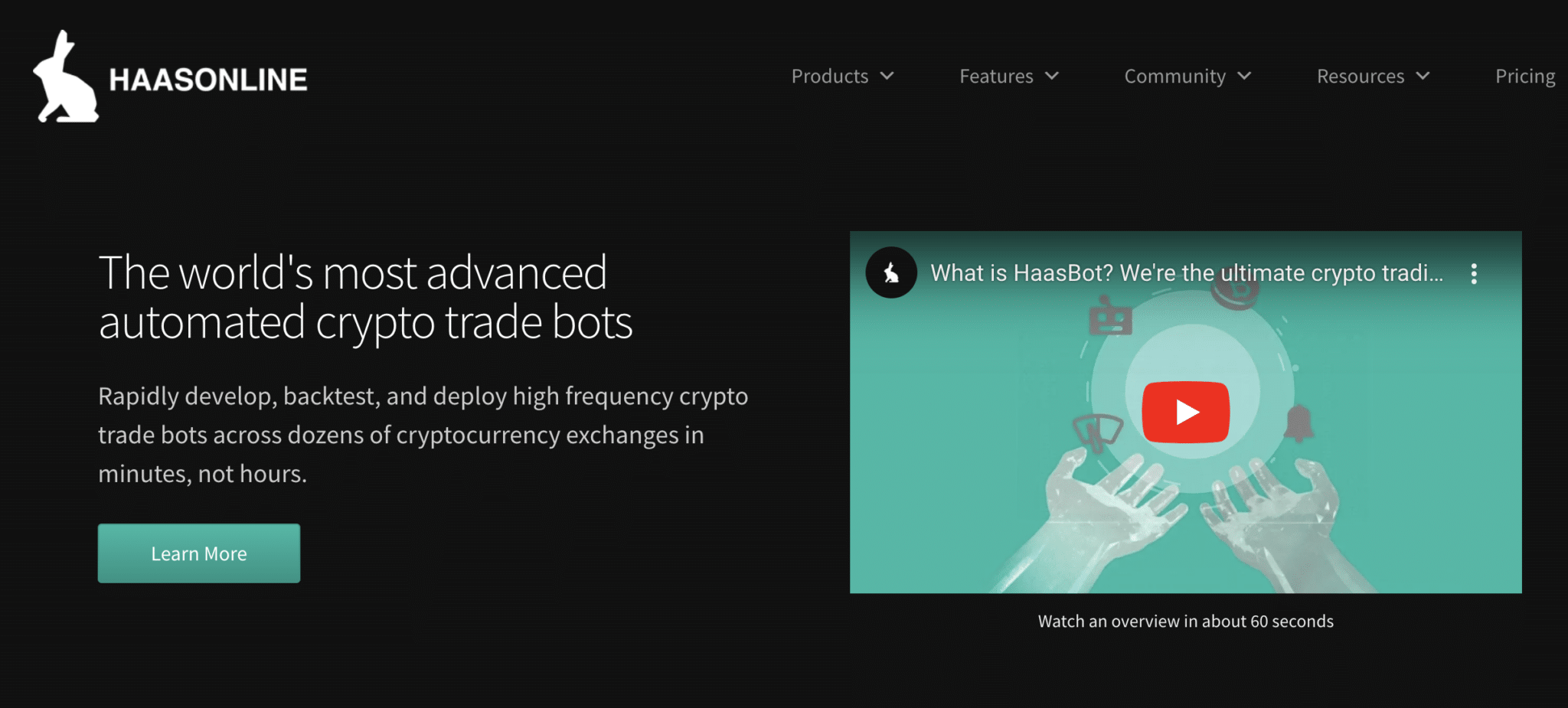 Haasonline also provides an intuitive dashboard that allows users to quickly view all their open positions, active bots, and profits in real-time. The platform also has an extensive help section with detailed tutorials on how to use the different features of the software.
Haasonline offers plans with fees charged in Bitcoin. It has three different plans – beginner, simple, and advanced. The beginner plan starts at a price of 0.006 BTC for 3 months which, as of writing, amounts to around $135.
Overall, Haasonline offers one of the best trading bots – which are both reliable and feature-rich. The platform has all the necessary tools to build sophisticated automated strategies while still allowing users to customize their trading setup according to their needs.
The Pros
HaasScript to customize bots with no need for coding
Supports more than 22 cryptocurrency exchanges
Pre-built trading strategies
3. Bitsgap – Automated Trading Bot with a 7-Day Free Trial
Bitsgap is one of the leading providers of advanced crypto trading bots in today's market. It has an intuitive interface, which makes it simple to connect with crypto exchanges and start automating trades. Being a cloud-based service, Bitsgap allows investors to keep their trading bots up and running 24/7.
Bitsgap has multiple trading bots, such as combo, grid, futures, and scalper. It has also launched a DCA bot, which operates based on the dollar cost-averaging strategy. This trading bot allows users to invest in cryptocurrencies at multiple entry levels to acquire a better overall entry price.
Furthermore, Bitsgap also provides users with complete analytics about their bots' performance for future course correction and better strategizing. Traders also get the option to customize a unique strategy of their own.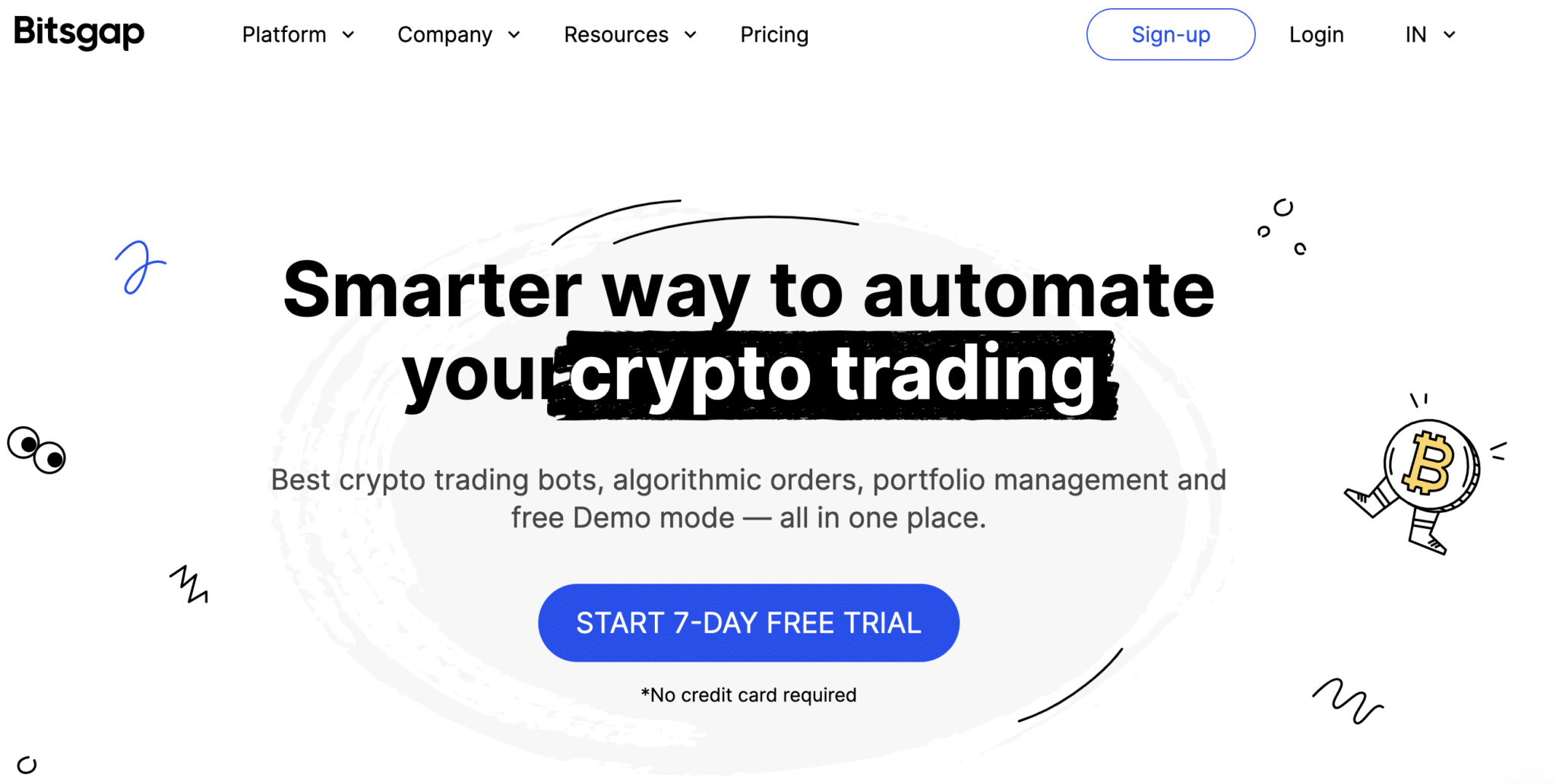 Bitsagap also supports smart and demo trading. Traders can sign up for a demo account for free and learn strategies that are new and working, all without risking any actual money. Bitsgap intends to make trading accessible for everyone, and with this initiative, it has also added support for 10 languages.
With multiple built-in trading strategies and powerful analytics tools, Bitsgap is one of the best crypto trading tools for investors looking for a passive yet efficient way to monetize digital currency markets.
Upon signing up, users get a 7-day free trial with the basic package. There are three packages, and the starter plan costs around $25 per month.
The Pros
Multiple trading bots
Backtesting and customization
The Cons
No support for trading with leverage
4. Shrimpy – Popular Crypto Portfolio Management Platform With Trading Bots
Shrimpy is another popular crypto trading bot that makes it effortless to manage the portfolio and maximize profits. With advanced technical data and the ability to link over 25 different wallets and exchanges, Shrimpy gives users complete control over their trading strategies – all from a single place.
Moreover, users can track balances across multiple wallets. Shrimpy lists many automation features, such as portfolio stop-loss, threshold rebalancing, slippage control, and even fee optimization with maker traders. In addition to this, users can also access trend analysis.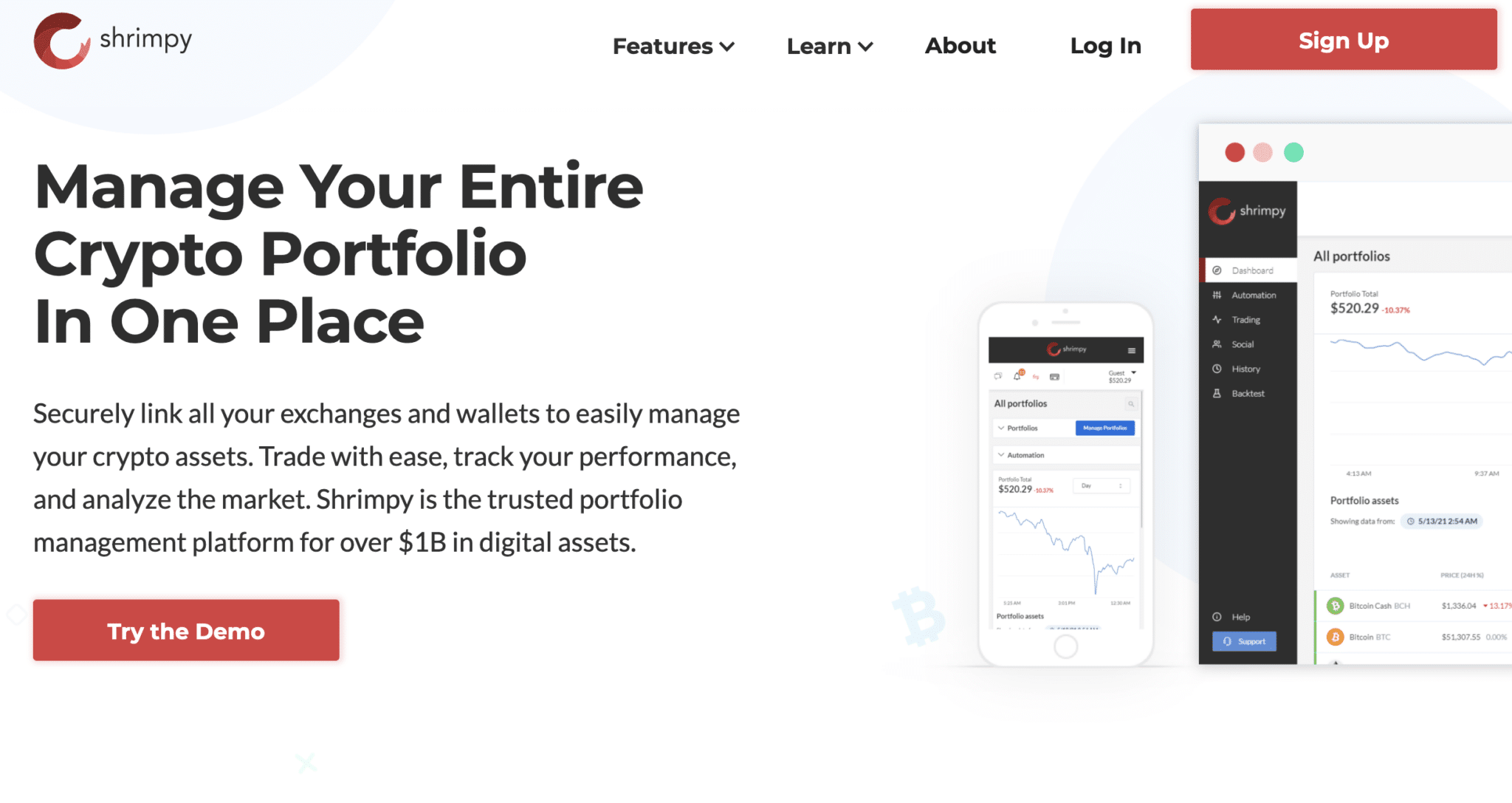 Shrimpy also supports social trading. Meaning, players can copy the trading strategies of other Shrimpy users without having to do any of the leg work at all. It is also possible to take advantage of demo trading,
When it comes to payment, Shrimpy offers three different plans – zero, standard, and plus. In the free plan, users get access to three backtests per day and the ability to link to one crypto exchange. The standard plan is priced at $19 a month, and the plus scheme costs $49.
The Pros
Demo trading is available
Free version offered
Copy and social trading support
5. Cryptohopper – AI-Powered, Automated Crypto Trading Bots
Cryptohopper is another cloud-hosted trading bot that executes orders on behalf of users around the clock. It automatically recognizes market trends to build the best trading strategy utilizing advanced AI algorithms. However, users also have the option to build their own strategies when using Cryptohopper.
With Cryptohopper, investors can also cut short the learning curve and level up their game by copying pro traders with ease. The platform also comes with several pre-built bot templates developed by experts. A real plus about Cryptohopper is that it also grants a free trading simulator for all its users.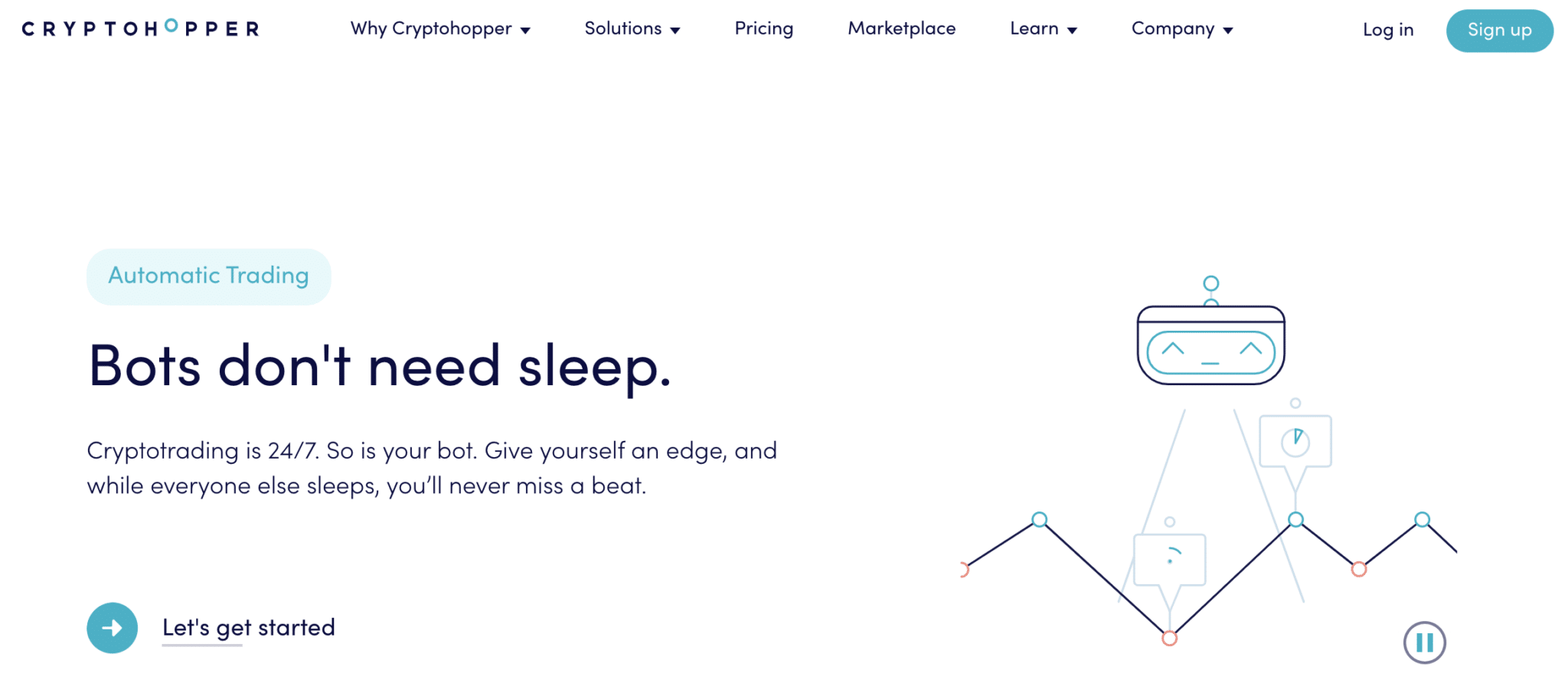 CryptoHopper offers traders the ability to connect and manage their accounts on multiple cryptocurrency exchanges, including Binance, Kraken, Exmo, OKEX, Coinbase, KuCoin, and Hubei – all at once.
Customer support is also available 24/7 to help with any technical issues and answer questions about Cryptohopper's features. Cryptohopper has three payment plans – explorer, adventurer, and hero – as well as a free package. However, the free plan does not include access to bots, which might be an inconvenience for crypto investors who were specifically looking to try out automated trading.
The basic explorer plan costs $17 per month if billed annually. With this package, traders get access to automated and copy trading, including access to multiple order types and access to more than 130 indicators. Moreover, the explorer package is also the only plan on Cryptohopper that comes with a 7-day trial period.
Overall, Cryptohopper is a great choice for anyone looking for a reliable and user-friendly crypto trading bot.
The Pros
Access to bot templates from pro traders
Multiple account management and copy trading
Availability of free trading simulator on all accounts
The Cons
No demo trading account
Limited features on free plan
6. WunderTrading – Crypto Bots with TradingView Alerts
WunderTrading is also one of the best crypto trading bots available in today's market. Copy trading is a breeze with this platform, as it allows users to mirror the positions of the most successful traders via bots. WunderTrading also features transparent track records, which allows users to pick the traders they want to copy.
On WunderTrading, traders can easily build and test strategies using TradingView. It can convert any TradingView script into an automated crypto trading bot.
With WunderTrading tools, traders can easily create a wide number of bots. DCA, futures spread, and arbitrage is among the most popular bots on WunderTrading. It is also possible for traders to manually set up strategies without having to rely on the pre-built bots.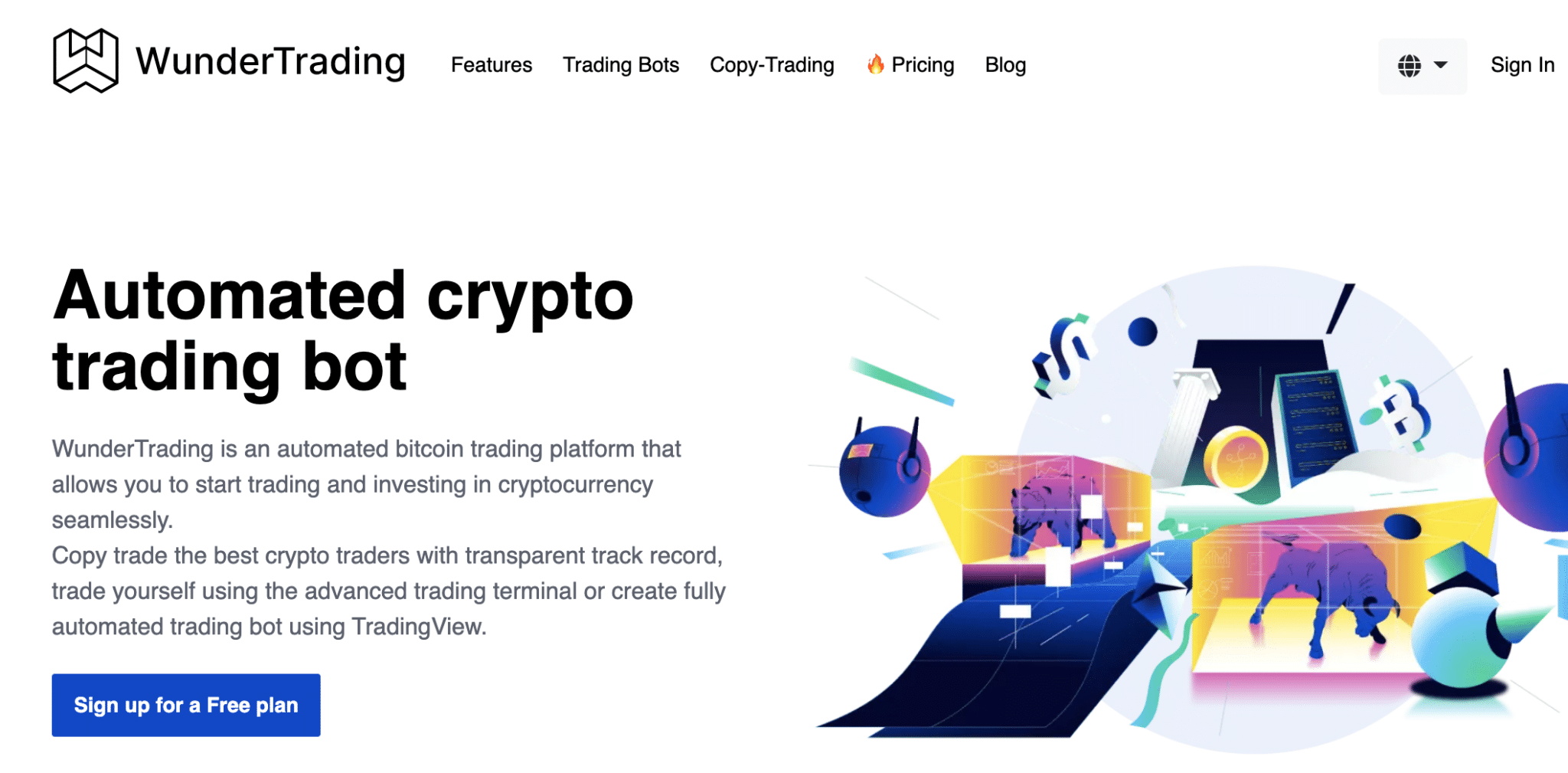 Wundertrading bots can also execute positions based on any signals from any source. Furthermore, traders don't need to run from pillar to post anymore to keep track of their crypto portfolios on multiple exchanges. Instead, WunderTrading provides the opportunity to connect the crypto exchange API and track the portfolio in real-time.
It also enables traders to add multiple APIs and manage all of them simultaneously. To facilitate this, WunderTrading enables the linking of its trading bots with exchanges such as Kraken, Binance, and KuCoin.
However, the WunderTrading app is designed with professional traders in mind. In terms of pricing, WunderTrading has four different plans. Its free plan offers up to two active bots and signal channels, among other features. Its premium plan costs about $45 per month with annual payments, which offer up to 1,000 open positions and unlimited active bots and API per exchange.
The Pros
Facilitates multiple exchange account management
Customizable copy trading
Availability of life-time free plan
The Cons
Not beginner friendly
Only a limited number of exchanges supported
7. TradeSanta – Automated Trading Bots Accessible With Free Trials
TradeSanta is an easy-to-use cloud-based bot that automatically trades cryptocurrencies on the user's behalf. To get started with TradeSanta, simply visit the website and sign up for an account. Once the account is created, users are prompted to configure the bot settings. The TradeSanta Bot Wizard will guide the user through each step of the configuration process, making it uncomplicated for anyone to get started with automated trading.
TradeSanta offers a wide range of advanced technical indicators, such as RSI, Bollinger, and MACD, that can be used to create profitable trading strategies. Users can combine these indicators to create unique trading strategies or use presets created by other TradeSanta users. The platform also offers users access to different types of pre-built trading bots such as DCA and grid – as well as to multiple signals from TradingView.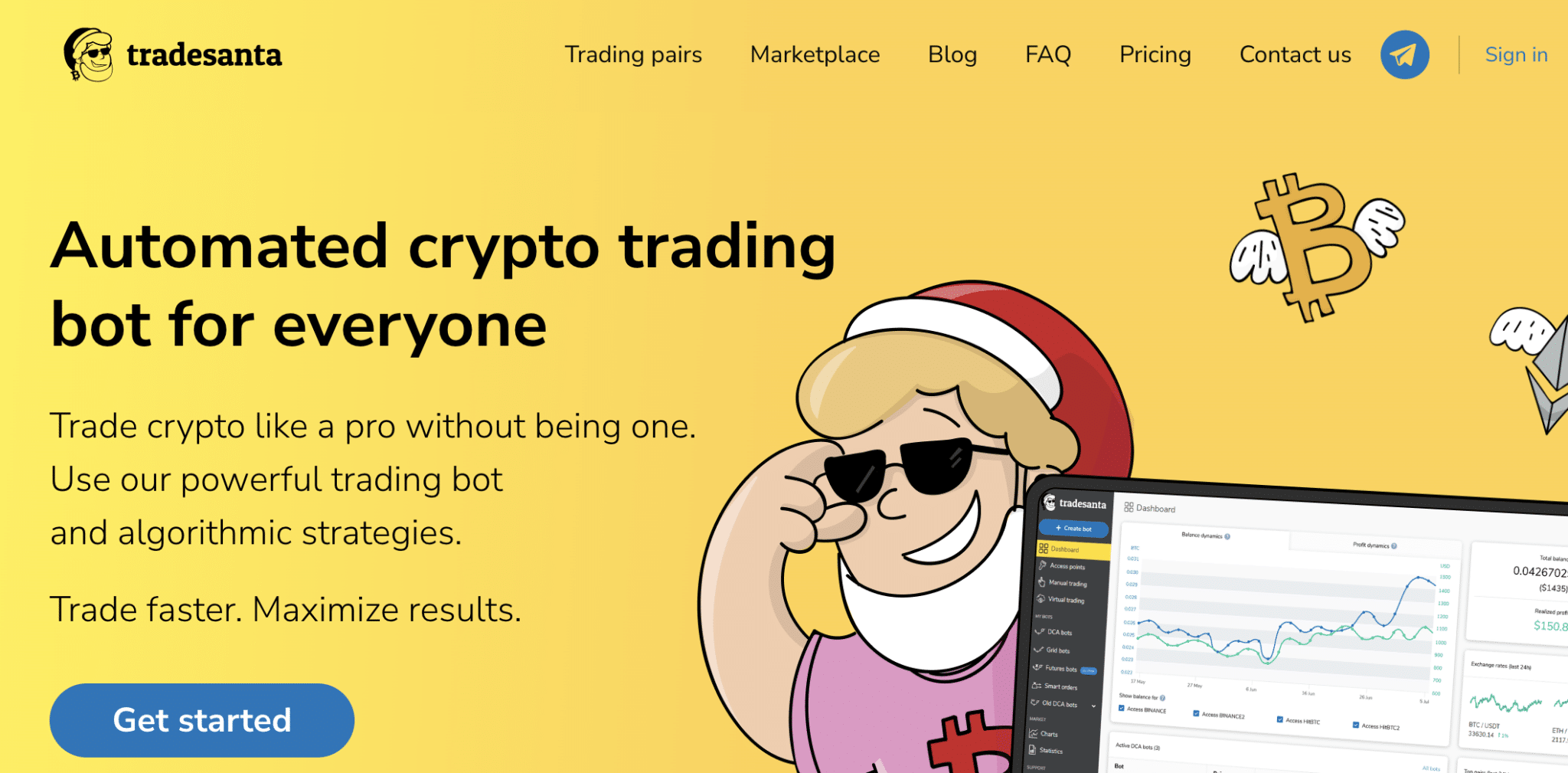 Moreover, with the ability to set up both long and short trades simultaneously, TradeSanta's bots are able to make the best decision based on market movements, maximizing potential returns while minimizing risks.TradeSanta also supports a number of different crypto exchanges, including Binance, Bittrex, Bitfinex, Huobi, and HitBTC. This means investors can easily automate their trading across multiple platforms with just a few clicks.
On TradeSanta, users are provided with robust risk management features as well – such as stop-losses. Another useful feature is that TradeSanta accepts payments in both cryptos as well as fiat currencies. The list of cryptocurrencies supported for payment includes Bitcoin, Ethereum, and Tether, among others.
And with 24/7 customer support, TradeSanta is always there to help whenever users need it. TradeSanta also offers free access – however, this only includes one trading bot. The paid packages start at $25 a month and offer access to 49 or more bots, depending on the plan.
The Pros
Accepts both fiat and cryptocurrencies
TradingView screener signals
The Cons
Live chat customer support is not available
Best for traders who are familiar with crypto space
8. Pionex – 16 Free In-Built Crypto Trading Bots
For those looking for an advanced free crypto bot that can help optimize their trading, Pionex is a good option to consider. This platform offers 16 free in-built crypto trading bots.
The main features of the bots include real-time price monitoring, superior charting tools, and an automated trading system. There are no charges for using these bots, but there is a commission of 0.5% on spot trades and 0.1% for executing leveraged positions.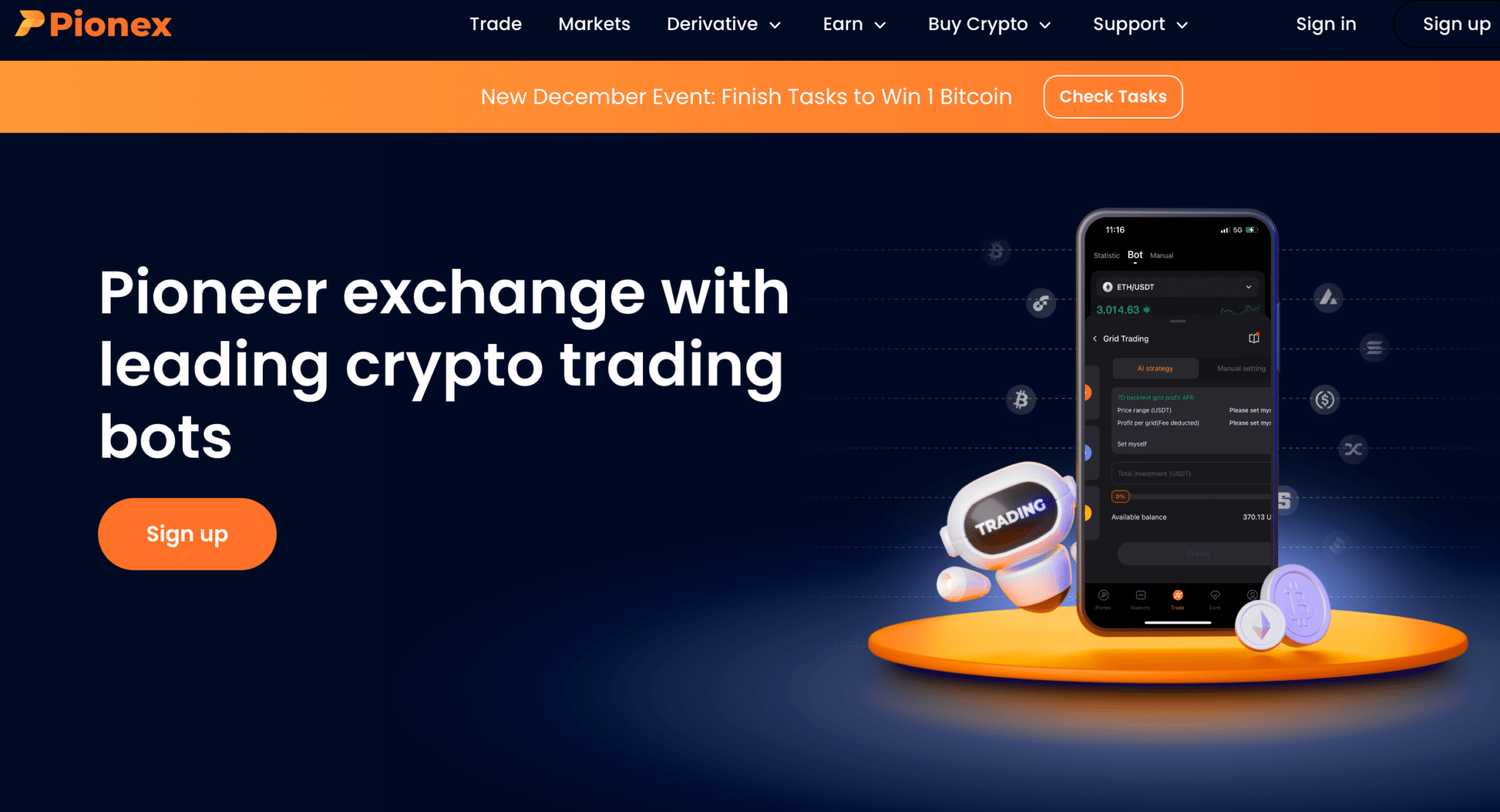 The types of crypto bots on offer follow strategies such as dollar-cost averaging, arbitrage, and grid trading. That being said, bear in mind that Pionex isn't technically a crypto trading bot. Instead, it is an independent cryptocurrency trading platform that also extends support for in-built bots.
Users can also use Pionex for buying, selling, and trading cryptocurrencies. It also facilitates staking, which allows investors to earn interest on their crypto deposits.
The Pros
In-built trading strategies
16 free crypto trading bots
The Cons
0.5% trading fees for leveraged positions
Fewer selection of trading bots when compared to competitors
9. Coinrule – Access 250+ Trading Template Strategies
Coinrule is another platform that is gaining popularity among crypto traders. It is a smart bot that allows traders to set up automated strategies that run 24/7. With more than 250 pre-created rules on offer, it is a great choice for all traders, especially beginners.
In addition to its convenient features and simple user interface, Coinrule also gives investors the ability to test their trading strategies based on historical data. This allows traders to make and customize their own rules. Trades can then set up their strategies to run seamlessly on a range of reputed crypto exchanges, including Binance, Coinbase Pro, and Kraken.
Coinrule has four distinct types of accounts to cover the needs of every type of trader, including a free version. The other three are Hobbyist, Trader, and Pro.
The free plan is accessible for those who deal with a monthly trade volume of up to $3,000. However, with this plan, users will be able to connect only to one crypto exchange, and the available pre-designed templates are limited to seven.
This means that advanced traders will need to choose a premium plan that costs $30 or more.
The Pros
250+ in-built strategy templates
Provides support for backtesting and customization
The Cons
Limited features available in the free version
Can use TradingView screening only for two exchange accounts
10. 3Commas – Pre-Set Bots and Social Trading Platform
Last on our list of the best crypto trading bots is 3Commas. This is a cryptocurrency trading platform that aims to help investors, especially those who know their way around the markets. It offers users access to a large suite of crypto trading bots. This includes DCA – for getting investors the best average price; Grid – for performing optimally in a sideways market; and HODL – for investors who want to build long-term portfolios.
3Commas also allows investors to integrate trading signals with their bots to maximize the potential for success. The platform offers three paid plans – starter, advanced, and pro – so traders can choose the level of access and automation that best suits their needs.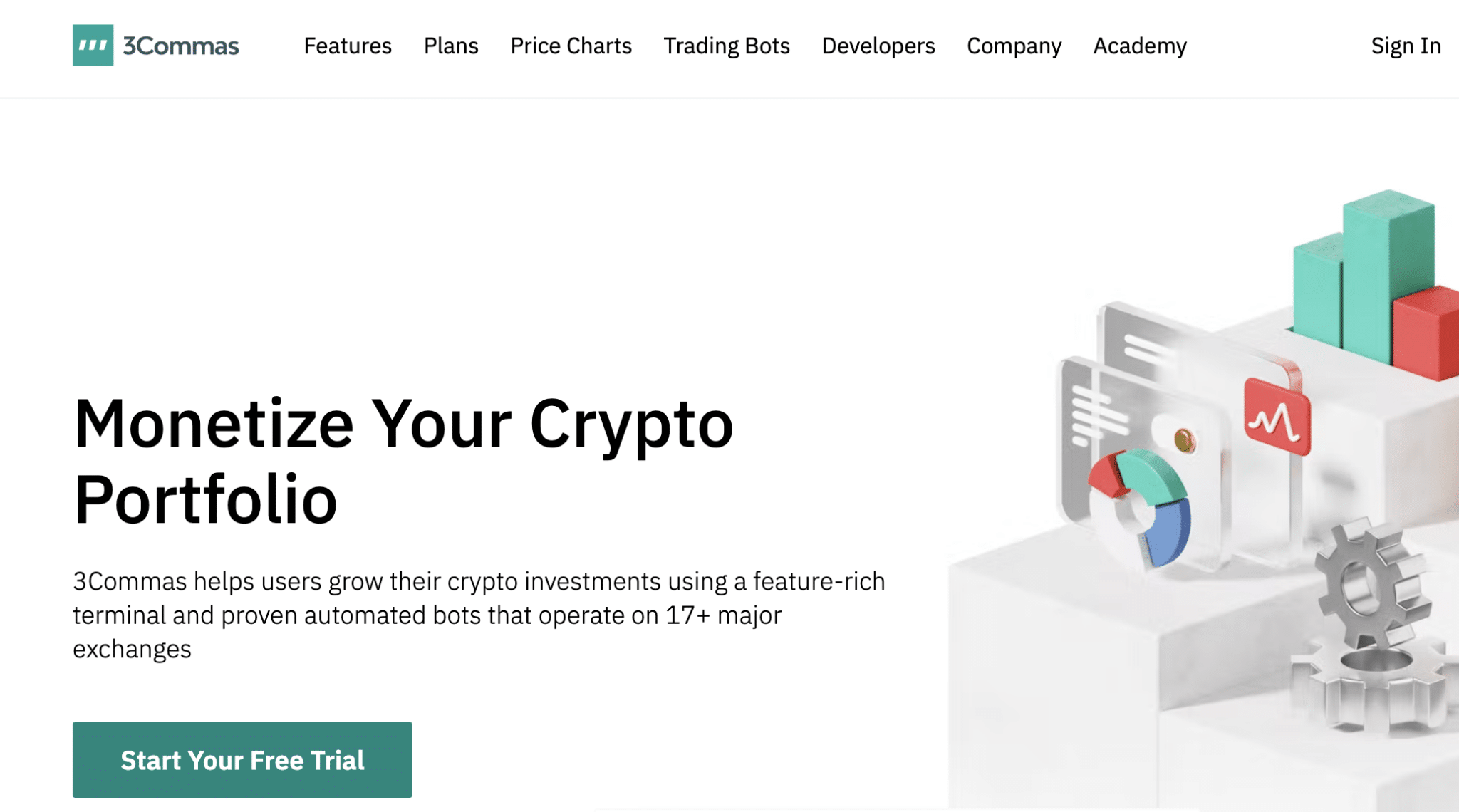 As of writing, the price of the starter, advanced, and pro plans are $22, $37, and $74 per month, respectively ( if paid annually). 3Commas also provides traders with three-day free access to its pro plan on a trial basis.
We found that 3Commas trading bots can be linked with over 17 exchanges, giving users plenty of options. For new traders, there is also the option to copy pre-set bots from experienced investors on the platform, allowing them to take advantage of their knowledge and insights. For added convenience, 3Commas also offers a free mobile app, which makes it convenient to monitor and manage trades while on the move.
The Pros
Mobile app is available
Works with over 17 exchanges
The Cons
Not suitable for beginners
Trial period is only 3 days
What is a Crypto Trading Bot?
Crypto trading bots are automated software programs that analyze market data and execute orders on behalf of traders. They offer a number of benefits, including improved efficiency, better risk management, and oftentimes – more consistent profits.
Today, there are virtually dozens of crypto trading bots available in the market. While some platforms allow users to create crypto trading bots using their own strategies, others offer a wide range of pre-built solutions. In the latter case, users are only required to choose the bot they wish to use and deploy it – and subsequently -they can trade completely passively.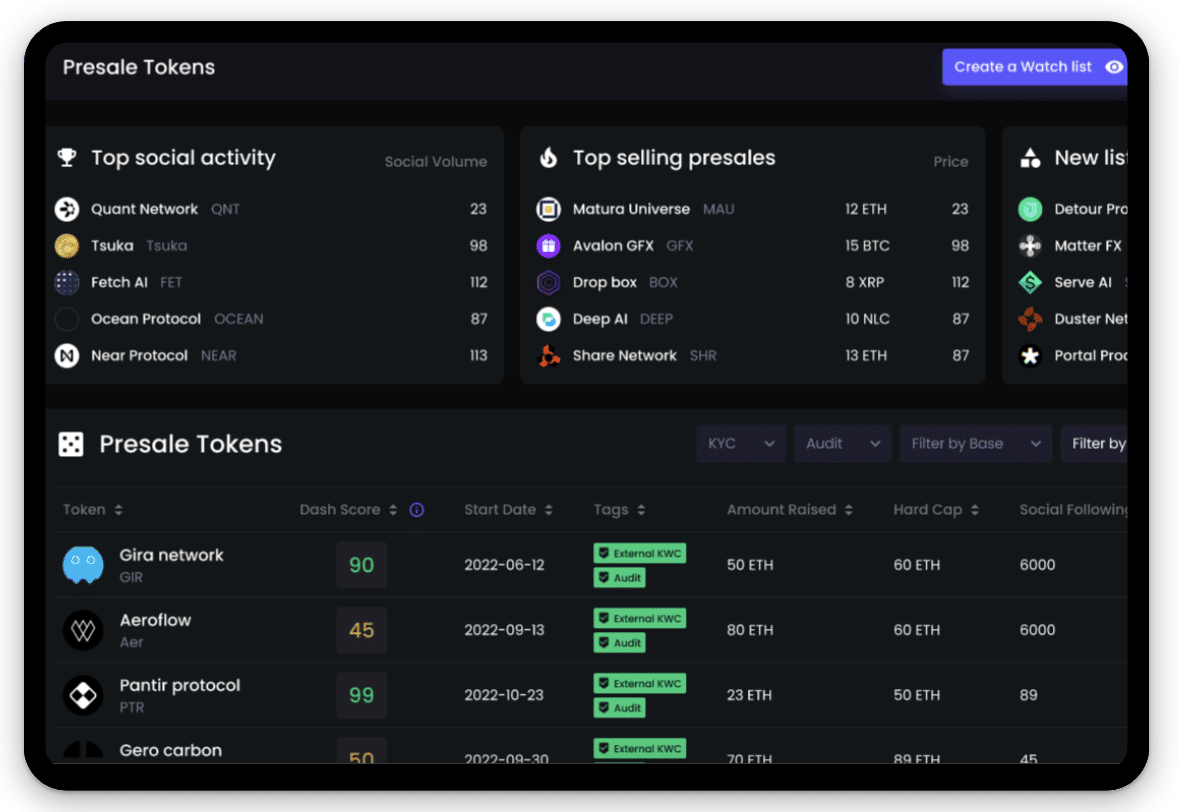 Some of the best crypto trading bots even allow their users to copy the strategies designed by the most successful traders on their platform. Moreover, many platforms also offer a variety of other tools along with trading bots that can help users arrive at their decisions.
For instance, on Dash 2 Trade, not only can users find support for automated trading, but also crypto analytics, price alerts, and more. In other words, the best crypto trading bots are evolving in today's market, presenting users with a multitude of features, and serving as a one-stop-shop for all their investment needs.
What are the Main Advantages of Crypto Trading Bots?
As we noted above, there is an increasing number of crypto trading bots and platforms that provide them. But, what motivates a trader to use a bot, and can they really guarantee profits?
Here are some key points about the best crypto trading bots discussed today and how they can help investors.
Ease and Convenience of Trading
Using a crypto trading bot allows investors to streamline their decision-making process and execute positions quickly. For instance, without a trading bot, an investor will have to monitor the markets or analyze complex data constantly in order to find the best opportunities.
However, the best crypto trading bots will screen the markets themselves to identify the best time to buy or sell a chosen digital currency and execute the trade themselves. Traders can also configure their bots to follow a specific strategy and deploy certain risk management tools. This approach saves not only effort but also time.
Greater Accuracy and Efficiency
By leveraging advanced algorithms and analytical tools, crypto trading bots are also equipped to move swiftly. On the other hand, a trader, when manually opening and closing positions, might not be able to move within an appropriate time.
Moreover, the best crypto trading bots eliminate the emotional factor when managing trades. This means that crypto trading bots can help investors mitigate the risk by executing orders with greater accuracy and speed than a human trader can realistically achieve.
Efficient Use of Funds
Since crypto trading bots are designed to execute trades more efficiently, they can help users manage their funds more effectively. For instance, the DCA bot can automatically buy cryptocurrencies based on a preset stake amount and specific time intervals.
This can reduce the influence of market volatility when opening and closing trades. Similarly, as we mentioned above, the best crypto trading bots are fast enough to execute a trade as soon as an investment opportunity arises, As such, this consequently allows investors to make the best use of their funds.
Scalability and Flexibility
The concept of trading bots has changed over the years. Previously, if traders wished to customize a bot, they needed to have coding knowledge. However, now there are no such requirements in today's market.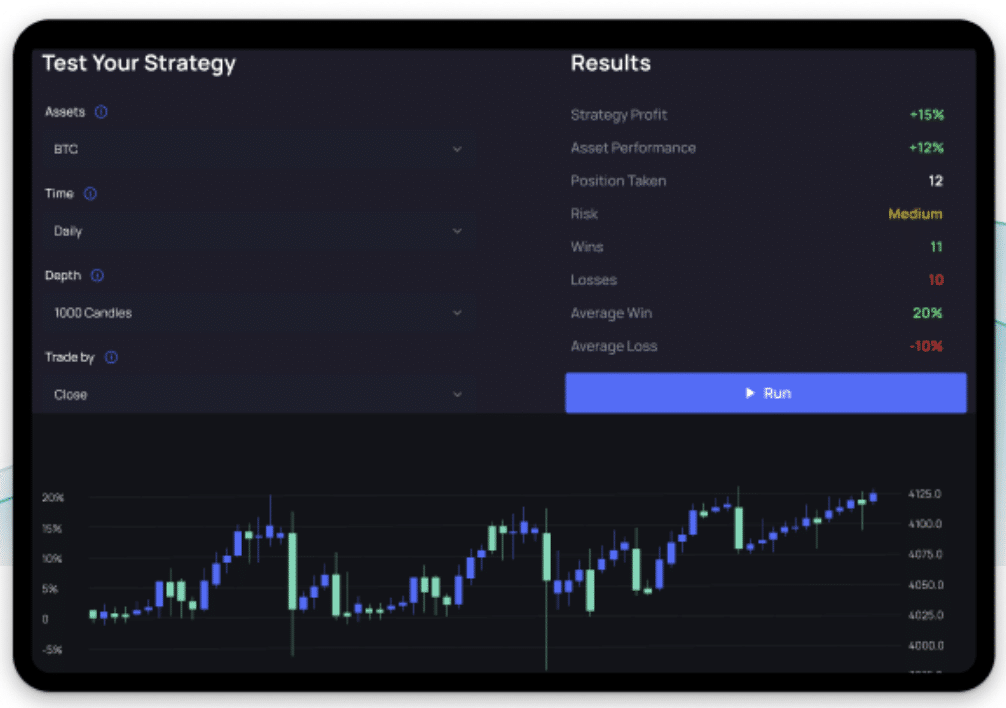 Many crypto trading bots offer flexible configuration options that allow traders to customize their strategies based on their unique needs. It allows traders to optimize their portfolios for different market conditions and risk tolerance levels.
24/7 Trading
The crypto markets run 24/7, and so do the trading bots. This means that investors do not need to compromise on sleep performance, wondering whether the price of a digital currency will change dramatically overnight.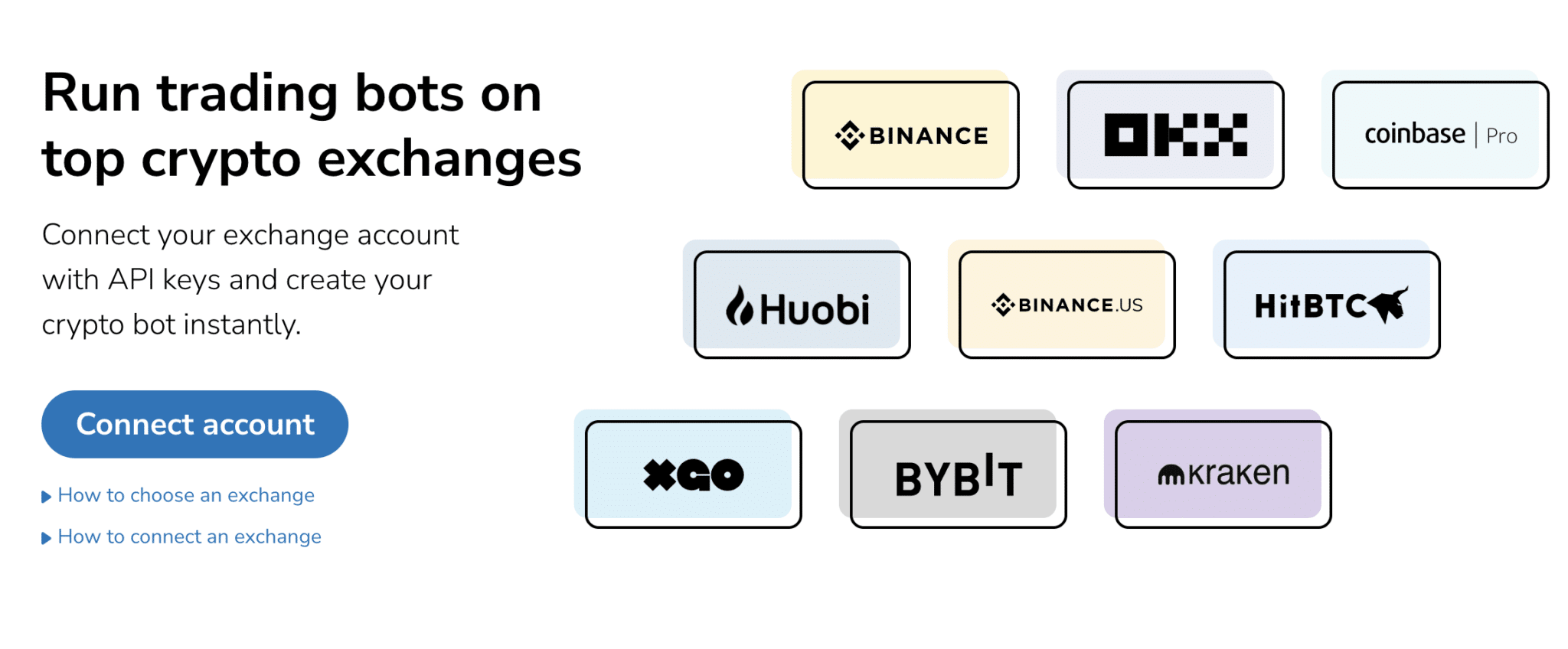 Instead, the best crypto trading bots will indeed scan the markets around the clock to make sure that positions are executed if an opportunity arises.
Moreover, traders can also set up their bots in order to change their strategy if a trend reversal occurs. This offers traders greater flexibility and convenience.
Backtesting
By using advanced algorithms that make use of historical data, traders can also test their crypto bots before they deploy them in the real market. Some platforms also offer demo trading accounts, so traders can also manually develop strategies based on historical price data and market simulations.
With platforms such as Dash 2 Trade, investors can see how their strategy would perform in real-time so that they can make any required changes. This can play a significant role in reducing the overall risk.
Check out our guide on paper trading to learn more about demo accounts and backtesting.
Access to Other Features
The best crypto trading bots offer premium features and access to advanced tools to help investors maximize their profitability. Whether one is looking for automated arbitrage or a high-frequency strategy, there are plenty of great options available to meet a trader's needs.
For example, AI trading has elevated the capabilities of crypto bots. Now, these advanced bots can adjust their settings automatically based on market conditions without any human intervention.
Similarly, copy trading is another feature that has gained a lot of popularity. Copy trading bots allow users to mirror the strategies of other investors. This can be incredibly useful for beginners who are still learning the ropes of trading. Traders who sell their strategies also get rewarded by the provider, thus creating a win-win situation.
Platforms like Dash 2 Trade also offer access to tons of other useful features, such as crypto signals, price alerts, on-chain analytics, and more.
Overall, if an investor is looking for an efficient and convenient way to trade cryptocurrencies, a bot can be a useful tool. By optimizing their portfolio and executing trades with greater accuracy and speed, bots can help users maximize profits while minimizing risk in the volatile crypto market.
How Crypto Trading Bots Function
As we covered above, the best crypto trading bots are algorithms that analyze market data and execute trades automatically. They utilize advanced software to take into account factors like historical trends, current market conditions, and price fluctuations to determine optimal trading strategies.
Now, how each crypto trading bot functions will differ based on the strategy used. However, the process of setting up a trading bot will be more or less the same on most platforms.
Traders will be required to create an account with their chosen provider and pay for a trading bot (if required).
Then, traders can choose a pre-built trading bot available on the platform.
Then, depending on the strategy, users will also have to set the preferences, such as entry-level, take-profit value (in percentage), stop-loss, etc.
Some trading bots will automatically calculate this based on market conditions.
After configuring the trading bot, the user can connect their chosen exchange using an API.
Once everything is set up, the technical indicators and algorithms used by the crypto trading bot serve to ensure that the positions will be opened and closed at optimal points.
With the best crypto trading bots like Dash 2 Trade, users also get to backtest their strategies in a simulated environment before implementing them with real money.
How to Choose the Best Trading Bot for Your Needs?
A lot of people have an interest in trading cryptocurrencies, but they either don't have enough time or simply don't understand the concept well enough. For traders in such a situation, a crypto bot might be just the right solution.
However, with so many bots available in the market, it can be hard to know which one is suitable.
There are a number of key metrics to consider when choosing the best crypto trading bot – which we discuss below.
Credibility and Reputation
The first thing traders should look into when evaluating a crypto trading bot is its credibility and reputation. Most platform websites provide information on what encryption they use and how they protect user data.
In addition to this, it would also be smart to look up reviews and ratings from other users to get an idea of how reliable, secure, and efficient the bot is. Traders should also check out any awards or certifications that particular bots have earned as a sign of recognition for their services.
All of this information will give traders a better sense of whether or not the bot is worth investing in. In this regard, Dash 2 Trade is a credible platform that has implemented top-notch security measures for the protection of its users. Moreover, Dash 2 Trade's team members have also had their identity verifications completed by Coinsniper.
User-Friendly Dashboard
Make sure that the dashboard of the chosen crypto trading bot is user-friendly and easy to use. Most bots offer demo accounts so traders can test out their platform before committing any real money to it. This is an excellent way to see if it meets expectations or not.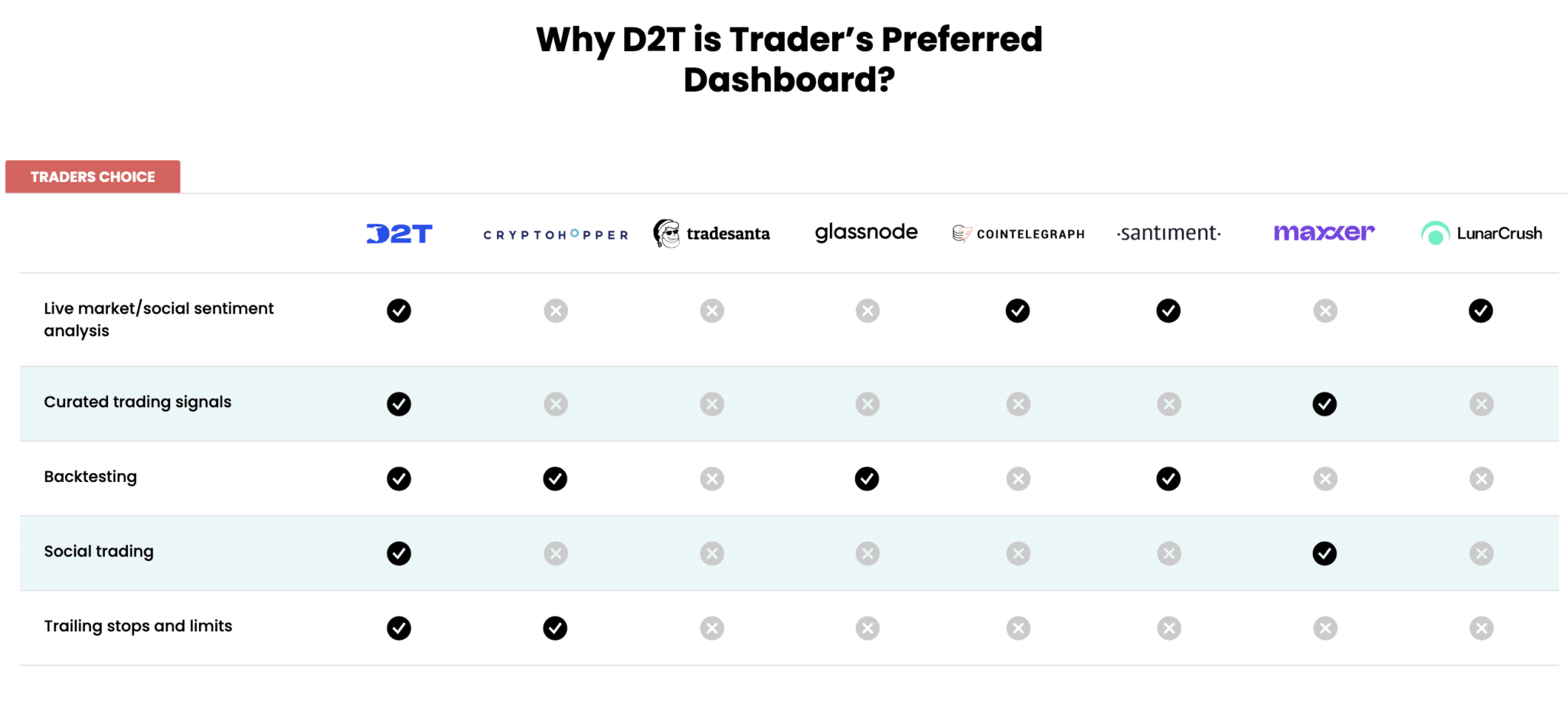 Additionally, look for extra features like charts and analysis tools that can help inform trading decisions in real time. Moreover, traders should also check if the bot is suitable for their experience level.
For instance, some platforms can be too advanced, catering only to experienced traders. While others might have bots, such as DCA, that might be more appealing and comprehensive to beginners.
Strategies and Features
Another important factor to consider when selecting a crypto trading bot is the strategies and features it offers. Some bots come with different strategies, such as scalping, arbitrage, trend following, etc., so traders should make sure to read up on each one before deciding which one best suits their needs.
Furthermore, some bot providers like Dash 2 Trade also provide traders with additional features like signals and custom strategies tailored to individual needs.
The Verdict
As cryptocurrency continues to grow in popularity, more people are turning towards automated solutions like trading bots. However, in order to make their decision-making easier and manage the risks, investors need to be extremely careful when choosing a crypto trading bot.
For those looking for an easy-to-use yet powerful trading bot, Dash 2 Trade is an excellent platform worth considering. In addition to trading bots, it also offers other resources and tools to manage crypto investments – such as indicators, alerts, signals, analytical data, and more.
Moreover, the D2T token – which powers the Dash 2 Trade analytics terminal, is currently available to buy at presale prices.
Visit Dash 2 Trade
FAQs
What are crypto trading bots?
Crypto trading bots are automated software that analyzes market data and executes positions on the user's behalf. Bots can also deploy trades quickly, without requiring human intervention.
Which is the best crypto trading bot?
Dash 2 Trade is emerging as one of the best crypto trading bots, with the provider offering tons of features such as price alerts, on-chain analytics, social-sentiment data and more.
Are crypto trading bots profitable?
It is impossible to guarantee that a trading bot can achieve profitable results. As such, traders should be very careful when choosing a provider. There are also platforms that allow users to design their own trading bots using unique strategies, which gives them more control over their positions.
Are there any free crypto trading bots?
Many providers offer a free trial, which allows their users to try out their trading bots for a fixed time. Others also come with demo trading accounts, where users can test the bots for free in real-market conditions without risking any money.