Service for copy trading. Our Algo automatically opens and closes trades.
The L2T Algo provides highly profitable signals with minimal risk.
24/7 cryptocurrency trading. While you sleep, we trade.
10 minute setup with substantial advantages. The manual is provided with the purchase.
79% Success rate. Our outcomes will excite you.
Up to 70 trades per month. There are more than 5 pairs available.
Monthly subscriptions begin at £58.

You might want to trade Cardano but lack the time, energy, or skills needed to perform the necessary in-depth technical analysis.
If this sounds like you – consider utilizing Learn 2 Trade Cardano trading signals!
In this guide, we explain how our crypto trading signals work and how to use them. We also offer a step-by-step guide on how to get started with our signal service today via the Learn 2 Trade Telegram group!
Learn 2 Trade Free Crypto Signals Service

Get 3 Free Crypto Signals Each Week
Signals Cover all Cryptocurrencies
Option to Upgrade to Our VIP Group for Free
82% Win Success Rate
Average Monthly Gains of 30-40%

Best Cardano Trading Signals for Beginners
Our team of in-house seasoned traders is extremely experienced in the cryptocurrency markets. Crucially, they know the ins and outs of how to perform in-depth technical analysis.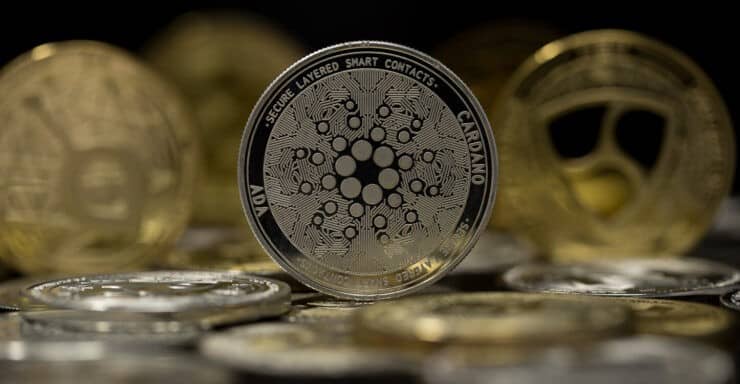 See just a handful of the indicators used by our team of in-house traders when researching the Cardano marketplace:
Exponential moving average (EMA)

Accumulation/Distribution Line

Bollinger Bands

Relative Strength Index (RSI)

Stochastic Oscillator

Moving Averages (MA)

MYC Trading indicator
How do Learn 2 Trade Cardano Trading Signals Function?
Put simply, we utilize our skills to probe every aspect of technical analysis, using an abundance of advanced chart reading tools. We then relay this information to you – in the shape of Cardano trading signals.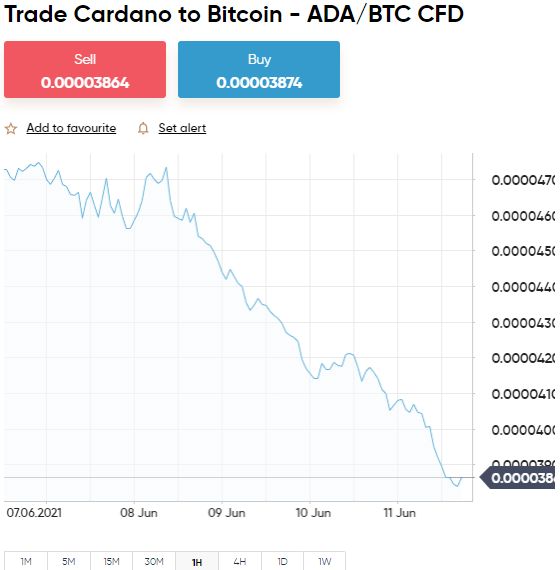 Any Cardano trading signals you are sent will give you the following market insight:
Cryptocurrency Pair:

ADA/GBP

Short or Long: Short
Limit Order Value:

£0.74

Stop-Loss Value:

£0.75

Take-Profit Value:

£0.71
In this example signal, the pair Cardano/Britsh pound has a current market price of £0.79. We see a money-making opportunity arising should the pair fall to £0.74 – hence the limit order value is lower. The rest we explain in more detail in the sections below.
What Will the Best Cardano Trading Signals Include?
Here at Learn 2 Trade, we think the best Cardano trading signals cover every aspect of a trading order. This ensures that you can act on our signals in a risk-averse manner.
Cardano Pairs
Without fail, all of our Cardano trading signals will alert you to the pair we see the potential for gains with.
Sometimes this will be a 'crypto-cross' pair such as ADA/ETH (Cardano/Ethereum) or ADA/BTC (Cardano/Bitcoin) – otherwise referred to as a crypto-to-crypto pair.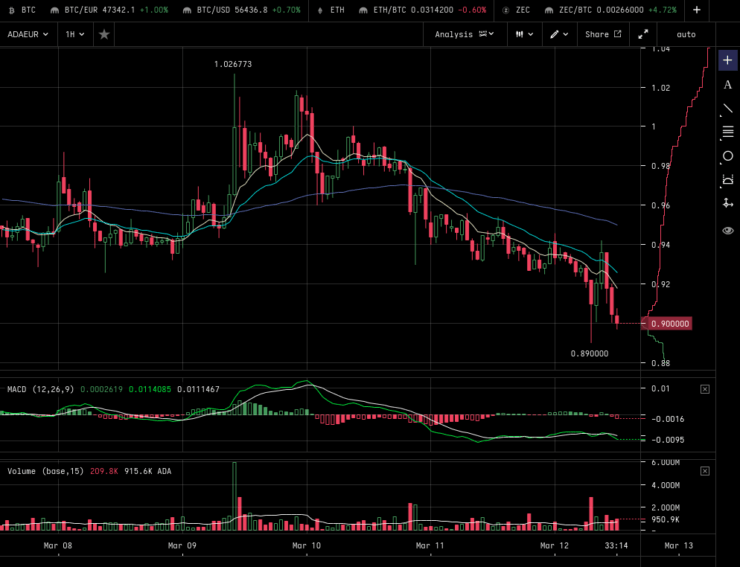 Depending on market sentiment, we will also send Cardano trading signals based on crypto-fiat pairs. For those unaware, this is a crypto-pair including a tangible currency, such as the US dollar or British pound. This would be displayed to you as ADA/USD or ADA/GBP.
Short or Long
Another key metric you need to be aware of when trading Cardano is whether the position should be short or long. As such, our signals will let you know which way we think the price of the pair will go – based on our in-depth analysis.
For the purposes of clarification:
Let's say you receive a trading signal telling you to go long on ADA/ETH
This indicates that analysis led us to believe the pair will rise in value
Otherwise, the signal might advise you to go short – in which case research suggests that ADA/ETH will fall in value
This means that you must place a buy or sell order with your chosen cryptocurrency broker, see below:
In the first example, we told you to go long on the pair – which means a buy order is appropriate
Had the signal suggested going short on ADA/ETH – you would need to place a sell order
Limit Order Value
There are 2 different entries into your chosen market – a 'market' order or a 'limit' order. Market orders are actioned immediately, grabbing the current or next best price for the Cardano pair.
Limit orders, on the other hand, enable you to enter at a suggested price. This way you are given the best chance possible at making a profit, by waiting for an increase/decrease in the price of the crypto pair.
See a practical example of how a limit order works when receiving a Learn 2 Trade Cardano signal:
This time the Cardano trading signal alerts you to an opportunity on ADA/USD – currently priced at $1.09
Data indicates that when the pair rises to $1.15 – it's wise to go long
In line with this, the limit order value will be $1.15
If ADA/USD hits $1.15 – the online broker will action the order immediately at that price
Stop-Loss Value
A stop-loss order is vital for managing risk. As such, every Cardano trading signal will include a suggestion on this part of the order.
See a practical instance of a stop-loss:
The suggested limit order price on ADA/USD is $1.15
As we are going long, the stop-loss value on the same pair is $1.13 – 1% beneath that of the limit price
If this crypto-fiat pair decreases in value to $1.13 – your broker will close your trade automatically preventing further damage
As such, no matter what the outcome – you cannot lose over 1% of your stake
Take-Profit Value
That's your losses taken into account, so what about your gains? This is where the take-profit part of our Cardano trading signals comes in.
We will suggest a take-profit price to lock in profits from the trade at a specific price. This tends to be 3% in the opposite direction to the aforementioned stop-loss value.
In the above example, on a long position, the stop-loss is set to 1% below the limit order value. As such, the take-profit suggestion will likely be a value 3% higher.
On the other hand, had this signal suggested placing a short position, the stop-loss goes above the limit and the take-profit below.
Learn 2 Trade Cardano Trading Signals: Risk and Reward
As you can see, every Learn 2 Trade crypto trading signal gives you a clear indication of the price at which to enter the market, stop your losses, and lock in your gains.
The risk/reward ratio for the above example is 1:3. Some traders prefer an even more conservative approach – opting for a ratio of 1:1.5 This means for every $1 risked, you target gains of $1.50.
Quality Cardano Trading Signals Telegram Group
The Cardano trading signals service here at Learn 2 Trade couldn't be more user-friendly. Furthermore, all suggestions are sent via the popular messaging application Telegram.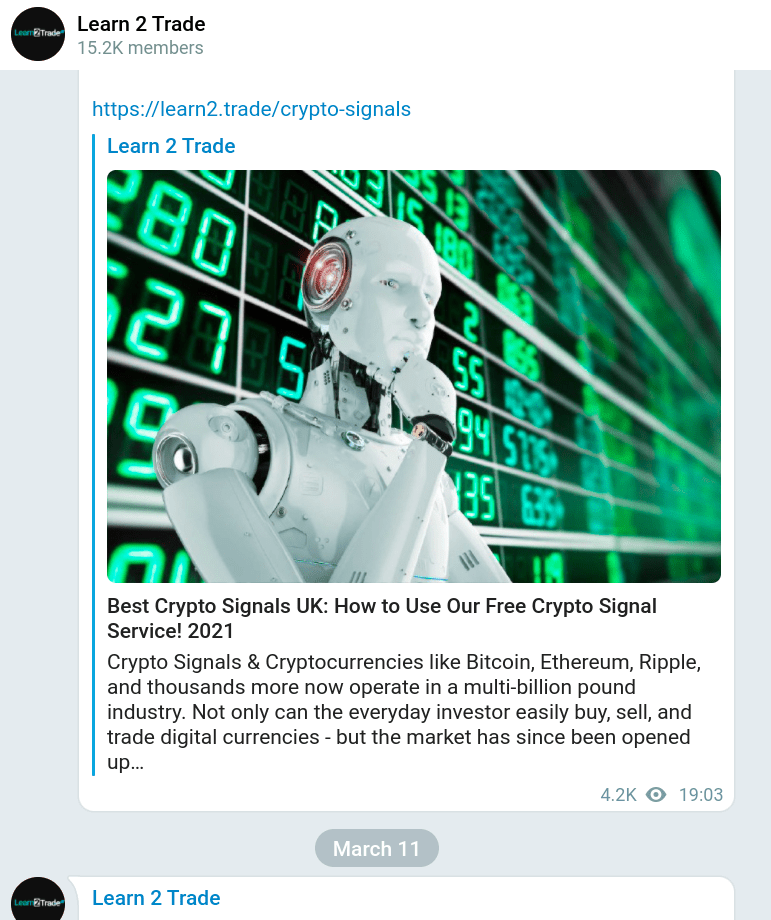 Just a handful of the best features of Telegram are:
Real-time messages: you will never miss out on a crucial Learn 2 Trade signal, as all messages are sent via cloud-based technology – in real-time
Visual evidence: Telegram makes uploading images easy. As such, we often send both a signal and a graph to explain our findings on the crypto-pair in question
Large group chats: up to 200,000 people can join one single group on this app. This makes it highly compatible with the Learn 2 Trade crypto signals group. Our trading community is already thousands-strong
Dependable and securely encrypted: the Telegram app needs barely any data so you won't miss profitable signals. One of our favorite features is that messages are securely encrypted
Free of charge: the app is free and works with both Android and iPhones. Head over to the relevant store to download the app and join our Telegram signals group
Free Cardano Trading Signals
Our clever in-house technical analysts are dedicated to scouring the markets – to lead as many people to a profitable trade as possible. Crucially, we don't leave our free subscribers out.
If you sign up for the free crypto trading signal service, you will be presented with 3 tips on a weekly basis. As we have discussed throughout, each Learn 2 Trade signal suggests the Cardano pair, long or short, and also the stop-loss and take-profit order price. Most importantly, we don't black out important signal data points (like a stop-loss order price) and try to charge you for viewing them.
Premium Plan Cardano Signals
3 signals per week might not be enough for you to get the most out of our crypto trading suggestions. This is the case for many traders that want to make frequent gains, which requires being more active in their chosen markets.
As such, you may want to consider opting for a Premium plan – which includes 3 to 5 crypto trading signals every day – 24/5.
We understand that it's daunting signing up for new services. As such, we offer all customers the chance to request a refund if dissatisfied. This must be requested within 30 days of signing up for the plan.
Want a tip? Use our Cardano trading signals in conjunction with a free demo account at a respected trading platform.
Here's how:
Sign up with a broker that can offer you access to Cardano markets and a free demo account – eToro offers a free demo facility with $100,000 to play with
When a Cardano trading signal lands in our Telegram group – input the information exactly into the platform's demo order box
Receive a signal from us and then create the suggested orders using the eToro demo account
Repeat this process for 2/3 weeks – all the while keeping a record of any losses or profits
At the end of this time period – evaluate your findings. If you are displeased with the result of using our Premium crypto trading signals – you can contact us for a refund with 30-days.
8cap - Buy and Invest in Assets

Minimum deposit of just 250 USD to get lifetime access to all the VIP channels
Buy over 2,400 stocks at 0% commission
Trade thousands of CFDs
Deposit funds with a debit/credit card, Paypal, or bank transfer
Perfect for newbie traders and heavily regulated

Don't invest in crypto assets unless you're prepared to lose all the money you invest.
Premium Plan: Price Breakdown
We have a handful of different Premium crypto trading signals plans to choose from.
See below:
1 month: £35

3 months: £70

6 months: £120

Lifetime Access: £250
If you are trying our trading signals for the very first time, you may want to think about signing up for 1-month at £35.
Learn 2 Trade Cardano Trading Signals:
Ready to reap the rewards of the Learn 2 Trade crypto signals group? Next, we walk you through the very simple process of getting started.
Step 1: Sign up to the Learn 2 Trade Crypto Signals Service
The first thing you need to do is decide which crypto signals plan suits you best. You might want to stick with the free offering, whereby you can expect 3 signals per week.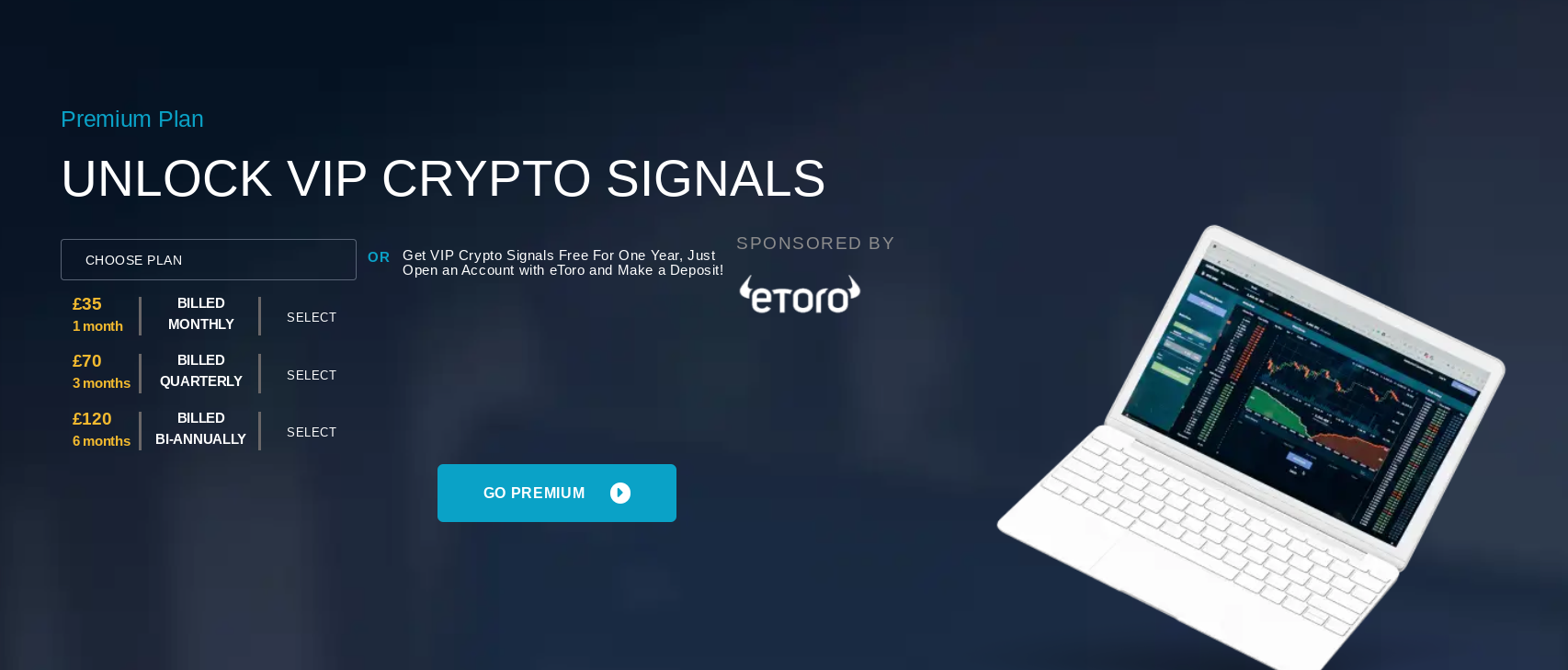 Alternatively, combine the Premium 1-month plan up with a free demo, as mentioned above. This means financially there is no damage done if you don't like it – because you have the 30-day money-back guarantee from Learn 2 Trade.
Step 2: Join our Cardano Trading Signals Telegram Group
Head over to the Google Play or Apple Store and download the free Telegram app. Next, join our Telegram crypto trading signals group.
Step 3: Customize Your Telegram Notifications
Once joined, you can change the vibration pattern, LED color, and ringtone for our group within your contact and app settings. This way you won't any of our Cardano trading signals.
Step 4: Recieve Cardano Trading Signals and Create Orders
To take the bull by the horns and act on the trading signals we send you – you need to sign up with a crypto trading broker to action your orders.
Step 5: Review the Cardano Trading Signal
Next, as and when you are sent a new Cardano Trading signal, you will need to enter each part into the order box.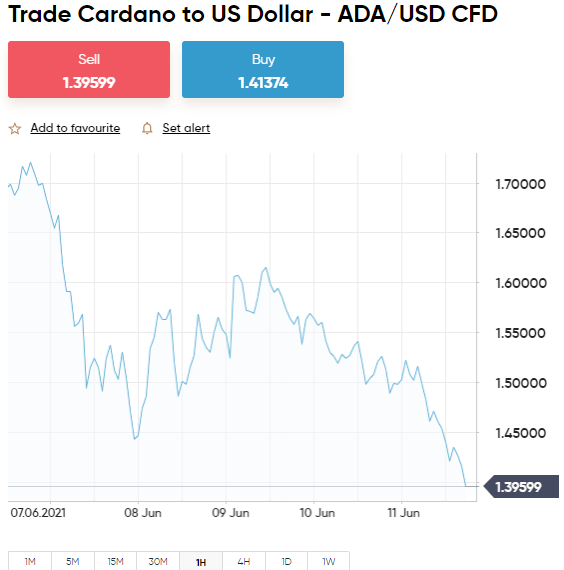 Once you have entered the suggested orders – place your trade.
Best Cardano Trading Signals 2023: The Verdict
There is nothing to lose by trying out the Premium trading signals service here at Learn 2 Trade. This is because we offer all new customers a 30-day money-back guarantee. If you really want to use this to your advantage, try it with paper money via a free demo account at your chosen brokerage.
We also offer a popular free crypto trading signal service if you prefer. Either way, our team of pro analysts research and time the markets so you don't have to. Furthermore, the Learn 2 Trade Telegram signals group is thousands-strong. Here, like-minded traders come together and try and stay ahead of the markets off the back of our advanced technical analysis.
Learn 2 Trade Free Crypto Signals Service

Get 3 Free Crypto Signals Each Week
Signals Cover all Cryptocurrencies
Option to Upgrade to Our VIP Group for Free
82% Win Success Rate
Average Monthly Gains of 30-40%

FAQs
What do Cardano trading signals offer?
Cardano trading signals offer you specific tips on cryptocurrency pairs containing ADA coins. Here at Learn 2 Trade we always include basic order information - as well as stop-loss and take-profit values. This is to protect you from losing too much or from missing a chance to lock in gains on a trade.
How much do crypto trading signal providers cost?
Here at Learn 2 Trade, we offer a free signal service with 3 detailed signals per week. Premium crypto trading signal members receive 3-5 daily over 5 days a week - charged from £35 per month.
How long will the crypto trading signal be valid?
It's always wise to act on a trading signal right away, as things can change so quickly in the cryptocurrency markets. For instance, what is a profitable opportunity one day might not mean a thing the next trading day.