Invest at least $250 in D2T to gain lifetime access to our VIP Signals
Get early access to Dash 2 Trade's Presale. Buy the D2T token now
Existing community of 70,000+ traders
Unlocks access to the leading crypto trading analysis, signals and trading tools
As featured in CryptoNews.com, FXEmpire.com, FXStreet.com and more
World class development team backed by Quant developers and VC investors
In this guide, we talk about Ethereum trading signals – covering what they are and what's included within each suggestion. We also explain how Learn 2 Trade crypto signals work and how they can take your Ethereum trading endeavors to the very next level!
Signals can be viewed as a shortcut when it comes to Ethereum trading. Whether you have yet to learn the complexities of technical analysis, or lack the time to study the markets – consider signals when trading this popular cryptocurrency.
Table of Content
Learn 2 Trade Free Crypto Signals Service

Get 3 Free Crypto Signals Each Week
Signals Cover all Cryptocurrencies
Option to Upgrade to Our VIP Group for Free
82% Win Success Rate
Average Monthly Gains of 30-40%

Best Ethereum Trading Signals for Beginners
Technical analysis isn't for the faint-hearted, and will not be mastered overnight. It can take years on end to learn how to draw your own price charts and customize trading indicators to your advantage.
Some of the most commonly used trading indicators utilized by seasoned Ethereum traders are:
Bollinger Bands
RSI (Relative Strength Index)
MA (Moving Averages)
MACD (Moving Average Convergence/Divergence)
MYC Trading indicator
Stochastic Oscillator
and more
The aforementioned trading tools enable you to enter the market based on historical data, facts, and figures – rather than taking a shot in the dark. This is why our Learn 2 Trade Ethereum trading signals are a godsend to inexperienced and busy crypto traders. You can simply start by joining our free forex signals telegram group to stay informed on new ethereum trading opportunities and later graduate to our VIP group to get even more daily signals.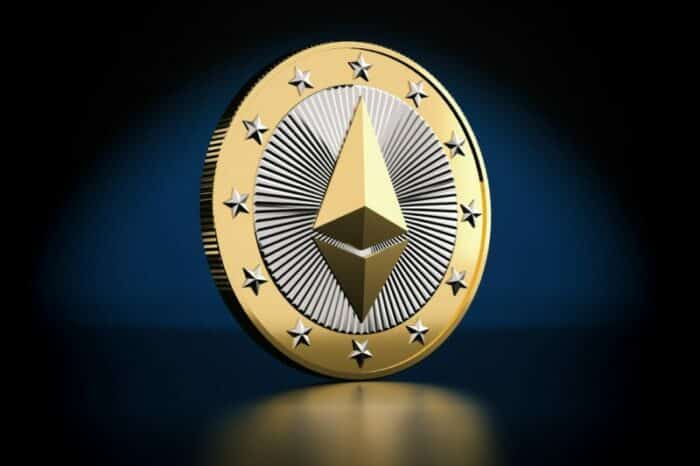 Here at Learn 2 Trade, our in-house team of pro traders does the proverbial legwork when it comes to in-depth analysis – so we are inviting you to ride on our coattails!
How do Learn 2 Trade Ethereum Trading Signals Function?
We eluded to the fact you can leave the legwork to us. This is because Ethereum trading signals are basically 'trading suggestions'.
After performing an in-depth analysis, we share this insight via our Telegram crypto signals group, telling you how to fill in your Ethereum trading order step by step.
Each and every Ethereum trading signal we send will include the same five key bits of information.
See an example of an Ethereum trading signal below to clear the mist:
Cryptocurrency Pair: ETH/EUR
Short or Long: Long
Limit Order Value: €1,530
Stop-Loss Value: €1,515
Take-Profit Value: €1,575
As you can see, each of our Ethereum trading signals will be made up of the pair we see a trading opportunity in, and whether to go long or short. We also include limit, stop-loss, and take-profit prices to enter when placing your order.
What Will the Best Ethereum Trading Signals Include?
The best Ethereum trading signals include five important metrics, which we explain in more detail below.
Ethereum Pairs
As you can see from the example given earlier, each Ethereum signal will include what pair we suggest trading to potentially make some gains. For those unaware, Ethereum can be traded against digital currencies such as Bitcoin, Ripple, and EOS. There are heaps of other crypto-cross pairs that include ETH.
If, for example, the trading signal tells you to go short on ETH/XRP – this means our research is suggesting that Ethereum/Ripple is about to see a price decrease. We talk more about going long and short later – for those unversed on the subject.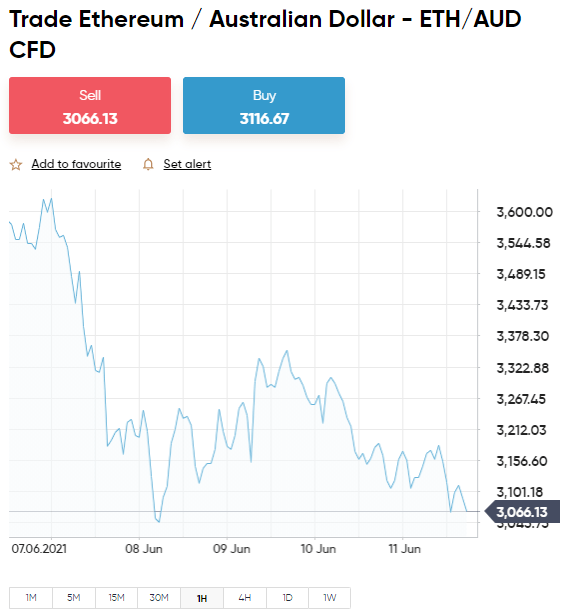 With that said, the most common way to trade Ethereum is against fiat currencies such as the US dollar, British pound, and euro. This would be displayed as ETH/USD, ETH/GBP, and ETH/EUR respectively. This is because it's simpler to work out gains and losses and predict market sentiment using legal tender.
Here at Learn 2 Trade, we send Ethereum trading signals on both crypto-fiat and crypto-cross pairs.
Short or Long
As we touched on, each Ethereum trading signal will include a suggestion on whether to go 'short' or 'long' on the pair in question.
For those in the dark, see an example below for a clearer explanation:
If our team thinks ETH/CNH is going to see a price increase – the Ethereum trading signal will advise going long
On the other hand, if we think the pair is going to see a price decrease – then the signal will indicate that you should go short
As such:
If the signal suggests going long on Ethereum against the Chinese yuan – you need to place a buy order with the cryptocurrency broker you have chosen
Alternatively, if the signal states short on ETH/CNH – you are instead required to place a sell order with the trading platform
The overriding objective for us is for everyone in our trading community to benefit from as many money-making opportunities as possible. As such, we share our findings with our Telegram members. There are different account options for this, which we talk about later.
Limit Order Value
You can either enter a cryptocurrency trade with a 'market' order or a 'limit' order. A limit order is the go-to way to enter the market on most Ethereum trading signals -because you can enter your position at a specific price.
Our Ethereum trading signals invariably include a limit value – unless the order needs to be actioned immediately at the current price.
See below a practical example of how you will utilize limit orders:
Let's imagine you are trading ETH/CNH – valued at ¥11,820
Our analysis tells us that should the pair exceed ¥13,500 – it is worth going long
Consequently, we set the limit order suggestion to ¥13,500
Unless you cancel your order, you won't enter the market until ETH/CNH rises to ¥13,500
By using our limit order signal, you are able to forgo the usual hours of research needed. Furthermore, you are able to place your order with set parameters. The broker will execute your order as instructed.
Stop-Loss Value
Each of our Ethereum trading signals will be inclusive of a 'stop-loss' price. This instructs the crypto platform to close your trade at a certain point – to stop your losses from spiraling. As such, most sensible traders utilize this risk-management strategy.
See an example below:
The Ethereum trading signal is for ETH/CNH
We suggested a limit order of ¥13,500
The stop-loss value is ¥13,365 – which is 1% below the limit price
This prevents you from losing more than 1% from the trade
If the pair falls in value to ¥13,365 – the online broker closes your position automatically
Note that had the trading signal suggested going short on this position, your stop-loss price would be 1% above the entry price.
Take-Profit Value
We include a take-profit order alongside a stop-loss as this is a great way to lock in any gains before it's too late. This is usually based on a risk/reward of 1:3. To elaborate further, setting a stop-loss order above or below your entry price ensures the broker closes your position before further losses are incurred.
In contrast, a take-profit order will do the opposite. So, if you are going long, you will enter a stop-loss at 1% below the limit order price, and a take profit at 3% above. If you are short, the stop-loss will be 1% above the entry price, and the take-profit will be 3% below – and so forth.
Learn 2 Trade Ethereum Signals: Risk and Reward
As we mentioned, we always think about risk vs reward when sending out Ethereum trading signals to our Telegram members. This is usually 1:3, so for every $1 we risk, we aim to get $3 in return.
Other commonly used risk and reward ratios are 1:1.5 and 1:4. The latter meaning you need 1 successful trade from every 4 – to be profitable. As you can see, this strategy is highly compatible with stop-loss and take-profit orders.
Quality Ethereum Signals Telegram Group
Telegraph is undoubtedly the best way to receive Ethereum trading signals to the palm of your hand.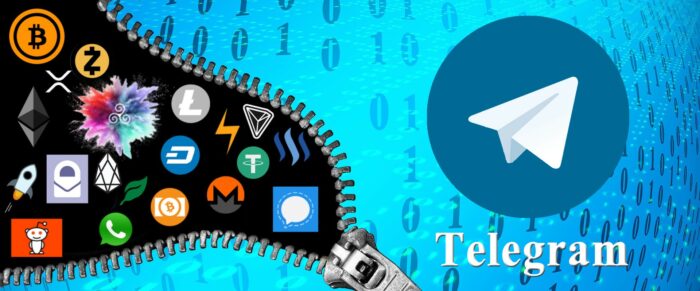 Let's take a look at some of the benefits below:
Dependable and securely encrypted: the app requires very little data. This means even if your internet signal is poor, you should still be able to use the service. Furthermore, all messages are securely encrypted
Real-time messages: Ethereum trading signals come through automatically thanks to the cloud-based messaging system
Large group chats: well suited to trading signal groups, Telegram supports up to 200,000 members on one single channel. As such, our Learn 2 Trade members are able to chat and share strategies with ease
Free of charge: the app is completely free of charge. Download to your Android or iPhone and join the Learn 2 Trade Telegram group to start receiving Ethereum trading signals
Visual evidence: we are all about transparency, so where we can, we include graphs and charts to demonstrate our findings
Free Ethereum Trading Signals
As well as our premium Ethereum trading signals, which we talk about next, we offer a free service. Free or paid – we work just as hard scouring the markets for crypto trading opportunities.
By using our free service, you will receive 3 free Ethereum trading signals per week vis the Learn 2 Trade Telegram group. Furthermore, we refuse to blackout crucial information and hold you ransom for it – such as stop-loss or take-profit prices. This is a tactic employed by many signal providers in this space.
If you want a little more in terms of the number of signals you receive – read on as next – where we talk about the Premium plan.
Premium Plan Ethereum Signals
By signing up to the Learn 2 Trade Premium plan – between 3 and 5 crypto signals will land in your inbox every day, over 5 days per week.
We are so self-assured about our Ethereum trading signals that we offer all members a 30-day money-back guarantee – no questions asked. With this in mind, it makes sense to try out our service via a free demo account at your chosen broker. This way, you can test our signals without risking your own capital.
See below for a simple walkthrough:
Look for a regulated online broker offering access to Ethereum markets and a free demo account. One such example is regulated broker eToro – which offers a demo account facility with $100,000 in virtual funds.
When an Ethereum trading signal comes through – copy the details into the order box on your demo account
Keep a diary of your gains and losses – ensuring that you put all of our Ethereum trading signals through your eToro demo account
After a week or two, tally up your results. Crucially, if you are dissatisfied, request a refund!
As noted, we are confident in the abilities of our in-house traders – so we believe that you will likely want to remain on our Premium plan. However, once again, you are under no obligation to remain on our paid-for plan – so simply request a refund within 30 days if you're not hapopy!
eToro - Buy and Invest in Assets

Minimum deposit of just 250 USD to get lifetime access to all the VIP channels
Buy over 2,400 stocks at 0% commission
Trade thousands of CFDs
Deposit funds with a debit/credit card, Paypal, or bank transfer
Perfect for newbie traders and heavily regulated

67% of retail investor accounts lose money when trading CFDs with this provider.
Premium Plan: Price Breakdown
Find a simple breakdown of our Premium plan fee structure below:
1 month: £35
3 months: £70
6 months: £120
Lifetime Access: £250
Beginners will likely be better starting with the 1-month option and taking advantage of the aforementioned 30-day money-back guarantee.
Learn 2 Trade Ethereum Trading Signals: 5 Step Walkthrough
Find below a 5 step walkthrough of how to get started with our Ethereum trading signals.
Step 1: Sign up to the Learn 2 Trade Ethereum Trading Signals Service
Sign up for the Learn 2 Trade crypto signals service, or begin with the free option mentioned earlier.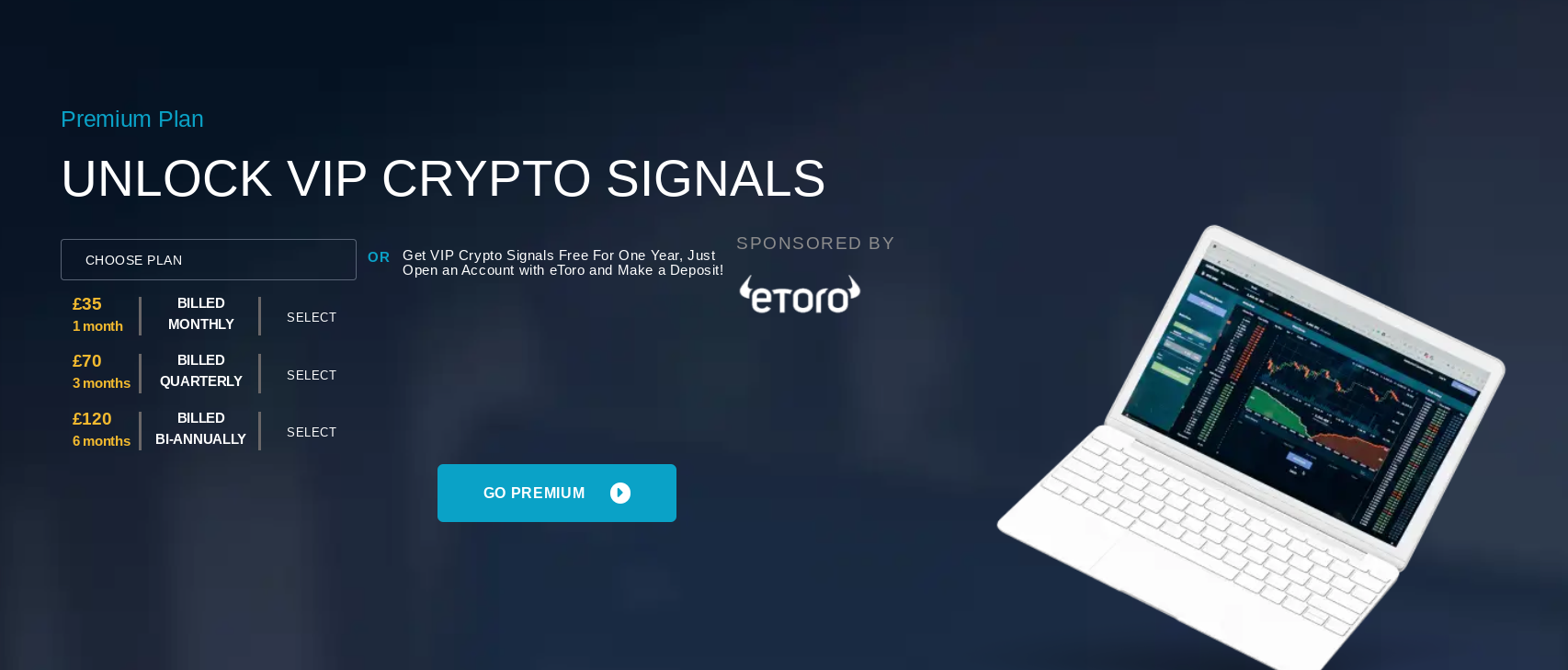 As we said, beginners might be best initially sticking with the 1-month plan to start, before heading over to Capital.com to use the free demo.
Step 2: Join our Ethereum Trading Signals Telegram Group
Next, download the free Telegram app. and proceed to join our crypto signals group to ensure you never miss another trading opportunity again.
Step 3: Customize Your Telegram Notifications
Make sure to turn custom alerts on. This will ensure you know as soon as an Ethereum trading signal comes in.
Step 4: Recieve Ethereum Trading Signals and Create Orders
That's it – you can now use our trading signals to maximum potential via a respected brokerage.
Step 5: Review the Ethereum Trading Signal
When you receive an Ethereum trading signal, enter the details into the order box at Capital.com – or any broker of your choosing.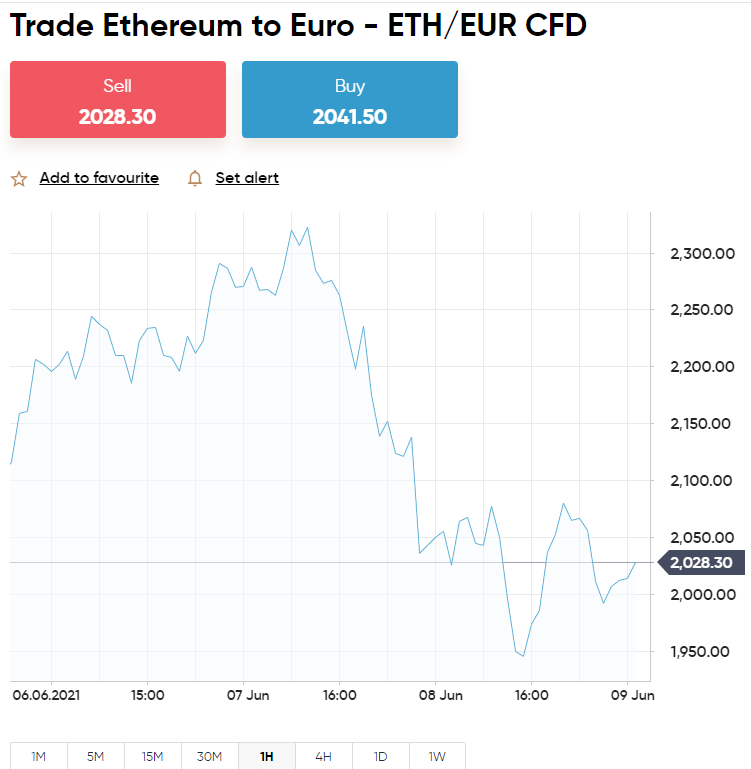 Hit 'Open Trade' after checking that everything is correct.
Best Ethereum Trading Signals 2023: The Verdict
The best way to enter the crypto trading markets is with a clear understanding of technical analysis and all it entails. If you lack the time or patience for this – consider utilizing our Ethereum trading signals via a regulated broker with low spreads and commission fees.
It's also important that you can access a variety of crypto pairs so that you are prepared for any Telegram signal that we send. Online broker Capital.com is regulated by CySEC, FCA, ASIC, and NBRB – and offers access to dozens of tradable ETH pairs.
Learn 2 Trade Free Crypto Signals Service

Get 3 Free Crypto Signals Each Week
Signals Cover all Cryptocurrencies
Option to Upgrade to Our VIP Group for Free
82% Win Success Rate
Average Monthly Gains of 30-40%

FAQs
What are trading signals?
Seasoned traders or professional analysts perform in-depth technical analysis on crypto-pairs and then share the information within a trading community (usually on Telegram). Each signal will include the asset, long or short order, limit price, stop-loss, and take-profit price. All you have to do is place the order with a regulated broker. eToro fits the bill as it offers commission-free trading.
How can I find quality Ethereum trading signals?
The best quality Ethereum trading signals include stop-loss and take-profit prices, as this way you are able to manage your risk/reward on any trade.
How much do Ethereum trading signals cost?
Here at Learn 2 Trade, we offer 3 free signals per week, or if opting for the Premium plan - 3-5 per day. The latter starts at £35 per month but comes with a 30-day money-back guarantee.