Service for copy trading. Our Algo automatically opens and closes trades.
The L2T Algo provides highly profitable signals with minimal risk.
24/7 cryptocurrency trading. While you sleep, we trade.
10 minute setup with substantial advantages. The manual is provided with the purchase.
79% Success rate. Our outcomes will excite you.
Up to 70 trades per month. There are more than 5 pairs available.
Monthly subscriptions begin at £58.

If you are looking for a time-saving approach to Stellar trading, then signals could be just what you are looking for.
Put simply, Stellar trading signals offer newbies who haven't got to grips with technical analysis an alternative route to gaining market insight. Furthermore, this service is great for people who lack the time to monitor the crypto markets full time.
In this guide, we talk about what's incorporated in each Learn 2 Trade Stellar trading signal, how they work, and what you need to do to get started today!
Learn 2 Trade Free Crypto Signals Service

Get 3 Free Crypto Signals Each Week
Signals Cover all Cryptocurrencies
Option to Upgrade to Our VIP Group for Free
82% Win Success Rate
Average Monthly Gains of 30-40%

Best Stellar Trading Signals for Beginners
Technical analysis is a complex trading discipline used by crypto traders of all levels of expertise. This involves looking at charting software, indicators, and various other metrics.
Some of the most recognizable technical indicators used in Stellar trading are:
Moving Averages – MA
Bollinger Bands
Relative Strength Index – RSI
Moving Average Convergence/Divergence – MACD
Stochastic Oscillator
MYC Trading indicator
and many more
As we've eluded to, the aforementioned signals are only scratching the surface – when it comes to the volume of data available to Stellar traders.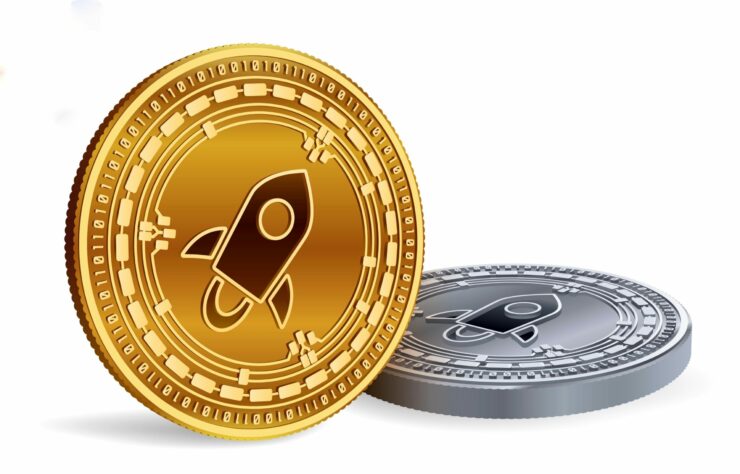 The amount of intensive research involved is understandably overwhelming for most new crypto-investors. Furthermore, finding the time to conduct such in-depth research can be seemingly impossible for busy seasoned traders.
How do Learn 2 Trade Stellar Trading Signals Function?
Our in-house team of knowledgeable traders knows the digital currency market like the back of their hands. As such, we leave no stone unturned when performing technical analysis.
Put simply, we spend hours scouring the markets and utilizing various advanced trading tools, in order to bring the members of our signals group the best insight we can.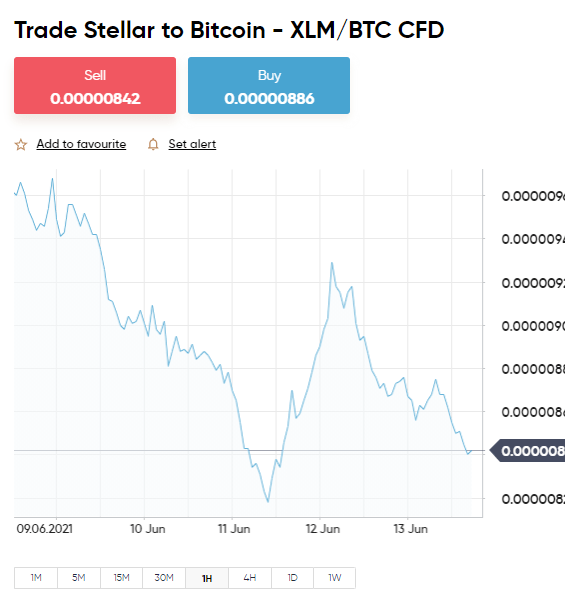 Furthermore, our signals include vital order metrics to help you trade Stellar in a risk-aversive manner.
See below the 5 key elements that each of our crypto signals will include:
Cryptocurrency Pair: XLM/EUR
Short or Long: Long
Limit Order Value: €0.35
Stop-Loss Value: €0.34
Take-Profit Value: €0.36
Above, our signal suggests that we see potential to go long on Stellar against the euro. As you can see, we also include the price at which we recommend entering the market, as well as the required stop-loss and take-profit orders. This covers both your entry into and exit from the trade.
What Will the Best Stellar Trading Signals Include?
Now that we have covered the basics of what all of our Stellar trading signals incorporate, we can dive into each metric individually.
Stellar Pairs
As is clear from our previous example, crypto trading involves trading Stellar against another currency. This can be against a digital coin such as Bitcoin – which would be displayed as XLM/BTC at your chosen cryptocurrency broker.
The most favored way to trade Stellar is against fiat currencies. Think along the lines of the Australian dollar (XLM/AUD), US dollar (XLM/USD), euro (XLM/EUR), and Japanese yen (XLM/JPY).
It's a much simpler calculation when working out profits and losses from a Stellar trade against a well-established fiat currency. With that said, we don't favor one over the other – so you will often receive signals aimed at both crypto-crypto and crypto-fiat Stellar trading pairs.
Short or Long
Another key metric built into Learn 2 Trade Stellar trading signals is a suggestion to go long or short on the asset in question.
For those who are new to the scene, see an explanation of what the long or short element means:
The Learn 2 Trade team spends hours of research on XLM/AUD
All data points to the pair being undervalued, meaning it is likely to experience a price rise
As such, our signal suggests going long
On the flip side, if we think XLM/AUD will fall in price – the signal will suggest going short on the pair
Next, over at your chosen cryptocurrency broker:
If our trading signal suggested to go long on XLM/AUD – place a buy order
Alternatively, if the signal says go short – create a sell order
The fact is, we want you to be successful on the back of our hard work and conquer the crypto markets. As such, knowing whether to go long or short is crucial!
Limit Order Value
In case you are a novice, apart from a buy or sell order, the trading of any asset starts with a 'market' or 'limit' order. The former is actioned immediately.
With that said, our Stellar trading signals tend to include limit orders, as they allow us to be super price specific on entering the market.
Let's take a look at a practical example of a limit order:
This time we are trading Stellar against the British pound – priced at £0.28
Our team of analysts sees potential gains in going long if the pair surpasses £0.30
As a result, the trading signal will suggest a limit order value of £0.30
If and when XLM/GBP rises to £0.30 – your broker will execute your order
Please note that there are no guarantees in the crypto trading game. As such, if XLM/GBP is showing no sign of reaching this price point – you can cancel it at any point. We will, of course, let you know if this course of action should be taken via our Telegram group.
Stop-Loss Value
Another piece of valuable information included in all of our Stellar trading signals is a 'stop-loss' order. This element of your trading order quite literally stops your losses automatically – at a predetermined price.
See an example to clear the mist:
We suggested going long on XLM/GBP with a limit order value of £0.30
The stop-loss value in the signal is £0.29 – which equates to a price 2% lower than the entry price
A such, you will not lose more than 2% on this trade, even if the worst should happen
This is because, if XLM/GBP falls in value by 2% (to £0.29) – your chosen online broker will automatically close your trade
Notably, if the Stellar trading signal suggests going short – the stop-loss will be 2% higher than the limit order price.
Take-Profit Value
The 5th and final element included in all of our Stellar trading signals is a 'take-profit' order. In contrast to the previously mentioned stop-loss order, a take-profit bolts down your gains before the markets go the other way.
We usually work on a ratio of 1:3 or 1:4. This means that we might stop your losses at 1% and lock in your gains at 3%. If using a 1:4 approach, the stop-loss would be set to 1% (above or below) and the take-profit at 4%.
As such, if the Learn 2 Trade signal is telling you to go long – the stop-loss price will be set below the limit value, and the take-profit will be set above it.
Ergo, if we are suggesting to go short – the stop-loss will be above the limit order and the take-profit below.
Learn 2 Trade Stellar Signals: Risk and Reward
As we explained, we always incorporate a risk/reward strategy when sending out Stellar trading signals. In the case of a 1:4 ratio – this means that we want to make gains of 4% from every 1% being risked.
The risk/reward strategy is used by both new and seasoned traders and goes hand in hand with the take-profit and stop-loss price suggestions we send in each signal. This means we safely cover both your entry and exit.
Quality Stellar Signals Telegram Group
Want Stellar trading signals delivered to the palm of your hand, wherever you are? So do most other people – that's why they join a Telegram group created for that purpose!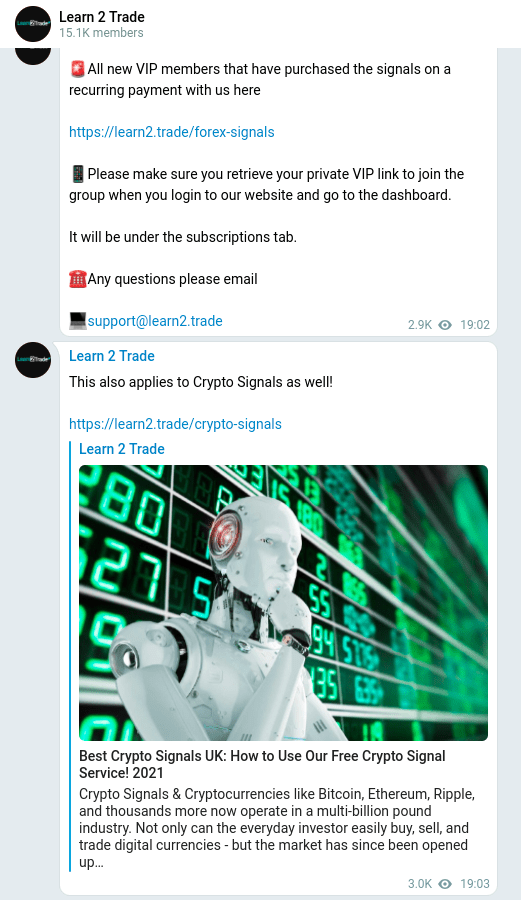 The Learn 2 Trade Telegram group has thousands of members, see below a few of the biggest draws to the app:
Dependable and securely encrypted: one of the key features of the Telegram app is that it is securely encrypted for your privacy. Furthermore, you need next to no data to run it.
Real-time messages: all Stellar trading signals come through in real-time. This is because the top-rated Telegram app uses a cloud-based messaging system.
Large group chats: it seems like Telegram was made for trading signals. The app supports groups of 200,000 traders, which creates a great sense of comradery amongst our members.
Free of charge: who doesn't love a freebie – you can download the Telegram app instantly at no charge. Then just sign up to the Learn 2 Trade Telegram group to get started!
Visual evidence: we often share charts, data, and graphs along with our Stellar trading signals. This gives you an idea of where we are coming from.
Free Stellar Trading Signals
Here at Learn 2 Trade, we don't discriminate. By this, we mean that we have the same knowledgeable team of analysts researching the markets for both the free and Premium plan service.
This will still include the same 5 data points – notably the Stellar pair, long or short, limit, stop-loss, and take-profit value.
The notable difference is that if you opt for our free crypto trading signals, you will receive 3 suggestions per week, instead of 3-5 per day.
Premium Plan Stellar Signals
As we touched on, should you opt to upgrade to the premium account, between 3 to 5 crypto signals will land in your inbox per day. This is on a 24/5 basis.
A top tip is to try out the Premium plan via a demo account at a trusted online brokerage.
See below how to utilize the demo facility for this purpose:
Head over to a reputable broker offering a free demo account and access to Stellar trading markets. eToro offers a free virtual account with $100k pre-loaded
Upon receipt of a Telegram Stellar trading signal from Learn 2 Trade – enter all details in the demo order box
Tally up the results of utilizing our signals over a few weeks and see what you think
If you are not happy with our service you have lost nothing trying. This is because as well as using virtual funds actioning the orders – you have a Learn 2 Trade 30-day moneyback guarantee to fall back on.
8cap - Buy and Invest in Assets

Minimum deposit of just 250 USD to get lifetime access to all the VIP channels
Buy over 2,400 stocks at 0% commission
Trade thousands of CFDs
Deposit funds with a debit/credit card, Paypal, or bank transfer
Perfect for newbie traders and heavily regulated

Don't invest in crypto assets unless you're prepared to lose all the money you invest.
Premium Plan: Price Breakdown
Find a simple breakdown of our Premium plan fee structure below:
£40 per month – billed monthly.
£89 for three months (£29.67 per month) – billed quarterly.
£129 for six months (£21.5 per month) – billed annually.
£215 for a year (£17.92 per month) – billed yearly.
£399 for lifetime access – one payment.
Learn 2 Trade Stellar Trading Signals: 5 Step Walkthrough
Ready to get started with our top-rated Stellar trading signals? If so, below you will see a super easy 5 step run-through of how to set the wheels in motion.
Step 1: Sign up to the Learn 2 Trade Stellar Trading Signals Service
Sign up to a crypto signals account of your choosing at Learn 2 Trade.
As we said, you can either choose the free option or take advantage of our Premium plan to get 3-5 signals per day!
Step 2: Join our Stellar Trading Signals Telegram Group
Download Telegram via the relevant app store, and join our crypto signals Telegram group.
Step 3: Customize Your Telegram Notifications
Customize your notifications, so that you are alerted to the fact you have a new crypto trading signal to check out.
Step 4: Recieve Stellar Trading Signals and Create Orders
Find a respected and safe trading platform and start using our crypto signals to your advantage.
Step 5: Review the Stellar Trading Signal
After carefully reviewing all metrics within the signal, you can copy the information across to the Capital.com demo account facility (or your chosen broker).
Happy all is correct? Click 'Open Trade' to action your order. Capital.com takes care of the rest!
Best Ethereum Trading Signals 2022: The Verdict
There you have it. No longer are Stellar traders bound to a life of endless technical analysis to gauge the market sentiment. After all, our team of pros scrutinizes the markets – so that you don't have to.
Here at Learn 2 Trade, we want all members to be as happy with the trading signals service as we are. As such, if you are not satisfied with your gains, you can request your money back within 30 days.
We suggest signing up with an online broker that offers a free demo account and access to heaps of crypto-assets. This way, you can make the most of the signals we send in a risk-averse manner.
Learn 2 Trade Free Crypto Signals Service

Get 3 Free Crypto Signals Each Week
Signals Cover all Cryptocurrencies
Option to Upgrade to Our VIP Group for Free
82% Win Success Rate
Average Monthly Gains of 30-40%

FAQs
Are crypto trading signals worth the money?
Here at Learn 2 Trade, we offer free crypto trading signals service, as well as various Premium plans - all of which come with a 30-day money-back guarantee. There are no promises of gains in this industry. As such, if you are dubious, you are better off trying our service via a free brokerage demo account (such as eToro). This way, you can request a refund within 30 days if you are dissatisfied
How can I read a Stellar trading signal?
Reading trading signals couldn't be easier. Here at Learn 2 Trade our crypto trading signals include every element of your order. This includes the crypto pair, a tip on whether to go long or short, and limit, stop-loss, and take-profit values. Simply enter this information into an order box at your chosen broker!
Are Stellar trading signals legal?
Yes, Stellar trading signals are legal. With that said, we only recommend actioning signals via a regulated and highly rated online broker. Crucially, this should be a crypto broker that can execute your orders in a safe environment