Cineworld (CINE), the UK cinema chain, has seen its share price flounder since the year's highs printed in March, when the stock traded at 122p.
Buoyed by hopes then that the worst of the pandemic might be over, the share price has declined steadily since then to a year-to-date low of 56p on 19 July. The shares are currently priced at 70.38, up 3% today.
The company has suffered mightily from the impact of the pandemic lockdowns, with its shares registering a low of 21.38p in March 2020. If you had bought at that price, you would now be sitting on a return of 233%.
However, immediately prior to the advent of the pandemic the shares were trading at 181p, so are valued at 61% below that level today.
Despite this year's setback, there could be more upside ahead for Cineworld, assuming the worst of the pandemic is truly behind us in the UK and in its important US market.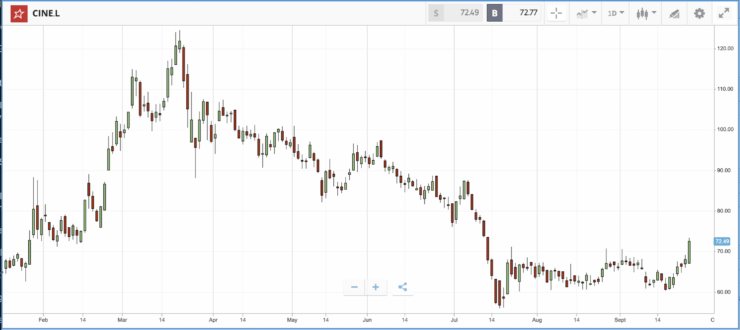 Pandemic risk – things can only get better for Cineworld?
Sarah Gilbert from the Oxford-AstraZeneca  vaccine team, reckons that the likelihood of a more virulent variant of Covid virus emerging are receding by the day due to the shrinking pool of uninfected and unvaccinated, in the UK at least. But of course  that doesn't include the rest of the world where the overwhelming majority remain unvaccinated.
But then there's the Delta-plus variant strain to consider, which originated in India and first appeared in the UK in April. Thankfully, early studies suggest that the mutation cannot evade vaccine protection.
For sure there are risks of another lockdown this winter if hospitalisations continue to rise, but indoor venues could be protected by a vaccine passport requirement, as is being rolled out in Scotland and Wales in October for certain event settings.
The health secretary Sajid Javid said on 12 September that although vaccine passports would not be introduced now – contrary to previous statements by vaccine minister Nadhim Zahawi who had said the end of September "was the right to start the vaccine passport for sites with large crowds" – but went on to say they would be held in reserve.
If the hospitalisation situation worsens then expect a u-turn from the government – that would be good news for Cineworld.
But the cinema chains say they are against vaccine passports because they worry that it would mean losing out on unvaccinated potential customers. That's true, but if the pandemic worsens again and a lockdown looms, then the only way to keep cinemas open would be to introduce such a system. As things stand, Cineworld's business – in terms of revenue prospects – is in a good place and there is a way ahead should the health situation deteriorate, albeit still subject to a degree of uncertainty.
Cineworld is carrying a lot of debt
However, as followers of the stock will be aware, Cineworld is carrying huge debt.
Its net gearing (debt to equity) is a whopping -3,049%. Put another way, that equates to net debt of $8.4 billion. In terms of forecast earnings, for the year its debts are 17x EBITDA.
The company is unprofitable and that is not set to change in the near or medium term. Normalised earnings per share was -$1.25 in 2020 and and trailing twelve-month EPS is -$0.975,  but is expected to improve to -$045 in 2021 as revenues pick up. Free cashflow per share has improved, from -$0.37 to -$0.139.
That is not to understate the severity of its balance sheet situation, which translates to a Z-score of -$1.52, placing it in the 'distress' category in terms of bankruptcy risk.
Admittedly, none of this provides appetising reading for would-be investors. Nevertheless, Cineworld is seeing audience growth right now and that's despite delays to a number of major releases. Cineworld is the second-largest seller of popcorn in the world.
US listing could send price much higher – another AMC?
Even though the downside risks appear substantial, we believe the beaten-down share price has room for recovery, even if a return to profitability is some way off.
Bolstering our reasoning is the stated aim of chief executive Mooky Greidinger to seek a US listing for the company. Why would they want to do that you ask? Firstly, they need more funding (especially so as a larger buffer for weathering future lockdowns) and where better to solicit for those funds than the largest capital market in the world. Secondly, the company is hoping to cash in on the meme-stock craze among US retail investors.
Another US fundraising option being suggested by management is floating its Regal subsidiary in the US.
Also, as you will have noticed, the company states its earnings in US currency, which reflects the fact that 70% of the company's revenues actually originate in the US, so that makes a US listing a logical step.
Uppermost in Greidinger's mind will be the stellar performance of the company's competitor, AMC. A meme-stock buyers' favourite, the shares have leapt 15x year to date, for a valuation that has arguably lost touch with the fundamentals of the business.
Incentivising Greidinger is a bonus scheme that could earn him £33 million if the company's share price hits 190p.
According to Refinitiv analysts, although AMC has a market cap 13 times the size of Cineworld's $1.2 billion, it will only generate 20% more income than the UK chain. On those metrics alone, a US listing should attract buyers.
We rate Cineworld a short- to medium-term speculative buy.
You can buy Cineworld stock on global investment platform eTor for 0% commission.
eToro - Buy and Invest in Assets

Minimum deposit of just 250 USD to get lifetime access to all the VIP channels
Buy over 2,400 stocks at 0% commission
Trade thousands of CFDs
Deposit funds with a debit/credit card, Paypal, or bank transfer
Perfect for newbie traders and heavily regulated

67% of retail investor accounts lose money when trading CFDs with this provider.
Broker
Benefits
Min Deposit
Score
Visit Broker
Share with other traders!