Service for copy trading. Our Algo automatically opens and closes trades.
The L2T Algo provides highly profitable signals with minimal risk.
24/7 cryptocurrency trading. While you sleep, we trade.
10 minute setup with substantial advantages. The manual is provided with the purchase.
79% Success rate. Our outcomes will excite you.
Up to 70 trades per month. There are more than 5 pairs available.
Monthly subscriptions begin at £58.

Derivative trading is nothing new. After all, CFDs (Contracts for Difference) have been gaining popularity since they were introduced in the 1990s.
Fast forward to 2023 and there's a fairly new financial security you might not have heard of called tokenized shares. Instead of having to own the underlying stock – you will simply speculate on its rise or fall via the token contract.
Want to know more about this type of trading? If so, today we talk about the best tokenized shares of 2023. We also talk about how this innovative asset class offers low trading fees, high leverage, and the ability to trade based on the rise or fall in stock value.
Currency.com - Trade Tokenized Assets With Leverage of up to 1:500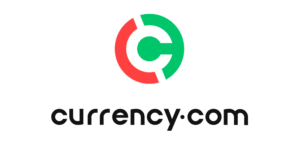 Thousands of tokenized assets supported - from stocks and forex to crypto and bonds
Leverage of up to 1:500 - even for retail client accounts
Super low fees and tight spreads
Regulated and safe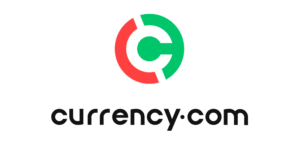 How to Invest in Tokenized Shares From Home: Quick Preview
This guide found that the best place to invest with tokenized shares from home is Currency.com. We talk about why later with a full review.
However, if you are in a hurry and want to get started straight away, you will see a quick preview of how to trade tokenized shares below:
Step 1: Head over to Currency.com

– Hit the lime green 'sign-up' button to open an account. This regulated exchange platform is a top name in the tokenized shares arena and is able to offer super-tight spreads.

Step 2: Add funds to your account –

Once your new account has been opened, you can make a deposit. You won't be short of options here. This includes wire transfer, credit and debit cards, and even Bitcoin.

Step 3: Find a tokenized share to invest in –

Under 'Markets' you will be able to select a tokenized share to purchase.

Step 4: Purchase tokenized shares –

To begin your investment, fill in the value of your order, how much you wish to stake – and confirm all.
Unlike traditional stocks, tokenized shares enable you to make gains from either a rise or decline in value For those unaware, the latter is known as 'going short'. We talk about this in more detail shortly.
Currency.com - Trade Tokenized Assets With Leverage of up to 1:500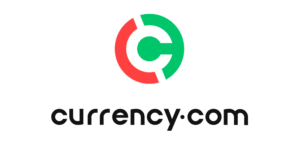 Thousands of tokenized assets supported - from stocks and forex to crypto and bonds
Leverage of up to 1:500 - even for retail client accounts
Super low fees and tight spreads
Regulated and safe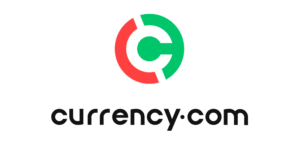 What are Tokenized Shares Exactly?
Tokenized shares establish the ownership of an asset via the allocation of a token. As such, it's achievable to connect cryptocurrency markets with shares whilst balancing out value transfer more smoothly, decrease costs, and offer the high levels of leverage relied on by many.
Put simply, this means that you are able to make an investment in your chosen stocks – but will do so via a digital token instead. This will match the price of the shares you want to purchase. As such, if Tesla stocks are worth $600 – the tokenized shares will be too.

This also denotes that because the token itself reflects the price of the underlying asset – if the price of the stocks rises or falls, so will the tokenized shares. As such, that you can speculate on a big company like Tesla – without having to take ownership of any stocks.
The fact you don't own the underlying asset might seem offputting, as this does also mean that you lose some traditional stockholder rights. This includes voting power and the authority to study corporate documentation.
With that said, there are advantages to choosing tokenized shares over conventional ones. One of the most attractive things about this type of contract is that you only need a small amount of your investing capital to join in.
So, rather than needing to front the cost of a full stock, which can run into the thousands, you can buy fractional share tokens! We talk about this in more detail throughout this guide.
How Do Tokenized Shares Work?
Before you go ahead and start buying tokenized shares, it's crucial that you understand how they work. With this in mind, you will see heaps more information on this relatively new investment sector below.
Tracking Real World Stock Prices
As we touched on, tokenized shares mirror the price of the underlying stock. As such, this is one of the fundamental things you need to know. This characteristic is what makes it very similar to the aforementioned CFDs.
You will see an example below of how share tokens function:
Let's say you are looking to buy some Crocs share tokens
Crocs shares are valued at $105 on the NASDAQ exchange
This means that the tokenized shares are also worth $105 – and so you decide to invest $60
A week or so passes and Crocs shares have risen in value to $115 – which illustrates a 10% increase
The tokenized shares have also increased to $115 – so you cash out
Your gains from this trade were also 10%, so from your initial $60 position – you made $6
One of the major advantages of tokenized shares is that you are not investing in the underlying stocks. As such, exchanges such as Currency.com are able to offer access to not just hundreds, but thousands of different markets.
In fact, our best tokenized shares guide found that Currency.com offers in excess of 2,000 stocks and cryptocurrencies – alongside commodities such as oil – and other assets. You can access a huge range of international exchanges in regions such as the UK, the US, France, and more.
With traditional shares investing, there are stock dealing fees to think about. For those unaware, this is charged to cover the execution of stock orders and any advice given. As such, you can imagine how inconvenient and costly this might be if you wanted to diversify and invest in several markets simultaneously.
Making Gains from Tokenized Shares
When you are investing online you will be looking to make gains later on – that's the whole point. As such, we are now going to dive into capital gains and dividend payments – to show you how you can make money with share tokens.
Dividend Payments
The first thing to note regarding how to make money is that you do not qualify to receive dividend payments directly, as you would expect when purchasing stocks. With that said, all is not lost!
We found that many providers offering access to tokenized shares will in fact pay the equivalent of what you might have received in a traditional shares situation. This will also depend on the underlying stocks and whether they are dividend-paying companies.

Even though you will not receive this payment from the company in question, the shares token provider will cover dividends by taking them from anyone who is short on the stocks in question.
Let's clear the mist with a quick example:
Let's say you purchase 200 tokenized shares in Apple
In this investment – Apple stocks pay 2% dividends which equates to 20 cents per share
As you have 200 Apple share tokens – which means you get a $40 payment
Now, imagine another person is placing a sell order on Apple to short the shares
This person will be charged $20 to cover the aforementioned dividend payment
As you can see, even though you aren't a 'stock holder' of Apple and such – you can still access dividends payments when purchasing tokenized shares!
Capital Gains
For those unaware – capital gains is an economic notion that by definition is the profit made from selling an asset for more than you bought it for.
In the case of tokenized shares, the same applies – you will make money if you are able to close your token investment at a higher value than when you opened it.
See a simple example below:
Imagine you are looking to buy 20 tokenized shares in Gamstop at $4 per stock
You are laying out $80 (20 shares x 4)
Next, Gamstop shares rise to $5
Your 20 shares now equate to $100
Your capital gains on the tokenized Gamstop shares are valued at $20
As you can see – you would still be able to make capital gains on the above example trade – even though you are not a direct shareholder.
Try to Profit From Rising and Falling Stocks
One of the reasons that traders seem to be choosing tokenized shares over traditional stocks is the ability to make gains from either a rise or fall in value.
In other words, if you think your chosen stocks are going to see a decrease in value – you can place a sell order and make a profit. Alternatively, if you think the tokenized shares will increase in price – place a buy order at the platform instead.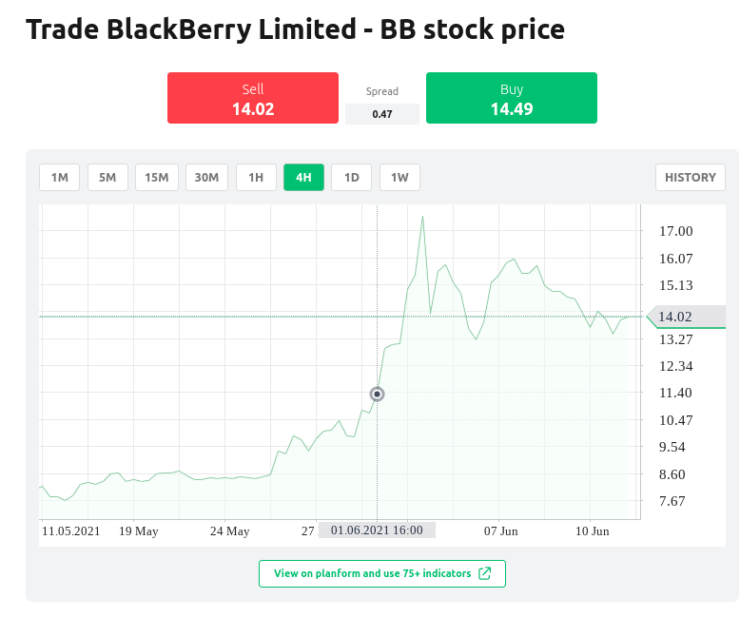 For those unfamiliar with short selling tokenized shares, see an example below for clarity:
You are researching Blackberry shares and feel that $18 is a temporary overvaluation
You believe the price is likely to fall – so place a $1,000 sell order with your elected tokenized shares provider
A matter of weeks later – Blackberry shares plummet to $13.86
This illustrates a 23% decline in value
This means your prediction was correct – so you close your position with a 23% profit
As such, from your investment of $1,000, you made gains totaling $230
As you can see from the above example, placing an order to go short on your chosen tokenized shares is just as easy as going long to capitalize on a stock increase. We mentioned earlier that you can still receive payments from dividend-paying stocks when holding a long position on tokenized shares.
It's important to be mindful that if you entered this market with a sell order and this trade is open when the underlying stock pays out – you will be liable to pay the exact amount from your investing capital.
Tokenized Shares With Leverage
There is a high probability that you will be able to apply leverage to your position when purchasing tokenized shares. If you are unenlightened to this way of amplifying your gains made from the buying and selling of assets – read on.
When using a platform like Currency.com, you can enter both short and long forex trades and multiply your position value by up to 1:500 depending on various factors. – such as the market. For tokenized shares, this is usually capped at 1:20. This is comparable to borrowing money from your online broker, to enhance your buying power.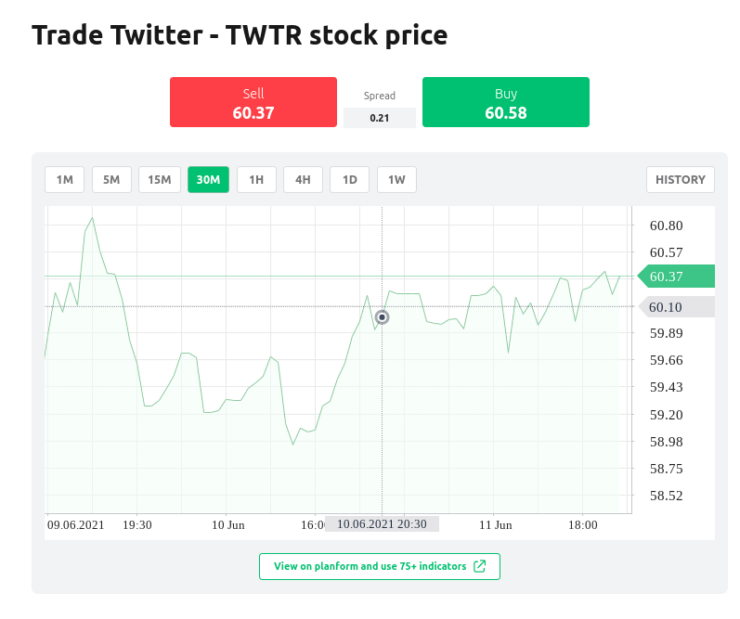 Let's see an example of a leveraged tokenized shares purchase:
In this imaginary scenario, you believe that Twitter stocks are going to see an increase in value – meaning you are bullish/long
At this time, Twitter stocks are priced at $51.58 each
You decide to stake $1,000 on a buy order
You add leverage of 1:20 to your position – so your stake is now $20,000
Within a week, Twitter stocks have risen by 18% to $60.86
Without leverage, your 18% profit from correctly predicting the direction of Twitter stocks would have been $180. However, with 1:20 leverage – you made $3,600.
Always think about the consequences of a losing trade. In this scenario, had this asset fallen in value – you would have multiplied your losses by 20. This can lead to account liquidation.
See below an example of how using leverage can go wrong:
You magnified $1,000 stake to $20,000 with 1:20 leverage
Therefore, you are paying a 5% margin to enter the market
If Twitter stocks move in the opposite direction to your prediction by 5% – your position will be closed automatically
This is because it surpasses your initial outlay
As such, you lose $1,000
For those unaware, before your positions are closed, the platform will usually send you a warning. This is called a margin call and means your trades will be closed and your account is facing liquidation. You can either add more funds or manually close open trades to free up capital.
If you decide to branch out and trade tokenized forex pairs, you can apply up to 1:500 leverage at Currency.com! It's worth noting that just because a platform is able to offer you super-high leverage – doesn't mean you have to accept it. For instance, you might see the option for 1:500 but instead opt for 1:2 – meaning you still multiply your stake two-fold.
What are the Benefits of Tokenized Shares?
Next, let's take a look at some of the main benefits of tokenized shares.
Use Digital Currencies to Invest in Share Tokens
Are you already a cryptocurrency investor? If so, you can combine this with shares very easily via Currency.com. This is because the platform is compatible with digital currency purchases and deposits
Traditionally, you would need to exchange your cryptocurrencies to fiat cash like US dollars or British pounds to invest in stocks.
Next, you would be required to open a new share dealing account as well as make a deposit – and go on to make your purchase after that.
Instead – at Currency.com you just need to make a deposit using a digital token (such as Bitcoin or Ethereum) – then buy some tokenized shares.
It also goes the other way, meaning you can cash out tokenized shares and buy more cryptocurrencies instead.
Access to Fractional Shares
Traditionally, as you may know, if you wanted to invest in stocks you would need to have the price of a full share handy. If you are a newbie in this field, you may feel more comfortable with micro-investing, otherwise referred to as fractional shares.
For instance, big companies like Berkshire Hathaway, Amazon, and Google run into the thousands for a single share. Because of the nature of tokenized shares, in that they merely track the price of the underlying asset – you can invest much smaller amounts at a platform like Currency.com.
See an example below:
Amazon socks are priced at $3,350 each
You want to allocate $402 to this tokenized shares purchase
You now own 12% of an Amazon share
If Amazon shares rise by 10% – you make gains of $40.20 (10% of $402)
As we mentioned, this also means that you will still receive dividend payments (if the company pays them). Remember this will be in proportion to your investment. So if you own 12% of a share – you will receive 12% of a full payout.
Ability to Diversify
This brings us smoothly onto diversification. For any newbies, this means having a mixed bag of investments. This is a great way to avoid overexposure to one specific market, that may not do as well as you expect.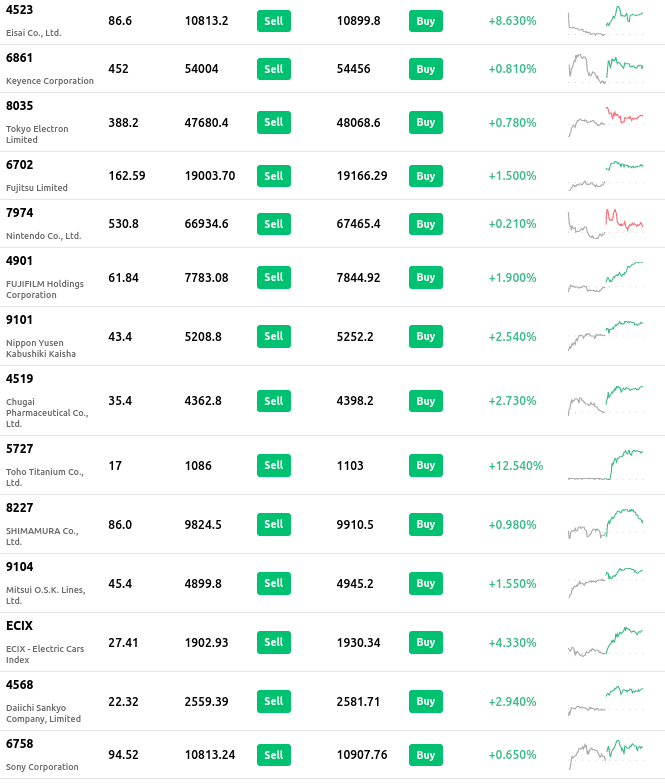 As you can imagine, when investing in fractional tokenized shares – this couldn't be easier. With investing capital of just $500, you could potentially purchase $10 of share tokens in 50 different stocks! Currency.com offers access to in excess of 2,000 different markets from around the world.
Invest With a Modest Budget
As we've said, at Currency.com you can invest on a much smaller scale than your Average Joe Trader could traditionally. In fact, this guide found that Currency.com will allow you to start investing from just $10. This means that the aforementioned diversification is easy to achieve via this platform.

By being able to apply leverage to tokenized share investments, you can turn a modest $20 stake into a position valued at $400. This also means you can boost your gains – if you are correct with your hypothesis.
Key Differences Between Traditional and Tokenized Shares
You now know the resemblance between conventional stocks and tokenized shares. To clarify, let's offer a clearer picture of how they differ.
To Own or Not to Own
As we said, the major difference is that with tokenized shares you do not own the asset – you are not a shareholder. Instead, you are purchasing tokens that mirror and track the real value of the underlying stocks in question.
If you are not concerned with being a part of board meetings and having a say in what happens with the company, then tokenized shares are probably best for you.
If like most of us, you are here to try and make gains rather than dedicate time to being a stockholder – then tokens allow you to do that. Of course, you must first correctly hypothesize on the outcome.
Dividend Payment Funding
As we touched on – tokenized shares still offer dividend payments (where applicable).
Let's look at the difference between traditional and tokenized dividend payments:
Traditional Shareholder: As a traditional shareholder, when the dividend-paying company pays out – say every quarter – the payment is forwarded to your broker to pass on to you. This is your legal right as a stockholder by taking ownership of a full share.
Tokenized Share Investments: In the case of tokenized share investments – you are not actually invested in the company so the stocks themselves don't pay you dividends. However, the share token platform will ensure this payment is given to long investors – by making sure short traders cover it.
As you can see, although where the dividend money comes from differs – either way, you still receive your stock benefit entitlement. Always check this with the online broker as no two are the same. Currency.com does pay dividends to long tokenized share investors.
Short-Selling Facilitation
Another major difference between the traditional way of investing in stocks and tokenized shares is the ability to go short. As we touched on this will be done if you think the stocks are going to fall in value.
This just isn't possible with conventional shares – where this option is often reserved for larger organizations such as hedge funds and such.
In contrast, because you are only going to be short-selling the value rather than the actual asset when buying share tokens- you will simply create a sell order. There is no need to loan shares from an online broker in this scenario.
Where can I Purchase Tokenized Shares From Home?
Before you can purchase tokenized shares from home, you will need to find the most suitable online broker for your investment goals. It's important to think about how many markets are available, how low the fees are, platform navigation, and even accepted deposit methods.
With this in mind, we found Currency.com to be the best on the scene. As such, you will find a full review below which should help you decide whether this platform could be suitable for your investing endeavors.
Currency.com – Best All-RoundTokenized Shares Platform
This platform focuses entirely on tokenized markets - which includes everything from forex pairs and commodities, to bonds, indices, and cryptocurrencies. Furthermore, Currency.com offers access to more than 2,000 different share tokens from stocks listed around the world.
This guide found markets in European exchanges such as Spain and Germany, alongside Japan, Hong Kong, the UK, the US, Canada, and more. As we mentioned, you can also invest in fractional shares meaning you don't need to fork out hundreds or thousands to take part in buying shares tokens. Currency.com is 100% commission-free. As we said, you don't own the underlying asset.
In this case, that works out well for you as you avoid the stamp duty tax often associated with traditional stocks and shares. With that said - you will pay a small 0.05% exchange fee to invest in tokenized shares. This is charged by the slide, and means if you invest $100 - you be charged $0.05. In terms of leverage, you can apply 1:20 on tokenized shares and more on other assets. For example, forex can be traded with leverage of 1:500.
Please note that there is a fee of 3.5% on debit and credit cards. Bank transfer payments come with a 0.10% deposit fee. On the other hand, you can sign up and start with a free demo trading facility. This way, you can practice buying tokenized shares with no risk to your investing capital. This platform also accepts cryptocurrency deposits.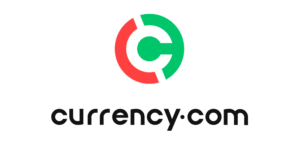 Thousands of tokenized markets to invest in
Leverage of up to 1:500
Tiny 0.05% exchange fee
3.5% fee charged on credit and debit card deposits
Your capital is at risk when trading tokenized assets with this provider
How to Purchase Tokenized Shares: Step-by-Step Guide
By this point, you are no doubt feeling ready to go ahead and invest in tokenized shares.
First, you will need to create an account. You will see below a simple walkthrough of the sign-up process at Currency.com
Step 1: Open an Account with Currency.com
Head over to Currency.com and click 'Sign Up' to get started.
You will also be required to fill in some information about who you are – such as your name, address, nationality, phone number, and email address.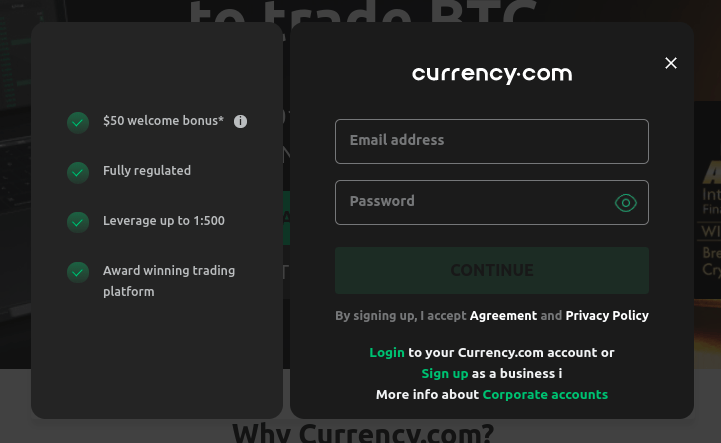 Currency.com - Trade Tokenized Assets With Leverage of up to 1:500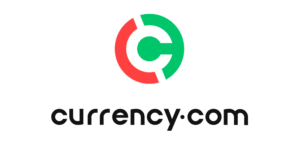 Thousands of tokenized assets supported - from stocks and forex to crypto and bonds
Leverage of up to 1:500 - even for retail client accounts
Super low fees and tight spreads
Regulated and safe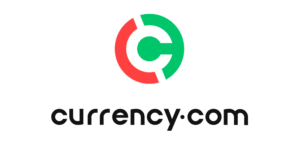 Step 2: Verify Your Identification
Currency.com adheres to KYC rules – so you will need to upload some ID to the platform. This is so it can verify that you are who you say you are. This is standard practice and is in place to prevent financial crime.
This platform uses advanced technology, so will usually be able to verify your ID within minutes. You can use your passport or driver's license to prove your name. When it comes to your home address – most investors use a utility bill, tax letter, or bank statement.
Step 3: Add Funds to Your Account
As we mentioned earlier, you don't have to make a deposit right away at Currency.com. You might instead opt to use the free demo facility to get used to the platform.
However, when you are ready to use your real investment capital, you can make a deposit using credit and debit cards, bank transfers, or cryptocurrencies.
Step 4: Select Tokenized Shares
Next, you can select your chosen tokenized shares. Here, we are searching for Facebook share tokens.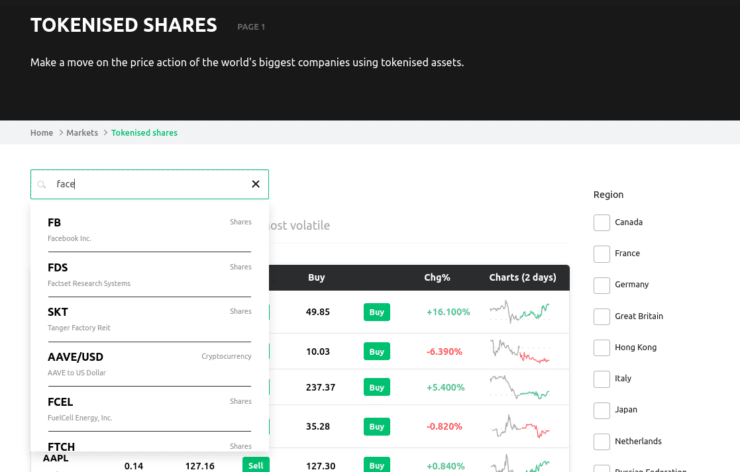 As you can see, if you type what you are looking for into the search box, it will appear in the list if available. If you are yet to decide which shares to purchase – click 'Markets', followed by 'Tokenized Shares' for a bigger picture of what's on offer.
Step 5: Purchase Tokenized Shares
Click the correct stocks and select 'buy' (in green) if you think the shares will rise. Alternatively, if you want to go short, believing they will fall – place a 'sell' (here in red) order.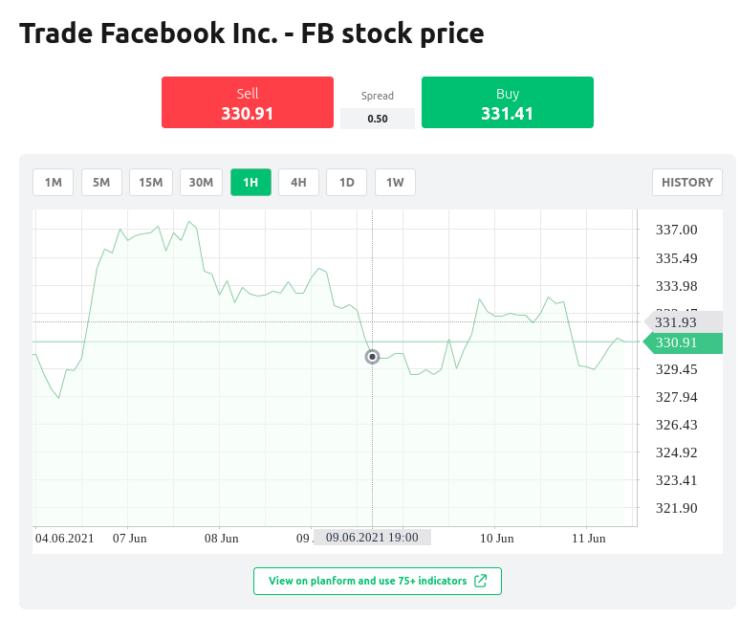 Next, enter your stake into the amount box and confirm your order. Currency.com will action this investment immediately.
Step 6: Cash Out Tokenized Shares
When your purchase is complete, you can head over to your account and keep an eye on your investment via your Currency.com portfolio.
Importantly, if you entered the market with a sell order – you need a buy order to close it. The same goes vice versa. This provider makes it easy to cash out at any time – allowing you to exchange your tokenized shares for fiat funds as and when you see fit.
Best Tokenized Shares 2022: Final Thoughts
By this point, you will be all too aware of the benefits of buying tokenized shares. Whilst it might seem offputting given you do not own the underlying stocks – you are able to go short with sell orders and can still receive dividends depending on the platform chosen.
There are other advantages to tokenized assets. For instance, at Currency.com, you don't need to pay the cost of a full share, – which can be often run into hundreds or thousands of dollars. Instead, you can invest small amounts which makes it easier to stick to whatever your money management strategy might be.
Currency.com is commission-free, follows KYC procedures, and accepts deposits as low as $10 using credit/debit cards or bank transfers. As this platform is cryptocurrency-friendly, you may also deposit using digital assets.
Currency.com - Trade Tokenized Assets With Leverage of up to 1:500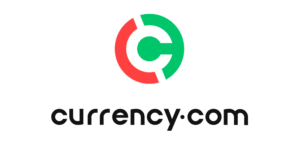 Thousands of tokenized assets supported - from stocks and forex to crypto and bonds
Leverage of up to 1:500 - even for retail client accounts
Super low fees and tight spreads
Regulated and safe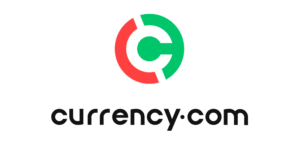 FAQs
What exactly are tokenized shares?
Tokenized shares enable you to make an investment - without owning the underlying stocks. This means that although you will not be an official shareholder - you can still go long or short and try to make gains from its rise or fall in value. Crucially, the tokens track and match the price of the actual stocks. So, if one share of Facebook is $330 and rises by 10% - so will the tokenized share.
How can I purchase tokenized shares?
You can purchase tokenized shares by using a reputable broker such as Currency.com. There are over 2,000 tokenized markets. There will be no commission charged and leverage is offered on all markets. This provider requires a minimum deposit of just $10.
Will I still receive dividends payments with tokenized shares?
If the underlying stocks pay dividends - you will probably receive them, depending on the provider. The difference between this and traditional stocks is that the platform covers the payment by charging short-sellers and paying long investors. In other words, Currency.com will still pay you dividends but only on long positions.
Can I apply leverage to tokenized shares?
Yes, if your online broker offers leverage, you can boost your position and hopefully gains. Currency.com offers leverage up to 1:100 on some assets. On shares, for most people, this sits at 1:20. This turns a $100 stake into $2,000 investment.
Aren't traditional and tokenized shares the same thing?
No, when you invest in traditional shares - you become a shareholder, you own shares in the company and will receive dividends from the company via your broker. When you buy tokenized shares - you are simply tasked with predicting the future value of the stocks and are able to go long or short. The share token provider often covers dividends by charging short-sellers.