Are you looking to enter the stock market to profit from the price fluctuations of major companies such as Adobe, Facebook, or Netflix? Whether it's small, mid, or large-cap – you had better believe you need to have a superb stock broker behind you to access shares in these firms!
Today, we offer comprehensive reviews of the best stock brokers of 2023 that are worth your consideration.
We also dive into what we consider to be key criteria when searching for your own stock broker. Additionally, we detail how you can sign up with your chosen provider to get started with a stock trading position today!
AvaTrade - Established Broker With Commission-Free Trades

Minimum deposit of just 250 USD to get lifetime access to all the VIP channels
Pay 0% on all CFD instruments
Thousands of CFD assets to trade
Leverage facilities available
Instantly deposit funds with a debit/credit card

71% of retail investor accounts lose money when trading CFDs with this provider.
Table of Content
Best Stock Brokers 2023: Quick Sign Up in 6 Steps
For those of you who don't have time to read this guide in full right now – see a simple six-step sign up walkthrough below:
Step 1: Sign up with a top-rated stock brokerage – After thorough research – next, we offer up a full review of the best four stock brokers. All offer thousands of markets and low fees.
Step 2: Tell the stock broker who you are – Fill in your name, email, nationality, password – and any other details required by the platform.
Step 3: KYC – For proof of identity you can use a passport or driver's license. With regards to your address, use a recently addressed bank or utility statement.
Step 4: Fund your account – Select your preferred payment method from the drop-down list.
Step 5: Find the stock you wish to trade – Find your desired stock and confirm to proceed.
Step 6: Place an order – Next, you can place an order to enter your chosen stock market. Complete the monetary amount you want to stake and confirm.
If you need a little more help to decide which stock broker will be best for your goals – read on.
Best Stock Brokers 2023: Comprehensive Reviews
Selecting the correct stock broker is one of the most challenging choices you'll have to make – there are just so many in operation now. We look at a wide range of variables to compare and review the best on the scene.
After countless hours of research and taking various stock brokers for a test drive, below you will find a selection of the very best.
1. AvaTrade – Best All-Round Stock Broker 2023
AvaTrade is a low-cost online broker, providing access to some of the world's largest stock exchanges. Think along the lines of those based in the US such as the NASDAQ and NYSE - as well as popular marketplaces in London, Paris, Frankfurt, and more. The broker's license and regulation come from six jurisdictions, including Australia and South Africa - so fair play is of no concern.
This guide found that there are in excess of 1,000 stocks at AvaTrade. This includes Amazon, Tesco, Adidas, PayPal, Disney, Nike, and Twitter - to name just a handful. Furthermore, because this online broker is a CFD-focused platform - you can make the most of both rising and falling markets.
We checked out the spread and found this to be tight. For instance, big blue-chip companies like Nike, Coca-Cola, Apple, Johnson and Johnson, Microsoft, and Intel average approximately 0.13%. Other popular stocks include Netflix, Tesla, Groupon, which also come with tight spreads - and a minimum position size of 0.01 lots.
This online broker will offer leverage of up to 1:5, meaning you can magnify your position by up to five times. You will not pay any commission fees to trade stocks here. Furthermore, AvaTrade supports multiple different platforms including DupliTrade, AvaTrade Social, ZuluTrade, and AvaTradeGo - for Mac, web, or mobile trading.
If you need to access technical analysis material such as charts and indicators, you can hook your AvaTrade account up to MT4/5 with ease. This means you can also try out passive stock trading using EAs or signals if you wish. The minimum deposit to get started is $100, and we found the platform easy to navigate and place orders on.
This stock brokerage accepts heaps of payment methods - which covers credit and debit cards and e-wallets like Neteller, WebMoney, and Skrill. Furthermore, if you would like to practice some strategy ideas, you can get started with a free demo account via the aforementioned MT4 partnership. Other assets include commodities, forex, indices, and cryptocurrencies.

Deposit $100 minimum to trade stock CFDs
Licensed in 6 jurisdictions including the EU, Australia, South Africa and Japan
Trade CFDs with 0% commission accross all CFD markets
Inactivity and admin charge after 12 months
75% of retail investors lose money when trading CFDs with this provider
2. VantageFX – Ultra-Low Spreads
VantageFX VFSC under Section 4 of the Financial Dealers Licensing Act that offers heaps of financial instruments. All in the form of CFDs - this covers shares, indices, and commodities.
Open and trade on a Vantage RAW ECN account to get some of the lowest spreads in the business. Trade on institutional-grade liquidity that is obtained directly from some of the top institutions in the world without any markup being added at our end. No longer the exclusive province of hedge funds, everyone now has access to this liquidity and tight spreads for as little as $0.
Some of the lowest spreads in the market may be found if you decide to open and trade on a Vantage RAW ECN account. Trade using institutional-grade liquidity that is sourced directly from some of the top institutions in the world with zero markup added. This level of liquidity and availability of thin spreads down to zero are no longer the exclusive purview of hedge funds.

The Lowest Trading Costs
Minimum deposit $50
Leverage up to 500:1
75.26% of retail investor accounts lose money when spread betting and/or trading CFDs with this provider. You should consider whether you can afford to take the high risk of losing your money.
3. LonghornFX – Best Stock Broker - Accepts Bitcoin Deposits
Despite its namesake, LonghornFX covers much more than just forex. Like the other platforms on our list, this top-rated broker offers access to stock exchanges from around the world. We found supported stock markets to include the US, the EU, China, the UK, Australia, Japan, and more.
As such, you can access a wide variety of different stocks. This includes the likes of Air France, Apple, eBay, Hilton, Netflix, Microsoft, Volkswagen, Siemens, Mastercard, and more. This brokerage is able to offer tight spreads across the vast majority of share CFDs. Furthermore, you will be offered leverage of up to 1:500 with a minimum position size of 0.01.
The amount of leverage depends on your trading experience, as well as which market you are involved with. For instance, the average amount offered on CFD stocks is 1:20. As you may already know, this means you can increase your buying power by up to 20 times - so a $100 stake becomes $2,000.
LonghornFX is fully compatible with MT4 - for the aforementioned insightful tools. You also have the option of using your account on WebTrader, without having to download any software. For those unaware, this is a third-party trading platform that offers a simple interface and heaps of chart drawing tools and adaptable indicators.
Moreover, this is another stock broker on our list that offers a free demo account with almost identical trading conditions to the real world. Again, this is a risk-averse way to strategize - as you will not be using real money to buy and sell. The minimum deposit when using a credit or debit card is just $50.
On the other hand, for Bitcoin deposits - the minimum amount is only $10 and withdrawal usually only takes a couple of hours. Please note that for this particular method there will be a small fixed fee of 0.0005 BTC. Alternative CFD assets include commodities, crypto-assets, indices, and futures.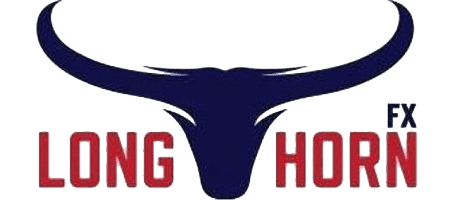 CFD stock broker with tight spreads
High leverage of up to 1:500 and low commission
Same-day withdrawals and a plethora of assets
Platform prefers Bitcoin as deposit method - this could be a negative for some traders
Your capital is at risk when trading CFDs with this provider
4. EightCap – Trade Over 500+ Assets Commission-Free
Eightcap is a popular MT4 and MT5 broker that is authorized and regulated by ASIC and the SCB. You will find over 500+ highly liquid markets on this platform - all of which are offered via CFDs. This means that you will have access to leverage alongside short-selling capabilities.
Supported markets include forex, commodities, indices, shares, and cryptocurrencies. Not only does Eightcap offer low spreads, but 0% commissions on standard accounts. If you open a raw account, then you can trade from 0.0 pips. The minimum deposit here is just $100 and you can choose to fund your account with a debit or credit card, e-wallet, or bank wire.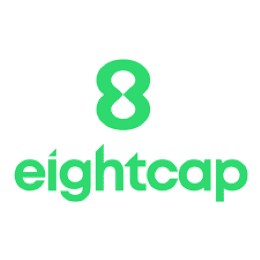 ASIC regulated broker
Trade over 500+ assets commission-free
Very tight spreads
Leverage limits depend on your location
Your capital is at risk of loss when trading CFDs at this platform
Key Criteria Required to Find the Best Stock Broker 2023
Finding a great stock broker from the hundreds in business online can be difficult. No two are the same, so what might be a good trading environment for one person won't be suitable for another. This can depend on your level of experience in buying and selling assets, third-party platform compatibility – or a specific feature you have your mindset on.
As such, the best way forward is probably to begin your search with a strong list of criteria and go from there – prioritizing what is most important to you. To give you a helping hand, we have divulged our key criteria required to find the best stock broker 2023.
Is the Stock Broker Licensed?
Choosing a regulated stock broker is never a bad idea. A platform that holds a license from a reputable financial authority must adhere to a long list of rules and submit detailed company data to prove its legitimacy.
Not only that, but depending on the jurisdiction – it's likely your money will be held in safety – in a completely different bank account to that of the stock broker. This means that if the unlikely happens, and the platform becomes bankrupt – your funds should be protected and returned to you.
Some of the biggest regulators amongst the best stock brokers are the FCA, ASIC, CySEC, and MiFID but there are more. To check for yourself, you can go to the official site of the aforementioned body and look on the database to confirm the platform's license number.
Can I Access Leverage?
As you may or may not know – leverage is akin to a loan from your chosen stock broker. Some platforms will offer high leverage of up to maybe 1:500 or even 1:1000.
See a simple example of how stock trading works with leverage:
You wish to go short on Deliveroo stock – so place a $100 sell order
Deliveroo falls in value by 4% – you were correct and made gains of $4
Now, the same stock trade with leverage:
You had a $100 short position on Deliveroo – the stock fell in value by 4%
If you added 1:5 leverage – your profit would be $20
Had you applied 1:100 – this would have magnified your gains to $400
Crucially, use leverage with mindfulness. This trade could have easily gone the other way, had market sentiment changed direction. This would lead to your losses being boosted. It could potentially result in a warning (margin call) from your stock broker regarding the closing of open positions to make up for your loss.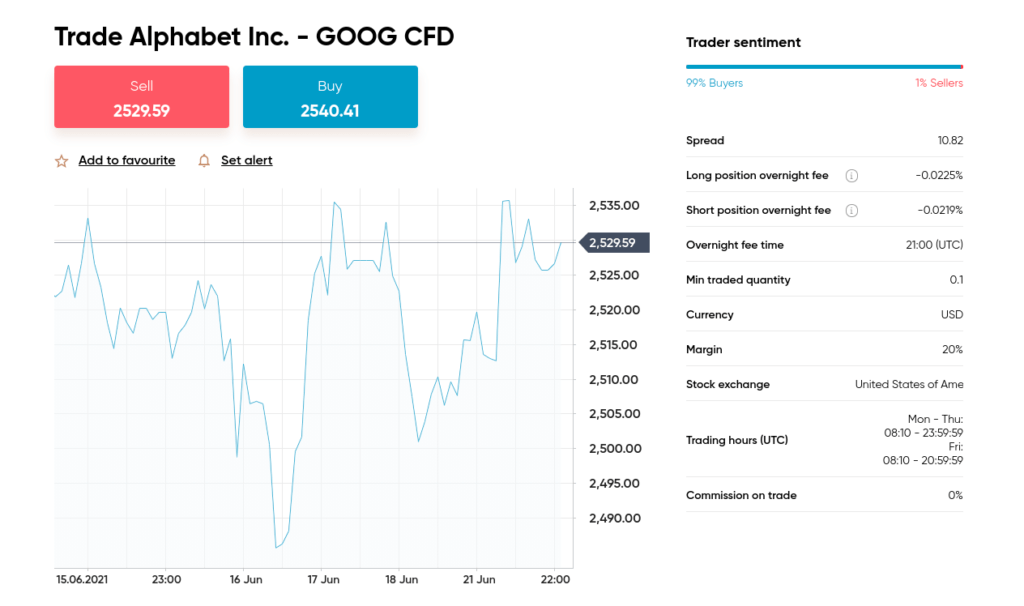 For any newbies, see a further example of trading stocks – with margin and leverage at the forefront:
You would like to access Google – priced at $2,530 for a full share
Instead, you put down a margin of $126.50 on a buy order – and apply leverage of 1:20 ($126.50 x 20 = $2,530)
As we said, exercise caution with leverage, as many people create a trading plan where they might set a maximum amount to use, no matter what the situation is – such as 1:2 or 1:5.
Fractional Shares?
Many modern stock brokers will enable you to invest in or trade fractional shares – a portion of the full amount. This is another option if you want to get your foot in the door and access multiple stocks – but have limited trading capital.
See a practical example below for anyone unversed with fractional shares:
Let's hypothesize that you want to access Amazon stocks – but the current value of a share is $3,500
You decide to allocate $200 to a long (buy) position
As such, you are now able to trade just 5.71% of a share
Notably, all of the stock brokers we reviewed earlier will enable fractional stock trading from as little as 0.01 per lot! As you can see, this enables you to choose how much you want to invest in a company – rather than worrying about how many full shares you can afford.
Is There a Wide Range of Markets?
One of the other important things to look for is how many stocks and exchanges you will have access to. You might find that some platforms offer only one marketplace, such as the NYSE. The obvious conclusion is that the more choice you have, the better it will be for you further down the line.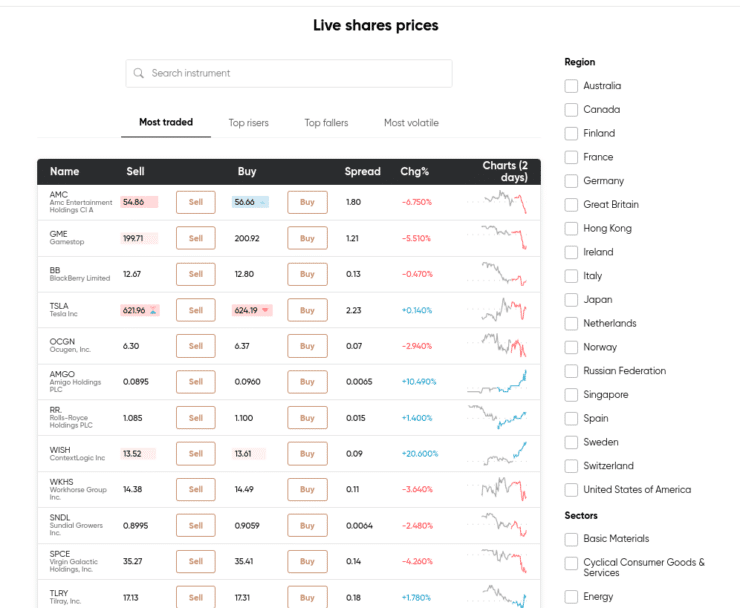 In fact, you can more easily prepare yourself for every eventuality when trading stocks if you join a stock broker with a wide range of markets allowing fractional investments – even outside of shares. Diversifying won't appeal to you as a short-term stocks trader, but you might want to try something new.
For instance, you might later want to cast your stock horizons a little further and add some indices or venture out by adding some crypto to your portfolio, or even gold. As such, look for a platform that can provide you with entry to a wide variety of assets – to cover you for any future ventures.
What Stock Trading Fees Will I Have to Pay?
Another key criterion for spotting the best stock brokers is to check out what fees you will have to pay when trading.
With this in mind, we have listed below the most commonly charged stock broker fees:
Spread: We talked about the spread in our broker reviews. It's important that you choose a trading platform with tight spreads. The smaller the gap between the buy and sell price – the better for your gains.
Commission: Commission fees will vary by a fair distance with some platforms. Where one may charge you a fixed or variable amount each time you enter or exit the market – others are 100% commission-free and will only charge the aforementioned spread.
CFD fees: An overnight financing, or swap fee, is something heavily associated with leveraged CFD instruments. Put simply, if you leave your stock position open through the night, you will be charged a small amount by the broker for each evening it is left active. This might kick in say after 10 pm.
Always check out the fee table of any stock broker worth your consideration. The CFD fee will not be of any concern to you if you plan on trading on a short-term basis – capitalizing on small stock price movements and quickly moving on to the next.
What Deposit Methods are Accepted?
When you are looking for the best stock broker, another thing to check is how you will be able to fund your account.
Top-rated stock brokers usually accept at least some of the following payment methods:
Credit and debit cards – think along the lines of Visa and Mastercard.
E-wallets – Such as Skrill, Neteller, PayPal, Apple Pay, Trustly.
Cryptocurrencies – This might include Bitcoin or Ethereum for example.
Bank wire transfer
When you are looking for the best stock broker, note that A bank wire transfer is safe and convenient. However, this will usually take the longest time for the platform to process and add funds to your account.
Best Stock Broker: Desirable Trading Features
The best stock brokers will be able to provide you with access to trading features and tools. You will see below a list of the most popular.
Technical Analysis: Predict the Stock Markets
Having access to technical analysis tools within the stock broker's trading platform is not essential. As we said, many platforms work well with third-party platforms.
This means that you can download the software or app required (such as MT4), sign in using your brokerage account details, and then study heaps of data surrounding your chosen stocks.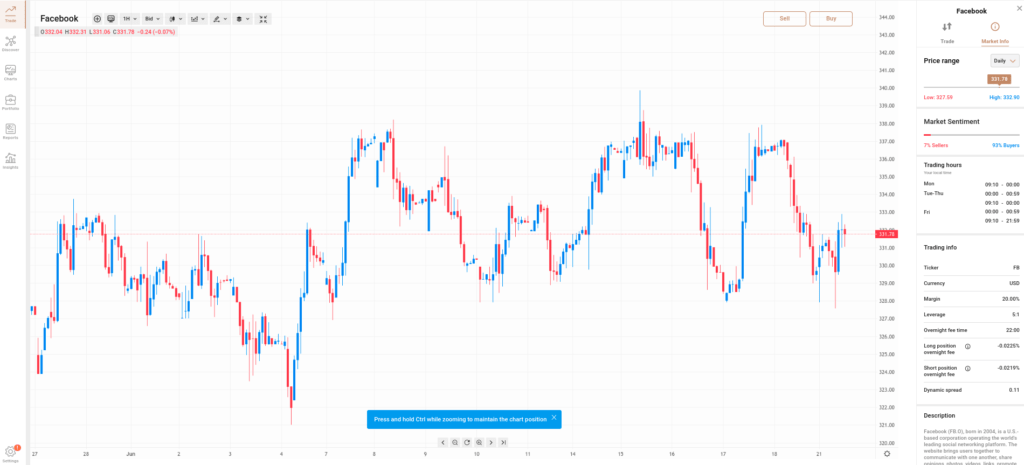 Alternatively, some of the best stock brokers include customizable charts and indicators on the stock broker platform – to save the need to install or go elsewhere.
Mirror Feature: Copy Other Stock Traders
For those unaware, there is a way to trade stocks without doing much research. 'mirror trading' (sometimes called 'copy trading') entails you seeking out a pro and mirroring their buy and sell orders – and everything in between. As you can imagine – this cuts out the need to watch the markets and perform research yourself.
With that said, there are no guarantees that the pro will make you any gains. As such, it's important to make the most of the information available. This might include what asset the person prefers to trade, what their risk level is, and important details such as profits and losses and previous transactions.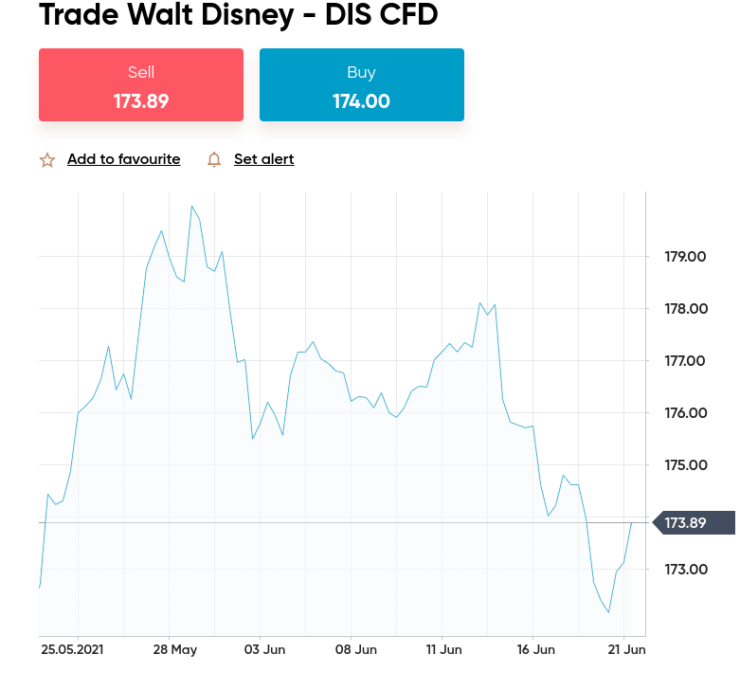 Some stock brokers include this feature on its platform. Others will likely require you to connect to a third-party trading platform – such as ZuluTrade or DupliTrade. Please note that the latter works harmoniously with MT4
See a simple example below to clear the mist:
You decide to copy the trades of 'Trader123' – who mainly focuses on stocks
As such, you invest $1,000 into all of their future trading endeavors
Let's just say Trader123 enters the market with a long position on Disney stocks – using 6% of their trading capital
Next, this copy trader goes short on Twitter with 4% of their balance
Without having to do a thing – you will see that 6% of your investment has been allocated to Disney and 4% to Twitter
Notably, this will always be in proportion to your investment:
As such, because you invested $1,000 in Trader123 – you have $60 allocated to a long order on Disney, and $40 is short on Twitter
If Trader123 closes either position with a profit or loss – you will too by default
As you can see, copy trading doesn't need to be reserved for novice stock traders. People who want to grow their portfolio can adopt this method – or traders who don't have time to keep an eye on their chosen markets.
Stock Trading Signals: Skip Studying Analysis
The best stock signals for beginners will include every element of the suggested order – without demanding extra payment for revealing the finer details. Furthermore, some platforms will be able to offer you signals via your MT4 linked account.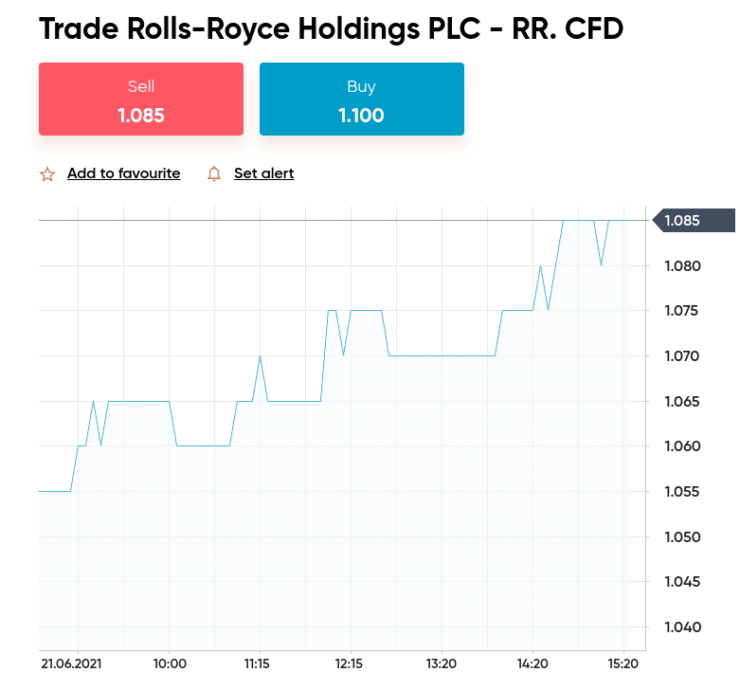 Alternatively, here at Learn 2 Trade, we offer hints as to when might be a good time to place an order and at what price. You can then head over to your chosen stock broker and enter the details into the relevant box. Whether you choose to use the information sent to you is entirely your decision.
Learn 2 Trade signals are sent out to the members of our Telegram group via encrypted messages. Each signal will include the following information:
Stock Name: Example123
Long or Short: Long
Limit Value: $405
Stop-Loss Value: $403
Take Profit Value: $414
As you can see, our trading signals are comparable to tips – to give you a better idea of when it might be profitable to enter the stock markets. We always include a stop-loss and take profit value to allow you to safely plan your entry into and exit from the stock trade.
Free Demo Facility: Practice Stock Trading Strategies
Something else that you might expect from the best stock broker is a free demo facility. As we mentioned in our broker reviews – this enables you to try out strategy ideas in a risk-free way, because you are not practicing with your real money.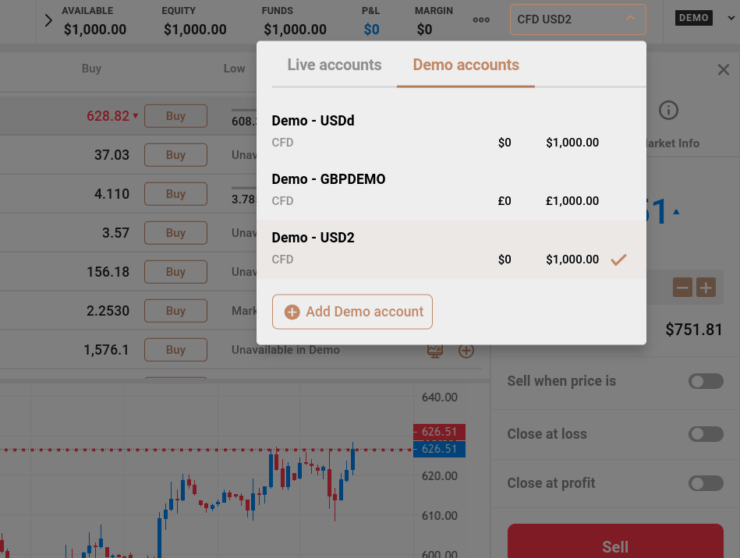 Some stock brokers will give you hundreds of thousands of dollars in paper trading funds – others give you a lower balance, but several accounts (as seen above). All the platforms we reviewed allow you to practice on at least one free demo portfolio.
Sign up With the Best Stock Broker 2023 – Today!
After reading our in-depth reviews, and this entire guide – you will now have a good idea of how to find the best stock broker in 2023.
For anyone reading who has never signed up with a stock broker, the process is stress-free. With that in mind, to help you along the way – you will see a five-step guide below.
Step 1: Join the Best Stock Broker
First, head over to your chosen stock brokerage and look for the signup button. You will need to enter some information to tell the platform who you are.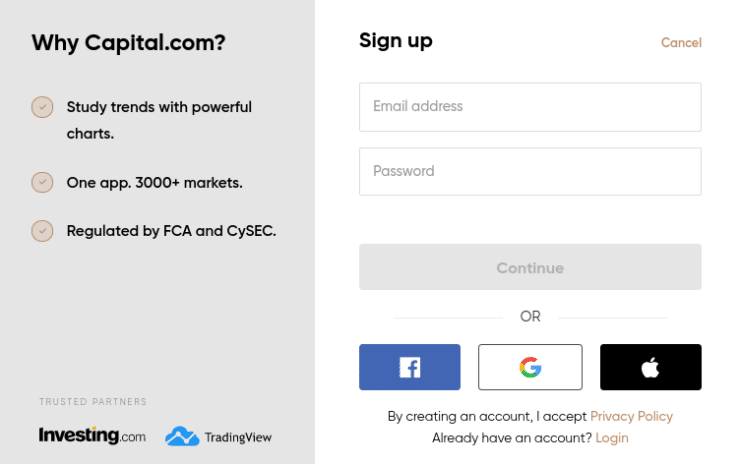 This usually includes name, address, email, memorable password, nationality, and sometimes telephone number. Confirm to continue – when you are happy you have entered the correct details.
Your capital is at risk when trading CFD assets with this provider.
Step 2: KYC
Next, you will be required to send the stock broker a copy of your passport or driving license – for POI (Proof of Identity).
Your POA (Proof of Address) can be in the form of a recent bank statement, a gas, water, or electricity bill, or an official tax letter. Of course, whatever you use must contain the date, your name, and your full address.
Step 3: Add Funds to New Account
Once your new account has been confirmed, you can go ahead and make a deposit.
This part couldn't be easier. Select your chosen payment type from the list, enter an amount to deposit, and confirm all to continue.
Step 4: Search for Stocks to Trade
Here, we are searching for Moderna shares. Most brokers will offer a search facility – so simply enter the name of the stock you seek to trade.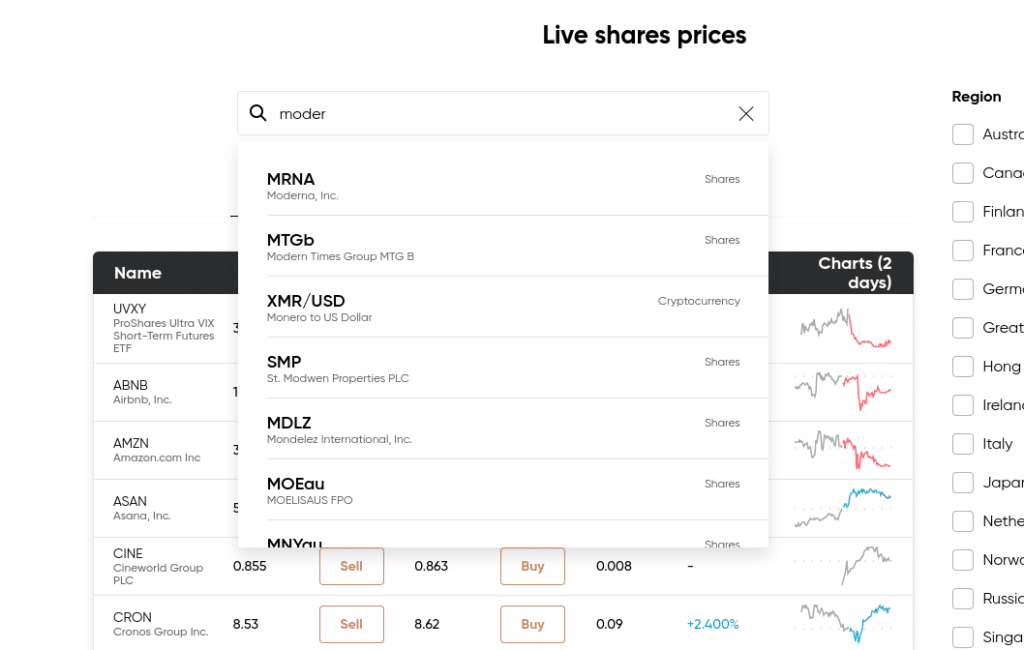 Alternatively, you can typically browse what stocks are available by clicking on the respective exchange. When you have found your chosen stock, you can select it to continue.
Step 5: Place Order to Trade Stocks
Next, depending on your prediction of the future price direction of the stock – you can place a buy or sell order.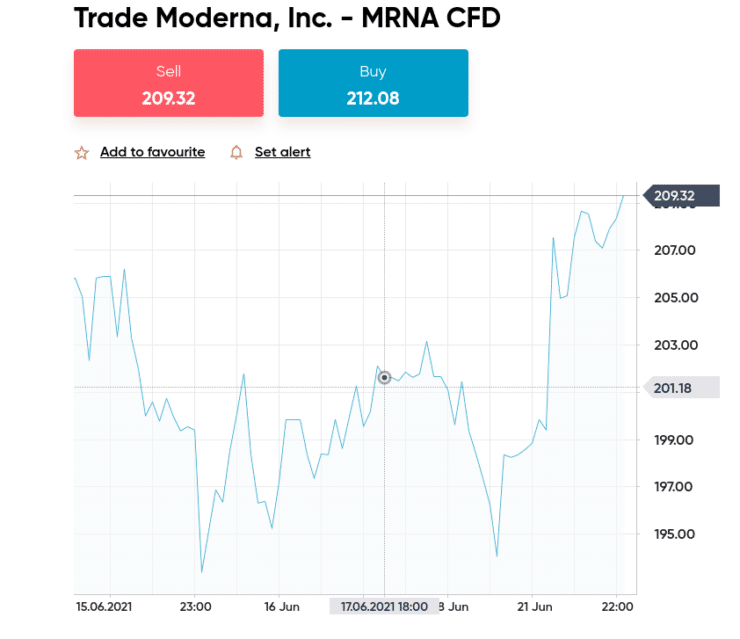 If you think the shares will see a price increase – hit 'buy'. Alternatively, if you believe the value will decline, click 'sell'. You will also need to enter the monetary amount of how much you want to stake on your stock trade – finish by confirming all.
Best Stock Broker 2023: Conclusion
Choosing the right platform is essential for having a superior trading experience. The best stock broker will make accessing a wide variety of international marketplaces seem like a walk in the park.
What makes up the best stock broker for you personally will depend on your priorities. For instance, whilst low fees will probably be important to you – you might be more concerned with what features are available or how much leverage on offer.
Alternatively, you might have your heart set on trading share CFDs using an e-wallet like Paypal. The four regulated stock brokers we reviewed as part of this guide offer a variety of stock markets, low fees, high leverage, heaps of deposit methods, and an easy-to-use trading platform.
AvaTrade - Established Broker With Commission-Free Trades

Minimum deposit of just 250 USD to get lifetime access to all the VIP channels
Pay 0% on all CFD instruments
Thousands of CFD assets to trade
Leverage facilities available
Instantly deposit funds with a debit/credit card

71% of retail investor accounts lose money when trading CFDs with this provider.
FAQs
Which is the best stock broker of 2023?
After researching more than 100+ providers armed with a long list of criteria, we found that the best stock broker of 2023 is AvaTrade. This platform is 100% commission-free, you can access leverage up to 1:5, and spreads are tight across all markets. Furthermore, you can trade full or fractional stock CFDs from companies listed on major exchanges like the NASDAQ, the LSE, the NYSE and more.
Can I trade stocks with $50?
Yes, you can trade stocks with $50 if your chosen brokerage facilitates fractional purchases. This means that if you wanted to access Amazon stocks, which run into the thousands of dollars, you can still trade a smaller portion of the company.
Can I add leverage when trading via a stock broker?
Yes, most stock brokers will offer you leverage when trading share CFDs. This can go up to 1:500 at some platforms but should be used with caution as it also boosts your losses. A leverage offering of 1:5 is more common when buying and selling shares. This means you can magnify your stake, and potentially profits - by a multiple of five.
How do I choose the best stock broker myself?
Some key considerations should be: Is the broker licensed and regulated by a well-known authority? Does the platform have plenty of stocks and alternative markets? Are spreads and commission fees low? Are there a variety of payment methods accepted? Can you access leverage? This guide found that AvaTrade and Capital.com are able to tick every one of the aforementioned boxes.
How is the value of stock decided?
The main thing that determines the price of company stocks and shares is supply and demand in the markets. The higher the demand, the more the asset increases - and vice versa. The best way to capitalize on the fluctuating nature of stocks is to trade share CFDs - enabling you to trade rising or falling prices.