UK clothing retailer Superdry (SDRY) has not had a good pandemic. The shares hit a near-term low of 228p on 22 October, not far off year to date lows of 196p. At the time of writing the stock is priced at 311p.
But the shares have bounced back to some extent and there may be more to come as the fashion brand moves to leverage its sustainability credentials, which are among the best in the industry.
Sustainable fashion = big profits
The growth rationale for the stock is that the management will be able to execute on its environmental consciousness in such a way that it substantially grows the firm's customer base, as consumers turn in increasing numbers to retailers that focus on climate change mitigation and sustainability.
On that score, the company has won two top-notch awards this year alone. Superdry was placed at the top of the pack in the
Financial Times list of Europe's Climate Leaders 2021.
This year it also won the prestigious Drapers'
Sustainable Fashion Awards 2021 'Positive Change Award'.
Criticism levelled at the likes of Boohoo, and purveyors of fast-fashion more broadly, has centred not just on the low wages and poor working conditions, but also the manufacturing process, which is water intensive, not to mention the throw-away habits that fast-fashion has encouraged.
Superdry has a great story to tell in how it steers clear of ethical minefields, so is well-placed to stand out from the crowd in a highly competitive marketplace. Also, being able to compete effectively by not having to cut margins to the bone will be welcomed by shareholders.
The first fruits of the new push from Superdry were revealed in its surprise preliminary fiscal year 2021 results for the period ending 24 April, reported on 16 September.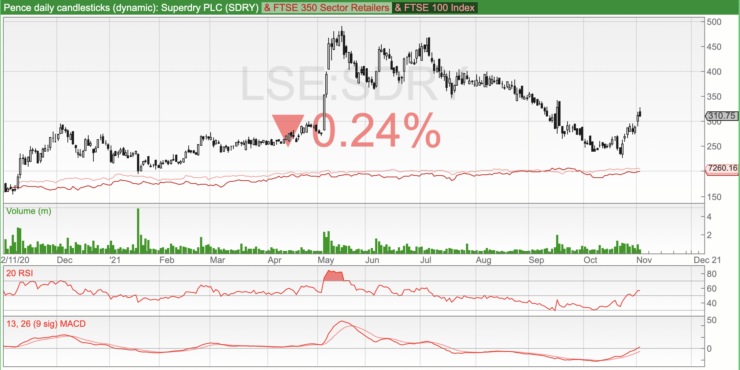 Although its results continue to be severely impacted by Covid disruption and it expects container shipping costs from Asia to rise further, it narrowed losses by 69% to -£12 million, although revenues fell from £704 million to £556 million, a drop of 21%.
However, Superdry expects to reduce inventory by a further two million units and for revenues to exceed historic peak levels in the medium term.
A recovery in total revenue is expected in fiscal year 2022.
Furthermore, EPS growth is expected to come in at around 203% in 2023 as the company's sustainability strategy beds in.
CEO Dunkerton: "sharpening our strategic focus"
Chief executive officer Julian Dunkerton described store and wholesale revenues as "recovering well despite continued subdued footfall" and said ecommerce margins were benefitting from a return to full prices.
Dunkerton also pointed out that in the fourth quarter revenue growth had resumed.
He added that the company was accelerating its brand reset and to that end had strengthened the team by appointing Shaun Wills as CFO, Silvana Bonello as COO and Peter Sjӧlander as Chairman
Crucially, as far as the sustainability agenda goes, he reported, "we're sharpening our strategic focus on the key areas of our brand and product, our engagement with our customers, our operations and on sustainability".
Underscoring the importance of the sustainability theme, he continued: "All of us at Superdry are driven by our goal of being the leading listed sustainable fashion brand. There's a lot still to do but I'm thrilled that we have been recognised for our efforts" – a reference to those awards we mentioned earlier.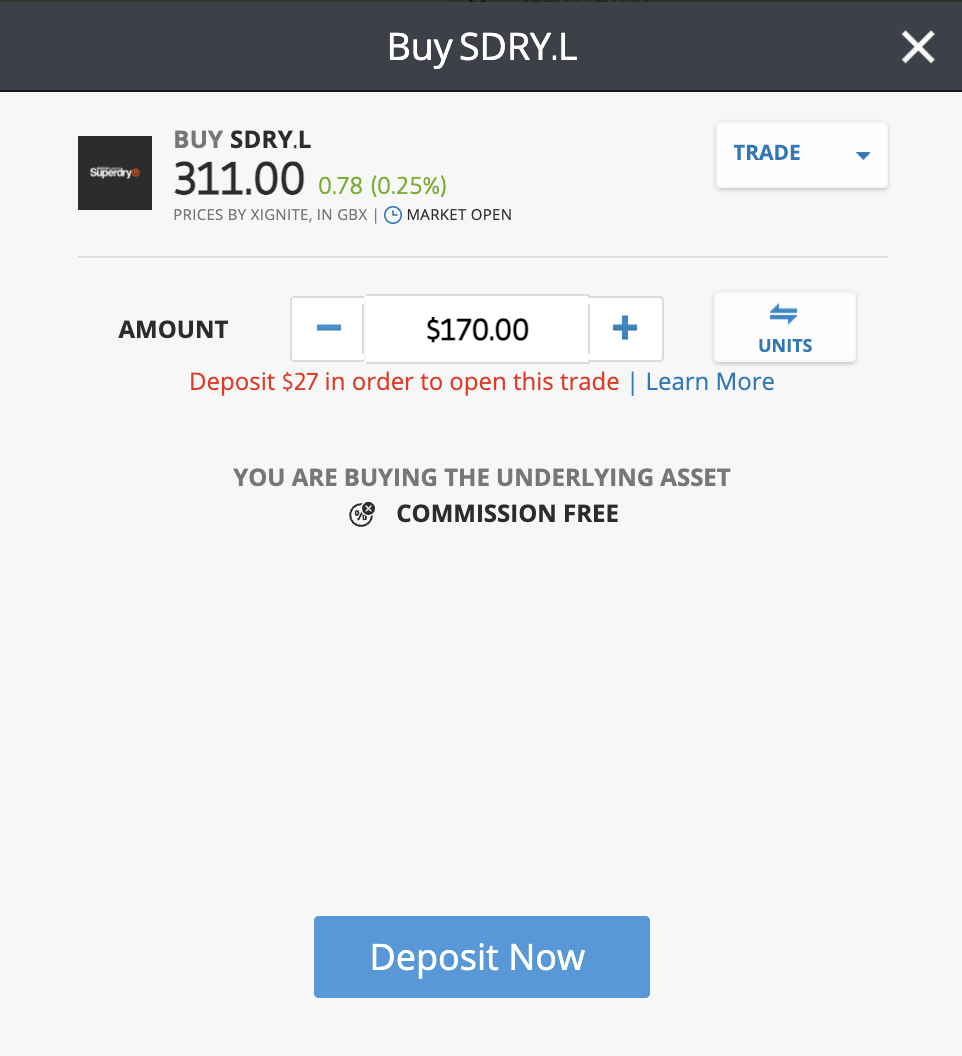 Dunkerton also said that the company would be making all its pure cotton garments from organic cotton by 2025, with the help of 20,000 farmers in India. It was that particular initiative that helped it to win yet another award, this time for the CEO himself, who won the Best Organic Ambassador award given by The Soil Association.
Insiders are buying shares
The key signifier of the brand reset is the opening of its new global flagship store in London's Oxford Street this Autumn.  "Whilst a lot remains uncertain, I'm looking ahead to 2022 and beyond with real confidence as we deliver our reset," said Dunkerton.
It is also encouraging to discover that insiders are buying the stock. Dunkerton bought 372,272 shares at prices ranging from 260p to 270p, worth £990,077, on 19-20 October. Dunkerton now has a 20.7% stake in the business.
Another director, Shaun Packe, global sourcing & sustainability director, bought 18,616 shares at 267p, worth £49,999, on 19 October.
As one of Europe's leading sustainable fashion brands – from organic cotton garments to vegan trainers – Superdry is well-positioned as a classic turnaround stock.
Analysts have a consensus price target on the stock of 357p, representing an upside of 14.6% from its current price.
You can buy Superdry for 0% commission on global investment platform eToro.
eToro - Buy and Invest in Assets

Buy over 2,400 stocks at 0% commission
Trade thousands of CFDs
Deposit funds with a debit/credit card, Paypal, or bank transfer
Perfect for newbie traders and heavily regulated
Only real cryptos are available for US users

67% of retail investor accounts lose money when trading CFDs with this provider. You should consider whether you can afford to take the high risk of losing your money.
Broker
Benefits
Min Deposit
Score
Visit Broker