It is time for investors to take the prospect of higher inflation seriously and with that in mind we select US drug company Vertex Pharmaceuticals (VRTX) as one of our stock picks this week.
Inflation is something investors haven't had to worry about for a while and might be forgiven for thinking the current chatter is a rerun of the worries when the money printing at scale by the central banks started in earnest in the wake of the 2008-9 financial crisis. Inflation didn't take off as a result of that, so why should it be different this time?
For one, the sheer size of the response is much larger than it was back then ($900 billion vs $7 trillion), as it now includes trillions in fiscal spending by the US government and others around the world.
Also, the ability of China to offset upward pressure on prices through a flood of cheap goods is not as easily accomplished this time. For starters, wages have risen in China and today the central government is far less willing to throw money at the economy to see what sticks because of its worries about excess credit already in the system.
On the inflation-doubters side of the equation it should be added for balance that other factors that have contributed to the keeping a lid on prices, such as the ageing population in the economically advanced countries and tech innovation, are still very much in play.
Demand surge to boost inflation's stock winners
But the current investor inflation fears are stoked by nearer-term concerns, that could admittedly still turn out to be transient – namely the strengthening demand boost to be expected as a result of the bounce back from the Covid pandemic.
The associated industrial recovery may lead to an extraordinary spike in demand as factories ramp up production all at the same time, and certain crucial inputs are found to be in short supply. Indeed this is arguably already starting  to happen, with the chip shortage impacting key industries such as autos and consumer electronics goods.
Supply constraints lead to producers increasing their prices. An indication of what may be coming down the line came in the US  producer prices in March, which surprised to the upside, coming in at 4.2% year on year – that's the biggest increase in 10 years. 
That was not a blip if the US consumer price index is anything to go by as it saw its largest monthly rise for eight years, jumping 0.6%.
Coming to what this all means for the companies we might want to invest in, not all are in the same boat regarding the impact of inflation on their businesses.
Companies like Vertex with strong pricing power can outperform
Those companies with the strongest pricing power – meaning they can raise their prices without it having a negative impact on sales – are in fact likely to outperform their peers because they will be in a position to raise their prices in response to rising costs, often at a faster rate than those costs are rising at, thereby protecting and even increasing their margins.
Meanwhile, a general rise in prices across the economy will force the hand of central banks, leading to them increasing interest rates in order to stop inflation getting out of control, thus making shares less attractive to investors as against fixed income investments that would benefit from higher interest rates.
When consumer inflation runs above a 3% annualised rate for six months, companies with strong pricing power historically see their stocks outperform by 12 percentage points in the following year, according to UBS. 
The investment bank has been looking at how strong pricing power companies have performed historically in periods when inflation was above 3% on an annualised basis for six months. It found that on average these companies outperformed in the following year by 12%.
The analysis was applied to large caps with growing profit margins and of course those deemed to have strong pricing power in their markets. They gave each stock a z-score, where the higher the score the stronger the firm's pricing power relative to its large cap peers.
Among the top five stocks with the highest score were two pharmaceutical stocks:
Regeneron Pharmaceuticals (ticker: REGN) on 1.69 and Vertex Pharmaceuticals (VRTX) scoring 1.55.
Vertex caught our eye because its share price has been in the doldrums following disappointing trial results on what of its drugs under development.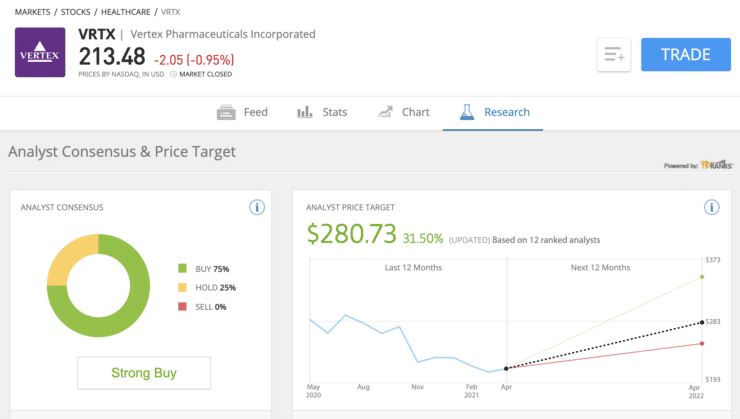 The scrapping of its trials to develop a drug to treat Alpha-1 Antitrypsin Deficiency, which increases the risk of lung and liver disease saw its share price plummet in mid October last year, falling 20% – from $276 to $218. Trading has been rangebound since then.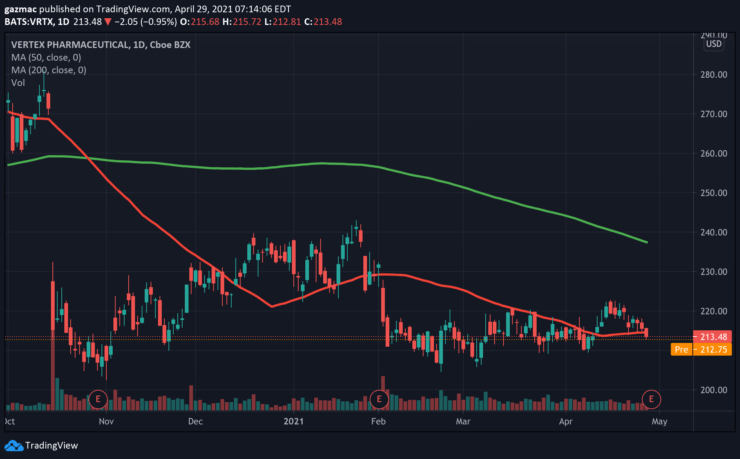 However, the company dominates treatment for cystic fibrosis (CF) with its drugs – Orkambi and Kalydeco – the approved treatments targeting the two main gene mutations (Delta-F508 and G551D) responsible for the disease.
And this week the European Commission approved Vertex's Kaftrio drug  (known as Trikafta in the US and Australia) as a so-called triple combination therapy in combination with Ivacaftor (marketed as Kalydeco in the US) for CF patients 12 years and older.
With no competition, Vertex has strong pricing power for these drugs, which makes it a contender as an outperformer in its sector.
Stockopedia rates Vertex a 'Falling Star', which is defined as a good quality business suffering a temporary decline – but that may bounce back.
With an operating margin of 46% and free cash flow per share of $11, this is certainly a quality stocks.
Despite the October trials setback, earnings have been growing consistently since 2018.
Vertex Pharmaceuticals EPS (2018 to forecast 2022)

2018

2019

2020

2021E

2022E

25.2%

109%

128%

8.62%

15.1%
Vertex releases it 2021 Q1 results after the bell today (29 April).
The stock is a strong buy with a 31% upside on the consensus analyst price target of $280.
Buy Vertex Pharmaceuticals shares for 0% commission on global investment platform eToro.
eToro - Buy and Invest in Assets

Buy over 2,400 stocks at 0% commission
Trade thousands of CFDs
Deposit funds with a debit/credit card, Paypal, or bank transfer
Perfect for newbie traders and heavily regulated
Only real cryptos are available for US users

67% of retail investor accounts lose money when trading CFDs with this provider.
Broker
Benefits
Min Deposit
Score
Visit Broker
Share with other traders!