Invest at least $250 in D2T to gain lifetime access to our VIP Signals
Get early access to Dash 2 Trade's Presale. Buy the D2T token now
Existing community of 70,000+ traders
Unlocks access to the leading crypto trading analysis, signals and trading tools
As featured in CryptoNews.com, FXEmpire.com, FXStreet.com and more
World class development team backed by Quant developers and VC investors

Bitcoin's reputation has grown so much in recent times that it is now considered "Digital Gold". There are 2 camps already; those who support Bitcoin as a better investment than Gold and those who say Gold holds the baton as a "store of value".
In this article, we have addressed this topic. Let's find out which one is a better investment in between Gold and Bitcoin!
What is Bitcoin?
The world's digitalization has made it possible for many different fields, including currencies, to become more sophisticated. Bitcoin is the most popular cryptocurrency. Bitcoin was launched in January of 2009, and at that time it had a very low price so people didn't invest in it as it didn't look legit enough.
Bitcoin is based on concepts presented in a whitepaper by Satoshi Nakamoto, an unknown figure. Until this day we still don't know the identity of the person or the group behind this technology. Unlike contemporary currencies, which are controlled by the government and banks, Bitcoin and other Cryptocurrencies provide decentralization from the government and authority. Another significant advantage of Bitcoin is the low transaction costs associated with online transactions.
What is Gold?
Gold is a very old metal that has been used for a variety of purposes over the years. Gold is also a fantastic commodity to invest in; many individuals put their money in gold these days. In India and several other nations, it has been a family tradition to own gold and pass it down from generation to generation. Because gold is a physical asset, it may be stolen if not kept safe. This is why most people currently invest in gold through various methods such as Fund of Funds and Gold ETFs, which are more secure than keeping it on the shelf.
Should you buy Bitcoin or Gold?
The question of whether to buy Gold or Bitcoin is becoming increasingly popular. There are several reasons why this topic is being debated among crypto enthusiasts. Gold and Bitcoin have their similarities and differences in between. In quantity, both Gold and Bitcoin are becoming rare nowadays, hence their prices are likewise high. However, Bitcoin has a limited supply of 21 million bitcoins that can be mined, in the other hand gold is a physical asset which means it isn't limited as we can always find gold somewhere in the world.
Bitcoin is volatile. It is actually extremely volatile compared to Gold which makes it a better trading asset for traders who want to make money quicker. In long term as well Bitcoin has proved to be more profitable than Gold. If one has invested in Bitcoin at the peak of the all-time high of 2017 will still be in profit nowadays. Gold on the other hand has increased in value but nowhere near as Bitcoin has.
Another difference between Gold and Bitcoin is the transaction form used by both. When it comes to transactions, Bitcoin is far superior to gold. This is because Bitcoin is a digital asset that is far easier to utilize everywhere for payments or transactions online. Gold, on the other hand, is a physical asset that cannot be used for payments or any other type of transaction, particularly online. However, gold is a more price stable asset that you may utilize when converting it into other assets or if you want to just keep it in gold.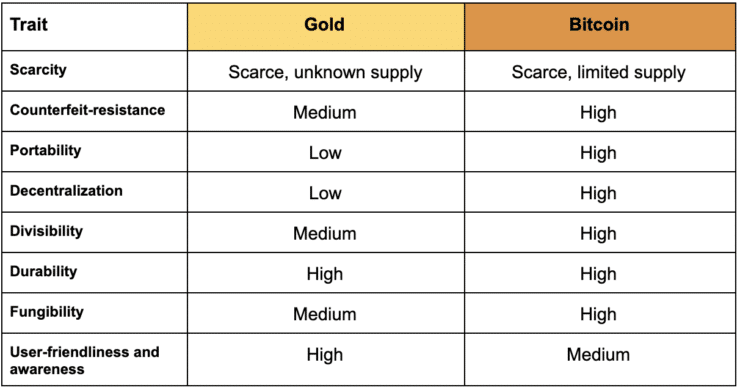 In terms of security, Bitcoin and Gold are both extremely secure. However, there is still a distinction between the two. The advantage of gold is that it is physical, so if you store it in a very secure place, then it is quite difficult for someone to steal or transfer it without leaving a trace. Bitcoin, on the other hand, is digital, despite the fact that it has a very secure system and is decentralized, which means that no one controls the system and it cannot be hacked in any way, some experts maintain that the Bitcoin system is digital and that the algorithms utilized are not necessarily particularly safe because they have not yet been tested. However, even Bitcoin can be stored as a physical item in a ledger, which is a hardware wallet, but that would still not be very safe as it can be stolen from your hands if it's not kept in a safe place. Although without the private keys nobody can have access to the coins.
Another disadvantage of Gold is that it is still not recognized as a currency, which means that you can't buy anything with it until you convert it into other currencies, which is very frustrating if you've already invested in Gold because not being able to buy things with it is a major disadvantage of gold. On the other hand, Bitcoin has a significant benefit in this regard since it is recognized as a currency, which means that if you have access to the internet and a mobile wallet, you can easily buy items at any location that accepts Bitcoin as a payment option. Despite the fact that Bitcoin is a well-known currency, it is still relatively new to the world, and some places do not accept it as a payment option, but still, most of the big retailers accept Bitcoin.
Conclusion
To summarize, Bitcoin and Gold are both excellent investments. However, the digitization of the globe has made Bitcoin a superior asset to invest in due to the ease with which it can be purchased online and in any form, and you can make transactions the same way. If you have some money that you won't need for a long time and are looking for a place to keep it long-term, Bitcoin has shown to bring more profits than Gold in long term. But if you are a person who does not like volatility then, you might as well keep your assets in Gold, which will give you "a feeling" of security as it is way less volatile than Bitcoin. On the other hand, BTC is extremely volatile giving opportunities for day-traders to make money quicker.
Broker
Benefits
Min Deposit
Score
Visit Broker
Share with other traders!