Service for copy trading. Our Algo automatically opens and closes trades.
The L2T Algo provides highly profitable signals with minimal risk.
24/7 cryptocurrency trading. While you sleep, we trade.
10 minute setup with substantial advantages. The manual is provided with the purchase.
79% Success rate. Our outcomes will excite you.
Up to 70 trades per month. There are more than 5 pairs available.
Monthly subscriptions begin at £58.

This week's list of trending coins on CoinMarketCap features coins, most of which have performed well very recently and still have promising prospects. Meanwhile, some are doing quite well even as we speak. Let's dive in and see.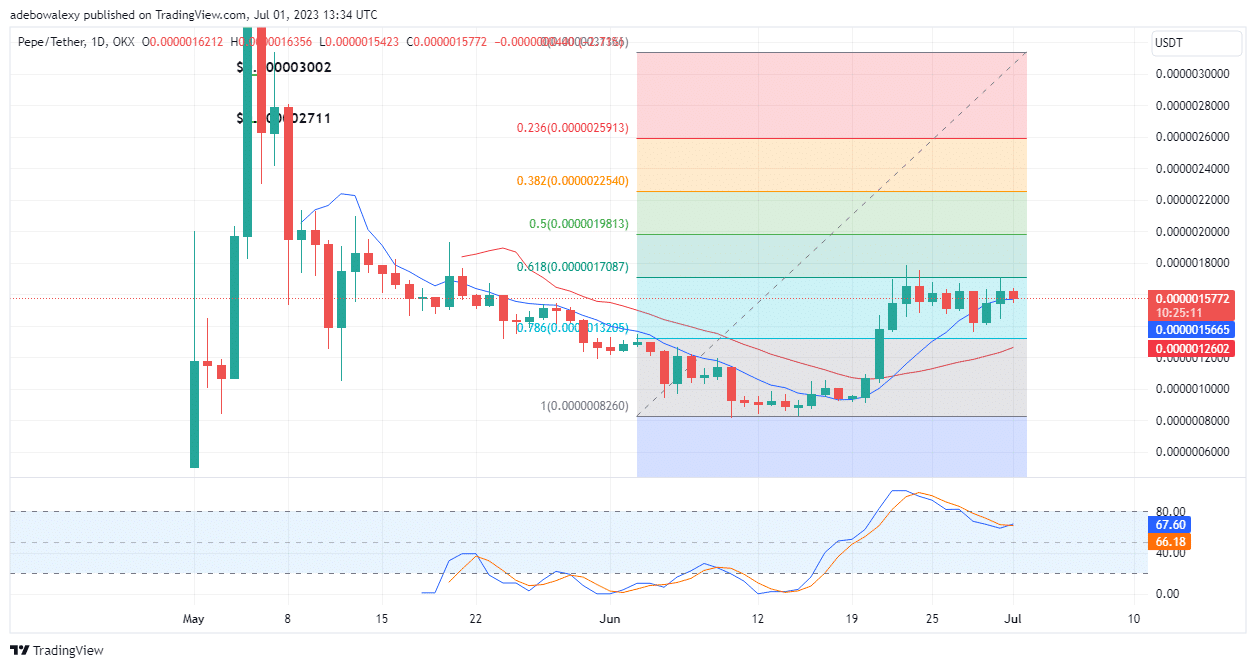 Pepe (PEPE):
Major Bias: Bullish
The pepe coin has retained the number one position on this list since last week's analysis. The coin price has decreased by 6.52% today. Meanwhile, it had accumulated losses of 6.93% over the week.
This implies that today's loss seems to have been very significant when compared to the ones over the week. This token also has a market capitalization of $618 million and a trading volume of $291 million. Nevertheless, on the daily chart, it appears that price action in the
PEPEUSDT market has some upside potential. The last red-price candle here is sitting just above the 9- and 21-day Moving Average (MA) lines. Simultaneously, the Relative Strength Index (RSI) indicator has just delivered an upside crossover.
But the recent losses seem to be influencing the behavior of the RSI at this crossover phase. Nevertheless, price action in this market may still rise toward the $0.000001709 mark.
Current Price: $0.000001577
Market Capitalization: $618M
Trading Volume: $291
7-Day Gain/Loss: 5.93%
eCash (BTC)
Major Bias: Bullish
eCash comes in second on this week's list of trending coins. This coin has garnered a total of 55.74% gains over the past 7-days. However, today has brought just a 1.07% price increase.
Also, the market capitalization of this token is $766 million, with a trading volume of $944 million. The daily chart reveals that this token witnessed a massive price jump during yesterday's trading session.
Consequently, this has placed prices far above the MA curves. As a result, this spontaneous price increase seems to have drawn the attention of bear traders, whose actions have caused moderate losses in the ongoing session.
Due to the previous significant price increase, the Average True Range (ATR) indicator is still indicating that the bullish momentum might still be on. But, since the support at $0.00003892 has failed, prices may correct to the $0.00003495 price mark.
Current Price: $0.00003792
Market Capitalization: $766 million
Trading Volume: $944 million
7-Day Gain/Loss: 55.74%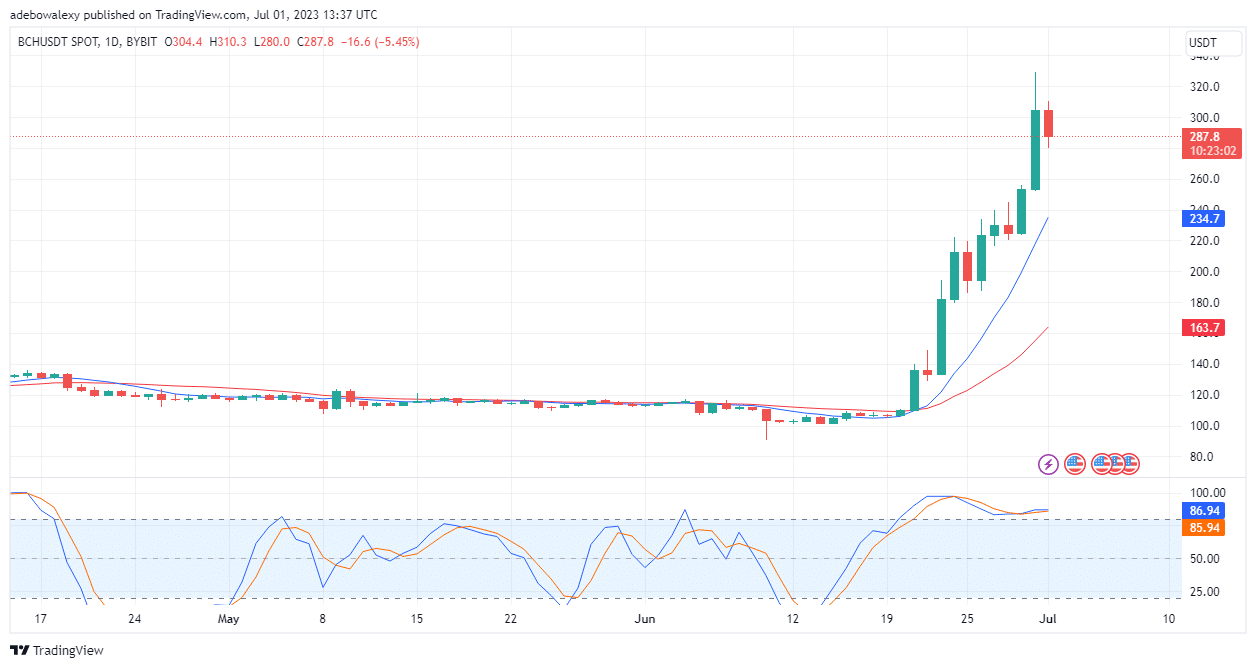 Bitcoin Cash (BCH)
Major Bias: Bullish
Bitcoin Cash comes in third on this week's list of most sought-after coins on CoinMarketCap. Its price as of today has decreased by 6.64%, after recording a 40.14% price increase over the past seven days.
BCH has a Market Cap of $5.60 billion and a daily trading volume of $2.25 billion. On the daily chart, price action seems to have shown some consistency in gaining upside traction following each bearish interruption.
However, the ongoing trading session appears to have presented a more significant price downward correction, which brought prices from above $300 to the $287 price mark.
Nevertheless, price activity remains above the 9- and 21-day MA curves. Meanwhile, the MACD curves are now trending somewhat sideways in the overbought region. Since a crossover hasn't been given on the MACD, Traders can anticipate an upside correction toward the $300 mark.
Current Price: $287
Market Capitalization: $5.60 billion
Trading Volume: $2.25 billion
7-Day Gain/Loss: 40.14%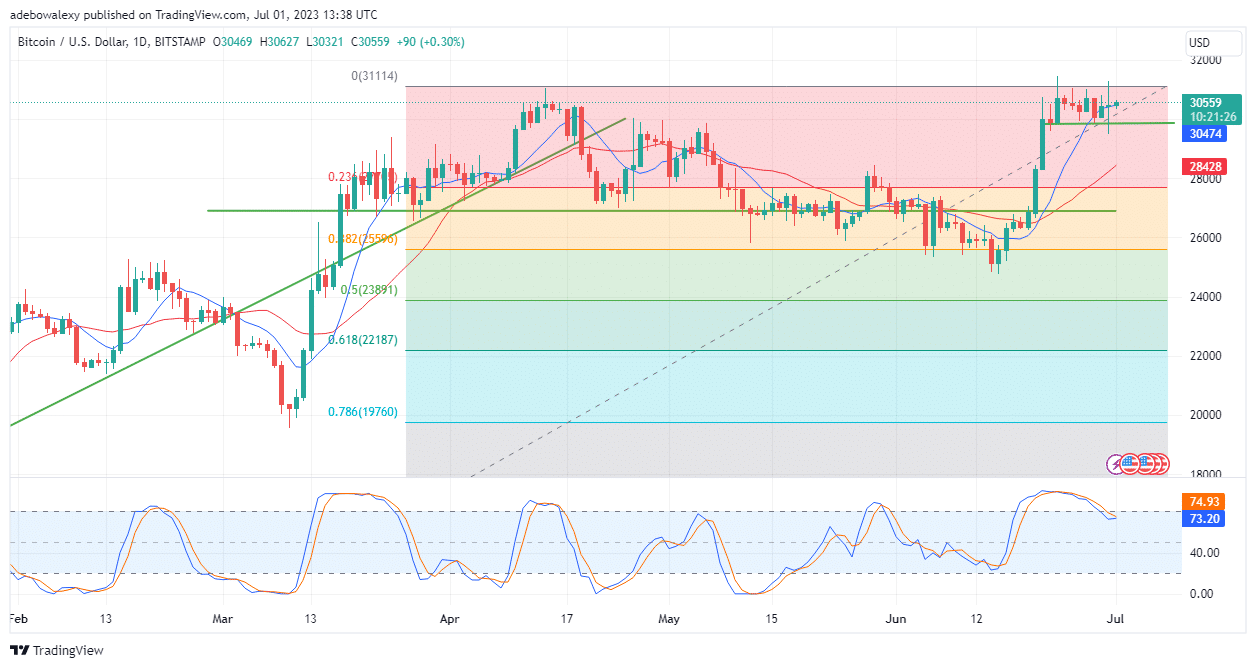 Bitcoin (BTC)
Major Bias: Bullish
The king of crypto has dropped two places from the second position in the previous week's list to the fourth position this week. With a massive market capitalization of $583 billion and a trading volume of $20.70 billion, this coin has witnessed a price decline of 1.47% on the day and 0.29% over the past seven days.
The daily market chart, however, shows that trading activities in this market keep occurring above the $30,000 mark. At this point, price activity seems ready to keep fluctuating between the $30,000 and $31,000 price levels.
The last price candle here has pushed prices above the 9-day, as well as the 21-day MA line. Additionally, the RSI indicator seems to be preparing for a bullish crossover above the 70 mark of the indicator.
Therefore, traders can anticipate at least a retracement of the $31,000 price mark.
Current price: $30,559
Market capitalization: $583 billion
Trading volume: $20.70 billion
7-Day Gain/Loss: 1.49%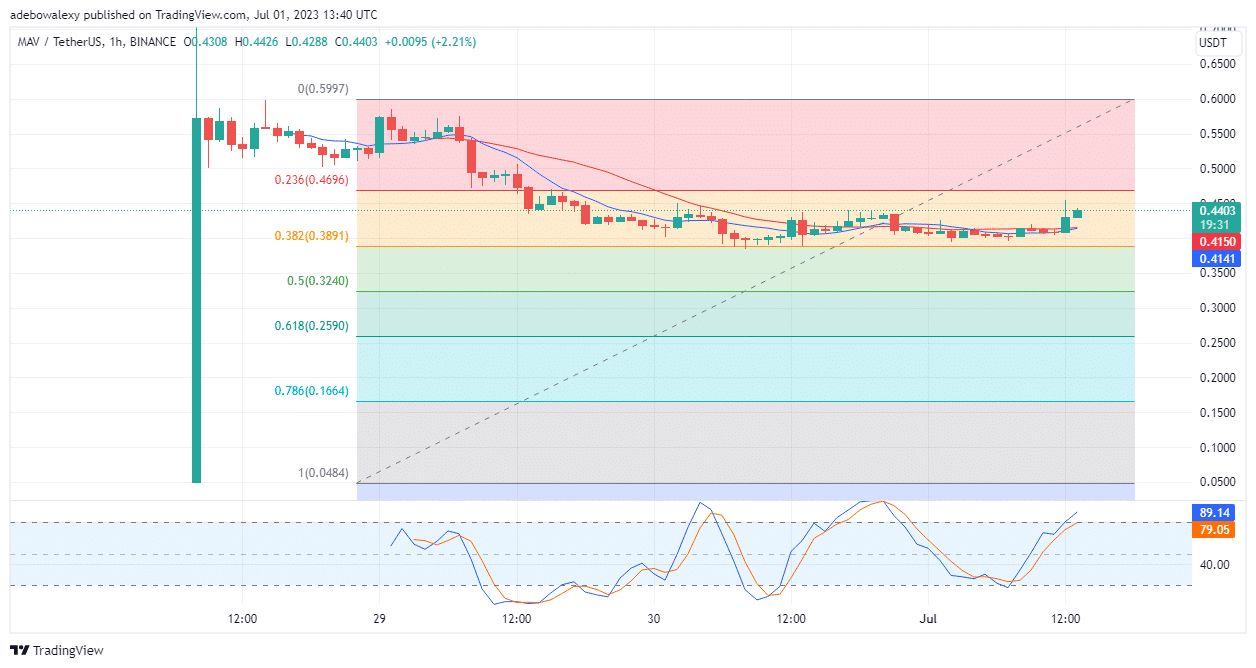 Maverick Protocol (MAV)
Major Bias: Bullish
The Maverick Protocol token is a recently launched crypto, and it has appeared in the 5th position on our list of trending coins on CoinMarketCap. To get a better view of price behavior, we will have to study the 1-hour market for this crypto.
This token has gained 2.33% on the day after experiencing a more significant price decline of 44.25% over the past 7 days. The MAV token has a market capitalization of $108 million and a 24-hour trading volume of $42 million. On the trading chart, price action has risen above the two MA lines.
Also, the 9- and 21-day MA lines are now converging for a bullish crossover below the last price candle on this chart. Also, the RSI lines continue to rise into the overbought region.
Consequently, this suggests that this coin will experience more price increases and is on its way towards the $0.500 mark.
Current price: $0.444
Market capitalization: $108 million
Trading volume: $42 million
7-Day Gain/Loss: 44.25%
Do you want to take your trading to the next level? Join the best platform for that here.
Broker
Benefits
Min Deposit
Score
Visit Broker