Service for copy trading. Our Algo automatically opens and closes trades.
The L2T Algo provides highly profitable signals with minimal risk.
24/7 cryptocurrency trading. While you sleep, we trade.
10 minute setup with substantial advantages. The manual is provided with the purchase.
79% Success rate. Our outcomes will excite you.
Up to 70 trades per month. There are more than 5 pairs available.
Monthly subscriptions begin at £58.

The majority of trending coins on this week's list of trending coins on ConiMarketCap have performed well in the past 24 hours and 7 days. Also, most of them have witnessed significant gains in today's trading activity. Let's check them out.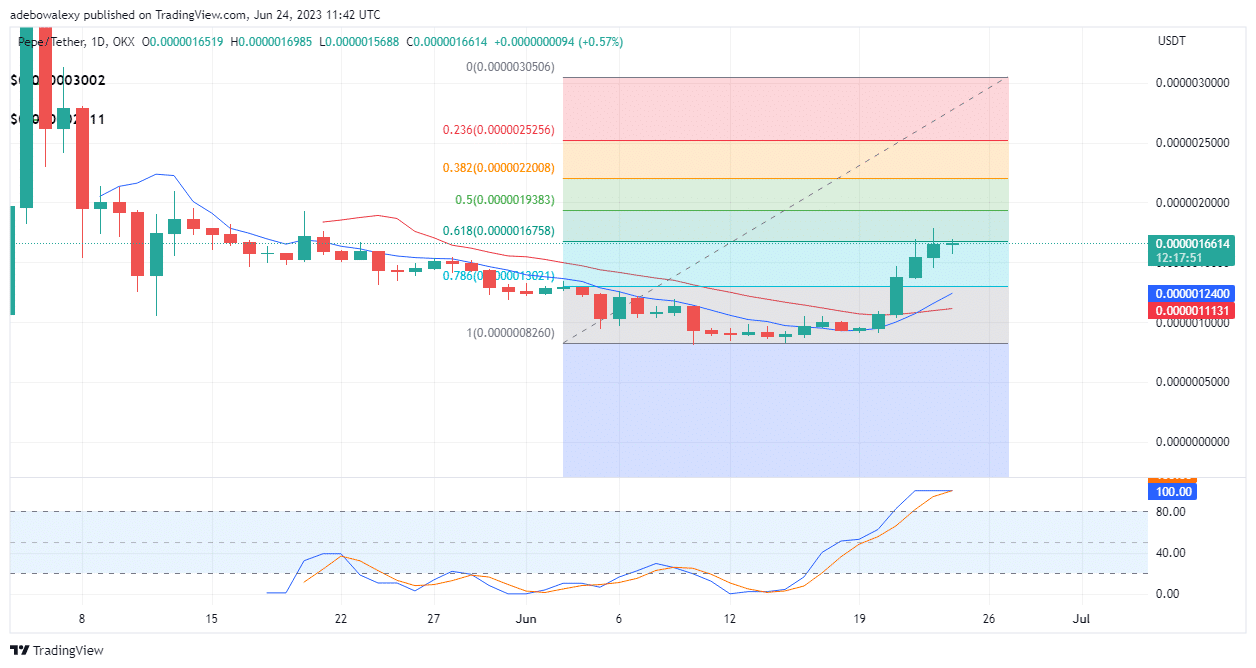 Pepe (PEPE):
Major Bias: Bullish
The Pepe coin has picked up a significant bullish tone as its price moved up by 8.27% today. Also, its market capitalization has hit $652 million, with a 24-hour trading volume of $476 million.
On the daily market, the price action of this crypto has stayed near $0.0000008260 before it started ramping upwards about six trading sessions ago. This suggests that price action has picked up significant upside momentum.
The last price candle for the ongoing session seems to have approached a strong resistance price mark at the 61.80 Fibonacci Retracement level, as its body has become so small.
Furthermore, the Relative Strength Index (RSI) lines are now prepared for a bearish crossover in the overbought region of the indicator. This Strengthens the prediction of a downward correction at this point toward the $0.0000001620 mark.
Current Price: $0.000001661
Market Capitalization: $652M
Trading Volume: $476M
7-Day Gain/Loss: 68.69%

Bitcoin (BTC)
Major Bias: Bullish
Bitcoin is gradually regaining its dominance in the crypto market, as it has gathered enough traction to reach the second spot on this week's list of trending coins.
Over the week, Bitcoin's price has moved up by 15.61%, while it has further moved by roughly 2.1% today alone. It looks like the crypto king is on a bull run again.
With the largest market capitalization of $596 billion and a daily trading volume of $24 billion, BTC has surpassed the $30K threshold to reach $30,678. On the daily chart, price action has significantly ramped up above the 9- and 21-day Moving Average curves.
However, the ongoing session has displayed that price action is facing rejection as it is closing in on the $31K threshold. Also, the lines of the Moving Average Convergence Divergence indicator are now glued together while moving sideways.
Trades may anticipate a correction toward the $30,400 mark.
Current Price: $30.678
Market Capitalization: $596 billion
Trading Volume: $24 billion
7-Day Gain/Loss: 15.61%

Kaspa (KAS)
Major Bias: Bullish
The Kaspa token is a new addition to this list of trending coins on CoinMarketCap. This coin stands in the third position on this list, which seems quite impressive.
However, KAS has recorded a price reduction of 4.01% while keeping most of the recorded gains over the past 7 days. Nevertheless, this token has a market capitalization of $489 million and a trading volume of $18 million.
Moving to the daily chart, it is revealed that price movement is correcting towards $0.02405. Yet it should be kept in mind that trading activities in this market are still happening above the MA lines.
Meanwhile, the ongoing trading session has introduced a more bearish tone to this mark, as the RSI lines have now performed a bearish crossover. Should bears grow stronger in this session, prices may retrace towards the $0.02300 mark.
Current Price: $0.025430
Market Capitalization: $489 million
Trading Volume: $18M
7-Day Gain/Loss: 18.98%

Shiba Inu (SHIB)
Major Bias: Bullish
Shiba Inu seems to be making a re-entry into the limelight after having recently fallen out of grace. This token now stands in the 4th position on this list of trending coins, with a trading volume of $149 million and a market capitalization of $4.7 billion.
After the price action in this market hit around the $0.00000640 mark, it rebounded upwards and has since then kept on gathering minimal profit till now. At this point, price action has crossed above the 9- and 21-day MA curves.
What's more, another bullish crossover is about to be delivered by the MA lines. Consequently, this will introduce a more bullish impetus in this market. Also, the RSI curves can be seen to have met each other at the peak level and are now trending sideways.
This suggests that price movement in this market may still approach the $0.00000900 mark.
Current price: $0.00000799
Market capitalization: $4.7 billion
Trading volume: $149M
7-Day Gain/Loss: 15.51%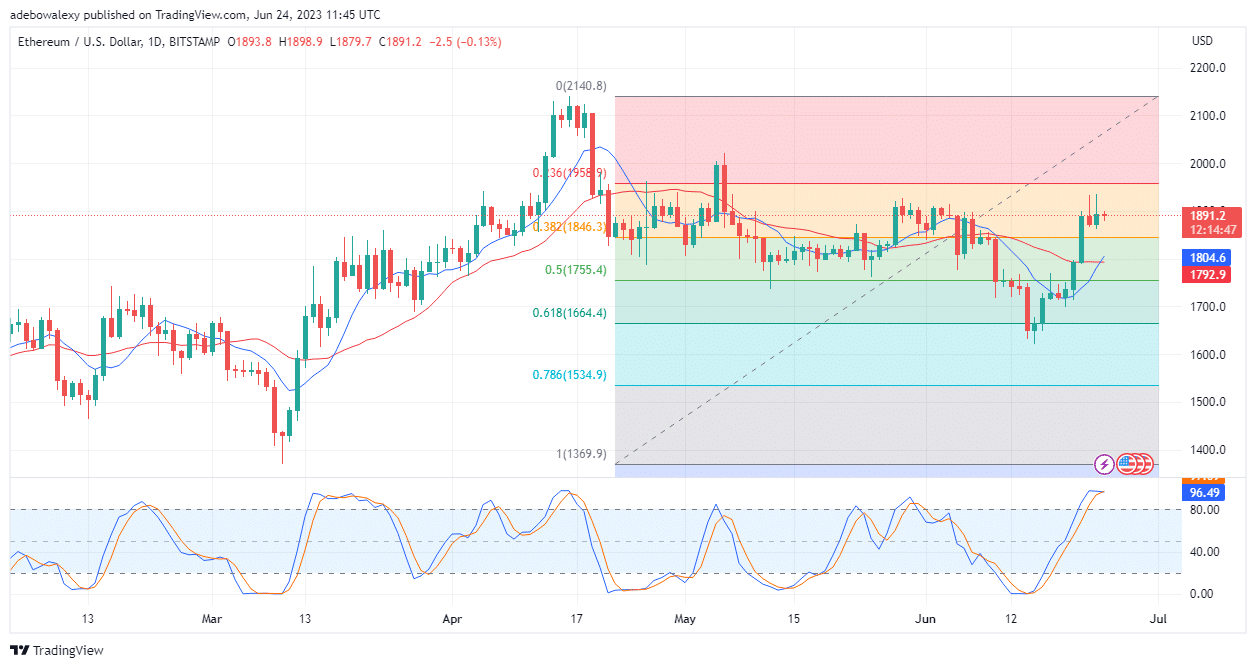 Ethereum (ETH)
Major Bias: Bullish
Ethereum stands in the fifth position on this list for the first time in a while, as its price has gone up by 8.63% in the past 7 days. Meanwhile, prices in this market have only increased by 0.74% in the past 24 hours.
Ethereum recently ramped through the Fibonacci Retracement level of 38.20 and into the bear region on the Fibonacci Retracement tool. Currently, it appears that this price action is already facing headwinds from bear traders.
However, the ongoing session seems to show that buyers are effectively resisting headwinds.
This can be perceived as the last price candle on this chart appearing significantly small. Meanwhile, the MA lines are now crossed below the price action, and this may give some bullish guidance to traders in this market.
The lines of the RSI indicator are now merged in the overbought region but don't seem ready for a crossover as they journey sideways. Therefore, a retracement toward the $1950 mark can be anticipated.
Current price: $1891
Market capitalization: $228 billion
Trading volume: $8.1 billion
7-Day Gain/Loss: 8.63%
Do you want to take your trading to the next level? Join the best platform for that here.
Broker
Benefits
Min Deposit
Score
Visit Broker