There are hundreds of online brokers offering access to markets such as forex, stocks, and cryptocurrencies that anyone with access to the internet can trade.
Ever fancied buying and selling Apple stocks, Bitcoin, or gold from home? With so much competition, you'll need to do your homework to find the right trading platform for you.
With that in mind, we have put together this comprehensive trading platform comparison guide. We review the best 5 online brokers in the space, followed by a detailed checklist to help you choose the best provider yourself.
Eightcap - Regulated Platform With Tight Spreads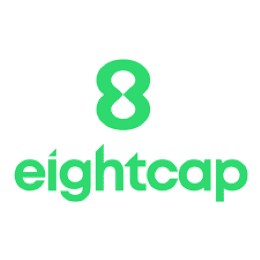 Minimum deposit of just $500
100% commission-free platform with tight spreads
Fee-free payments via debit/credit cards and e-wallets
Thousands of CFD markets including Forex, Shares, Commodities, and Cryptocurrencies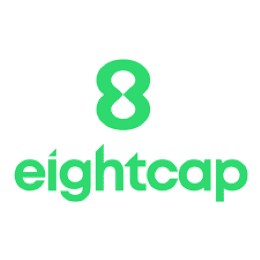 71% of retail investor accounts lose money when trading CFDs with this provider.
Table of Content
Trading Platform Comparison: Stress-Free 4 Step Sign up
If you are in a hurry and would rather get the ball rolling and read this guide in full later – see a 4 step guide below.
Step 1: Sign up with a respectable trading platform. Commission-free broker Capital.com is heavily regulated and provides access to thousands of markets.
Step 2: Enter your personal details and contact information. Next, prove your identity by sending a clear copy of your photo ID and an official utility bill/bank letter showing your address.
Step 3: Deposit funds into your new online brokerage account with a debit/credit card, e-wallet, or bank wire.
Step 4: Decide which market to trade and place an order.
As you can see, signing up with a broker couldn't be easier – it's carrying out your own trading platform comparison that can be challenging.
Trading Platform Comparison: The Reviews
We consider heaps of important metrics when reviewing online brokers, all of which we divulge to you later in this guide. This will be useful when carrying out your own research.
This brings us neatly to the results of our own trading platform comparison research. As such, below you will see below the top 5 brokers in the online trading space right now.
1. AvaTrade – Diverse Trading Platform With Wide Choice of Platforms
AvaTrade is a commission-free CFD trading platform with hundreds of different markets available to trade. You can also link your account to MT4 or MT5 for the previously mentioned range of trading tools available. This broker offers lots of assets including stocks such as Intel, Groupon, Tesla, Microsoft, Apple, Snapchat, Alibaba, Twitter, Proctor and Gamble, Mastercard, Adidas, Vodaphone, and more.
There are also certain stocks you can only trade via MT5, such as Starbucks, Medtronic, Kinder, Microsoft, Wells Fargo & Co, Colgate, Walmart, Netflix, Cisco Systems, and many more. Indices include the DAX30, FTSE100, Nikkei225, ChinaA50, Spain 35, CAC 40, FTSE MIB, INDIA50, and more. MT5 offerings include FAANG, Green Energy, and TSX60. There is also a selection of ETFs such as the S&P500 VIX, Market Vectors TR Gold Miners, and more accessible via MT5.
If you fancy being a currency trader, you will also find forex and cryptocurrencies at AvaTrade. Forex pairs include majors, minors, and also exotics like EUR/ZAR, USD/CLP, USD/ZAR, EUR/RUB, USD/MXN, EUR/SEK, and many more. If you would rather start with currencies of the digital kind, you won't be short of options either. This trading platform comparison found crypto-assets to include Dash, Ripple, Stellar, IOTA, Chainlink, Uniswap, IOS, and more.
If commodities are more your thing, you can trade everything from crude oil, heating oil, and gasoline to coffee, sugar, wheat, and palladium. Via MT5 you can also access orange juice, live cattle, and other markets. Heavy regulation comes from ASIC, CySEC, FSCA, MiFID, B.V.I, and more. As such, your private information and payments will be safe on this trading platform and thus - financial crime should not be a concern.
If you would like to give social trading ago, meaning to 'follow' and 'like' people as you might on social media, you can trade via DupliTrade or ZuluTrade. This trading platform comparison found that AvaTrade has multiple platform options to choose from. This includes AvaOptions, aimed at options traders. Then there is AvaTradeGO, allowing you to connect to live global markets and trade on the move. You may also manage multiple MT4 and MT5 accounts via this free app.
AvaSocial facilitates copy trading, the ability to 'follow' seasoned traders, set custom-built trading signals, and create a trading network of your own. The minimum deposit at this trading platform is $100, and the broker is compatible with several payment methods when you want to deposit. This includes debit and credit cards, e-wallets such as Neteller, Skrill, WebMoney, and more. If you would also like a demo account with $100k in paper funds, you can sign up easily via the main page.

Minimum deposit to start forex trading just $100
Regulated in 6 jurisdictions including Australia, the EU, South Africa, and Japan
Trade with 0% commission on any asset
Admin and inactivity fee following 12 months no account action
75% of retail investors lose money when trading CFDs with this provider
2. EightCap – Trade Over 500+ Assets Commission-Free
Eightcap is a popular MT4 and MT5 broker that is authorized and regulated by ASIC and the SCB. You will find over 500+ highly liquid markets on this platform - all of which are offered via CFDs. This means that you will have access to leverage alongside short-selling capabilities.
Supported markets include forex, commodities, indices, shares, and cryptocurrencies. Not only does Eightcap offer low spreads, but 0% commissions on standard accounts. If you open a raw account, then you can trade from 0.0 pips. The minimum deposit here is just $100 and you can choose to fund your account with a debit or credit card, e-wallet, or bank wire.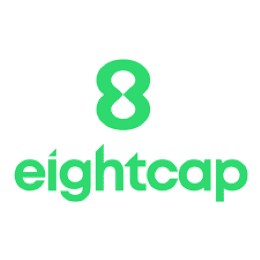 ASIC regulated broker
Trade over 500+ assets commission-free
Very tight spreads
Leverage limits depend on your location
Your capital is at risk of loss when trading CFDs at this platform
Visit eightcap Now
3. Capital.com – Best Trading Platform for Newcomers - Deposit From $20
As is the case at eToro, top-rated broker Capital.com is a great option for any newcomers. This CFD trading platform is partnered with MT4, so you can link your broker to the third-party provider and access a plethora of other tools and features. We had a look at what markets are available and found over 2,400 share CFDs from around the world. This includes companies such as Nintendo, Toyota, Fujitsu, Lenovo, Easy Jet, eBay, Spotify, Uber, Johnson & Johnson, and thousands more.
This trading platform comparison found some of the most popular indices in the world at Capital.com. This includes the HK50, FR40, IT40, UK100, EU50, US500, and many more. If the forex markets are more suited to you, you will find over 70 pairs to trade here. This is inclusive of majors, minors, and exotics. For those who have an appetite for risk, the latter includes USD/MXN, EUR/RON, GBP/RUB, NOK/TRY, USD/ZAR, AUD/MXN, and more.
If you prefer cryptocurrencies, this trading platform comparison found over 70 different CFD pairs. This includes crypto-fiat offerings such as BTC/USD, ETH/USD, BTC/EUR, ETH/EUR, NEO/USD, and more. Then there are crypto-cross pairs such as ADA, BTC, XRP/BTC, NEO/BTC, TRX/BTC, BCH/BTC, XEM/BTC, ETH/BTC. Capital.com recently added a range of Defi coins, too. If you would like to add some commodities to your portfolio, crucially without taking ownership of them - you have access to lots of CFD markets.
This includes gasoline, oil, silver, sugar, aluminum, wheat, copper, and much more. The spread is tight across most markets at Capital.com, plus you can trade any asset without paying commission. This low-fee CFD trading platform is designed to be easy to get around for all. Furthermore, there is a section dedicated to free educational courses to help you learn the ropes. This includes the ins and outs of CFDs and financial derivatives as well as introductory lessons, strategies, and a glossary to browse.
Of course, if you elect to link your Capital.com account to MT4 you can also use the multitude of adaptable indicators, as well as having the option of trying trading signals or forex robots. Capital.com will also give you a free demo account via this third-party trading platform. This way, you can try different markets and play around with leverage and risk/reward ratios risk-free.
Regulatory bodies CySEC, FCA, ASIC, and NBRB keep this broker in check. As such, you are dealing with a reputable company capable of sticking to the code of practice set out. You only need a minimum deposit of $20 to trade CFDs and the brokerage accepts tons of deposit types. This includes debit and credit cards, e-wallets such as Trustly, Apple Pay, iDeal, and more.

Connect Capital.com to MT4 for access to technical analysis tools
Minumum deposit to start trading is just $20
Licensed and Regulated by the FCA, CySEC, ASIC, and NBRB
Thin on the ground with fundamental analysis
78.77% of retail investors lose money when trading CFDs with this provider
4. LonghornFX – Top-Rated ECN Broker With High Leverage
LonghornFX is a user-friendly trading platform that covers dozens of cryptocurrency and forex pairs. You can also trade stock CFDs and multiple indices. You will be able to trade with leverage of up to 1:500 at LonghornFX - irrespective of whether you are a retail or professional client.
In terms of fees, you will benefit from competitive variable spreads throughout the trading day. After all, LonghornFX is an ECN broker - so you will get the tightest buy/sell prices available in the industry. Commissions will vary depending on the asset but typically amount to $7 per $100,000 traded.
We like the fact that LonghornFX processes withdrawal requests on a same-day basis. Plus, the broker offers full support for MT4. The platform can be accessed online, via desktop software, or through a mobile app.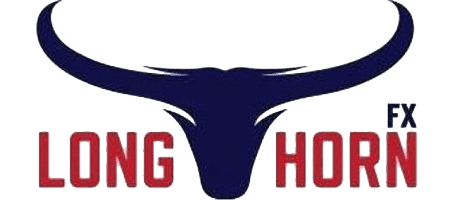 ECN broker with super tight-spreads
High leverage of 1:500
Same-day withdrawals
Platform prefers BTC deposits
Your capital is at risk when trading CFDs with this provider
Trading Platform Comparison: Best Broker Checklist
As is clear from our comprehensive trading platform comparison reviews – there are heaps of important metrics to consider when looking for a safe place to trade!
To start you off on the best foot, see below some key considerations you can contemplate when searching for the best broker for you.
Trading Platform Ease-of-Use
Being able to find your way around the trading platform is essential. This is especially the case if you want the ability to place a market order at a moment's notice. When analysis points towards a money-making opportunity, the last thing you need is a complicated layout holding you back.
This trading platform comparison guide found some brokers offer an all singing all dancing service. This is great when it's well laid out or you are an advanced trader. However, the more there is to navigate – the more complicated trading becomes for your Average Joe.
Whilst most of us want features and tools of some description – the most important thing is making sure you can find your desired market and place an order with ease. The easiest trading platforms to navigate, from our reviewed brokers, were AvaTrade, eToro, and Capital.com. All platforms are regulated and offer commission-free trading via an easy-to-use dashboard.
Licensed by a Regulatory Body
It isn't worth taking the risk on a broker if it isn't operating under the ruling of at least one major regulatory body. Without a license, you will have no idea what kind of platform you are dealing with and ultimately – how safe your capital is.
Regulated brokers often display their license numbers and registration details somewhere on the website. You should look out for bodies such as the FCA, ASIC, GFCA, MiFID, CySEC, and FSCA. All are well-respected and keep the trading space free from financial crime and shady broker firms.
The aforementioned financial organizations will ensure that the trading platform keeps your trading funds safe, in a separate bank account from its own. The brokerage must also adhere to KYC (Know Your Customer) rules, obtain proof of ID, submit audits, and much more.
The Flexibility of Investing or Trading
When conducting your own trading platform comparison, it's important that you see what kind of financial instruments will be available before committing. For instance, there are online brokers that might only support traditional investments and others that give you the option to trade CFDs.
The CFD will always mirror the value of the underlying asset. This means you are simply trading based on the underlying asset's current value – and can profit from its rise or fall, in either direction.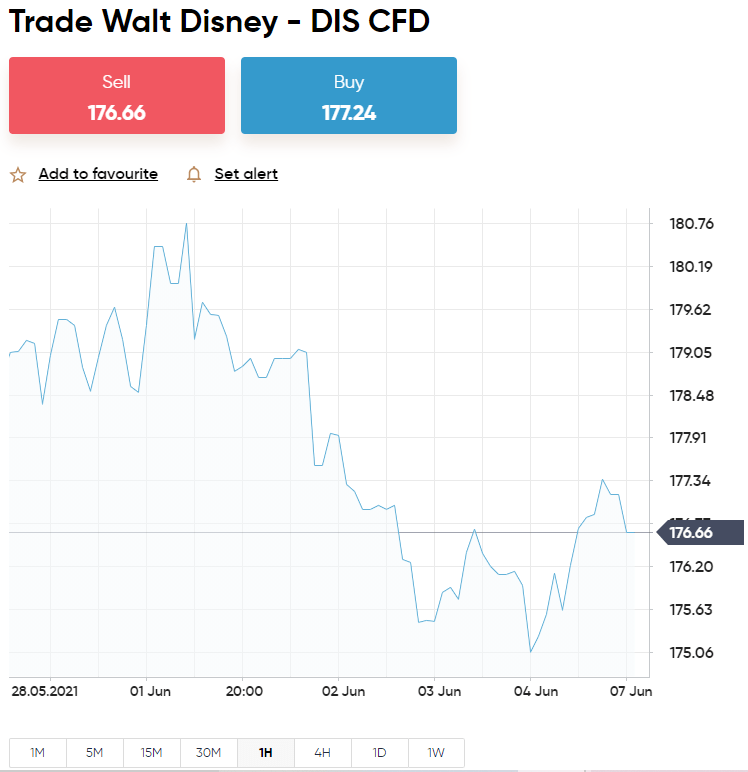 Some platforms also offer access to ETFs – comparable to a traditional mutual fund, only it isn't actively managed. ETFs monitor a market-cap weighted index. The idea is to mimic the returns you might expect if you were investing in the underlying basket of assets.
You can also trade ETFs as CFDs if your chosen brokerage allows. Top-rated eToro supports both long-term investments and short-term leveraged CFDs – all commission-free and covering thousands of tradable assets. Furthermore, the trading platform is regulated by CySEC, FCA, and ASIC, and is also registered with SEC and FINRA for US clients.
Variety of Markets Available
A trading platform comparison guide wouldn't be complete without mentioning the importance of having a variety of markets to choose from. The most seasoned traders will tell you that to have the best experience when trading you need access to a mixed bag of assets.
You might trade crypto for a while and then look to speculate on some commodities, only to realize you only have the option of Gold at the trading platform you signed up with. With this in mind, look for an online broker with heaps of markets to choose from.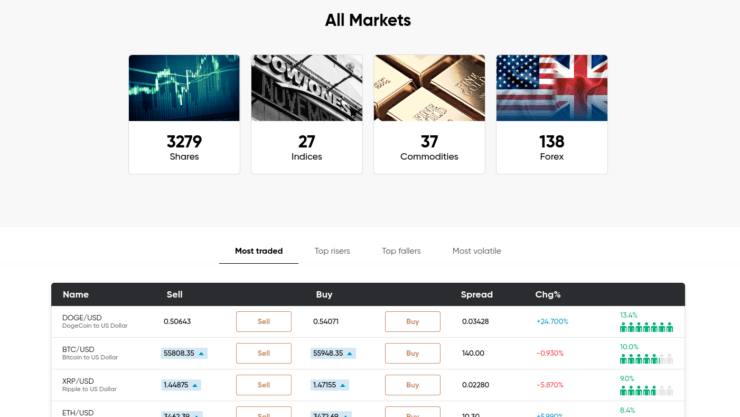 As we said, eToro offers access to more than 2,400 stocks from 17 international marketplaces as well as heaps of forex pairs, cryptocurrencies, indices, ETFs, and commodities. For a reminder of what's available – scroll up to our eToro review.
Manageable Fees
When you are making trading platform comparisons, it's important to check out the fee table of the broker in question. Whilst one might allow you to trade and pay zero commission, another will charge a variable or fixed percentage for every position you open and close.
See an example of how unfavorable commission fees could affect your trading experience:
Let's imagine you place an order worth $1,000 and the trading platform charges 3% on each position
You must pay a $30 commission just to enter the market.
Say your trade is worth $1,400 upon cashing out
You will have to pay a $42 commission to close your position
In total, you paid the online broker $72 to open and close a trade
Had you placed this order at eToro, you would have saved $72 as the trading platform is 100% commission-free across all markets.
Another fee to monitor includes the spread. This is the difference in value between the buy and sell price of the asset you are trading. We found AvaTrade and eToro to have tight spreads across most markets, especially on major forex pairs.
Deposit Methods
Notably, this trading platform comparison found there are brokers out there that support convenient deposit types – such as PayPal or debit cards, while others won't accept them at all. How much you may have to pay in transaction fees will depend on the online broker you join up with.
As we touched on in our comprehensive review – eToro accepts PayPal, debit/credit cards, and lots more. This trading platform will only charge you to fund your account (0.5%) if you are making a non-USD deposit – regardless of the method used.
Automated Trading Features
As you are likely realizing, no two trading platforms are exactly the same. As such, if you are looking to trade passively, using something like autotrading robots (or EAs) for example, you will need to ensure the broker supports this.
This is because fully automated trading tends to be done via third parties, such as MT4 or MT5. Not all online brokers are partnered with such platforms. For those unaware, robots and EAs are software designed to scan the markets for trading opportunities and place orders for you via your broker. Always check the one-off cost of the robot in question.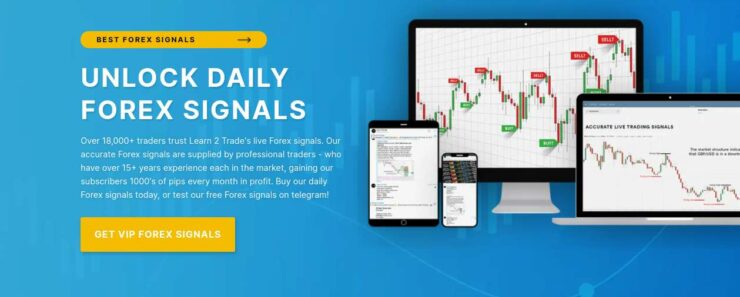 Perhaps you would prefer a trading platform that can facilitate forex signals, or stock signals? This saves you from learning or studying technical analysis. Here at Learn 2 Trade, we offer top-quality signals covering forex, stocks, and cryptocurrencies. The idea is to guide you gently into accessing the markets by detailing each element of the trading order to leave no room for guesswork.
In a nutshell, we have a team of pro traders scanning markets, charts, and indicators for perceived profitable trading opportunities.
We send the results as a trading signal to our Telegram members.
Each includes the asset, the entry price, buy or sell, and values covering every aspect of the order such as take-profit and stop-loss.
You can try out trading signals with ease at AvaTrade or eToro by using the virtual portfolio completely risk-free. Simply enter the order suggestions that we send you to enjoy a passive trading experience!
Trading Features
One of the most popular features for traders today is the Copy Trading feature. This enables either time-starved pros – or newbies untrained in understanding technical analysis – to copy an expert trader like-for-like. This really is a feature worth exploring.
Choose and invest in a Copy Trader based on the market they like to invest in, their historical gains, trading performance, risk score, and more. You can also filter the results down by different time frames, how many other people are copying them, and specific percentages of asset allocation preferred.
If the Copy Trader invests 2% of their portfolio in Google stocks and then allocates 2% to a Brent crude oil CFD – you will see 4% of your basket allocated to the same positions. Crucially, this will be calculated in proportion to your investment. So if you invested $1,000 in this scenario – you have $20 assigned to Google and $20 in a Brent crude oil CFD trade.
Free Demo Account
Top-rated brokers offer demo trading platforms – offering you a risk-free way to access your desired market. Each of the reviewed providers in this comparison guide will give you a free portfolio simulator. This will come loaded with paper funds to practice and strategize with. The amount you get in demo capital depends on which broker you sign up with.
To recap, when joining top-rated trading platform eToro – you will automatically get both a real and virtual portfolio. The first option will see you accessing real markets with your actual capital. The latter comes with $100,000 in virtual equity so that you can learn the ins and outs of various markets, get a grasp of risk management, and hone in on your chart reading skills for technical analysis.
Choice of Trading Platform Accounts
Whether you need a choice of accounts when looking for the ideal trading platform will depend on your own goals. For instance, if you see yourself as a regular retail client – you will probably be happy with the standard account offered by most online brokers.
If you want to climb the ladder to high-volume trader status one day – you might elect to sign up with a trading platform with more advanced options. For instance, some brokers offer professional-client accounts that come with additional perks such as zero spreads, personal account managers, high leverage levels, and invitations to events.
How to Sign up to the Best Trading Platform: Step by Step
In this trading platform comparison guide, we have offered comprehensive reviews of the best online brokers of 2022, as well as what to look out for when carrying out research of your own.
To get the ball rolling we have listed a step-by-step guide of how to sign up at Capital.com.This trading platform is regulated, commission-free, and looks after over 20 million clients globally.
Step 1: Register With a Trading Platform
Head over to Capital.com and click 'Create account' to sign up for free. Enter your name, chosen username, and any other information required. You should receive an email from the trading platform welcoming you almost immediately.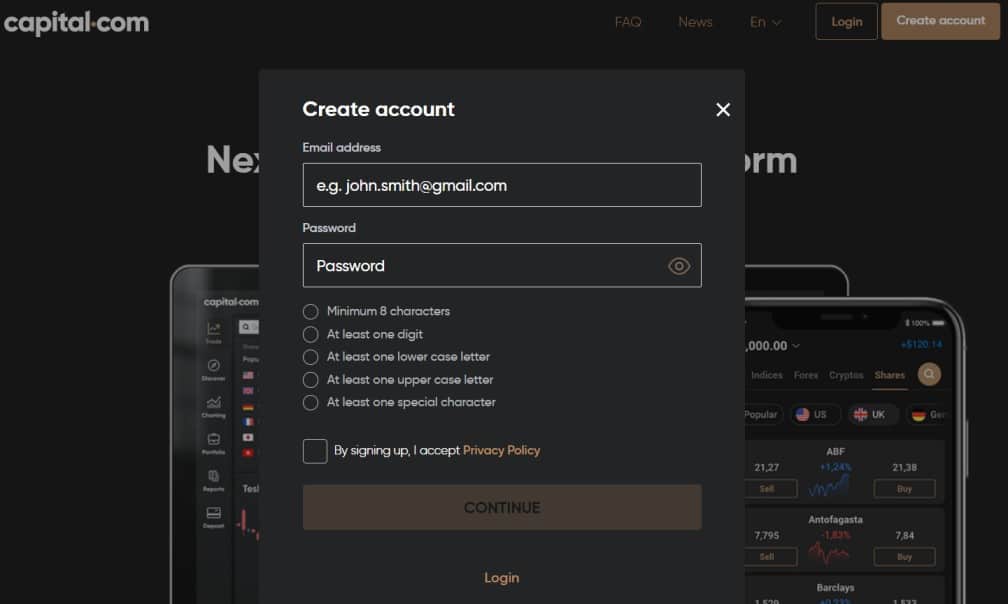 Follow the link within the email to go to your profile.
Step2: Validate Your ID
Capital.com upholds licenses from the FCA, CySEC, ASIC, and NBRB. As such, the trading platform must adhere to KYC rules and gain proof of your ID and address. This must be done to complete your profile set up. For this, you can upload a copy of your passport or driver's license.
To validate your address, you can send a digital copy of a recent bank statement, or a clear photo of a utility bill within 6 months. It's worth noting that you can in fact trade with an incomplete profile at Capital.com. However, you will not be able to make a withdrawal or deposit more than $2,250 until you have finished this element of the process.
Step 3: Deposit Funds Into Your Account
This trading platform comparison found that Capital.com accepts heaps of payment methods compared to some brokers on the scene. As we touched on, you can deposit funds into your account using PayPal, a debit/credit card, or a bank wire.
Click 'Deposit Funds' on the left-hand side of your profile. Next, select your preferred payment type from the drop-down menu and click 'Deposit' when you are happy to continue.
Step 4: Look for a Market to Trade
Now that you have some trading funds, you can look for a market you want to access. Your options are to click 'Trade Markets' for ideas or type in the search box.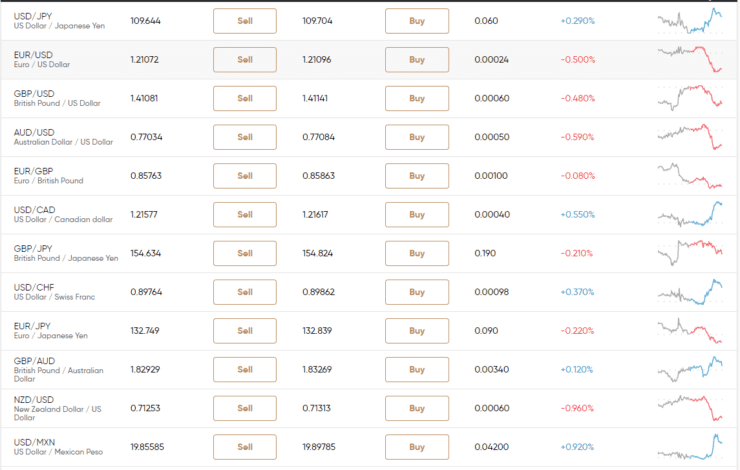 Here we are looking to trade cryptocurrency Dash against Swiss francs. As such, we entered 'DASH' in the search box, followed by clicking 'Trade' next to the asset.
Step 5: Place a Trading Order
At this stage, you can place your order at the trading platform. This might be the details of a signal notification you've received or a prediction based on the research you've conducted yourself.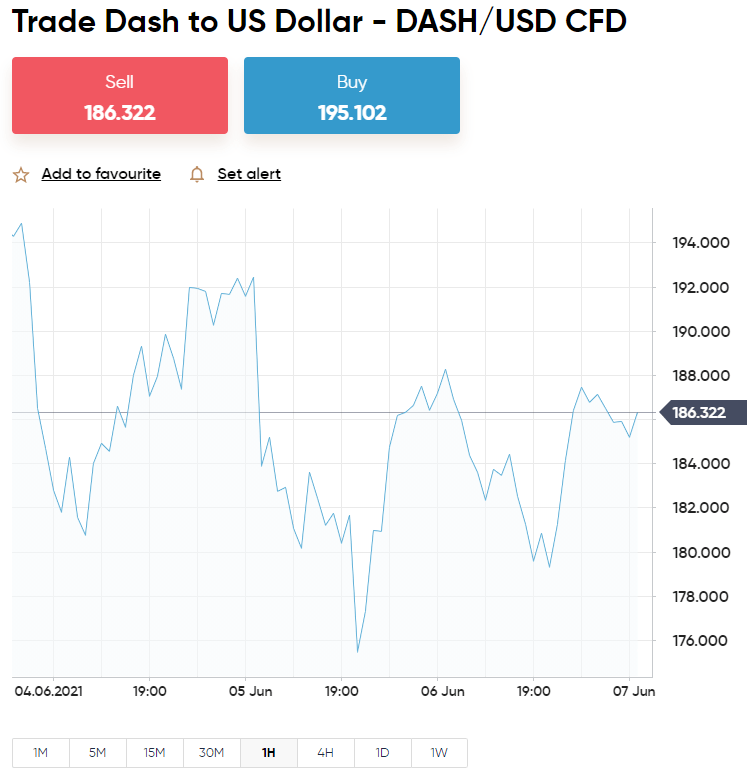 For those unaware, it's always wise to incorporate a stop-loss and take profit value on each position you take. This is a great way to add risk balance to every trade. When you have checked the information entered is correct, you can click 'Set Order' to prompt Capital.com to execute your order.
Trading Platform Comparison: The Bottom Line
This trading platform comparison sought to review the very best online brokers in the space. For this, we covered many important factors such as regulation, low fees, features, market variety, accepted deposit methods, and more.
This guide concluded that regulated broker Capital.com shines the brightest on all fronts. Under one trading platform, you can access thousands of different markets around the world – without paying a cent in commission fees. This broker is also home to the standout Copy Trader feature, allowing you to mirror a successful investor.
All Capital.com clients receive a free demo account with $100k in virtual equity, which is useful when it comes to familiarizing yourself with the platform, or perhaps markets that are alien to you. There are lots of payment types accepted and you can invest from as little as $25 per trade, depending on the market you wish to access.
Eightcap - Regulated Platform With Tight Spreads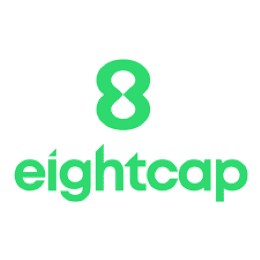 Minimum deposit of just $500
100% commission-free platform with tight spreads
Fee-free payments via debit/credit cards and e-wallets
Thousands of CFD markets including Forex, Shares, Commodities, and Cryptocurrencies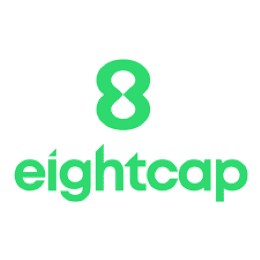 71% of retail investor accounts lose money when trading CFDs with this provider.
FAQs
Which trading platform is the best for newbies?
The best trading platform for newbies is Capital.com. The website is super easy to navigate, you will not be charged any commission on the thousands of CFDs available. And of course - the broker is fully regulated. If you are looking to invest in the traditional sense - licensed broker eToro is also a great option, offering commission-free trading on thousands of markets under watchdogs the FCA, ASIC, CySEC, and NBRB.
Can I trade on different trading platforms?
You can trade at as many trading platforms as you wish. With that said, it makes much more sense to keep the entirety of your portfolio under one roof as it will be less confusing. For this reason, it's wise to do your homework before signing up and make sure you have everything you need in one place. Commission-free broker eToro provides access to traditional investments and CFDs across forex, commodities, stocks, ETFs, and cryptocurrencies. The provider also supports fractional investments.
How can I compare trading platforms?
When conducting your own trading platform comparison you should look at the most important metrics. This should include regulation and licenses, available markets, low fees, ease of use, and whether leveraged CFDs are supported on your chosen asset.
Am I able to try a trading platform for free?
The answer depends on the online trading platform you choose to sign up with. Not all providers will allow you to use a free demo account before you've made a deposit. In contrast, at eToro, you can open an account for free. You can then look around and even place orders using the free demo trading account with $100k in paper funds.
Can I use MT4 without a trading platform?
No, MT4 is a third-party trading facility partnered with hundreds of online brokers. As such, if you wish to buy and sell this way you must do so via a compatible broker. Top-rated platforms AvaTrade and Capital.com work harmoniously with MT4 and will not charge you any commission to trade.