These days, calculating your desired position size in the currency markets doesn't have to be a headache!
Based on information such as your thirst for risk, chosen forex market, and stop-loss percentage – our position size calculator will do it all for you!
How to Use the Position Size Calculator: 6 Simple Steps
So, see below a quick-fire guide of how to use the Learn 2 Trade position size calculator. This will help you to meticulously plan your next entry into the forex markets!
Step 1: Select Account Currency
The first thing to do is enter the currency that your account is denominated. Here we are using a USD trading account.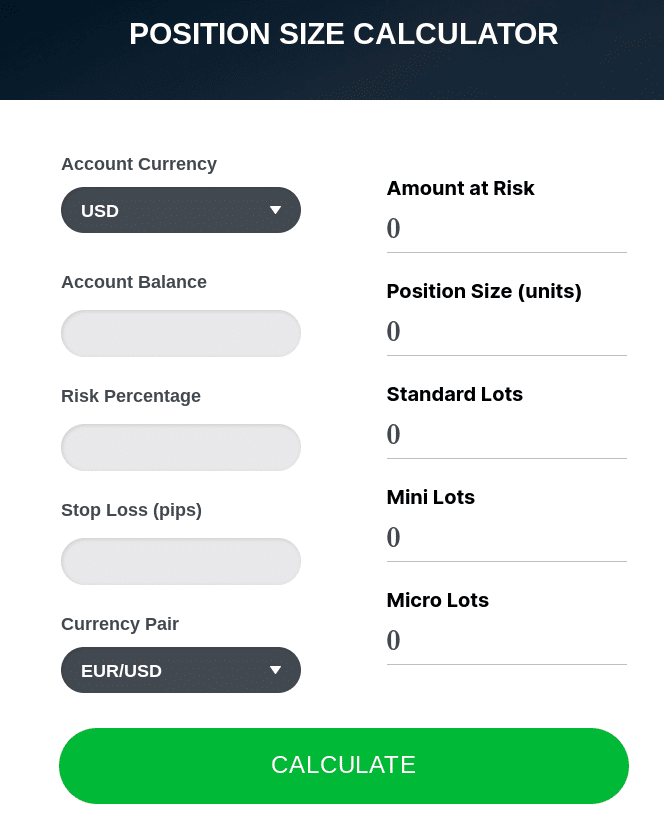 This can depend on which online trading platform you are using. Some are denominated in one currency only – such as euros or US dollars.
Step 2: Enter Account Balance
Then, input the balance amount in the relevant box – this means how much money you currently have in your trading account.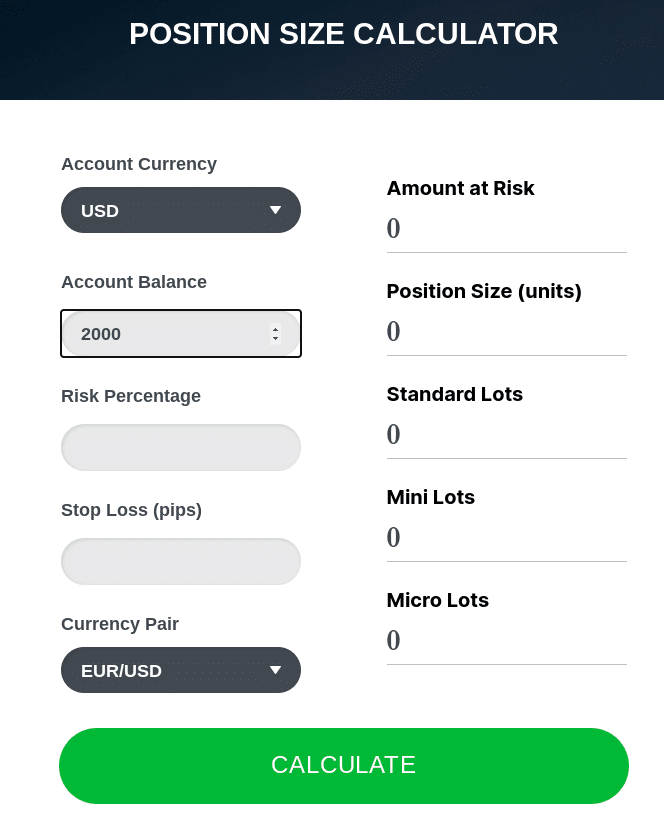 Here, our example account has a balance of $2,000.
Step 3: Enter Risk Percentage
Think about how much of your initial stake you are willing to risk on the currency trade.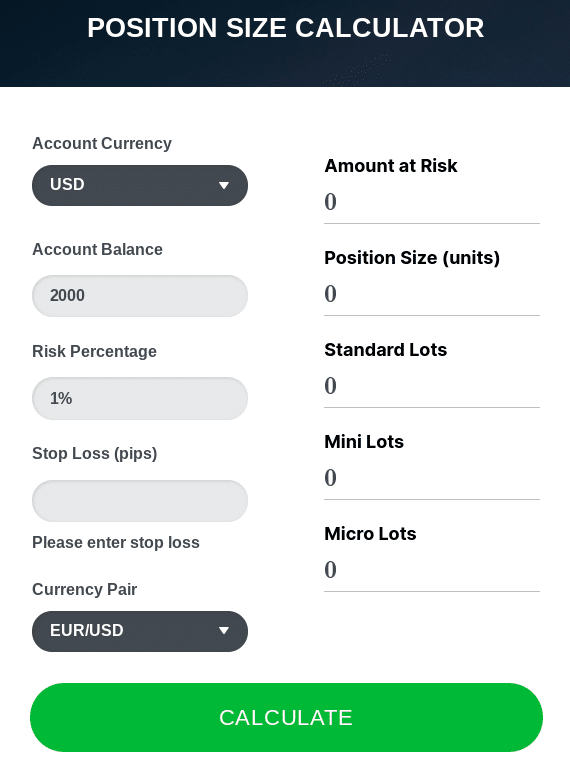 For instance, many people opt for a risk/reward ratio of 1:3. This means that for every $1 you allocate to a position, you expect to make $3. As such, here we are willing to risk 1%.
Step 4: Enter Stop-Loss
We want to set our stop-loss to 50 pips, as you can see below.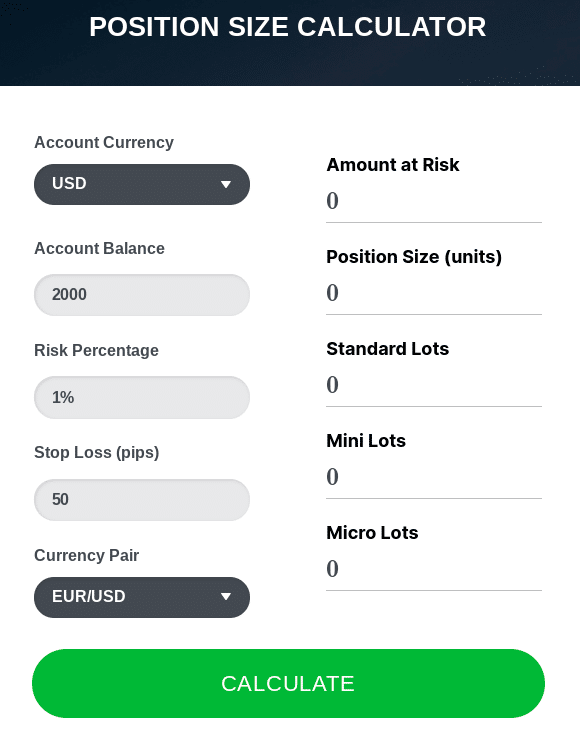 Next, enter the amount most suitable for your forex trading plan.
Step 5: Select Your Chosen FX Pair
Here, we are trading GBP against USD, so have selected this pair from the long list available.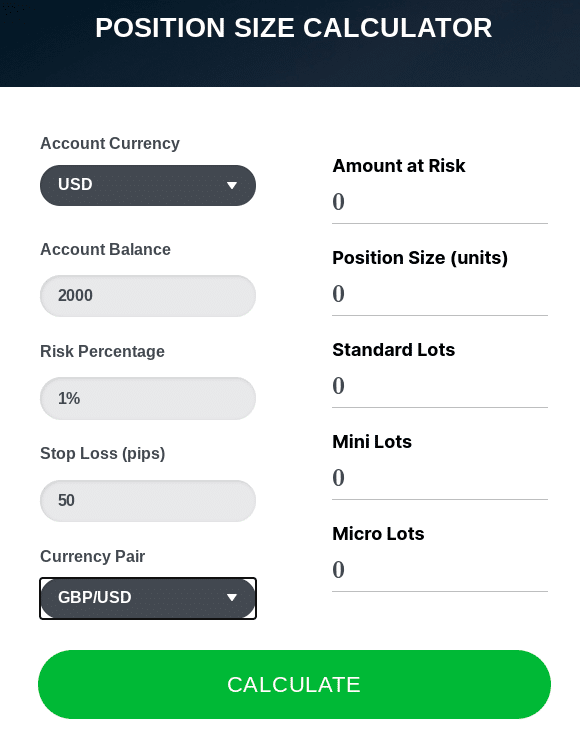 Specify the forex pair you are looking to trade and hit 'Calculate' when you are happy with the information entered.
Step 6: Calculate Your Position Size
As you can see, it really couldn't be easier to work out your position size when using this calculator.
After clicking 'Calculate' you will see a proportionate trade size worked out for you, to make your trading decisions stress-free.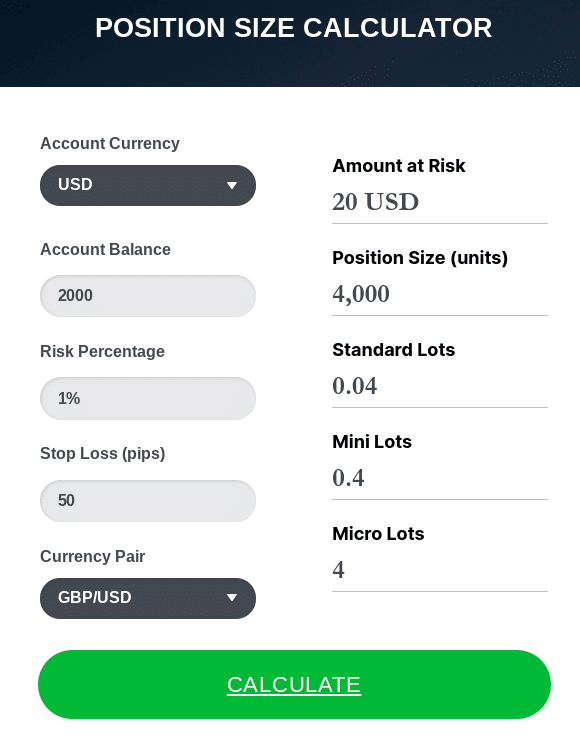 Understanding risk management and position sizing is a survival technique in the currency trading industry. This prevents you from risking more than you need to on any one trade.