Audioboom (BOOM) is an underappreciated stock trading on the LSE's Alternative Investment Market since 2014, and is one of the largest podcast platforms in the industry.
That lack of appreciation is perhaps for understandable reasons, because the company has never made a profit.
But the outlook is such that the perennial disappointments on that front might be changing for the better.
There is strengthening price momentum behind the stock at this point, with the latest data on the US market certainly helping and, perhaps more importantly, a strengthening revenue picture too.
Audioboom now No. 4 in the US
According to analytics firm Triton Digital's February 2021 Podcast Report, in which it ranks Audioboom fourth in the US marketplace on a weekly users basis, it has added 1.5 million weekly users since May 2020 for a 71% increase.
The platform averaged 3.8 million weekly users in the latest reporting period analysed by Triton and ranks fifth for daily downloads.
However, those figures are an understatement of the full picture as it only measures performance of the premium tiers and not the 8,000 other podcast channels on the Audioboom platform which are monetized through programmatic advertising.
The podcast format is booming right now, with some mega deals made by Spotify underlining the market opportunity. Multi-million dollar deals last year with the Obamas, Joe Rogan and the Kardashians and more recently with Meghan and Harry, show that the podcast war is heating up and Spotify is planning to be No. 1.
So where does Audioboom fit in?
Spotify is not reallly a direct competitor with independent outfits such as Audioboom that provides services to third parties.
Audioboom's platform allows its partners to easily embed, share and re-syndicate content – a business model that has led to it amassing around 40 million listens per month.
It works closely with its partners to monetize their output, for example with read-ins, dynamic insertion of pre- and post-roll audio and video adverts. Also, its software-as-a-service (SaaS) cloud offering makes the creation, broadcast and syndication of digital audio content across  devices, networks and regions a breeze.
In its final results for the year ending 31 December the company reported revenues advanced 20%, coming in at $26.8 million.
However, Audioboom made an operating profit loss of -$3.09 million (net profit -$3.3 million). Nevertheless the losses have been narrowing. In 2018 losses stood at -$8.23 million and -$7.44 in 2019.
Add to that the steadily growing revenue position, which is set to accelearte this year, according to company estimates, as seen in the table below:
Audioboom total revenue year end 31 December
2015
2016
2017
2018
2019
2020
2021E

0.294

1.8

6.06

11.7

22.3

26.8

48.5
Admittedly Audioboom has had to come to market to raise cash to bolster its cash flow position, bringing in $5.5 million and $4.6 million in 2019 and 2020 respectively, via this method. But the company says it now has suffcient cash for the "forseeable future".
In a sign of the robust state of its business, the company's full-year statement pointed out that it had already has booking secured equating to 80% of FY 2021 revenue.
Moving towards positive EBITDA?
Chief executive Stuart Last was typically effusive about the firm's prospects.
"2021 is set to be a breakthrough year for Audioboom as we move the business towards the milestone of positive EBITDA. I am delighted with the start we have made towards our goal with the Company already signing advertising bookings representing more than 80% of the current market expectations as to revenue for the full year, and I look forward to providing an update  on further progress in our Q1 trading update in April," Last reported.
On the risk side, the Audioboom continues to burn through cash, with free cash flow persistently negative, with improvement flatterred by fundraising, as metioned earlier.
Audioboom free cash flow per share ($)
2015
2016
2017
2018
2019
2020

-166

-113

-97.7

-68.1

-38.3

-22.7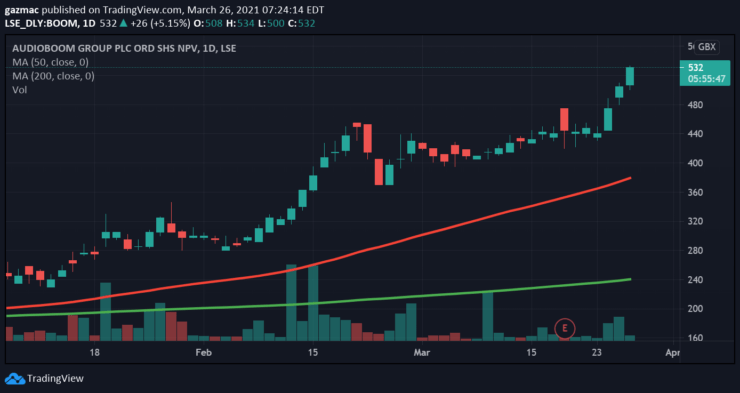 Up 5% at 532p today, price momentum is strengthening since its earnings report, as seen in the chart above, so there may be profit-taking to come.
But even taking account of the previous history of bullish comments from the management that have not matched earnings reality, and its continuing inability to make money, the chances of this year being pivotal for the cmopany are still high given the revenue forecasts, if still somewhat speculative.
If you are looking for stock trading ideas, we rate this stock a specuative buy
eToro - Buy and Invest in Assets

Buy over 2,400 stocks at 0% commission
Trade thousands of CFDs
Deposit funds with a debit/credit card, Paypal, or bank transfer
Perfect for newbie traders and heavily regulated
Only real cryptos are available for US users

67% of retail investor accounts lose money when trading CFDs with this provider. You should consider whether you can afford to take the high risk of losing your money.
Broker
Benefits
Min Deposit
Score
Visit Broker
Share with other traders!