It's a Doge-Eat-Doge World Out There

Shiba Inu is the latest meme coin. Its holders are promising it will make you an overnight millionaire.

And they have proof to back up their claims.

In August, a Shiba holder spent $3,400 on the meme coin. Now it's worth $1.5 billion.

Impressed yet? If not, consider another dog coin baron.

This one bought $8,000 worth in August. It's now worth $5.7 billion. For those counting, that's $8,000 to $5.7 billion in about 400 days.

Some are calling it the "greatest trade ever."

Not quite.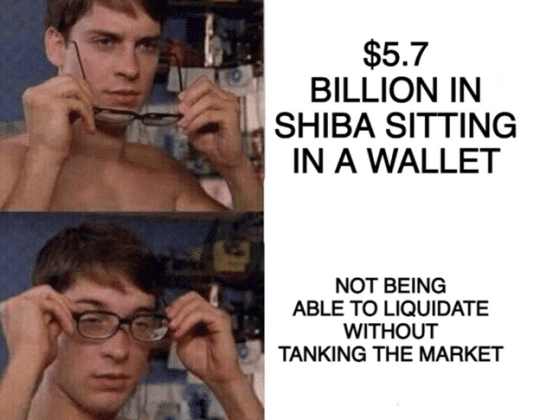 Shiba has leapfrogged dogecoin to become the ninth-most valuable crypto in the world.

Obviously, that's not a buy signal.

So why is Shiba pumping? Well, apart from the fact that the majority almost always buy green and sell red…

The "Dogecoin Killer"
Crypto whales use meme coins as a gauge of how much new — and unsophisticated — money is moving into the crypto markets. And then they do everything they can to take that money from them.

(Anecdotal, but almost everyone I've talked to who's recently gotten into crypto started with a dog coin.)

This morning, for kicks, I asked crypto whale watcher Justin Gupta of CryptoDash.live what he thought about Shiba.

"Cryptocurrencies are volatile as is," said Justin. "But when they are not well distributed, and only a few control a large portion of the tokens, they become even more so. This is because these few individuals can move the market at their whim."

In the case of Shiba, Justin explained, nearly 1/5th of the supply is controlled by two accounts: "Meaning at any given moment, if these accounts decide to dump, they could trigger a massive panic sell-off and crash the asset."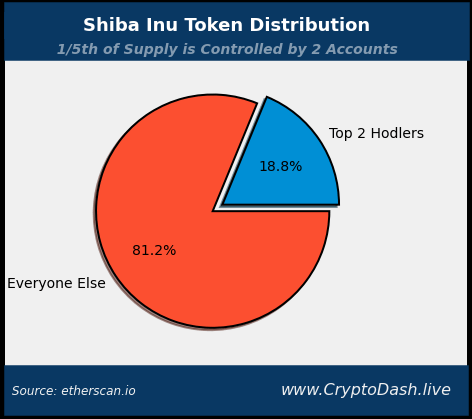 One fifth of Shiba is held by 2 accounts
Compare that to Dogecoin, where the top two accounts hold 10% of total circulating supply.

But, in the end…

It Doesn't Matter
The reality of the current crypto market is that virtually nobody cares about the technology or tokenomics. Consider, months ago Shiba pumped 300% after Elon Musk tweeted he would be getting a Shiba Inu dog.

And to the untrained eye, Shiba seems cheap.

It's currently sitting at $0.00007253.

But, the market cap is $40 billion, bigger than Robinhood. Bigger than Sysco Corp., the largest food distribution company in America. (And its circulating supply is around 550 trillion.)

If you're buying into Shiba today it's because you're convinced it's going to 1 cent. Maybe even $1. I'll tell you right now. It's not going to happen.

Yes, this points to new money coming into this space. But there are clearly other things driving this mania. Sometimes these things are best expressed with memes: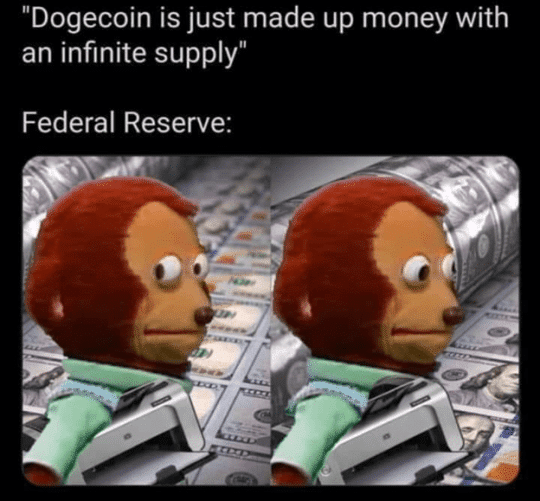 Richard Burton, a designer for DeFi projects, brought up an important point that gets far less attention than the money printers: barriers to entry in traditional finance.

Shiba Inu, he wrote, "is what happens when you stop generations of Americans from investing in startups with Accredited Investor Laws designed to 'protect people.'"

Perhaps lower barriers to entry mean we create more informed investors. Or… as in the case with all meme coins and stocks… perhaps not.

NB: Shiba Inu is not the next bitcoin. More likely, it'll be where most newbies get fleeced. If you're looking for solid advice on the projects worthy of your hard-earned money, look no further

Author: Chris Campbell
For Altucher Confidential
Broker
Benefits
Min Deposit
Score
Visit Broker
Share with other traders!