Service for copy trading. Our Algo automatically opens and closes trades.
The L2T Algo provides highly profitable signals with minimal risk.
24/7 cryptocurrency trading. While you sleep, we trade.
10 minute setup with substantial advantages. The manual is provided with the purchase.
79% Success rate. Our outcomes will excite you.
Up to 70 trades per month. There are more than 5 pairs available.
Monthly subscriptions begin at £58.

Are you considering an online trading career?
Even if you only want to earn some money on the side or build up a nice nest egg for the future, there's a new platform in town – TradeOR.
4 Provider that matches your filters Providers that match your filters
Funding Methods
Regulated by
CYSECASICCBFSAIBVIFSCFSCAFSAFFAJADGMFRSA
71% of retail investor accounts lose money when trading CFDs with this provider.
Spread min.
Variables pips
Funding Methods
71% of retail investor accounts lose money when trading CFDs with this provider.
Funding Methods
Funding Methods
71% of retail investor accounts lose money when trading CFDs with this provider.
This young online broker allows you to take advantage of market movements in a convenient way. You can trade everything from stocks and forex to cryptocurrencies and energies in a super cost-effective way.
But, is this the broker right for you and your trading goals?
This TradeOR review will reveal everything there is to know about this innovative trading platform.
What is TradeOR?
TradeOR prides itself as a platform that grants traders "a fulfilling and motivating experience." It's precisely the kind of message trade like to hear. There's really no flowery language or talk of impossible trading promises – which we like.
Instead, the focus is on helping traders do something they enjoy and finding a reason to keep doing it no matter what happens.#

The TradeOR platform combines a convenient and friendly interface with enough innovative features to inspire continuous learning. It also ensures you enjoy a smooth and more seamless trading journey than many of the platform's counterparts fail to offer.
The team behind TradeOR aren't just entrepreneurs. They are seasoned professionals whose collective experience helps shape a unique trading experience for every type of trader.
TradeOR doesn't just offer a safe place to trade or invest in stocks, forex, crypto, ETFs, and indices – it accommodates every trading style you could possibly think of. All in all, TradeOR offers an uncommon level of user-friendliness.
You can leverage technological novelties on TraderOR through its ChartIQ, Watchlists, and other impressive trading tools for beginners and experts alike.
What Can You Trade on TradeOR?
TradeOR offers a good selection of assets that you can trade at the click of a button.
If stocks are your thing, you can trade a combination of:
One of the many blessings of considering trading with TraderOR is the number of assets across several markets. On top of stocks, these assets span over several basic classes of instruments, including:
Cryptocurrencies

: A wide range of cryptocurrencies, including Bitcoin and Ethereum.
ETFs

: Trade a wide range of underlying assets using Exchange-Traded Funds.
Forex

: You can trade multiple currency pairs, such as AUD/USD, EUR/USD, and USD/JPY.
Indices

: The Dow Jones and FTSE 100 are two of the most popular indices globally; so naturally, TradeOR allows you to trade them on the platform with ease.
Metals

: Trade precious metals such as gold and copper using important news to make robust trading decisions.
Stocks

: Global company shares such as Apple, Facebook, Deutsche Bank, and Uber.
Energies

: Another place where TradeOR seems to focus is energies like oil and gas.
It's crucial to thoroughly understand the asset you wish to trade before signing up with TradeOR.
TradeOR Fees & Commissions
One of the most appealing things about the TradeOR platform is that it allows you to trade commission-free. This means that you can enter and exit a position without worrying about a flat or variable fee.
Leverage at TradeOR
Traders are always on the lookout for leverage. This allows you to hold positions with greater exposure to markets relative to your account balance.
Only recently, European regulators updated their views to more broadly address the possible risks of leverage trading. Some national regulators have even lowered maximum leverage levels for retail account holders.
With that said, TradeOR offers leverage of up to 1:100 – which is huge. In simple terms, this allows you to trade with 100 times the amount you have in your account. For example, if you were to place a position worth $10,000 – this would require a margin of just $100.
TradeOR Platform and Trading Tools
The TradeOR platform is unlike any experience you've had elsewhere. The website is apt in describing it as "a new dimension of trading" and invites traders of all sizes to come on board.
The trading platform allows investors to do at least four things:
fund transactions using Bitcoin;

use ChartIQ to forge a structured and consistent strategy;

learn from the wisdom of many trading experts;

and

share vital knowledge with budding investors.
Even considering ChartIQ and Bitcoin-enabled transactions alone is enough to agree that signing up with TradeOR is investing in innovation.
The TradeOR platform allows users to track the progress of their strategy and investments. First, there are tools to create the ultimate trading strategies for your portfolio. It's also here that traders can access crucial details like their trading history and orders.
TradeOR Demo Account
While demo trading is a standard feature on broker platforms, it seems to be completely missing from the TradeOR platform.
Research and Analysis at TradeOR
Modern trading platforms are on the cutting edge of technological adoption. TradeOR continues this tradition by offering its custom ChartIQ, which allows it to serve customers with efficient trading experiences backed by data.
For comprehensive research, ChartIQ offers exclusive access to trade analytics. Investors can also take advantage of custom data to make sound trading decisions.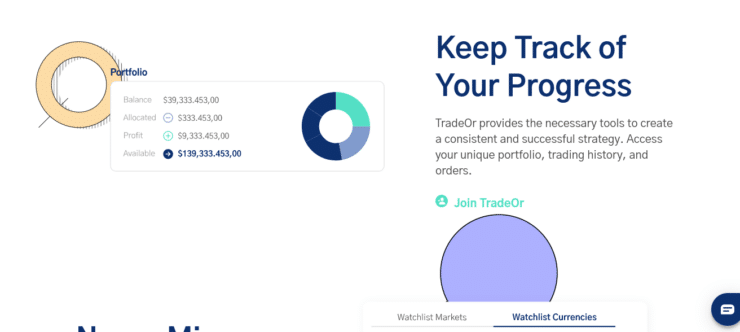 As Isaac Newton pointed out, he was only able to see as far as he did because he stood on the shoulders of giants. As such, insight from traders with more experience is often invaluable and can make a huge difference in an investor's expeditions.
TradeOR offers priceless trader insight along with a wealth of educational material to help you navigate the slippery slopes of investing.
The Watchlist feature is particularly impressive. It's a simple yet useful tool to track each of your favorite stocks and currencies. There's probably no better way to stay abreast of the defining price moves that your trades depend on.
TradeOR App
The TradeOR platform does not provide links to any Android or iOS apps. With that said, TradeOR is still in the very early days of its online brokerage service – so we expect a mobile app is likely something the firm is working on as we speak.
Payments at TradeOR
Like all brokers, TradeOR requests a deposit to enable you to trade on the platform. However, there's just one payment option: Bitcoin.
As crypto adoption continues to grow around the world, digital currency payments are also becoming mainstream.
Ultimately, not only does this allow you to benefit from secure and low-cost transactions, but withdrawals from the TradeOR platform are processed super fast,
Customer Service at TradeOR
There's probably not one business in existence where customer service doesn't matter. In light of this, TradeOR is offering an enviable customer experience to its clients.
Even experienced traders are not alone as TradeOR walks with them every possible step of the way. It's never midnight on the TradeOR app. The support staff are accessible through various channels to render relevant assistance for all kinds of queries.
There's even a form on the website to take instant queries. The live chat feature on the platform is a quick and fun way to interact with the customer service team.
How Fast and Safe is TradeOR?
One would want to score TradeOR high because it does not pretend to offer all things possible under the sun. The entire experience relies on a foundation of simplicity and efficiency. Even Bitcoin transactions are possible at the touch of a button.
However, while TradeOR may be fast, is it a broker that a typical investor should do business with?
Largely yes – but don't forget that the only acceptable way to make deposits on the platform is through Bitcoin; so no bank wire, no Paypal, no credit or debit card options.
Is TradeOR Safe, or is it a Scam?
it's important to note that there are no reports of tragic tales from investors who have tried out the platform.
If you would like to check out what TradeOR offers, the TradeOR.com website is the library you need. You'll do well to learn everything you can about brokers, how you can avoid scam brokers, and sign up with one that's safe and secure.
FAQs
What is TradeOR?
TradeOR is a Bitcoin-accepting online broker. It offers trading in assets such as cryptocurrencies, energies, and forex.
Is TradeOR Legitimate?
There is no information on the location or regulation of the TradeOR service and none on the parent company or location. These are usually standard accessible information on broker platforms. With that said, the general consensus in the public domain is that TradeOR is a legitimate platform.
Does TradeOR Offer a Demo Account?
There is no demo account option on the TradeOR platform, so newbie traders may have to look elsewhere to learn and grow their skills.
How Can I Get in Contact with TradeOR?
The two major ways to contact TradeOR are through social media (Facebook, Instagram, and Twitter) and Live chat
How much does TradeOR charge?
TradeOR is a 100% commission-free broker.