Service for copy trading. Our Algo automatically opens and closes trades.
The L2T Algo provides highly profitable signals with minimal risk.
24/7 cryptocurrency trading. While you sleep, we trade.
10 minute setup with substantial advantages. The manual is provided with the purchase.
79% Success rate. Our outcomes will excite you.
Up to 70 trades per month. There are more than 5 pairs available.
Monthly subscriptions begin at £58.

Scalability is one of the biggest issues of cryptocurrencies. Due to the congestion caused by the high interest in cryptocurrencies, trading them becomes more expensive and might take more time. To fix such issues, developers began creating projects that would provide scale solutions. One of these cryptocurrencies is Ripple (XRP).
Ripple (XRP) is one of the biggest cryptocurrencies in the crypto market, which has solidified its place in the top 10 for many years now. As a project, Ripple offers some of the most scale solutions. As an investment, XRP has been quite profitable over the years, and it might continue to be so in the future. This article covers everything you need to know about XRP so that you have a better idea of what type of investment XRP is.
Ripple (XRP) Fundamental Analysis
Let's begin with some background information on XRP. The project is managed by Ripple Labs, a US-based company that is involved in many other financial services projects. The network on which XRP, the native token, works is the XRP Ledger. As the name suggests, the XRP Ledger is a distributed ledger for all XRP transactions. RippleNet is another network within the XRP Ledger, but it is mainly used by banks around the world for efficient financial services.
In terms of history, Ripple was once named as OpenCoin. It was founded in 2012 by Chris Larsen and Jed McCaleb in California as a project to tackle both bank services and the cryptocurrency market. Both these founders are well-respected in crypto communities as entrepreneurs and crypto influencers. OpenCoin was then rebranded to Ripple in 2015.
As for the company, Ripple Labs has expanded throughout the years and has offices throughout the world. While their main product remains the XRP, they also provide software development kits so that you can launch your finance-based project in RippleX. Nonetheless, it is the XRP that has given Ripple the reputation that it has today.
As suggested, the distributed ledger in which XRP operates is the XRP Ledger. The reason why XRP has distinguished itself among other top cryptocurrencies is that a transaction is validated in less than 5 seconds. To put that into perspective, a block of transactions in Bitcoin is generated every 10 minutes. XRP achieves that through the 6 main nodes that control the XRP Ledger. They also own around 16% of the total XRP supply. They govern the network and maintain stability.
While some might argue that this might be a property of a centralized currency, the consensus for XRP transactions is achieved through network participants. People throughout the world contribute to keeping the XRP Ledger secure. More than 150 validators continually contribute to keeping XRP decentralized.
So does that make XRP a Proof-of-Work (PoW) or a Proof-of-Stake (PoS) cryptocurrency? Actually, the XRP ledger is neither a PoW nor a PoS network. By validating the account balances of the users and not transactions directly, the XRP ledger achieves consensus in the network. The implication here is that XRP is not blockchain-based. Instead, since "blocks" of transactions are not produced, XRP produces "ledgers." This method has proven to be effective since XRP manages to handle around 1,500 transactions per second. This also implies that XRP is more eco-friendly than other minable cryptocurrencies since no energy costs are required.

So how are XRP tokens mined or generated? The supply of XRP is predetermined. The main nodes and a designated committee decide the supply of XRP. Ripple has a limited supply of 100 billion XRP. At the time of writing, the circulating supply of XRP is around 46.6 billion XRP. With this limited supply, XRP has inflation-free properties.
A worth mentioning feature of the XRP Ledger is that it is open-source. This means that other companies can use Ripple's protocols for their businesses or banks and make them more efficient, especially in the financial sector.
Ripple (XRP) Price Analysis
According to CoinMarketCap, XRP's initial price in August of 2013 was around $0.005. It managed to reach $0.01 a month later and ended the year as high as $0.06.
In 2014, XRP was quite volatile as it ranged from $0.003 to $0.02. Similar bearish tendencies were in 2015.
In 2016, the price was relatively stable as the price range was from $0.005 to $0.009. Trading was more profitable for day traders during this year.
In 2017, XRP started at $0.006, but then a bullish run started. XRP reached an average price of $0.20, more than ever before.
XRP increased by more than 63,000% in less than 12 months. This increase was marked by an all-time high of $3.84 in January of 2018. To put that into perspective, investing $1000 in XRP in January of 2017 could have generated a profit of $630,000 in January of 2018. Understandably, however, the price declined after that to $0.27.
In 2019, XRP ranged from $0.19 to $0.47, and in 2020, the price ranged from $0.20 to $0.70.
In 2021, another bullish trend started, primarily because Bitcoin started increasing again. This caused an increase in the price of XRP, reaching a price of $1.96 in April of 2021. XRP then declined to around $0.5, but it then started increasing again, reaching $1.40 in September of this year. At the time of writing, XRP is at $1.11.
With a circulating supply of 46.6 billion XRP and a price of $1.11, the current market cap of XRP is around $52 billion. This places XRP at number 7 in the crypto market rankings. The fully diluted market cap of XRP is around $111.7 billion.
Ripple (XRP) Price Prediction 2021, 2022
Even though the bullish run of 2021 has made XRP quite profitable, it failed to surpass its all-time high. Nonetheless, while many predict that the cycle is over, a lot of experts predict that XRP has still room for increasing in the remaining months of 2021.
To illustrate, Wallet Investor predicts that XRP can reach $2 by the end of 2021, which would be the highest of the year for XRP.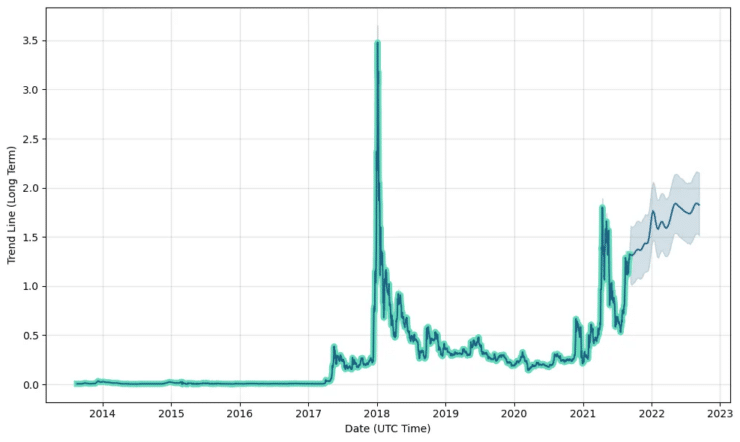 As for the longer term, they predict that XRP can break the all-time high, and it may even increase by more than 200% in the next five years.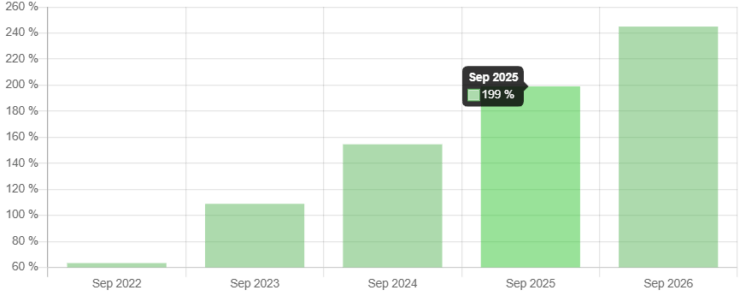 Previsioni Bitcoin also predicts an increase in the price of XRP in the remaining months of this year, where the price might reach close to $3 by the end of 2021. They also predict that XRP can reach close to $4.8 by May of 2022.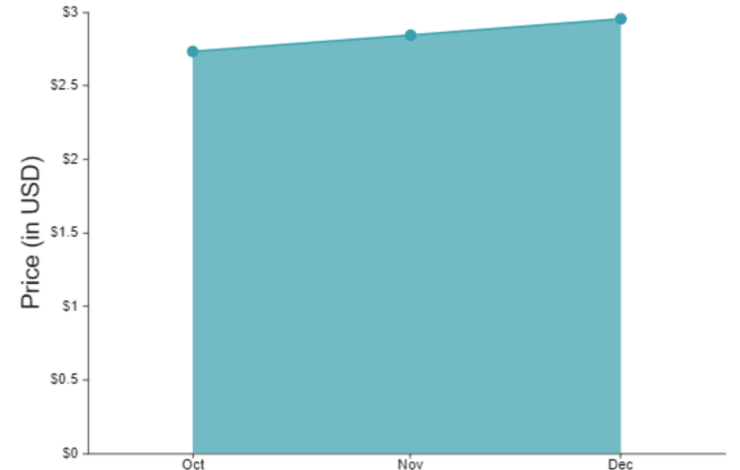 Ripple Price Prediction 2023, 2024, 2025
Steve Wynn, a billionaire and a strong supporter of XRP, believes that XRP has not been fully applied yet. Since it has many utilities as a project, Wynn believes that XRPcan hit $10,000 in the future, once it is fully accepted and applied everywhere in the world. While this prediction might seem too optimistic, experts argue that it is entirely possible, but it would mean an extraordinary market cap due to the large supply of XRP.
The obstacles that XRP faces for prosperity are the issues caused by the lawsuit of the US Securities and Exchange Commission (SEC). The court case is mainly due to the fact that SEC believes XRP is a security rather than a cryptocurrency. This lawsuit is going to be the key determinant of Ripple's future. The court case is far from being over. However, according to Crypto Academy Ripple might surpass $160 and even reach $200 in the first quarter of 2025.
As it seems, the future of XRP can be determined from this court case. Technically, XRP can beat the case, but it remains to be seen in the upcoming months.
How To Buy XRP?
Here's step by step how you can buy XRP;
Step 1: Create a cryptocurrency exchange account
First, you need to create an account in a cryptocurrency exchange. The ones that support XRP are Binance, Bybit, OKEx, etc. Then, you need to verify your account.
Step 2: Fund your account
Secondly, you need to fund your account by transferring your tokens from a wallet to the exchange, If you do not have a wallet, you can directly buy crypto with fiat currencies by using a debit or credit card.
Step 3: Buy XRP
Lastly, once you fund your account, you can trade and buy XRP by simply selecting XRP, the amount you want, and press "BUY."
How to Store XRP?
After getting XRP, you can transfer the tokens in a cryptocurrency wallet, either a hot (software) wallet or a cold (hardware) wallet. Recommended hot wallets for XRP are Atomic, Guarda, etc. Recommended cold wallet for XRP is Ledger Nano X.
Frequently Asked Questions (FAQ)
Should I Buy XRP?
XRP has been quite profitable so far. It is predicted that its price may increase in the future, s buying and holding (HODLING) XRP might be a good idea.
Can XRP Reach $10?
The future of XRP depends on the SEC lawsuit. If it manages to beat the lawsuit, then a price of $10 can be easily reached.
Can XRP price increase?
Due to the limited supply and its large community, XRP can easily increase, other things equal.
Conclusion
XRP offers solutions for scalability problems in the cryptocurrency market. A ledger is generated every 3-5 seconds, and 1,5000 transactions are handled per second. It is energy-efficient since it is not a minable cryptocurrency. It does not use either PoW or PoS mechanisms. The maximum supply of XRP is 100 billion XRP, and the current circulating supply is around 46.6 billion XRP.
XRP reached its all-time high in 2018. If XRP beats the SEC lawsuit, its price can soar upwards. To buy XRP, you can use a cryptocurrency wallet. It is recommended to store your XRP in a safe wallet. Overall, XRP is one of the best cryptocurrencies in the market.
Broker
Benefits
Min Deposit
Score
Visit Broker