Invest at least $250 in D2T to gain lifetime access to our VIP Signals
Get early access to Dash 2 Trade's Presale. Buy the D2T token now
Existing community of 70,000+ traders
Unlocks access to the leading crypto trading analysis, signals and trading tools
As featured in CryptoNews.com, FXEmpire.com, FXStreet.com and more
World class development team backed by Quant developers and VC investors
Over the last couple of decades particularly – technology is improving at the speed of light. As such, more and more investors are choosing to take advantage of automated trading software. Forex robots save traders time and the risk of letting emotions get in the way of important decisions.
Forex robots were created to make light work of trading currencies. Of course, that doesn't mean to say you're protected against losses. The software is more of an assistant, and if you want – an end to end trading bot.
These automated systems can be a great tool to add to an existing strategy for experienced traders. For newbies, it can be a good way to get into the forex market – subsequently cutting out months of research and learning charts and technical analysis.
Forex Astrobot is 100% automated and operates on M15, M30 and H1 timeframes. In this review, we're going to delve into everything from what Astrobot is to how to sign up. Ultimately, we explore whether or not the forex robot is able to meet its claims of being able to create a passive income for traders.
Table of Content
Forex Astrobot - Automated Forex Trading System With Great Results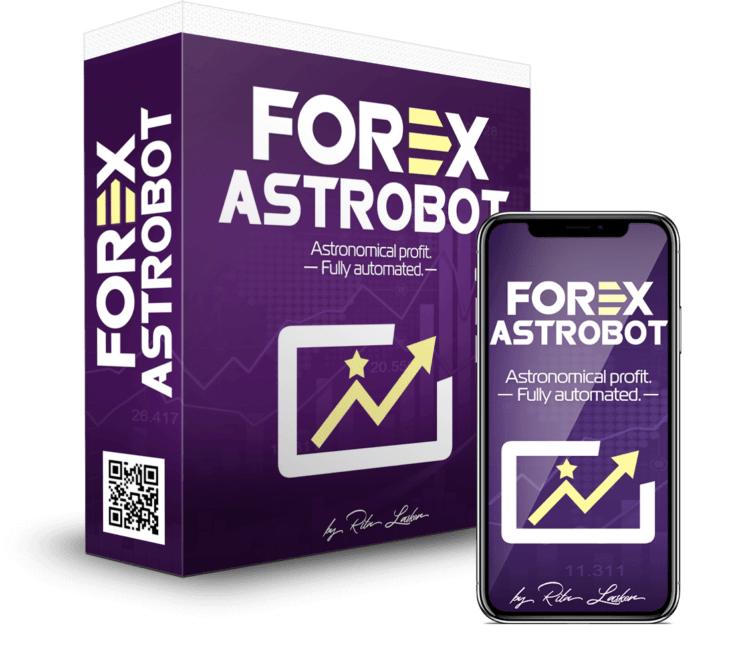 WIn rate of 75% and more
Suitable for traders of all shapes and sizes
Fully adjustable settings
Current on offer at just $99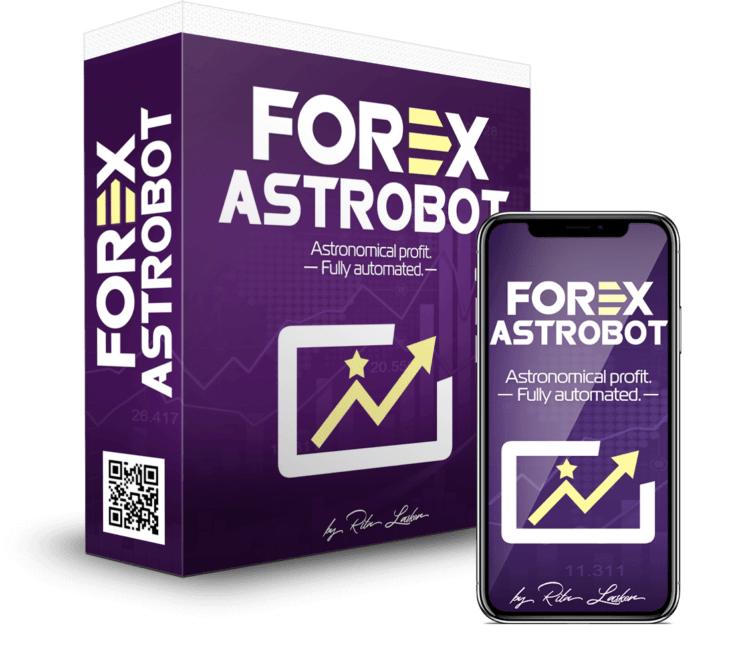 What is Forex Astrobot?
Forex Astrobot is a forex robot computer system which uses algorithmic trading, enabling you to sit back and let the platform trade on your behalf. This bot was created by Rita Lasker (a well-known trader of forex) and Green Forex Group. The software runs on the MetaTrader 4 platform.
The platform claims that investors can make as much as $16,000 per month using this forex robot. However, this is not a guarantee and depends on a number of factors which may be out of both the software and your control.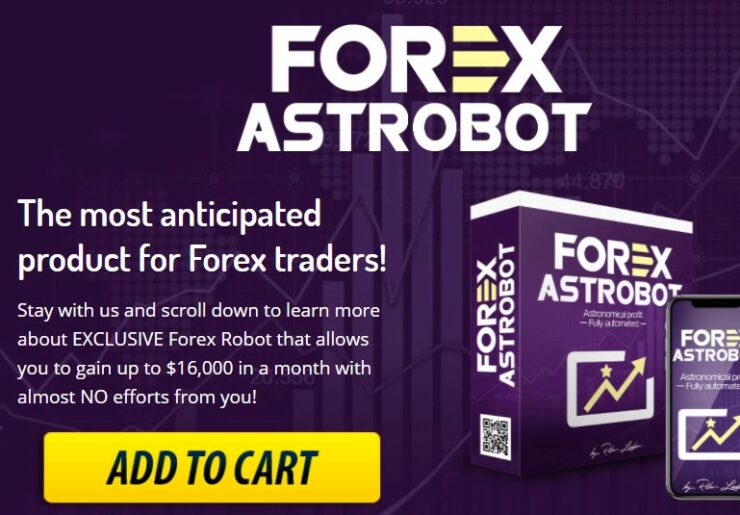 In June of this year, the company's GBP/USD bot reported a $550 profit. The results, as always, were live and verified. Astrobot adapts to market changes well and will inform you of any potential trading opportunities via MT4 pop-ups, email or mobile push notifications. The provider claims to have an average win rate of 75%.
We think this could be suitable for experienced traders as well. Some helpful features such as maximum slippage, money management and trailing stops mean you can get a little more involved.
With our busy lives, it's no wonder more traders are turning to this type of software to do the leg work. We are going to cover the bot's features in more detail later.
For day/scalping/swing traders; Forex Astrobot takes on the responsibility of managing these trades when you are otherwise engaged.
For anyone new to currency trading, Forex Astrobot opens up the gates to this multi-trillion-dollar arena. It will take advantage of market conditions very seriously and thus – strive to make you passive gains. As a result, you no longer need to spend hours and months researching market conditions.
Is Forex Astrobot a Scam?
We can confirm that Forex Astrobot is a legitimate robot. However, in the currency trading game, there are no 100% risk-free guarantees. Anyone who knows the forex market knows that it can be extremely volatile, and so even the most accomplished forex trader can get it wrong. Any bold claims should be taken with a pinch of salt.
The best way you can protect yourself is to avoid any forex robot which seems too good to be true. In other words, if it's promising you huge returns but with no results to be seen – that's a red flag. Also, if the robot seems a little bit too cheap alongside grandiose claims – another red flag.
Two of the best ways you can check out the legitimacy of a forex robot is to seek out some user reviews of the product. You can also visit third-party verification platforms such as Myfxbook.com (which is very well known by traders and brokers).
How Does Forex Astrobot Work?
Forex Astrobot was designed to be 100% automated. The forex robot uses predetermined rules and analyses the forex market for potential opportunities. Like all forex robots, the built-in algorithm software is able to manage trades on your behalf.
The timeframe used by Forex Astrobot is H1, M15 and M30 on all currency pairs. The algorithm on this bot not only places trades but uses a blend of technical indicators.
The product will do all of the work for you from start to finish. If you want to adapt it, that's possible too. You can optimise the settings to suit your trading style as some of robots inputs can be accessed externally.
This means that if you are a forex investor who lacks the ability to trade full-time, you can just sit back and let the forex robot do everything. Alternatively, you can keep an eye on current market conditions and adjust the settings as you see fit.
As we mentioned, Forex Astrobot is suitable for any MT4 brokers who accept forex robot traders. No matter what your forex trading level, the software is designed to take advantage of opportunities and be your eyes and ears in the world of forex trading.
Forex Astrobot Accounts
Forex Astrobot has two account versions available, which are the standard 'Forex Astrobot Standard' and the 'Forex Astrobot+Ultimate Version'. There is a bit of a price difference between the two, so let us explain what each one offers.
Forex Astrobot Standard
First, there is the standard Forex Astrobot which costs $328.00. Sometimes the product is on sale (right now it is on offer for $99). If it happens to be on sale at the time of your purchase it will be heavily advertised on the Forex Astrobot website.
With this standard account, you can expect a 100% automated system, autonomous buy/sell trades, and a 30-day money-back guarantee. If you're not happy with the product you can send the customer support team an email and ask for a refund.
As well as the aforementioned, you can expect a built-in trailing stop feature, money management tool, and remote assistance. Each Forex Astrobot comes with a lifetime licence and user guide with step by step instructions, and it takes just a few minutes to set up.
Forex Astrobot + Ultimate Version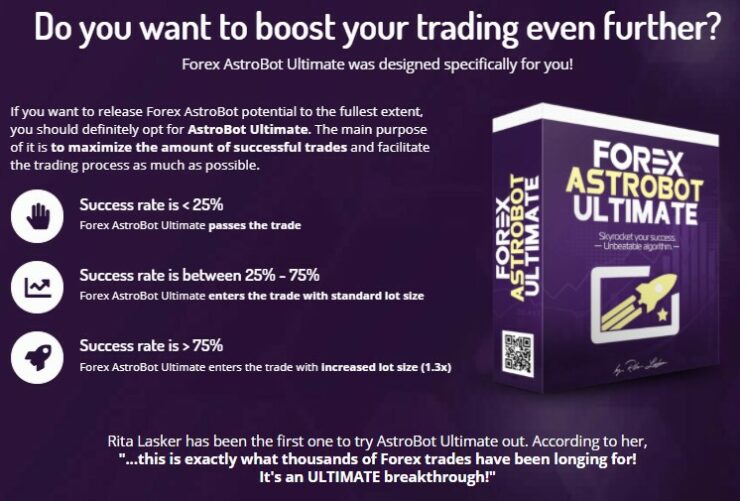 Forex Astrobot Ultimate is going to cost you $757.00 (currently on sale for $228) and runs on M30. This software aims to increase the number of profitable trades and accelerate the trading process.
According to the Forex Astrobot platform, the success rate on the ultimate version of this forex robot is <25%. When entering the trade with a standard size lot the success rate is stated to be between 25% and 75%. When the forex robot enters a trade with a bigger lot size of 1.3x the success rate is listed as >75% With this in mind, the only strategy that is worth utilizing is the larger lot-size setting.
Some of the features you can expect with this version of the Forex Astrobot software are 24/7 support and a better success rate (according to the platform itself).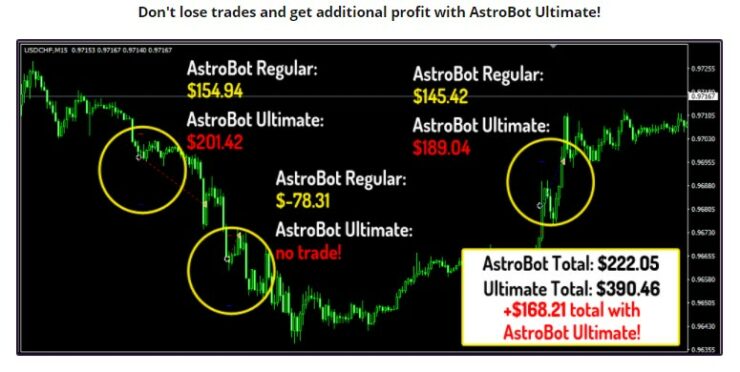 Then you have a 'losing trades filter', 'profit-multiplication mode' and 'advanced additional algorithm. This version also comes with a lifetime licence, step by step instructions (a user guide)and a 30-day money-back guarantee if you are dissatisfied. The robot is installed in a few minutes.
How to Sign up for Forex Astrobot: 4 Easy Steps
By now you'll be armed with enough knowledge about Forex Astrobot to decide whether or not you want to try it. If you have decided on which (if any) account version you are interested in you can get started straight away.
To sign up for Forex Astrobot, follow these 4 easy steps and you will be trading forex with your new assistant in no time.
Step 1 – Sign up with Forex Astrobot
The first thing you need to do is head over to the Forex Astrobot website. Here you will see advertisements for both the Forex Astrobot and the Forex Astrobot + Ultimate Version.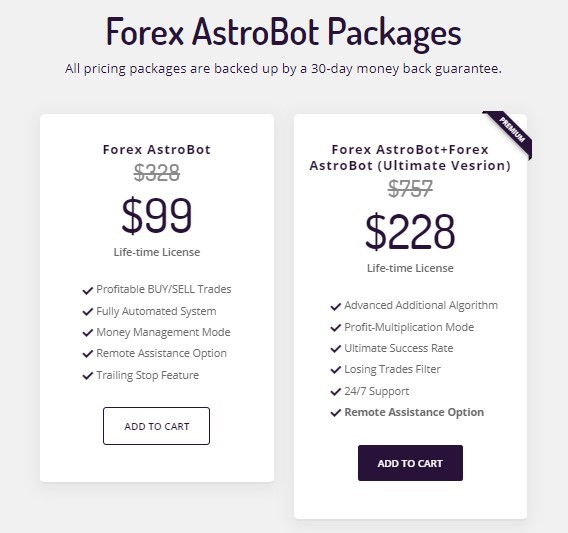 When you have decided which one you fancy trying (we recommend the cheapest to start with), then just click on 'buy now'
Step 2: Download the Forex Astrobot
When you have completed your purchase you will receive an email, which usually happens immediately. When the email has landed, you will see that there is a registration link. Click on this link and you can download your Forex Astrobot in a matter of minutes. This also comes with step by step instructions.
If the email takes longer than expected, go to the Forex Astrobot website and click on 'contact us' (down at the bottom of the page). Explain to the customer support team that you are still awaiting your product. It's always worth checking your email spam before contacting the company.
Step 3: Try a Demo Feature
We always recommend trying out a demo before spending any more money. Even with the most reputable forex robot providers, we recommend taking full advantage of demos and live trading accounts.
Regardless of whether or not you're a brand new trader, or have been trading for decades, demo's are an invaluable way to try out platforms, currency pairs and strategies.
Step 4: Make a Forex Astrobot Trade
When you feel like you know your way around the platform you can take the plunge and make your first real cash trade. We still recommend that you tread with caution and start with a small amount, and always go in clued up about your own financial limits.
To put it bluntly -unless you are in the small percentage of people who are extremely wealthy – only deposit what you can afford to lose in the worst-case scenario.
Forex Astrobot – Key Features
As we've covered, Forex Astrobot uses various features such as money management, trailing stop and slippage
Money Management Mode
When market conditions are particularly advantageous, The 'Money Management Mode' feature will automatically alter the size of your lots. Similarly, it will decrease them when market conditions are not favourable.
100% Automated System
As we mentioned, Forex Astrobot works on a 100% automated system. From start to finish the software takes a few minutes to install.
Built-In Trailing Stop
This built-in feature on the Forex Astrobot is there to protect traders against unwarranted risks. This means that you are able to optimise the chances of a positive trade result, leading to potential profit.
Slippage Feature
The slippage algorithm can stop you from entering a trade with the wrong parameters, should there be a radical change in price value.
Take Profit Technology
Forex Astrobot provides up to three 'take profit' levels.
Customer Support
Customer support is available 24 hours a day and 7 days a week on the Forex Astrobot platform. If you need support with your forex robot you need to click on the 'contact us' link at the bottom of the Forex Astrobot website.
This will redirect you to a contact form. You can add your name and email address, along with your concern. Someone from the customer support team will then get back to you.
Is Forex Astrobot Legit? The Verdict
There are some really great forex robots out there at the moment. Whilst the company is legitimate, there isn't much information in the way of results. Or at least not as extensive as some platforms we've found.
The truth is – the vast majority of forex traders want a robot provider who can present backtests. In other words, fully-fledged historical results. We are certainly not bashing Forex Astrobot or saying it's a scam. The fact is that with so much competition, a bit more clarity would be helpful. Crucially, verified live trading account performance statistics would improve the platform.
Forex Astrobot does have some good customisable features and a built-in money management system. However, we would only recommend using demo accounts to start with. Testing the software over a longer period of time (before using real money) will reduce your risk.
Still not sure? Forex Astrobot offers a 30 money-back guarantee if you are unsatisfied in any way. This means that you can take advantage of the demo account feature to see whether the software suits your trading style. And if you are not happy you can cancel within 30 days. In doing so, the company will refund the cost of the robot.
Forex Astrobot - Automated Forex Trading System With Great Results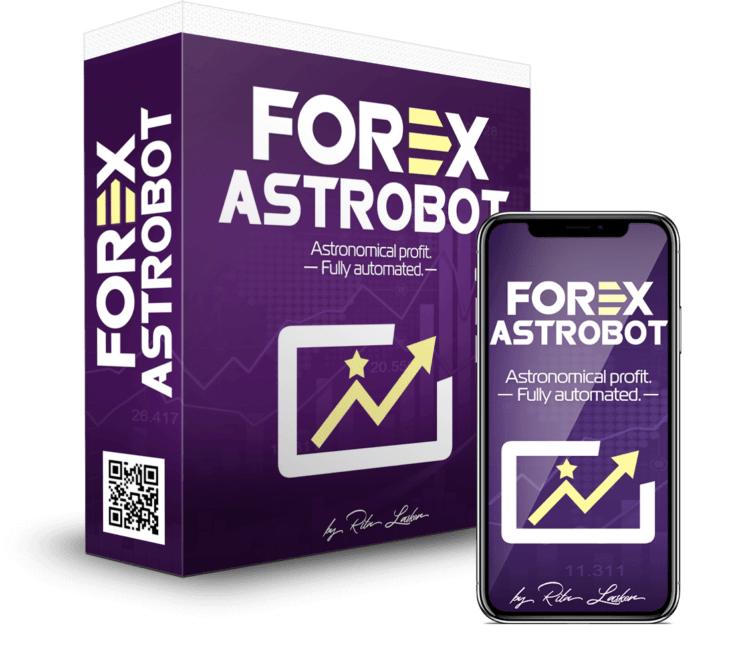 WIn rate of 75% and more
Suitable for traders of all shapes and sizes
Fully adjustable settings
Current on offer at just $99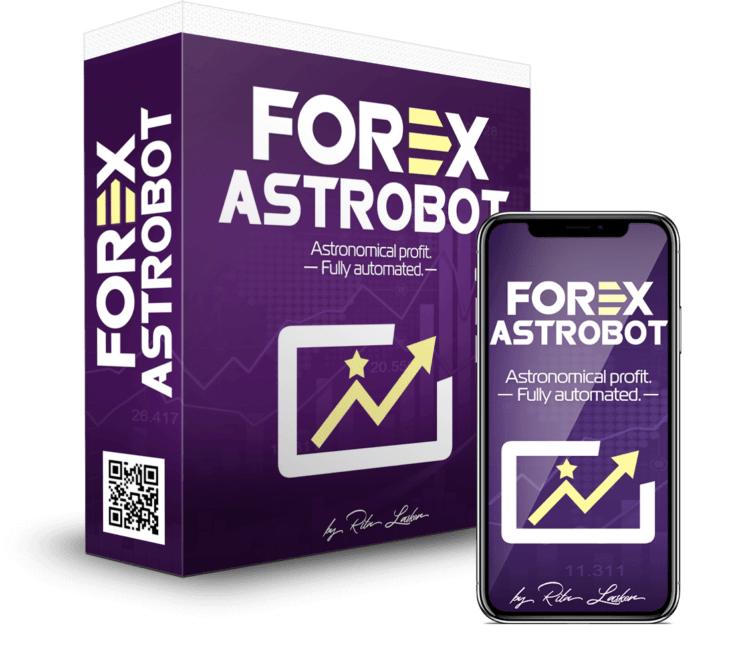 FAQs
Is Forex Astrobot a legit forex robot?
The Forex Astrobot is a legitimate forex robot provider. This appears to be backed up by the many positive customer reviews available in the public domain.
What's the minimum deposit necessary?
The Forex Astrobot platform recommends a minimum deposit of $200 to get started with this forex robot.
Is it simple to sign up for an account with Forex Astrobot?
Yes it is very simple. To sign up go to the Forex Astrobot website, click on the 'buy now' link (there are 2 accounts to choose from) and wait for your confirmation email. Once you have received the email you can click on the link and download your forex robot straight away.
Can I make some money using Forex Astrobot?
Yes, but there are no guarantees in trading. No forex robot or seasoned trader in the world can offer you a 100% risk-free profits. Forex, in particular, can be very volatile so it's better to be as prepared for wins as you are for losses.
Can I cancel Forex Astrobot if I don't like it?
Yes, you can. As long as you cancel within 30 days of your purchase you are entitled to a full refund. To do this, you will need to email the customer support team to make a refund request. It might be a good idea to set yourself a reminder for a few days before the 30-day limit is up.
What platform does Forex Astrobot use?
Forex Astrobot uses MetaTrader 4 and works on M15, M30 and H1 timeframes.