Service for copy trading. Our Algo automatically opens and closes trades.
The L2T Algo provides highly profitable signals with minimal risk.
24/7 cryptocurrency trading. While you sleep, we trade.
10 minute setup with substantial advantages. The manual is provided with the purchase.
79% Success rate. Our outcomes will excite you.
Up to 70 trades per month. There are more than 5 pairs available.
Monthly subscriptions begin at £58.

Chances are you've heard of forex robots by now. With so-called 'celebrity endorsement' rumours flying around in the media, forex robots have been making the headlines lately.
In a nutshell, it's an automatic forex trading system based on algorithms and sophisticated computer software. Forex Steam 10, for example, is a 100% automated robot with the option to customise the settings to suit your own trading style.
If you are more of an experienced trader and don't like the idea of that, then not to worry. This is because you can adjust and tweak a variety of features to make the robot work for you. This takes away the emotional side of trading which can get in the way of a good decision.
When trading first started around 500 years ago, we bet no one could have ever predicted that someday robots would do all of the hard work for us.
The fact is that with such hectic lives, more and more investors are choosing to incorporate an automated trading system into their forex strategy. There are only so many hours in a day, and unlike humans, these robots don't need 8 hours sleep to function.
With hundreds of forex robots out there to sieve through, alongside millions of user reviews – we've put together a simple guide on Forex Steam 10. This covers everything you need to know to determine whether or not the robot is right for your long-term trading goals.
Forex Steam 10 - 100% Automated Forex Trading Robot

Results verified by third-party Myfxbooks
Takes a low-risk approach to trading
100% automated - sit back and let the robot trade for you
Great reviews in the public domain

What is Forex Steam 10?
Forex Steam 10 is the latest update in this forex robot software, which runs on third-party trading platforms. The system is operated and designed by Steam Lld, an experienced team of Canadian software developers.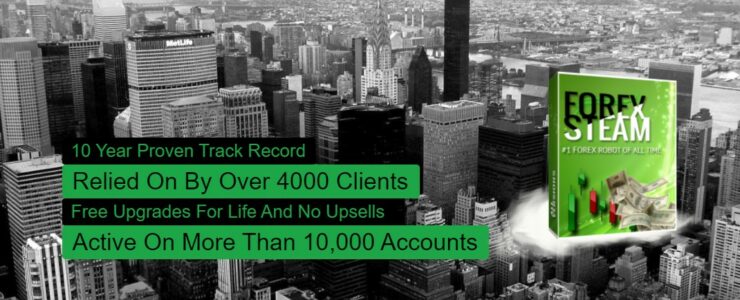 The company updates its software frequently to keep ahead of the curve – and is aimed at both experienced and inexperienced forex traders at all levels. This product was clearly programmed using extensive analysis and research. Forex Steam 10 was developed for the MetaTrader 4 platform, on the M5 (5 minutes) timeframe.
This robot is cheaper than some of the others we've come across, as it's priced at just $117.99 (which is a one-off payment). The price includes free updates, unlimited demo and live accounts, and access to different versions of Forex Steam with 4 licences. Plus many features, which we will cover later on.
Is Forex Steam 10 Legitimate?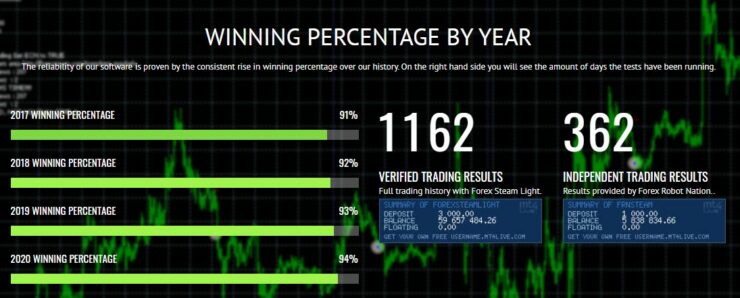 Whilst there are tonnes of forex robots on offer, the internet can be a breeding ground for rip-off merchants. These companies prey on people who are looking for trading help.
Two things which should raise a red flag are overly zealous money-back guarantees (they seldom come to fruition), and unregulated forex brokers. Furthermore, look out for grand claims of 'get rich quick' robots with a low-cost product.
Forex Steam 10, however, has over two decades of forex market experience, you could say it's somewhat of a veteran on the forex robot scene. As well as the thousands of user reviews available, this company is fairly transparent with its results.
You are able to see 10 years worth of statistics, as well as user account results. 100% verified Myfxbooks are available at the touch of a button.
How Does Forex Steam 10 Operate?
The platform offers 4 licences, and these can be used on both demo accounts and live accounts. On top of this, there are various features open to customisation. The team at Forex Steam 10 frequently update the software to improve the experience of traders.
The robot regularly goes 24 to 48 hours without trading. If you're on the light account and feel like it's not trading as often as it should be it's worth making sure that it's set to operate on the M5 timeframe.
Parameters on the light account version enable between 1 and 4 trades per day. The light version of the account seems to be the most popular.
As we covered Forex Steam operates on MetaTrader 4, and the strategy with this product is a scalping on a time-restricted basis. When used with modified take profit, stop limits, and different currency pairs – it can be very lucrative. Of course, there are no guarantees, otherwise, we would all be rich.
This is one of the only forex robots we've come across which enables members to begin trading with limited investment. This creates a low-risk trading environment for traders who are perhaps just starting out in the forex trading scene.
As a trader, you can choose to either adjust the features to create your own unique strategy or use the provided settings the robot comes with. You can find more about the features included with the robot in the next section.
Forex Steam 10: Key Features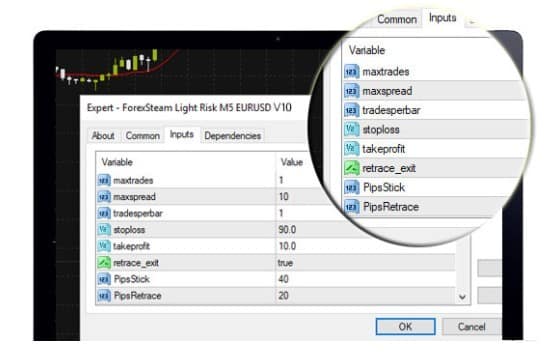 Forex Steam is a 100% automated forex robot which updates its system regularly. The team are constantly developing and adding new features to improve and stay ahead.
On Forex Steam 10 you can customise features such as break-even, trailing stop and more. Below we've listed the key features included with this forex robot.
Trailing Stop & Break Even
This enables you to put a moving stop-loss in place. This allows the trades to rest and potentially pick up bigger wins. On the subject of break even, you will be setting a stop-loss order and that won't budge when the trade reaches a pre-decided pip value.
Max-Spread Feature
The forex market can be notoriously volatile, so 'Max-Spread' is a very useful addition to the forex robot software.
The Max-Spread software prevents any market transactions during any hours deemed high risk. This means there is less chance of traders falling into potentially uncertain and disadvantageous forex market conditions.
Something you might want to consider is checking your account now and again to investigate the average spread.
This is a very handy filter, as it makes sure that the forex robot will only enter a trade when the conditions are deemed perfect. The way the software is built is to always know what the market conditions are at any one time.
Money Management
When setting a lot size, many traders seem to like a nice round 10. However, we recommend trying a few different sizes out on a demo run first.
When it comes to the MM (Money Management) function – if you leave it set to "True" then you are able to choose a risk percentage you feel comfortable with.
Holiday Filter
On the Forex Steam website, you will find this filter under 'Advanced Holiday Filter'. Some holiday dates can form unpredictability in the forex market. Forex Steam 10 has created a list of holidays you should avoid due to uncertainty.
If there happens to be a particular day you don't want the robot to trade for you, then you can also add your own dates into the holiday calendar. This is going to tell the software not to trade that day.
Continuous Market Updates
Forex Steam 10 has a very beneficial feature, which will help you to keep up with the ever-changing conditions of the forex market. The company put together a prebuilt forex robot strategy in combination with forecast pairs (based on market trends).
Retrace Technology
The company behind Forex Steam have been utilizing 'Advanced Retrace Technology' for over a decade now. Over the last 10 years, the company has updated retrace technology hundreds of times. This tech is a valuable way to limit your losses and secure wins.
This is used along with the robots low-risk trading strategy and works for investors with any level of trading experience. This software's PIP retrace feature is useful for investors who wish to realise impressive results in a short amount of time, with limited investment.
Trading Accounts and Performance Results
No matter what you are trading, you really should actively seek out results. If you come across any forex robot platforms who deny you access to performance results, we suggest giving them a wide berth.
Like we said, Forex Steam 10 has been around for years, and you have full access to a decade worth of trading records. This is a really good way to gauge how well the robot has worked in the past with other investor strategies.
This company's platform provides access to Myfxbook accounts (unbiased third-party platform), meaning you will be able to track and examine the true performance of the Forex Steam 10 software. On this site, you can look at the results of both demo accounts and live accounts.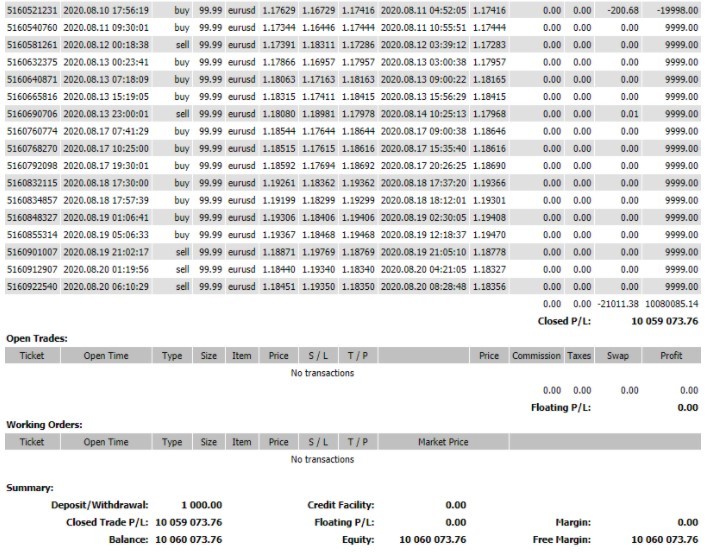 The platform also includes lots of testimonials and reviews. Reading about real users experiences is often a good way to gain an understanding of how effective the product is.
Forex Steam 10 Accounts
Forex Steam has two different account types – the light version and the normal version. Both accounts utilise trend-based strategies but they operate on different timeframes. The Forex Steam 'light' account trades M5. The Forex Steam 'normal' account trades M30 timeframe.
On both the light and normal versions you are able to customise trading conditions to match your own style. The product includes different live information-based strategies to establish trade lengths, trade frequency and strong entry points.
If you purchase a Forex Steam 10 robot, both versions will be included in the initial cost of the software. They both include:
F

ree upgrades for life

4 licences

Free installation

Lifetime membership

No upsells
How Can I Register With Forex Steam 10?
The signup process for this forex robot is very simple indeed. Nevertheless, we've covered the required steps below.
Step 1 – Sign up
When you arrive on the Forex Steam website you need to scroll down until you see the 'sign up' link (as seen below).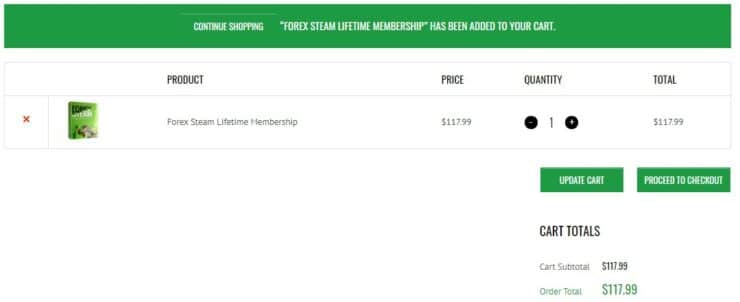 Unlike some forex robots, you don't have a selection of different accounts to choose from with varying costs. As we briefly mentioned, Forex Steam 10 includes 2 versions – so you get the best of both worlds.
As far as payment goes, the only option is PayPal. However, if you don't have a PayPal account you can either create one via the link (and fund this with your normal payment method), or you can pay as a PayPal guest.
Step 2 – Download Forex Steam 10
As soon as you have completed the purchase of Forex Steam 10, you will receive an email almost instantaneously. If you feel like it's been a few hours, you may want to check your email 'spam' box.
Upon receiving the email you will see a registration link. This will redirect you to your product installation page, complete with a video instruction guide. All you have to do is download it.
Step 3 – Live Trading and Demo Feature
Whether you're experienced or not, it's a good idea to start with a demo account. You will still have access to all of the same trading results.
When you purchase your forex robot, you will be given unlimited demo accounts. As such, you get to assess how the robot trades – as per your settings, without needing to throw money at it blindly.
Step 4 – Make Your First Forex Steam 10 Trade
Once you are finished trading via the demo account facility and have a feel for the platform – you will probably be ready to begin forex trading with money. Like we have said, you can make a fairly small deposit, but the platform recommends no less than $300 initially.
Forex Stream 10 Review: Conclusion
The Forex Steam 10 robot is effective with a number of different trading strategies. But as we've said, it works particularly well with customised take-profit/stop-loss settings along with different currency pairs. You can alter these settings whenever you see fit, keeping them in line with your own trading strategy.
Both newbies and seasoned traders love this forex robot, as the product stays true to its low risk and limited investment environment. When you feel that your experience is growing in forex trading, you are able to easily modify settings such as hedging, scalping, and multiple take profits.
Virtually as soon as you have entered the necessary credentials into the robot software you are good to go. Forex Steam 10 possesses an automated strategy teamed with a meticulous evaluation system which starts working instantaneously.
Forex Steam 10 - 100% Automated Forex Trading Robot

Results verified by third-party Myfxbooks
Takes a low-risk approach to trading
100% automated - sit back and let the robot trade for you
Great reviews in the public domain

FAQs
Is Forex Stream 10 a legitimate forex robot?
Yes, this company has 10 years of forex market experience and claims to be active on over 10,000 forex trading client accounts. There is also full access to live trading results, as well as statistics for the last 10 years.
Can I make money using Forex Stream 10?
You can. However, please remember, like with any trading endeavours, there are never any guarantees of being successful. A good idea is to sign up and try out some demo accounts before you start spending real money via your bot.
What is the minimum deposit on Forex Stream 10?
There is a suggested minimum of $300. However, before depositing for your first trade we highly recommend taking advantage of the demo account facility. This is helpful whilst finding your feet, and even for experienced traders to try out new currency pairs or strategies.
How can I sign up to trade with Forex Stream 10?
Very easily. You will need to go on the Forex Steam website and scroll down until you see 'join us'. You will then pay the one-off fee of $117.99 and upon receiving a registration email you can click on a link which enables you to download the software straight away.
Is there a demo available for Forex Stream 10?
Yes. Members have access to unlimited demo and live accounts. So as soon as you've paid your one-time licence fee (purchased your robot), you can use as many demo accounts as you wish.
Is there a Forex Steam 10 free demo or trial account?
No. There is no 'try before you buy' here. However, if you are interested in the product you can buy the product and use unlimited demos once you have an account.
After signing up, how long will it be until I can use Forex Stream 10?
Depending of course on you having an internet connection to receive your emails - straight away. Your product is delivered as a link and can be downloaded very easily.