Automated trading systems are on the rise – with more and more investors making the most of the software's lack of emotion. Not to mention, the robot's unwavering dedication to researching the forex markets 24/7. As such, traders can potentially use this algorithmic technology to create a passive turnover.
Forex robots are also great for people who are new to trading but want full access to the forex market. Even experienced forex market veterans are using automated robots to buy and sell for them when life gets busy.
No two traders are the same. Some traders prefer to sit back and let the platform run fully-automated (using its predetermined strategy). Other traders opt to use the forex robot as a semi-automated system. This means altering settings and acting on signals manually yourself.
A commonly used saying in investing is "there is no such thing as a free lunch". It's important to be wary of those forex robot marketing campaigns which seem too good to be true.
Today we are talking about Binary Strategy, which is a semi-automated algorithmic trading system. This forex robot sends traders binary option forex signals and requires some manual encouragement. We're going to talk about the ins and outs of this product. From how it works and strategies used, to how to sign up.
Table of Content
Binary Strategy Forex Robot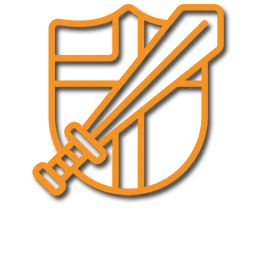 Semi-automated binary options system
Provider has been in the space for 10 years
Built by expert coders and traders
Compatible with MT4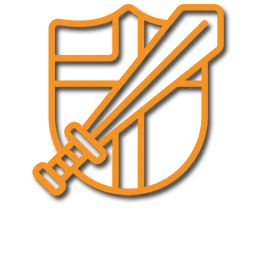 What is Binary Strategy?
Binary Strategy is a forex robot signal provider trading in binary options. The company has been on the scene for over 10 years and the software was created by real-life traders and coders.
This particular forex robot runs on the MT4 platform, and with any binary options broker. The Binary Strategy system is semi-automated and utilises two different strategies. More on that later.

This platform is certainly not the cheapest forex robot we've come across, costing a one-off payment of £189.99. It works on an M15 time frame and the strategy described by the site is 'based on diligence'
The binary options market tends to be particularly vulnerable to fraudsters, so you should tread with caution in this space. More about legitimacy next.
Is Binary Strategy Genuine?
The internet can be a dangerous place these days, with so many cleverly deceiving scammers in operation. So, it's not a bad thing to second guess the legitimacy of a company. And it's better to do so before you commit and hand over any personal details.
A warning sign of a disingenuous platform is sensational claims of earth-shattering profits – with no results to back it up. Furthermore, if the same site has a cheap product, then it can be assumed that it's a scam. Avoid these too good to be true offers at all costs.
The Binary Strategy is a legitimate forex robot signal provider. This robot vendor doesn't make enlarged promises of thousands of dollars in gains either.
For your own peace of mind, you can stay with your current binary options broker if you wish. The robot is also compatible with MetaTrader4. If you are new to trading and don't yet have a broker, most platforms work on MT4 and MT5. So, you shouldn't be short of options.
With that being said, always select a new broker with caution. Moreover, make sure the broker is licenced regulated by the relevant regulatory body.
For example, in the UK, all brokers are legally required to obtain a licence from the Financial Conduct Authority (FCA). Legitimate brokers hand financial reports to the FCA on a regular basis.
This ensures that the broker is above board and following the strict rules and standards set out. Part of the protection offered by a fully licenced company is that trader's funds are segregated and protected from that of the brokerage platform.
How Does Binary Strategy Work?
The Binary Strategy forex robot offers clients two strategies for the price of one. Both are based on divergence technical analysis strategies. The forex robot vendor says that the average win rate for this software is over 70%.

The provider offers two unique trading systems. They are 'Valor' and 'Spirit', both of which use algorithmic strategies. The forex robot works on the MetaTrader4 platform and is accepted by the majority of binary options brokers.
The software sends traders up to 30 signals every day, and the suggestions are fairly straight forward. Signals can be sent to traders via a variety of options such as phone, email, MAC or PC.
Each signal illustrates which asset should be traded, as well as which direction the trade is going, trade expiry time and strategy.
Here is an example of a typical Binary Strategy signal: this one is a USD/CHF 'put' (down) expiring in 15 minutes.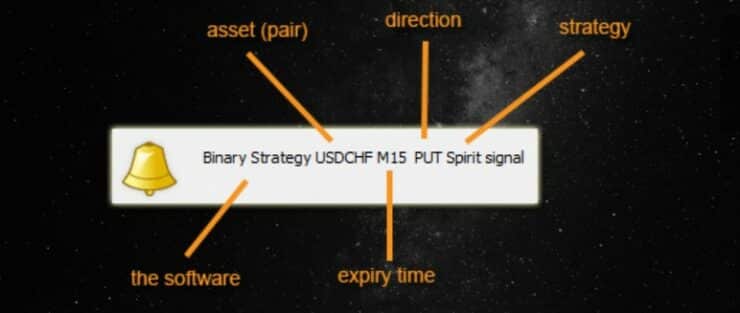 When you've been sent a signal, you can place the trade yourself and hopefully cash in. Some investors use Binary Strategy as a scalper, as pips can range from 5 to15. The average trade time for this software is 15 to 30 minutes.
Although the strategy for Valor and Spirit are similar, there are differences. Most notably, the Valor strategy delivers far fewer trading signals than Spirit. We are going to cover the differences between these two strategies next.
Binary Strategy: Different Strategies
We briefly touched on the two strategies on offer from this forex robot. Here is a little bit more information about each approach.
Valor Strategy
This Binary Strategy version is built around the popular technical analysis 'divergence', along with strict principles and signals. The Valor strategy doesn't send as many daily signals as Spirit.
The aim of the forex robot software is to identify the difference between the oscillator and the price. For example, the Valor strategy will either purchase near the bottom or sell near the top of a trend.
The Valor trading approach is considered low-risk. To sell at the top and buy at the bottom the chances of losing are lower. It is for that reason that the divergence is considered a sensible strategy for binary options.
Spirit Strategy
The Spirit Strategy is the second version of the Binary Strategy forex robot. This software focuses on 'Normal Divergence' with ample signals and trading opportunities.
Momentum and price usually shift together. When they are not moving in the same direction, it's easier to spot that the oscillator and price are deviating from one another.
This means that Spirit can be helpful when looking for a weakening trend or a u-turn in momentum. These trends can be taken advantage of and can potentially become profitable.
Binary Strategy Accounts
Generally speaking, forex robot providers offer more than one version of the product. In the case of Binary Strategy, you get two strategies from one purchase.
When buying this system you will see that there are two options, both priced at £189.99. They are the 'Limited Edition' and 'PayPal Direct Order'.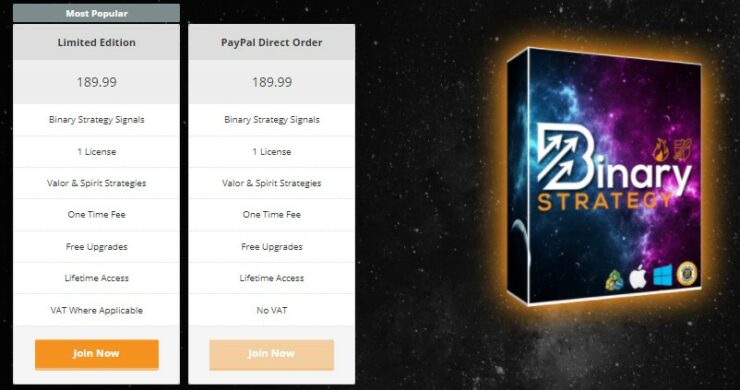 From what we can tell, the only difference between the two is potential VAT charges. Both products come with up to 30 binary strategy signals on a daily basis and 1 trading licence.
Clients can expect both Valor and Spirit included in either package as well as free upgrades, and lifetime membership access.
The 'Limited Edition' product has VAT payable, which depends on which country you reside in. For example, if the VAT in your country is 18%, the forex robot will cost £189.99 plus the relevant VAT.
Binary Strategy: Key Features
2 Strategies
As we said, this forex robot gives traders 2 strategies for the price of one. 'Valor' and 'Spirit', both rely on 'divergence' and provide binary options signals

Binary Strategy Signals
Exact Binary Strategy signals will be sent to you up to 30 times a day, depending on whether you are using Velor or Spirit. The latter offers more daily signals.
Verified Results
There are many binary options developers who don't offer clients trading results. One of the reasons for this is that some binary options brokers don't enable third-party platforms such as Myfxbook to publish results.

We think if a company sells a product such as a forex robot, it should back up claims with results and statistics. Binary Strategy performs and publishes monthly tests on multiple currency pairs, using both 'Spirit' and 'Valor' strategies.
Live Results
Verify the cost of each trade with live results on over 1,300 trades. The Binary Strategy site says the ITM rate is 74.2%.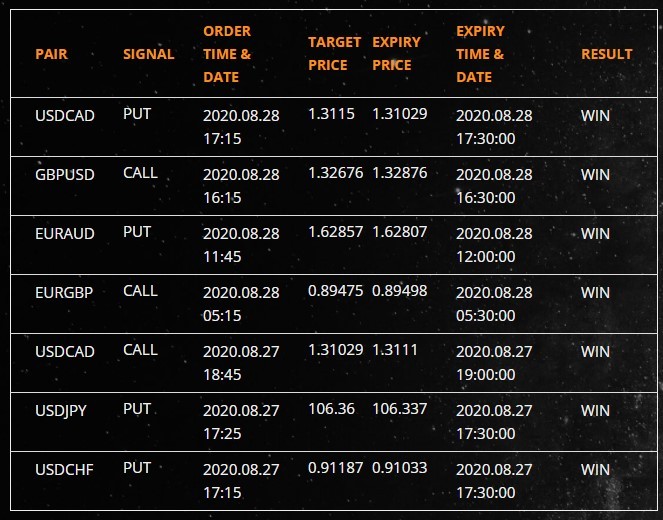 All results are shown in GMT on the platform and the results table will be updated on a daily basis
Backtesting and Projection
Because the Binary Strategy uses MT4 as the software's main platform, the products 'code' can be backtested. So, as a trader and client, you have access to historical performance and price data. Below you will see the company's projections.

News Detection
Binary Strategy comes with built-in news detection. The forex market particularly can be extremely volatile. So, it's important to be kept up to date with anything which could potentially affect your trading endeavours. For example – financial, geopolitical and economical news.
Currency Pairs
The Binary Strategy can be used to trade with all currency pairs.
Customer Support
This product comes with 24/7 customer support. To access this you simply need to go to the 'contact us' sanction of the website. You need to fill in a simple contact form stating your issue. The provider's customer support team is considered to be pretty responsive, but not entirely reliable.
How to Sign up for a Binary Strategy Account
Should you decide that the Binary Strategy forex robot suits your trading needs, you will need to register.
Registering for this forex robot is a really simple process, but to get you started we have put together a 4 step guide.
Step 1: Register on the Binary Strategy Platform
The first thing you will need to do is head over to the Binary Strategy website. You can either scroll down to the 'buy now' option, or you can click 'order now' on the top right-hand side of the platform.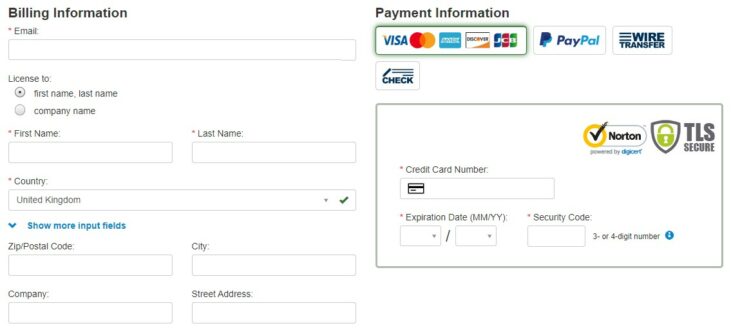 If you want to avoid VAT you can select the PayPal version of the robot. You will also need to enter some basic information about yourself such as your full name, email address and payment details.
The purchase cost is a one-time payment, meaning no monthly fees apply. Payment options available on the 'Limited Edition' account are Visa, Mastercard, American Express, Discover, JCB, PayPal and Cheque (prepayment).
Step2: Download Binary Strategy Forex Robot
After purchasing the Binary Strategy you will receive an email containing a configuration link. If you haven't received your activation link within a couple of hours, check your junk mail or the spam box. If you still can't find it we recommend contacting customer services via the support form on the website.
When received, follow the instructions in the email. When you have downloaded your new forex robot you can access an informative installation video in the member's area of the platform.
Step 3: Try a Binary Strategy Demo Account
The Binary Strategy itself doesn't offer a demo account. However, customers will typically open a demo account via a third-party trading platform.
Remember, this provider does offer a 30-day guarantee if you aren't happy. But you will have to jump through some hoops to get a refund, including sending the company your 30 trading results to ensure you have used the product 'correctly'.
Step 4: Deposit Into Your Binary Trading Account
Once you have familiarised yourself with Binary Strategy and feel ready to begin trading with real money – you should deposit into your brokerage account. We recommend starting with the lowest possible deposit – which is often $100.
To Summerise
Because binary options don't have to be leveraged, they might be considered to be a little bit less risky. This means, in a sense, it's impossible to lose more cash than what's in your account. That's not to suggest that Binary Strategy is a fail-safe forex robot.
Any investor knows that trading comes with a level of risk and uncertainty. Besides, such an unpredictable market like forex shouldn't be rushed into. In all honesty, if you're a complete novice when it comes to trading forex then binary options might not be the best investment stream for you.
When it comes to 100% automated forex robots, you won't need to do much homework. This means you can just sit back and let the software buy and sell on your behalf. For traders who don't have an understanding of price charts and technical analysis – we recommend a fully-automated robot.
No matter what your trading experience level is, it's always wise to try out demos, free trials, and money-back guarantees wherever possible. Some forex robots aren't cheap, and not all of them offer dissatisfied traders a refund. Investors should always read the terms and conditions of every platform to ensure you avoid being stung later down the line.
FAQs
How can I buy a Binary Strategy forex robot?
Go to the binary strategy website, sign up and pay for your purchase. An email will be sent to you with a link to download and configure your forex robot.
Is there a free trial for Binary Strategy forex robots?
No. But the company says that you are welcome to email them. Alternatively, you can follow the robot's results whilst you decide.
What if I don't like Binary Strategy after paying for it?
The Binary Strategy forex robot comes with a 30-day money-back guarantee. However to qualify you must send the platform 30 days trading results to prove you have tested the product correctly to warrant a refund.
What are the Binary Strategy signals I'm receiving?
This is your trading tip so to speak. This tells you what you should trade, the direction, expiry time and strategy. It's up to you to put the trade into action.
Do I need to find a new broker to use a Binary Strategy robot?
Binary Strategy robot works with all binary options brokers and is compatible with the MT4 platform.
What is the minimum deposit for Binary Strategy?
The site states that the minimum deposit for Binary Strategy is $100
Can I make money using a Binary Strategy forex robot?
Clients testify to having made a profit using Binary Strategy software, and there are live trading results available on the platform. However, there are no guarantees in trading and therefore no guarantee of gains either.