In less than 48 hours, the UK election will be held. There have been so many speculations but major polls conducted predicted conservatives win. If the predictions pull through, the British pound will most likely take an upward trend. Sterling has continued to gain strength in its Euro and dollar pairings in anticipation of conservatives win as predicted.
The impact will most likely be felt in the stock market. Although so many predictions had come in for the currency markets as to the aftermath of the UK elections, the question many haven't asked is what will be the aftermath of the elections on the UK listed stock, FTSE 100? Would it be propped up subsequently like the British pound in the event of a conservative win?
The answer to this lies in the simple analysis of how the FTSE 100 behaved after major events. An example is the 2016 Brexit referendum. Technically, it seemed as if any market activity on the Sterling seemed to weigh on the FTSE 100. So if there was a Sterling advance, the FTSE 100 took a reversal trend.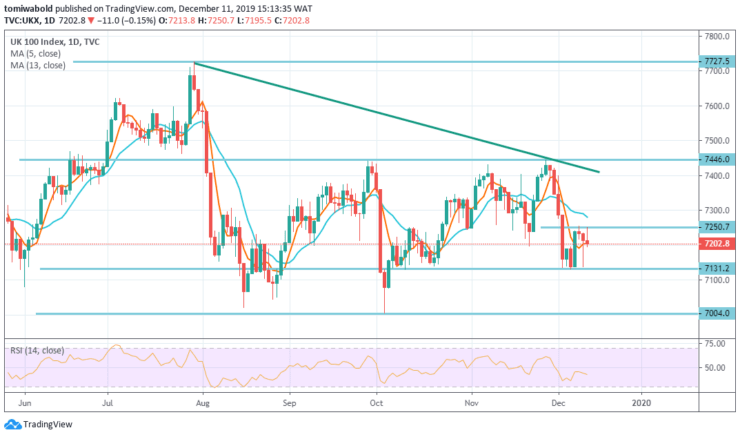 Sterling Up, FTSE 100 Down
After the Brexit referendum, the FTSE 100 climbed down in a 4-hour chart in which the UK economy declined. But the major determinant for FTSE 100 advance is Sterling decline. Analysts believe that with the market sentiments been predominantly favorable for DAX and CAC, the FTSE 100 should also progress upward only if Sterling hits negatively. The trend line level in such a scenario will be 7446 while the resistance level will be 7727.
Possibility of a Sterling Decline
If events take a twist from that which is predicted, which is a conservative win, the sterling could decline. A conservative win will buoy the Pound Sterling which will ultimately undermine the FTSE 100. The FTSE 100 may touch down below 7004 in such a scenario.
Broker
Benefits
Min Deposit
Score
Visit Broker
Share with other traders!