Service for copy trading. Our Algo automatically opens and closes trades.
The L2T Algo provides highly profitable signals with minimal risk.
24/7 cryptocurrency trading. While you sleep, we trade.
10 minute setup with substantial advantages. The manual is provided with the purchase.
79% Success rate. Our outcomes will excite you.
Up to 70 trades per month. There are more than 5 pairs available.
Monthly subscriptions begin at £58.

Food for Life Global serves plant-based meals to the poor, malnourished, and victims of disaster. The objective of Food for Life is to serve pure food cooked and served with loving intention as a means of achieving world peace and unity.
Paul Rodney Turner, the co-founder of Food for Life Global, believes that the root of world hunger is a lack of humanity, not a lack of food. "Food, when paired with loving intention, can nourish the mind, body, and soul," he says. "Our mission is to unite the entire planet through the sharing of nutritious meals." He teaches that hunger would vanish if we considered ourselves a united worldwide family because you wouldn't let your brother or sister starve.
Additionally, Turner states that the vegan food the non profit serves plays a big role in making them the most cost-effective feeding program in the world. They're also educating people about the advantages of transitioning to a vegan diet and recruiting more volunteers to help them serve with compassion. A $10 donation can provide enough food for up to 40 individuals.
Donating to Food for Life Global
There are numerous ways to donate to feed hungry people around the world through Food for Life Global. Their website provides plenty of ways for people to make regular currency donations, however, they now accept cryptocurrency donations as well! FFLG has started implementing crypto charity wallets and so far the response is inspiring.
The public, especially the younger generation, are finding that cryptocurrency donations are a reliable way to donate to charity. The process is fast, cost-efficient, and transparent.
Donation to any IRS-approved charity organization, such as Food for Life Global, will help you pay fewer capital gains taxes and the cryptocurrency donation will be even more tax-deductible. Selling Bitcoin and donating the proceeds in dollars might result in up to a 20% tax deduction, deducting hundreds of dollars depending on the final contribution amount. However, if you donate Bitcoin to a charity directly, you may not have to pay capital gains tax. The ultimate payout will reflect Bitcoin's fair market value. Except for taxes, fewer transaction fees are incurred by non-profits in comparison to a traditional credit card payment, which automatically creates fewer expenses for non-profits and increases donations received by the charity. Additionally, it is a much faster way than traditional financial systems to donate in countries internationally, as the typical transaction time can take days.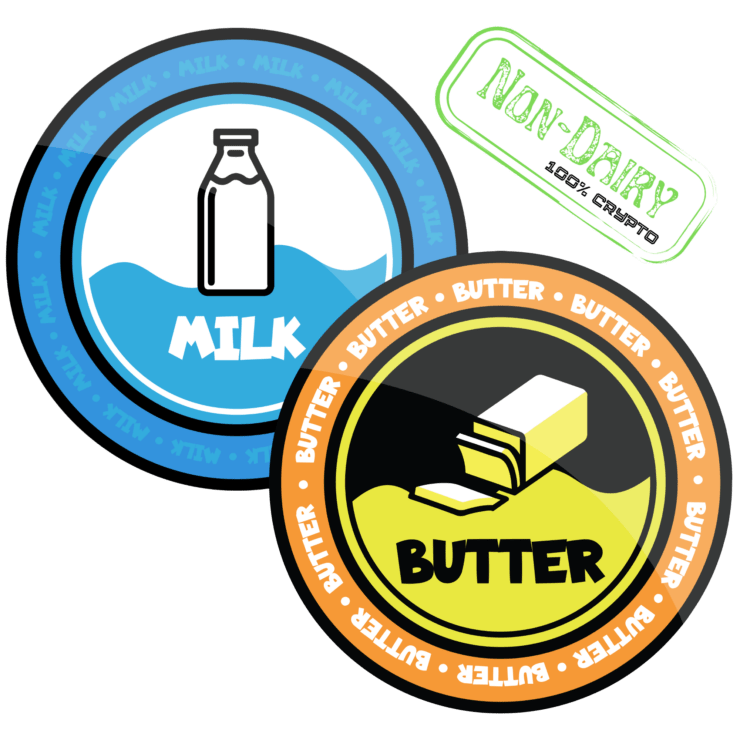 Food for Life Global is accepting several cryptocurrencies starting from Bitcoin, Ether, Litecoin, Chainlink, Bitcoin Cash, Doge, Chainlink, Storj, Basic Attention Token, and more. You can find the list on their website. Their partnership with the charity tokens, Milk and Butter has raised over $450,000 for food-related charities, including Action Against Hunger, Feed America, and Mr. Beast Philanthropy. FFLG alone has received a total of $110,000 in donations from Milk and Butter Tokens. Thousands of children are receiving delicious, plant-based meals through the Butter Token donations.
These tokens are Binance Smart Chain companion tokens that have been focusing on charity giving and donations. The Milk Token is a Burn/ Redistribution/ Auto-liquidity Token.
There are over three trillion burned Milk Tokens, and Milk holders can stake their Milk to earn 2% staking incentives and churn Butter tokens. So you're not only putting money into your wallet, but you're also profiting from the tokens you've staked and getting Butter tokens back. Butter Token is a Charity/ Burn/ Staking Rewards Token. There are around 7,100 Butter Token holders and 937 million Butter Tokens that have been burned. 5% of all Butter token sales and purchases go into a charity wallet, which is then contributed to the buyer's chosen charity. At a very low market valuation, the Milk and Butter token has been able to process a large quantity of funding for the charities they have partnered with, of which Butter holders choose to vote who their donation is given to.
Conclusion
Whether you invest in Bitcoin, Ether, Litecoin, Non-Fungible Tokens, and other forms of cryptocurrencies, you can turn that investment into a donation to help solve world hunger through Food for Life Global. It is very admirable for non-profits like FFLG to welcome the adoption of cryptocurrencies worldwide to help end world hunger. Because the process is fast, the amount donated has fewer transaction fees, and fewer taxes for donors, it makes it a better donation option than traditional financial systems and currencies.
We invite you to learn more about this new type of currency, emphasizing charitable giving as part of its tokenomics. Cryptocurrency donations have altered the lives of hundreds of thousands of people with only a click of a button. Let's fight hunger in the world's poorest communities while also advocating for animal rights and environmental protection. The Milk and Butter Tokens were the first of a new generation of crypto that is demonstrating that this new technology is the most cost-effective and ecologically responsible method to do good!
Broker
Benefits
Min Deposit
Score
Visit Broker