Service for copy trading. Our Algo automatically opens and closes trades.
The L2T Algo provides highly profitable signals with minimal risk.
24/7 cryptocurrency trading. While you sleep, we trade.
10 minute setup with substantial advantages. The manual is provided with the purchase.
79% Success rate. Our outcomes will excite you.
Up to 70 trades per month. There are more than 5 pairs available.
Monthly subscriptions begin at £58.

Games Workshop (GAW) is the king of wargaming. For those that don't know, this is – in its purest form – a pastime where hobbyists get together to join battle in grandiose fantasy world board games with metal minature figurines. Sounds geeky but it is big business.
The figurines and other models are painted, collected and played with most famously as part of the Warhammer franchise.
Around the wargaming is an ecosystem of publishing, offline and online, and franchise spin-offs for video gaming, cards etc and, as we will see, a TV series.
Games Workshop sells its products all over the world, with the US now its main market, followed by the UK, Europe and then Asia. Seventy per cent of sales now come from outside the UK.
Such has been its recent business success that over the past few years it has become a darling of the UK stock market, being one of its best performers.
Its enviable performance is based on its ability to leverage a niche pastime in a way that has enabled it to monetise that base while pushing out to a wider audience – a feat very much associated with chief executive Kevin Rountree's tenure. Rountree joined the company in January 2015.
Factory to store vertical setup helps bottom line
As well as controlling the distribution and sales of its minatures, Games Workshop also manufactures them. It sells them through targeting independent retailers, although not to the exclusion of big chains, and also through its Black Library publishing arm.
Famously, it has its own chain of retail stores, visitor centres and a global exhibition business, not to mention a buzzing mail order channel, which is a key component of its digital offering that includes its webstore.
The fact that the business has continued to perform so well during the lockdowns of recent times is a testament to the execution of its pivot to digital.
GAW's Product and Supply segment is where the revenues from minatures and other models sales are reported. The manufacturing takes place in the English city of Nottingham, not China as some have assumed, although much of its prolific publishing does originate in China.
In its financial reports GAW includes strategic projects and royalties payments from licensees within its Service centre segment.

Games Workshop is an expensive stock
The main problem with GAW is the price of its shares. Price-to-book ratio is 19.7 and price-to-free cashflows is 32, while forecast price-to-earnings is a whopping 30. The share price closed today at 11,904p.
However, for those prices an investor is getting a high value company in return, that certainly puts capital to work in an efficient manner.
Return-on-capital is 64%, ranking it 25th out of 1,793 companies in the UK and Ireland market, according to Stockopedia. Return-on-equity 76.9% and it boasts an operating margin of 42.9% in 2021 compared to a five-year average of 30%.
EPS growth came in at a stunning 70% at 374p. The last growth spurts like that were 2017 and 2018, which coincides with the release dates of the latest versions of the leading property Warhammer 40,000 (its other major game is Warhammer Age of Sigmar and Warhammer Fantasy). Consequently expectations for EPS growth in 2022 is a much more pedestrian 2% but that would still represent a highly profitable EPS of 382p.
Revenue in the year to end May was £353 million compared to £269 million in the previous year.
Games Workshop has a compound annual growth rate of 53.9% and has maintained that rate for normalised EPS, so investors need to be confident that can continue and thereby justify the current valuation and provide room for further capital growth.
There are two areas that that should whet the appetite of investors, namely video games and that TV series we mentioned earlier.
Find out more about stock trading before making your first trade by reading our guide.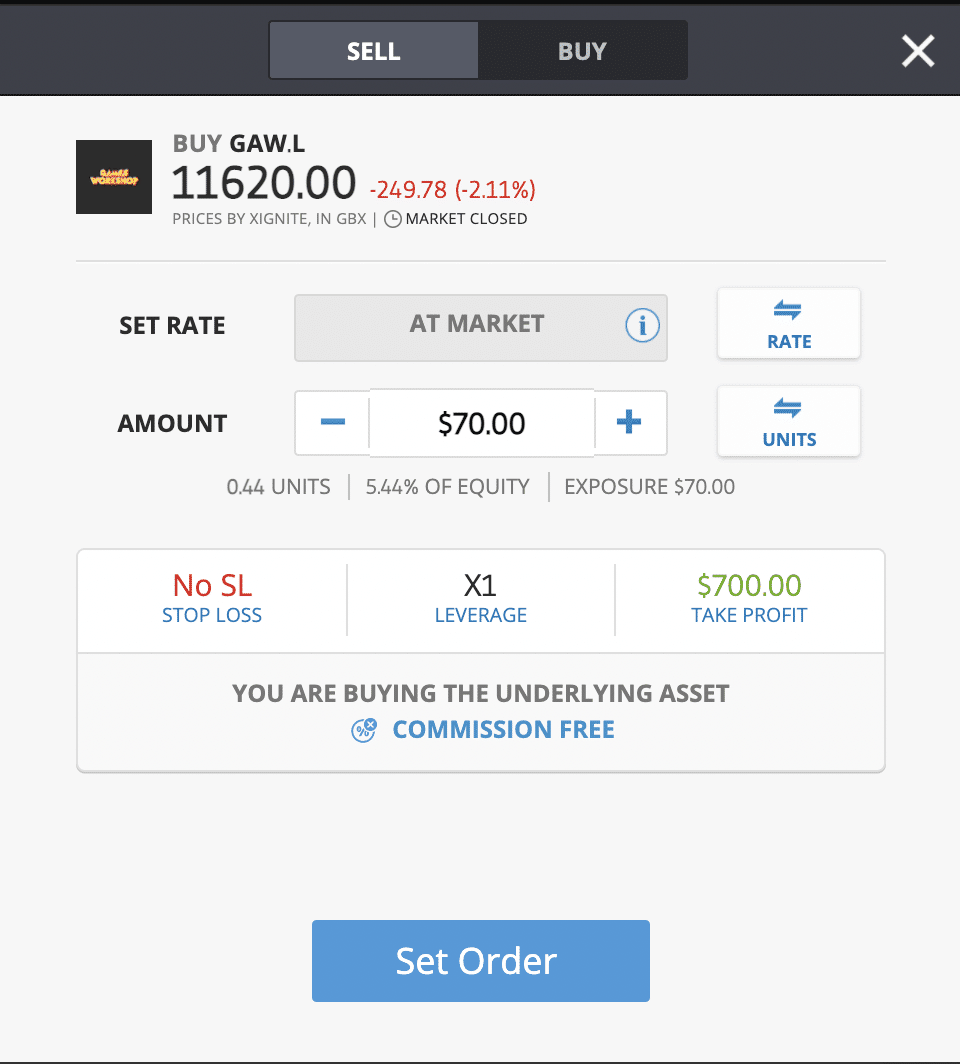 The next Games of Thrones…
Video games royalties revenues are growing, albeit inline with revenues but with releases of AAA games quickening, there is the potential for the games to push out beyond the core audience to capture a slice of the wider gaming public's attention. There are 15 video games currently under development. Also, a new subscription service should also help in that regard, competitively priced at £4.99 a month and launching this month.
Then there is the prospect of a TV series called Eisenhorn coming out, but the company has not provided much information on the progress in this sphere. Based on the books by American Dan Abnett, Eisenhorn follows the adventures of Inquisitor Gregor Eisenhorn and debuted in 2001 Games Workshop's 54 millimetre model RPG game, Inquisitor was released. Eisenhorn is a named character in the game and has his own model.
Perhaps a new Game of Thrones is too much to ask, but the proven attractive power of fantasy world dramas is now well established, so assuming the series does eventually see the light of day, it could be a huge money spinner for Games Workshop.
We rate Games Workshop a strong buy.
You can buy Games Workshop for 0% commission on global investment platform eToro.
8cap - Buy and Invest in Assets

Minimum deposit of just 250 USD to get lifetime access to all the VIP channels
Buy over 2,400 stocks at 0% commission
Trade thousands of CFDs
Deposit funds with a debit/credit card, Paypal, or bank transfer
Perfect for newbie traders and heavily regulated

Don't invest in crypto assets unless you're prepared to lose all the money you invest.
Broker
Benefits
Min Deposit
Score
Visit Broker