Fevertree (FEVR), the spirits and drinks mixer company that was once a darling of the London stock market, could be the perfect reopening stock.
That might strike some as odd given that Fevertree was also touted as something of a stay-at-home stock too.
However, one of the side effects of us all being at home more has been an increase in trips to the off-licence or supermarket to buy alcohol (and mixers) for home consumption. This may be one reason why by June last year Fevertree's share price had already returned to the immediate pre-pandemic levels, although is was still some way off the all-time high of 3956p recorded in September 2018.
Certainly the stock price has been losing momentum of late, having declined year to date, although that could also be interpreted as more of an admittedly wide range-bound consolidation, which makes it well set for a breakout. We side with this latter view.
Fevertree is currently trading at 4% below consensus target price of 2325p and turnover is expected to increase 15.4% to £290 million by 31 December year end 2021. Pre-tax profits are forecast for a 16% jump to £60 million.
The share price is off more than 20% since the beginning of the year, but has been picking up a bid of late and is currently trading at 2274p.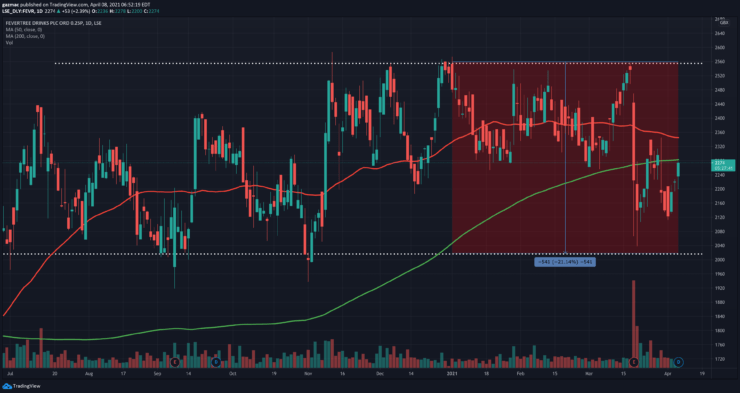 Off-trade grows strongly in US, UK and Europe
So what's the basis for those largely positive forecast numbers? After all earnings per share has fallen back from 50.3p in 2019 to 35.8p in 2020, although is forecast to improve by 15% over the coming year.
Well, it's all about the second half of the year and the surge in consumer spending expected as economies open up. But the changes seen in the stay-at-home period have also likely embedded more permanent changes in drinking habits too, for a perfect storm of profits for Fevertree.
As we pointed out earlier, consumers kept out of pubs, cafes and restaurants turned to the off-trade. Fevertree has, as a result, seen "phenomenal growth" in UK penetration and sales into Europe off-trade, according to its preliminary year end report issued on the 18 March. Off-trade refers to sales in supermarkets and other food retailers, while the on-trade is pubs, restaurants and the like.
To pick up on the trend, Fevertree ran multiple co-promotions ‒ such as gin & tonic displays in retail with Bombay Sapphire in Germany and a Vodka Soda collaboration with Smirnoff in the UK
Readers in the UK may have also noticed the TV advert from Fevertree, the first such national campaign in the UK for the company.
The spirits mixer company has also been pushing out branded pages on retailer websites in both the UK and the all-important US market, which the company has earmarked for strategic growth opportunities.
On that note it has inked a new national account win with MGM  and Sparkling Pink Grapefruit in the US.
Fevertree has also launched a new premium soda range as it continues to focus on attracting more customers.
Where people are drinking has shifted due to the pandemic, but a deeper trend seen in evidence before Covid's apperance, has seen the development of what Fevertree describes as the taste for "long mixed drinks" – more consumers are choosing to drink spirits and to do so with generous amounts of mixer.
This may have followed on the heels of the small pre-bottled mixers – such as the Smirnoff Ice brand – that came onto the market around 10 years ago, which perhaps helping to shift tastes.
The fact that this trend "continues to resonate with consumers" is music to the ears of Fevertree and should please shareholders too.
And in that mix, so to speak, spirits are continuing to take share from beer and wine.
Also, premium spirits are seeing the strongest growth, as consumers look to treat themselves. Although there is growing competition facing Fevertree, it still commands 50% of the market, with its strongest geographies UK, Germany, Australia and the US.
Fevertree strength in numbers
Indicative of company strength and its successful growth strategy, Fevertree added 35 to the headcount in its global division and did not have to make make recourse to UK government furlough money when trading through the lockdowns.
Although, as we have seen, profits and earnings slipped last year, the company was still able to increase its dividend payment by 4%, marking the sixth year of consecutive growth. Paid twice a year, the fourth-quarter dividend was 10.27p a share and at the end of June 2020 5.41p.
The company is predicting FY 2021 growth of 18-21% in the US, where off-trade accounts for 90% of business and 6-9% growth in the UK where off-trade currently equates to 75% of its business.
Europe is expected to grow strongly at between 18% to 20%, with the Rest of the World region, which includes the strongly performing Australian and Canadian markets, predicted to swell by up to 24%.
Fevertree presents a favourable entry point for traders of a moderately conservative bent, with little downside from here and a risk-reward profile that should see the stock reclaim some of its former glory heading into the reopening of the UK and US economies, with Europe to follow.
As the rotation out of high-flying richly-valued tech stocks continues, consumer discretionary companies such as Fevertree are set to be among the winners as we move into the second half of the year.
You can buy Fevertree on 0% commission through global investment platform eToro.
eToro - Buy and Invest in Assets

Buy over 2,400 stocks at 0% commission
Trade thousands of CFDs
Deposit funds with a debit/credit card, Paypal, or bank transfer
Perfect for newbie traders and heavily regulated
Only real cryptos are available for US users

67% of retail investor accounts lose money when trading CFDs with this provider.
Broker
Benefits
Min Deposit
Score
Visit Broker
Share with other traders!