Service for copy trading. Our Algo automatically opens and closes trades.
The L2T Algo provides highly profitable signals with minimal risk.
24/7 cryptocurrency trading. While you sleep, we trade.
10 minute setup with substantial advantages. The manual is provided with the purchase.
79% Success rate. Our outcomes will excite you.
Up to 70 trades per month. There are more than 5 pairs available.
Monthly subscriptions begin at £58.
Disney (DIS) long ago cemented itself in the minds of both consumers and investors as the star of the entertainment world. Its brand is synonymous with entertainment, although originally of an exclusively child-centred kind.
Today it is a multifaceted entertainment corporation that sits somewhere between being a media stock and a tech stock, with all the implications for valuation that throws up.
It is also a stock that looked liked it might be one of the pandemic's losers, but has actually recovered nicely. So much so in fact that it is in an excellent position to be one of the big winners in the streaming wars and that alone makes it reason enough to buy for long-term investors.
If you had bought Disney stock in the last week of March 2020 ($85), your investment would have more than doubled in value. The shares are currently priced at $183.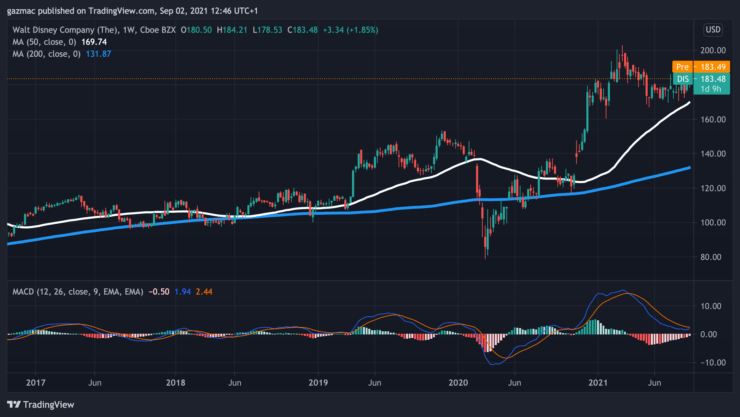 Additionally, the company has one big advantage over its competitors in the shape of its theme parks and resorts that span the world, and where visits remain at the top of the wish list for many children, not to mention adults.
Beating Netflix at its own game
So let's get to the numbers and the question of how to value Disney.
Disney's earnings were better than expected for the first quarter and revenue stood at $17 billion for the three months ending 3 July, compared to $11.9 billion in the same period last year, for a 45% increase.
Operating profit was $1.44 billion compared to $1.03 billion in the first quarter. and a substantial bounce-back on Q2 2020, where the company made a loss in excess of $4 billion. Net income for Q2 was $918 million, although diluted earnings per share was $0.471 compared to $0.739 in the first quarter.
Its Disney+ streaming service has amassed 116 million subscribers, beating analyst expectations of 114.5 million. Netflix is on 200 million, but growth is slowing while Disney+ is growing as its Star Wars and Marvel franchises pull in new subscribers, helped by its lower price point.
Covid-19 restrictions are being lifted in Europe and the US, although the spread of the Delta variant and the slowdown in vaccine take-up in the US remains a worry – there are signs that this is starting to impact economic activity.
Nevertheless, the reopening of its theme parks and resorts will significantly add to revenue, given the fat margins those profitable businesses command.
There are also intangible benefits that flow from these customer-facing operations in providing a sort of halo effect of consumer goodwill that enhances its brand value and acts as a sticky element in terms of engagement and as a funnel for other products and services.
No other media or tech company has those advantages. It should not be underestimated. Many in tech laughed at Apple when it started opening bricks and mortar stores but they have acted as brand ambassadors and as well as proving a service as retail outlets, also provide a support blanket for consumers who know they can always book into the genius Bar to get stuff fixed.
If Disney was valued on the same p/e multiples as Netflix or Amazon  "30 to 50% increase in shareholder value" Michael Wolf, chief executive and founder of Activate.
Disney trades on a p/e of 37 which compares favourably to Netflix's 47 and Amazon's 55, while its studio competitors such as Universal are on low multiples (10.8), probably because they are cheap for a reason.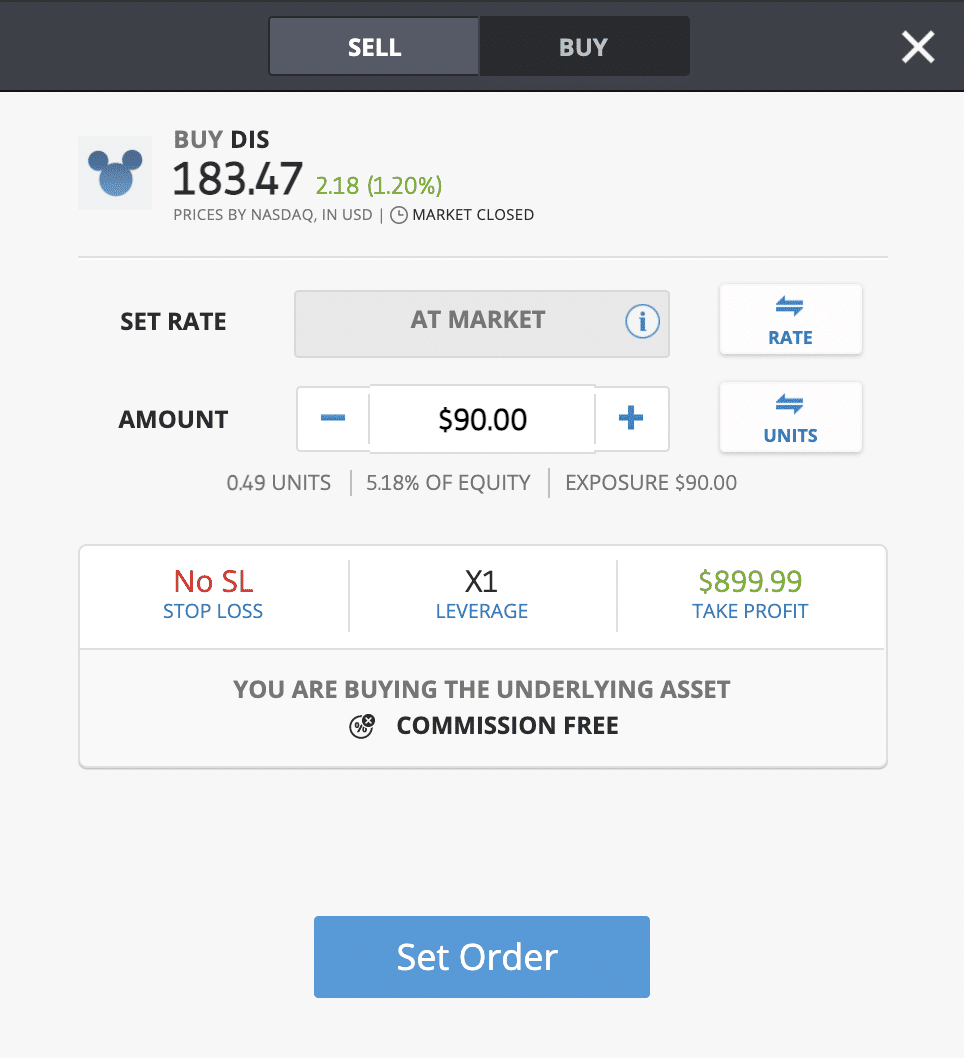 Theme Parks a jewel in the crown for Disney
But there is a lot more to Disney than just streaming. Its assets also include movie production, a cruise line, publishing and of course its theme parks that we've already mentioned.
Unlike Netflix, Disney's diversified businesses means it doesn't have all its eggs in one basket in the way that Netflix does.
Having said that, as far as its movie studio business goes,  Disney has slipped a little on US 2020 box office share (into third place on 19.7%). It is no longer the largest player, with competitor Sony at no. 1 on, 22% share, Universal at no. 2 with 21.7%, Warner Brothers no.4 on 11.6%) and Paramount at no.5 with 8.2% of US box office.
Former chief executive Bob Iger spent a lot of money on an acquisition spree that saw the company buy up assets from Fox, acquire Lucas Films, Pixar and Marvel, with the latter turning out to be an excellent proposition.
Disney stands out from the crowd as industry consolidation accelerates
Disney's acquisition activity reflects the wider consolidation taking place in the media space, partly driven by the impact of the streaming services but also the technological changes beyond that, have, for example, led to the decline of cable and the rise of connected TV, with Chromecast, Roku and Amazon Fire.
However, far from technology being the enemy of media companies, it has actually led to a boost in revenue and profits overall.
But perhaps the severest threat to the businesses of companies such as Disney comes from Big Tech in the form of Amazon, Google, Facebook and Apple.
Then there's the restructuring at Discovery and its success with Discovery+ and Warner with HBO Max, not to mention the possible tie-up between Viacom-CBS and Comcast and Amazon acquiring MGM for $8.5 billion.
Content is king and Disney has lots of it
However, if there is one constant within all of the merger and acquisition (M&A) frenzy it is that content is king.
Disney has a library of content to die for and so too will Amazon to some extent after its MGM deal goes through.
Apple is spending a small fortune on making original content for Apple TV+, but for Apple that's chicken feed. Still, the sheer cost of competing in this environment is a key driver of M&A and consolidation could see more Big Tech firms diving in to buy a media company or two.
But despite all that noise, Disney with its extensive library, popular content franchises and super-profitable theme parks and resorts and associated merchandising and royalties revenue streams, looks more and more like the best bet for near-term returns in the entertainment industry, as well as being a longer-term investment must-have.
You can buy Disney for 0% commission at global investment platform eToro.
eToro - Buy and Invest in Assets

Minimum deposit of just 250 USD to get lifetime access to all the VIP channels
Buy over 2,400 stocks at 0% commission
Trade thousands of CFDs
Deposit funds with a debit/credit card, Paypal, or bank transfer
Perfect for newbie traders and heavily regulated

67% of retail investor accounts lose money when trading CFDs with this provider.
Broker
Benefits
Min Deposit
Score
Visit Broker