Service for copy trading. Our Algo automatically opens and closes trades.
The L2T Algo provides highly profitable signals with minimal risk.
24/7 cryptocurrency trading. While you sleep, we trade.
10 minute setup with substantial advantages. The manual is provided with the purchase.
79% Success rate. Our outcomes will excite you.
Up to 70 trades per month. There are more than 5 pairs available.
Monthly subscriptions begin at £58.

The Australian Dollar (AUD) embarked on a rollercoaster ride last week, exhibiting a turbulent pattern of trading before eventually succumbing to a two-month low.
The catalyst for this dramatic descent was none other than Fitch Ratings, whose decision to downgrade the United States' sovereign credit rating from AAA to AA+ sent shockwaves throughout the global financial landscape. This marked a historic event, as it was the first time in nearly three decades that the US credit rating had been downgraded.
The reverberations of this downgrade were felt far and wide, with the impact manifesting across various fronts. Equity markets bore the brunt of the blow, while commodities with growth-sensitive ties found themselves in a downward spiral.
As a result, currencies that are closely intertwined with risk sentiment, including the Australian Dollar, came under considerable pressure. Traders and investors swiftly entered a phase of intense portfolio reassessment, reevaluating their appetite for high-beta exposure.
Australian Dollar Falls to Two-Month Low
The AUD/USD currency pair, which reflects the AUD's strength relative to the US Dollar, experienced a sharp decline, reaching a significant two-month nadir at approximately 65 cents. The ensuing uncertainty in the market cast a shadow over the currency, although it did manage to regain some semblance of stability as the trading week drew to a close.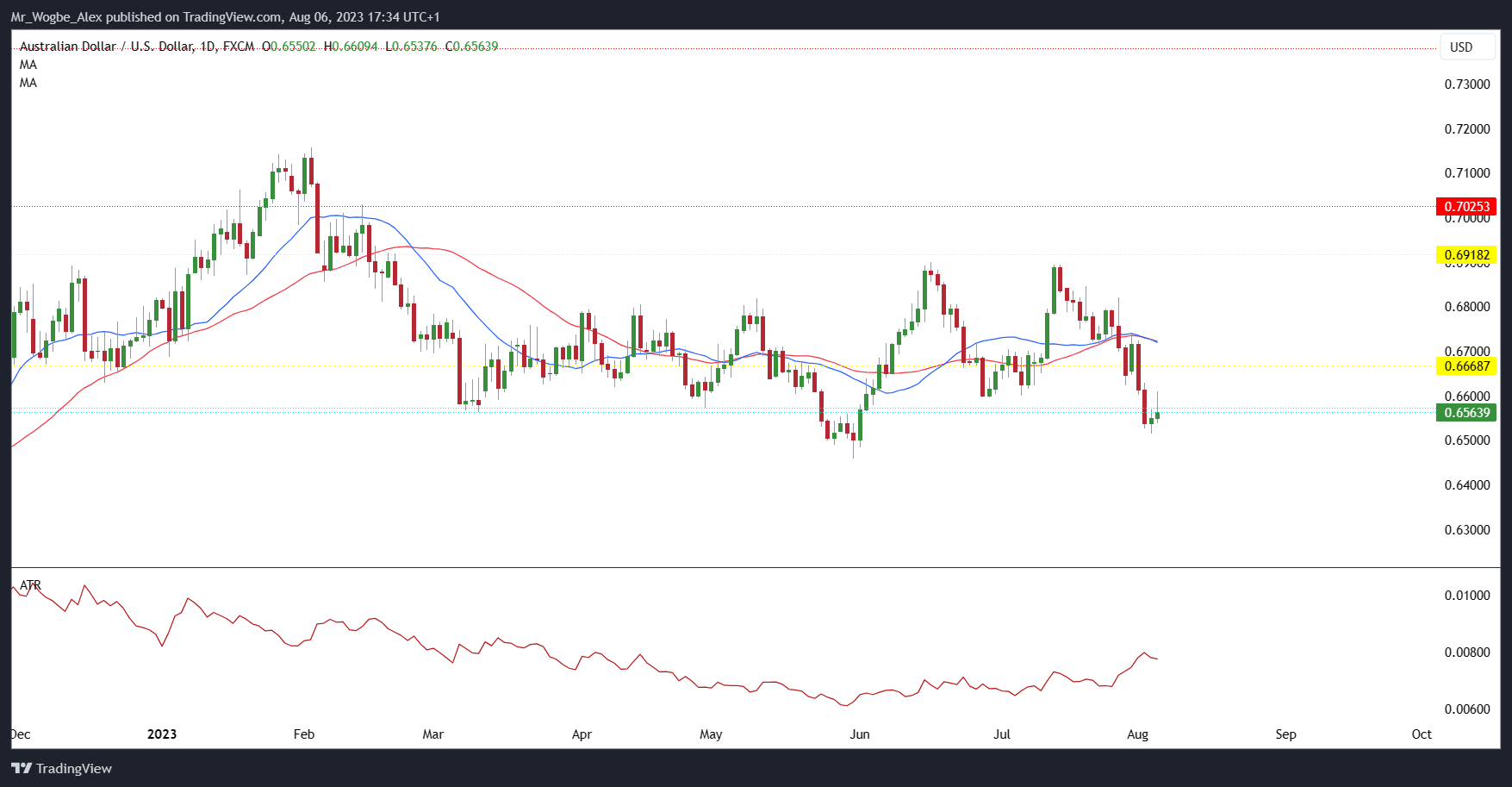 Australia, renowned for being a major exporter of essential commodities such as iron ore, copper, and wheat, faced its own set of challenges. These pivotal exports encountered headwinds, experiencing a notable downturn. However, as the week progressed, there was a cautious glimmer of hope, with these key exports managing to find their footing, hinting at a potential recovery on the horizon for Australia's export-dependent economy.
Gazing into the crystal ball, the Australian Dollar faces a week that is relatively devoid of major economic data, subsequent to the recent unveiling of the crucial CPI figures and the RBA's policy decision.
Consequently, the prevailing market sentiment is poised to wield considerable influence over the Australian Dollar's trajectory, underscoring the pivotal role that broader market dynamics play in shaping the future movements of the AUD.
Broker
Benefits
Min Deposit
Score
Visit Broker