Computer-vision chip designer Ambarella (AMBA) may be a niche player in the chip sector, with a market cap of $3.6 billion, but it imminently threatens to become a much more significant player.
Growth companies promising jam tomorrow are a tiresome facet of stock research, but in the case of Ambarella there is evidence of future revenue growth projections aligning with current evidence of sales traction.
Ambarella has form, not so much in promising the undeliverable as in not following through on its tech breakthroughs. This is perhaps seen in the footloose approach by management, as it seems to shifts the company's focus from one growth opportunity to the next, without fully realising the opportunities previously identified. This was certainly the case with its past emphasis on drones, for example.
However, the company has now laid out a vision, if you will, of its future in which professional security cameras, home security cameras and automotive camera systems will become the major contributors to revenue and profit growth going forward. The company expects a quarter of revenue to come from the 'IoT edge endpoint' segment of its total addressable market in computer vision products.
High unit volumes in IoT
The IoT endpoint market sits at the foundation of a pyramid, in Ambarella's view, and is where the high unit volumes are located compared to the apex of the pyramid where the data centres sit and the middle section which takes in the edge computing server networks.
The IoT endpoints – which in plain English simply means the Internet of Things devices such as sensing cameras that represent the end of the chain when sending and receiving data – requires a fundamentally different chip architecture as against the server-based network edge and datacenter layers.
And this is precisely the area that Ambarella has homed in on, where low power, low latency (time it takes to make a connection), privacy and security are at a critical premium and where the company has arguably unparalleled competency.
Underscoring its strong market position is the relative fragmentation seen in the offerings in visual AI [artificial intelligence] processing products from its competitors.
The graphic below from a recent Ambarella investor presentation illustrates the point: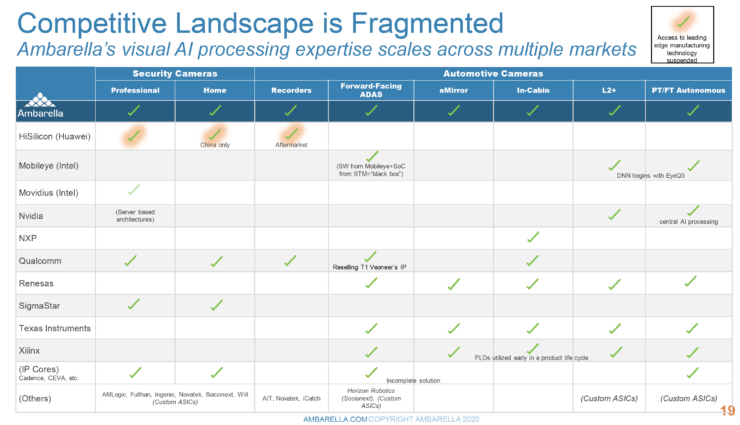 The company is a pioneer in video compression and imaging since its foundation in 2004 and the 2015 acquisition of VisLab, a leader in the development of autonomous driving applications spun out of the University of Parma in 2009, added substantially to its autonomous systems prowess.
In particular, Ambarella is focused on the autonomous automotive opportunity. There has been keen interest from investors in LiDAR systems for self-driving vehicles, but perhaps not as much attention given to computer vision-based sensors, which are in fact far more prevalent in current production vehicles and those still under development than other types of 'perception' sensors.
Ambarella's CVflow neural network processors a hit
That being so, it is going to be cameras that will be generating the vast majority of perception-oriented data. When it comes to processing that data Ambarella's deep neural network processors are leading contenders, which explains why its CVflow kit has been finding willing customers in target markets (see the slide below), including Mercedes Benz, Nissan, Honda and Motional. Motional has partnered with Lyft to roll out potentially the largest 'Robotaxi' network globally.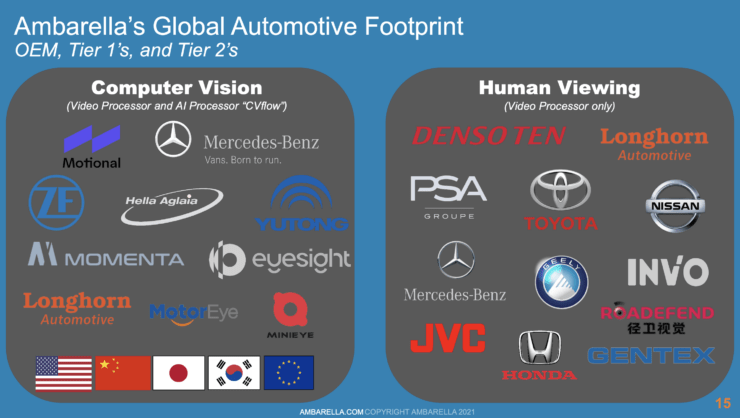 So what are the numbers as far as paying customers goes? As at 31 October 2020, of the estimated lifetime revenues (i.e. per customer) of $600 million, 65% of contracts had been won with the remainder of 35% in the pipeline at the bidding stage, according to Ambarella.
Add to that revenues from security cameras generating data for machine and human viewing, which the company estimates will account for 60% of revenues in fiscal 2021, then its not too difficult to see a significant bump to sales in the near term and beyond.
Revenue beats on Q4 and fiscal Q1 guidance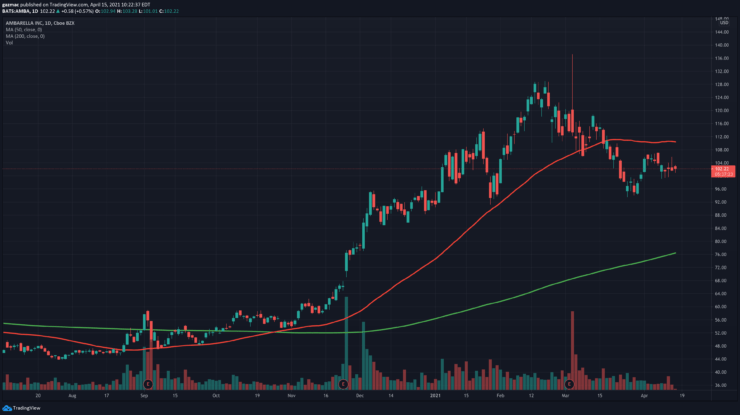 Indeed, the stock's value jumped 8% in early March when the company reported fourth-quarter results and guidance that beat on revenues for fiscal Q1.
Fourth-quarter revenues rose 9% to $62.1 million, beating consensus that had predicted a reading of $57.7 million.
In Q1 Ambarella says revenues should come in between $67 and $70 million, around 18% higher than analysts had pencilled in at $56.2 million.
Confirming our analysis above, the company confirmed that the numbers were the result of accelerating demand for its AI-based computer vision products.
Earnings per share was positive in fiscal Q4 at $0.14, besting analysts' forecasts of $0.08, but the company hasn't made a profit since 2018, with EPS on a year view not expected to turn positive until fiscal 2022.
Capex has been declining in the past three year, suggesting that much of the heavy lifting as far as investment in R&D to develop CVflow AI systems has already taken place, although is expected to rise again this year – as is to be expected from a growth company aggressively targeting new markets.
A consensus price target of $129 from the 18 analysts covering the stock represents a 27% upside on the $101.64 closing price as at 14 April.
Revenue in 2020 was $228 million and is forecast to grow rapidly in subsequent years (see table below).
| | | | | | | |
| --- | --- | --- | --- | --- | --- | --- |
| Year | 2022 | | 2023 | | 2024 | |
| Revenue | 280.9 | 26.0% | 326.2 | 16.1% | 410.5 | 25.8% |
Although beta is 1.42 and the price has been trading lower since printing an intraday high of $137 on 3 March, the current price should be a good entry point for long- to medium-term investors with an eye to the growing opportunities present in the advanced driver assisted systems (ADAS) space.
Ambarella can be bought on global investment platform eToro for 0% commission.
eToro - Buy and Invest in Assets

Minimum deposit of just 250 USD to get lifetime access to all the VIP channels
Buy over 2,400 stocks at 0% commission
Trade thousands of CFDs
Deposit funds with a debit/credit card, Paypal, or bank transfer
Perfect for newbie traders and heavily regulated

67% of retail investor accounts lose money when trading CFDs with this provider.
Broker
Benefits
Min Deposit
Score
Visit Broker
Share with other traders!