Last week's most sought-after coins were a mix of coins currently in an uptrend and some that most recently displayed some bearish characteristics. Nevertheless, they stand as the most popular cryptocurrencies during the past seven days. Let's further examine these cryptos for more insight.
This cion has moved up by 1.25% during the week. And with this performance, Polygon has topped the list of the most sought-after coins with a movement of approximately 60% over the past 30 days. Also looking at the daily chart for this crypto, we could see that Polygon price action over the past 7 days has been hyper-bullish. For most trading indicators signs, we can still even assume that this market is on its way upward. The lines of the RSI indicator for this market stay above the 70% mark. Likewise, the MACD lines stay poised toward the upside. However, the last price candlestick that appeared for today's trading session has brought a minor correction towards the downside Nonetheless, traders can anticipate a price rebound to the upside.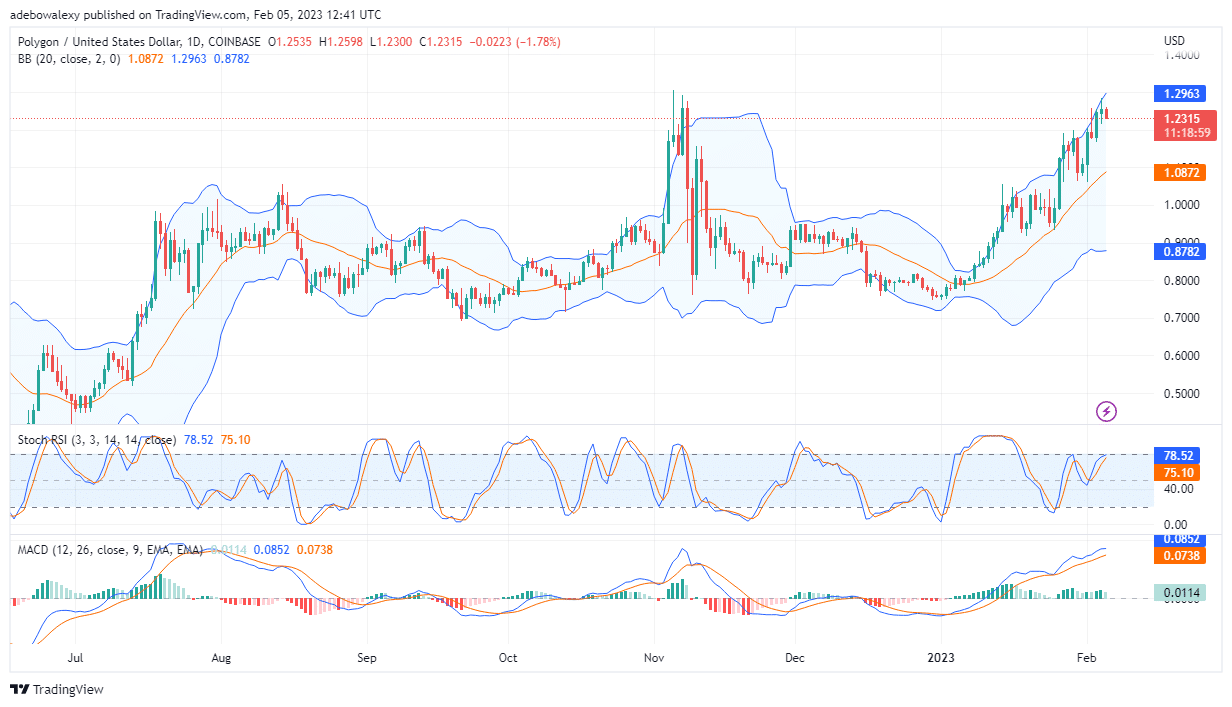 Current price: $1.25
Market capitalization: $10,598,636,974
Trading volume: $563,537,827
7-day gain/loss: 3.18%
LUNC
Terra Classic is another coin standing in the number 2 on the list of the most sought-after coins in the past 7 days. It could be seen that the price action in its market broke away from its previous ranging pattern about, 3 days ago. Following the significant upside break, price action has retraced downward for about 1.30%. Even though prices have been retracing lower price levels over the past two days, we can still say that an upside price move is possible in this market since price action remains above the MA line of the Bollinger Bands indicator. Likewise, the MACD indicator keeps moving upward above the equilibrium level. Also, the RSI lines remain projected upward, with the faster line now above the 70 mark. Since technical indicators are still indicating that this market's upside momentum is building, traders can stay optimistic about this crypto.
Current price: $0.0001858
Market capitalization: $1,094,638,171
Trading volume: $181,086,145
7-day gain/loss: 4.89%
HYPER
HyperChainX seems to have regained its hyper-bullish momentum today. This coin has moved up by 39.16%, and 178.28% in the past seven days. Consequently, this has placed HYPER in the 3rd position on the Trending coins list Moving to its daily market, we can see that the price has vigorously trended downward before picking up another bullish momentum. Consequently, this has seen its price spike to 0.004422 from near 0.002000. The MACD indicator has revealed that upside momentum has returned to this market. This could be seen through the histogram bars of this indicator, as it turned solid green once more. Meanwhile, the RSI indicator lines are smoothly taking a bend towards each other for a bullish crossover. Traders can still hope that the price will keep moving in an upward direction.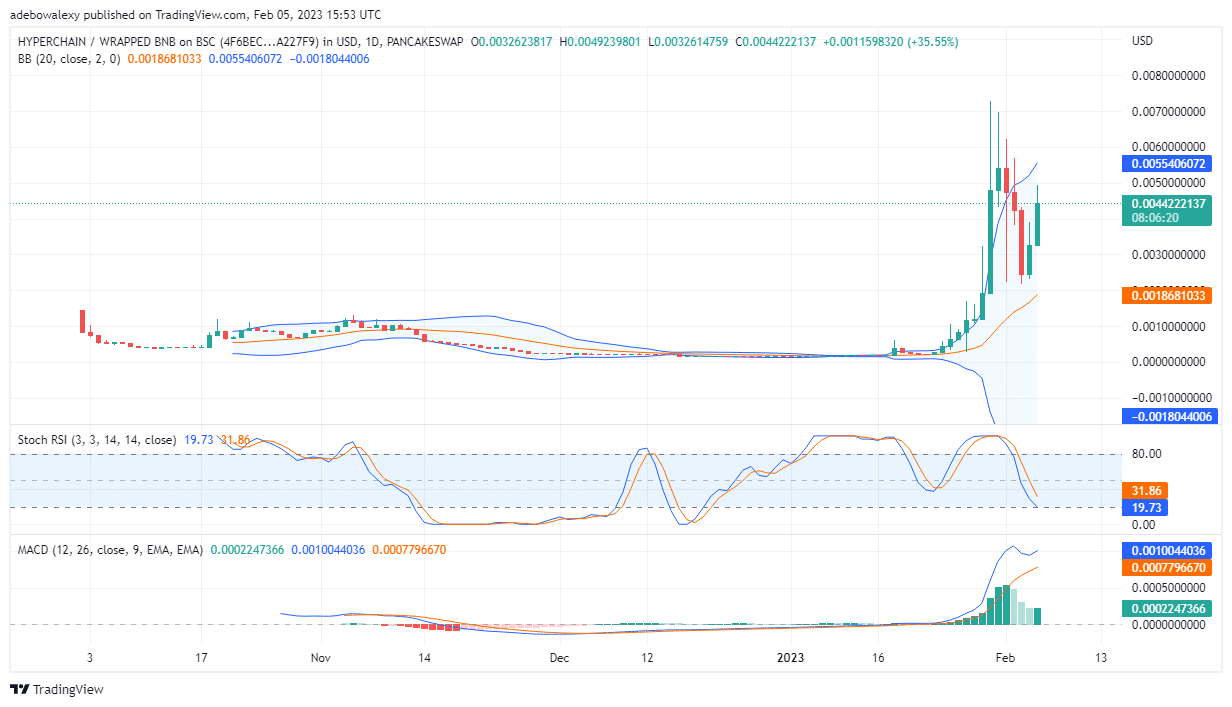 Current price: $0.004422
Market capitalization: $627,631
Trading volume: $3,347,641
7-day gain/loss: 178.28%
CAKE
PancakeSwap Token has been a hot "cake" over the past seven days, moving by an impressive 13.35%, and 5.89% today. A further study of the CAKE/USDT market reveals the bullish nature of this crypto. Here price action can be seen increasing in upward momentum, as it ramps upwards in a more steep manner over the past two days. Also, the line of the RSI indicator for this market continues to move towards the 100 mark, even when the faster line has already reached its peak level. Additionally, the MACD curves continue to progress above the equilibrium point. Meanwhile, the histogram bars of the MACD indicator keep showing that upside momentum is strong, as they appear green. Therefore, we can anticipate an additional increase in price.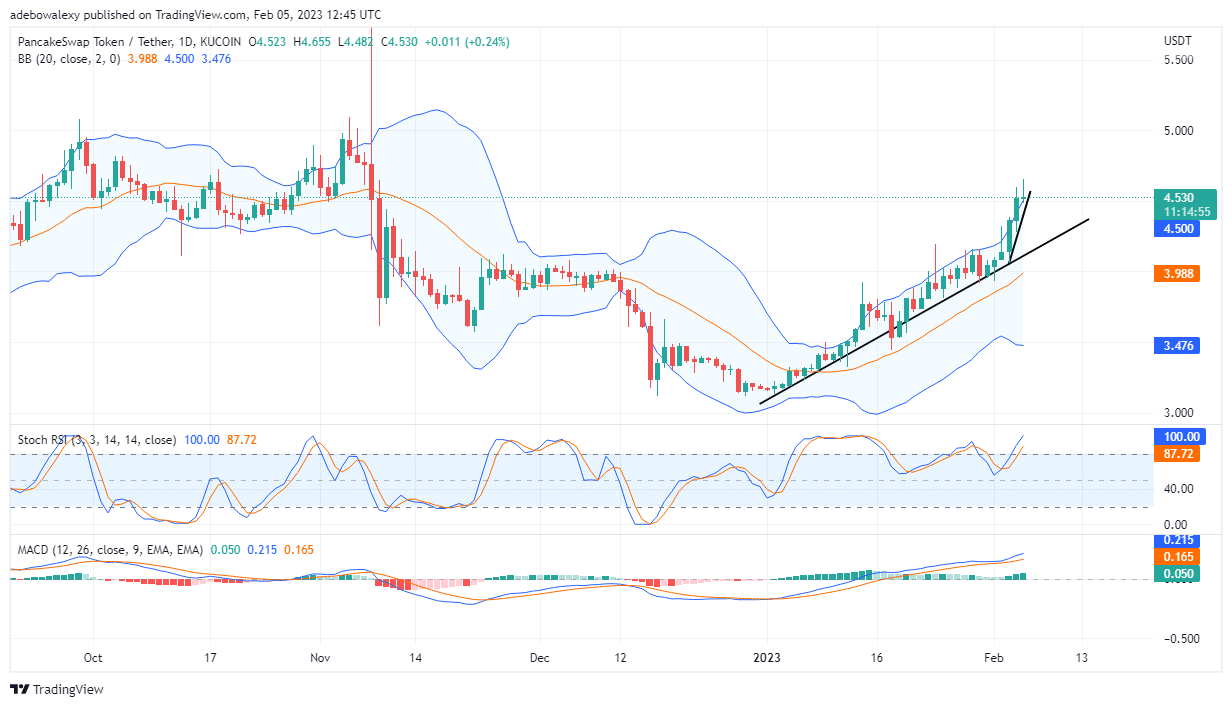 Current price: $4.530
Market capitalization: $754,796,779
Trading volume: $90,987,602
7-day gain/loss: 8.78%
BTC
Bitcoin has recently gone bullish, as its price rose from near $17,000 to its current position near the $24,000 mark. The king coin has moved by 0.24% over the past 24 hours, and 0.61% over the past 7 days. The price action in this market began its uptrend around mid-January, according to the BTC daily chart. However, at this point, the momentum seems to be cooling. The price candle for today's session formed as a Doji and reveals that bears and bulls are in a fierce battle. Also, trading indicators are beginning to show that the headwind may be strong. Both the RSI and MACD indicator lines are trending downward. Consequently, this reveals that the price may retreat toward the $23,100 mark in this market.
Current price: $23,333
Market capitalization: $447,555,143,228
Trading volume: $16,163,564,167
7-day gain/loss: 1.49%
Do you want to take your trading to the next level? Join the best platform for that here.
Broker
Benefits
Min Deposit
Score
Visit Broker
Share with other traders!