Terra USD (UST) has become one of the most talked-about Stablecoins in the market today because of the jaw-dropping 20% APY (annual percentage yield) it promises. UST essentially promises significantly more returns on your assets than most hedge funds and banks.
If it sounds too good to be true, it is probably because it is. In the financial market, more rewards typically translate to more risks. So, what risks does the UST Stablecoin have?
In this short article, we examine TerraUSD briefly, highlighting what makes it different from other Stablecoins and the feasibility of its 20% APY guarantee.
Understanding Terra
Instead of pegging its Stablecoin to a singular asset like the US dollar, which most other Stablecoin insurers do, Terra aims at creating Stablecoins for all the currencies in the world. As such, there's TerraUSD (which is equivalent to a dollar), TerraEUR, TerraAUD, TerraINR, and so on.
That said, Terra's flagship Stablecoin is the TerraSDR, which is tied to the International Monetary Fund Special Drawing Rights. SDRs are arguably the closest things to global money, making this a good innovative start.
Terra and LUNA, Balancing the Equation
On the other end, the same network behind the Terra Stablecoin also has a crypto called LUNA, which is more enticing crypto for most people. LUNA represents mining power in the Terra network, meaning that the more LUNA you hold, the greater "mining rewards" you stand to gain.
That said, Terra and LUNA act as balancers for each other, much like the earth and the moon. Terra's white paper explained:
"When TerraSDR's price < 1 SDR, users and arbitragers can send 1 TerraSDR to the system and receive 1 SDR's worth of Luna.
When TerraSDR's price > 1 SDR, users and arbitragers can send 1 SDR's worth of Luna to the system and receive 1 TerraSDR."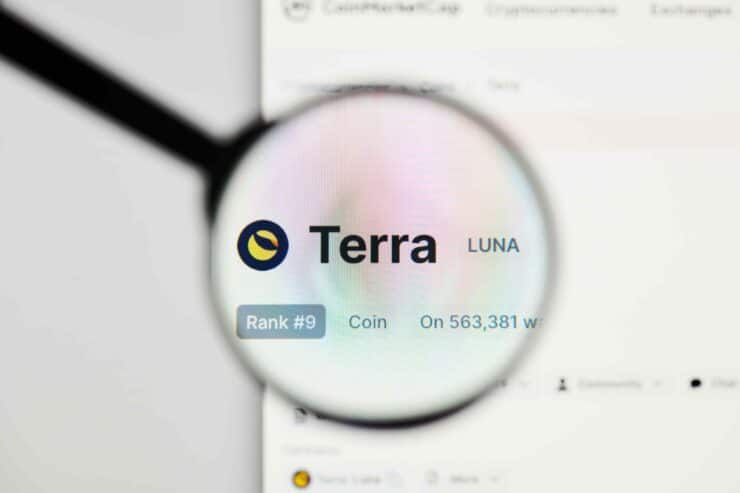 So far, this mechanism has performed effectively, helping TerraUSD hold the $1 peg for a while. However, several risks could disrupt this equanimity, and in this article, we explain three.
Risks Associated with the Terra Stablecoin Model
Risk 1: Algorithmic Stablecoin
All Stablecoins are backed or pegged by another asset, usually believed to be more stable. Be it gold, dollar, euro, other cryptocurrencies, or a combination of assets something is in the vault.
However, Stablecoins like Terra has no tangible backing but are backed by a computer code. The system, with the assistance of traders, adjusts the standings of Terra and LUNA to maintain equanimity.
While this sounds innovative in theory, there are too many failed algorithmic Stablecoins for this to not suffer a downfall over time.
Algorithmic Stablecoins are the riskiest of the bunch due to their intangible backings. Such assets are prone to spiraling out of control from a negative feedback loop.
Risk 2: Excessive APY Guarantee
The 20% APY promised to holders does not come from thin air, it has to come from somewhere. So, where is this source that guarantees 20% APY to all holders?
While the governance team plans to scrap this guarantee for obvious reasons, the yearly interest payments are expected to come from Terra reserves. This is not a sustainable practice and could cause some problems for the network in the medium term.
Risk 3: No Blockchain Backing
Unlike most other DeFi projects, Terra is not built on Ethereum but runs independently. For an emerging project, this is a significant gamble considering that it lacks the backing and consistent influx of users and developers. Couple this with the completion Terra is guaranteed to face from other projects built on Ethereum, a more robust blockchain ecosystem, and you can see the looming dangers ahead of Terra in its lone journey.
Broker
Benefits
Min Deposit
Score
Visit Broker
Share with other traders!