eToro Review 2019
eToro is setting the limits high as the leading social trading platform for a plethora of major financial markets such as forex, stocks as well as for cryptocurrencies. Since the platform's creation in 2006, it has continuously grown with its popularity being its effort in ensuring online trading is accessible to a variety of individuals across the globe.
As a digital trading platform, it has gained over 7 million users across the world a sign that the platform is indeed doing well.
But how well do you know the eToro platform? What are its pros and cons?
Therefore, before you go ahead to sign up for one of the largest brokers, this review will give everything you need to know about eToro from the services, fees, supported countries all through to its safety.
eToro at a Glance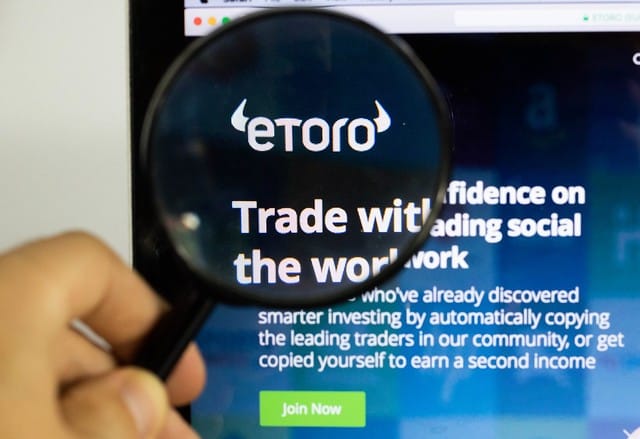 eToro has put more emphasis on cryptocurrency while supplying its users with trading platforms easy to use investing in crypto as well as provides a mobile wallet for sending and trading funds.
Moreover, eToro allows investing in Bitcoin and other well-established cryptocurrencies. The payment options are also countless.
The Israel-based social trading broker was established in 2007, which also offers primarily CFDs as well as non CFD products.
eToro is unique in a way that it allows the experienced traders within the community to become "leaders" easily as well as earn leading their "followers." Also, it has built a name via advertising sporting events like football matches as well as marketing public transport in the UK plus several other countries.
The platform is perhaps still pushing to get even higher. CEO Yoni Assia ready to see the platform disrupt its outdated banking system to help usher in the new digital financial system. For instance, eToro recently introduced eToroX, which is a fully regulated crypto exchange.
eToroX – The cryptocurrency eToroX was launched early this year and is fully regulated. The exchange offers actual access to the crypto assets, which mean you're able to withdraw them easily from the exchange.
Cryptocurrencies Supported
One can argue that the eToro platform offers a limited number of supported cryptocurrencies compared to some other platforms. However, its nature is simply a comprehensive trading platform and not much focused more on a single cryptocurrency.
Nevertheless, eToro supports cryptos such as Bitcoin, Ethereum, Litecoin, Ethereum Classic, Ripple, and Bitcoin Cash, EOS, IOTA, Stellar, Dash, Cardano, Binance Coin, NEO, and Zcash.
Investor Protection and Regulations
eToro is managed by various companies; in the UK, it's managed by eToro (UK) Ltd hence coming under the jurisdiction of FCA. Traders trading via the eToro Ltd are covered under FSCS (Financial Services Compensation Scheme).
On the continental stage in Europe, eToro is managed by the eToro (Europe) Ltd, CIF (Cyprus Investment Firm). Besides, eToro is regulated by CySEC.
In Australia, eToro is managed by eToro AUS Capital Pty Ltd and regulated by the ASIC (Australian Securities and Investments Commission.
eToro Services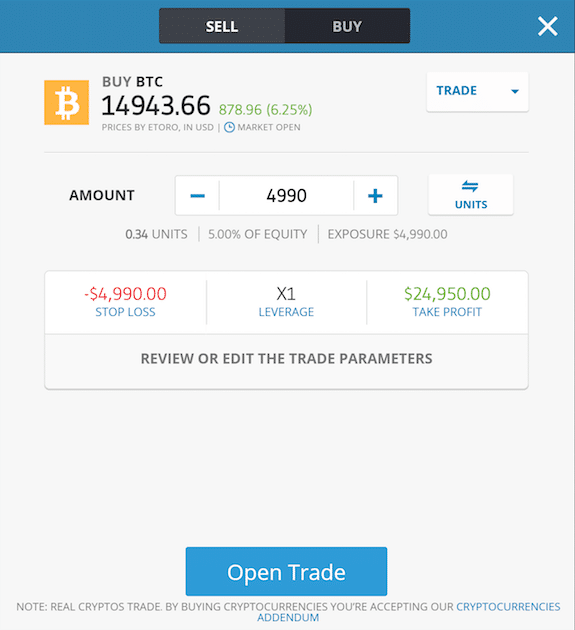 The platform allows investing in several assets, which include stocks, commodities, indices, currencies, and cryptocurrencies. However, they added the ability to follow as well as copy other traders, which makes it a social trading platform.
What makes the Platform Special?
CopyPortfolios and Copying Traders
Obviously, you're supposed to decide what to invest in, but with eToro, you'll get an extra option to either copy other traders or simply invest in a CopyPortfolio, which is a portfolio management product.
The CopyPortfolio is almost like investing in some specific index whereby a mix of assets is chosen for you to invest. You can invest in either partner Portfolios (an investment vehicle from eToro partners) of Market Portfolios (the top-performing assets from a particular market). To participate in Copy Trading, you're required to have a minimum of $200.
eToro's Crypto Portfolio
This is a unique product that lets you invest in the supported cryptocurrencies with a minimum investment being $5,000. The benefit of the portfolio is that it exposes you to several currencies simultaneously as well as helps diversify some risks which are involved in single crypto investment.
For a cryptocurrency to be included in the crypto portfolio, it has to;
Have a minimum market capitalization of $1 billion
Have a minimum average monthly trading volume of $20 million
eToro's Cryptocurrency Wallet
eToro also allows users to transfer and trade cryptocurrencies via their mobile phones thanks to their newly launched wallet for Android and iOS. As much as the wallet isn't an actual crypto wallet, it is the best interface for the platform.
There's no private key to access your funds, but instead, you'll have to log into your account to perform all your trading. Basically, it's eToro that's in charge of your funds, not the wallet, and hence unable to transfer funds to a self-hosted wallet outside the wallet.
eToro Fees
On the platform, the fees primarily vary depending on the asset in question. For instance, bitcoin will cost a 0.75% fee, which is higher than other exchanges when exiting a position. For the other altcoins, they trade at a 2-4% fee.
Moreover, there're withdrawal fees included when cashing out, which is the only fiat and is charged $25 for every withdrawal.
If you intend to be that inactive user, then eToro will have to remind you that you need to be active as it charges a fee if you don't log in at least for 12 months. For long term holders, a $10 per month fee will be debited once the account becomes inactive. Therefore, you're better placed if you log in every quarter to check on investments.
Account Opening
Opening an account is super-fast and enjoyable. Only a minimum of $200 is required. eToro has one live account with also a demo one that allows users to play with money to try the platform. If you want to try it, click here.
Within a day, you'll be able to open an account thanks to an improved account opening process. You're required to register with your Google, email, or Facebook account and access the platform and start trading with the demo account.
Funding the account requires identity verification as well as residency details whereby you'll be asked to upload the necessary documents such as personal ID and passport/bank statement.
Deposit and Withdrawal Options
Once your account is set, depositing funds is very easy as there're several options you can use. The options available include;
PayPal
Webmoney
Giropay
Wire transfer
Skrill
Yandex
Neteller
China Union Pay
Local Online Banking
The platforms accounts are simply denominated in USD, which means that whatever the currency you deposit into your account, it will be converted automatically to USD.
Like the funding options, you can as well use them for withdrawals with a minimum withdrawal amount of $50.
Web Trading Platform
eToro's platform is easy to use, nice looking, and it's user-friendly. The platform is available in several languages including English, Spanish, German, Russian, Chinese, Polish, Italian, Greek, French and Arabic.
Customer Support
Unlike when eToro started in 2007 when the customer support was not good enough; currently, the service is better although it's yet not the best. For instance, they lack telephone support or a live chat. Therefore, if you require an answer instantly, you may need only to wait for an email.
Safety
There's no doubt that eToro is highly reliable and given that it's regulated by well-established regulators such as the ASIC, the FCA, and the CySEC makes a safer option. Therefore, eToro is, indeed a joy to use.
Supported Countries
eToro operates in a plethora of countries such as Cyprus, Venezuela, Italy, Portugal, Russia, Thailand, Slovakia, Singapore, Bahrain, Austria, Czech Republic, Poland, Belgium, Romania, China, Germany, Greece, Sweden, Qatar, Peru, Nigeria, Norway, Latvia, Mexico, and with the most recently the US and very many other countries.
Bottom Line
Looking back, eToro may have been unreliable, especially its customer support and to some the overpriced fees, but currently, we're looking at the best broker. With a fast and seamless account opening process, innovative features such as social trading and suitable cryptocurrencies, eToro looks like the real deal.