The dollar had a slight bounce after a ray of optimism following speculations of a preliminary agreement been reached in the U.S.-China trade talks. There seems to be progress made in the talks between the two countries as the U.S. is considering dropping some tariffs on Chinese goods, a report says.
The trade war which has been ongoing for a year and 4 months had inclined chances of a global recession as both countries in this tussle had increased tariffs on their respective goods. China, on the other hand, is seeking a location where the preliminary agreement will be signed with the U.S. President.
The dollar being paired rose by 0.17% to 108.77 Chinese Yen leading to a 0.4% market gain on Monday. It is been anticipated that any progress made in the trade talks will impact positively on the U.S. dollar and other risky assets. It will also alleviate the concerns about a global recession and also the need for quantitative easing which involves pumping liquidity into the economy will be lessened.
Dollar's Continuous Growth
A banking executive in Tokyo analyzing the impact of the trade talks on the market says that the atmosphere in the market is still tensed and investors are still cautious. He also predicted the dollar's growing trend will be continuous as long as progress is been made on U.S.-China trade talks.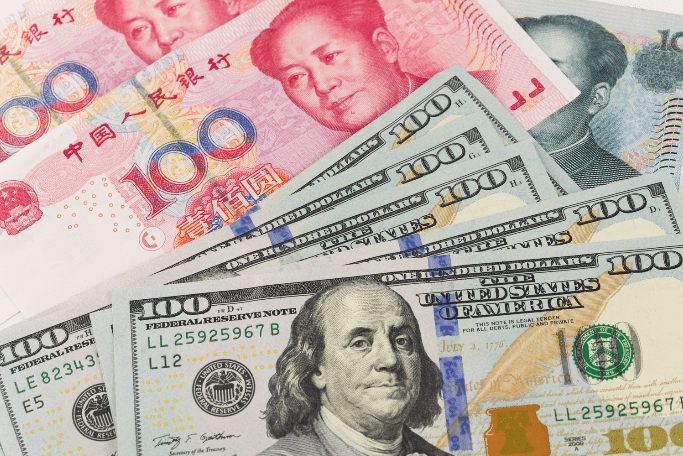 The dollar rose 0.17% to 0.9895 Swiss francs, leading to a 0.2% market gain previously.
The dollar index against a pairing of six major currencies rose 0.1% to 97.599, the highest in almost a week.
Although the Federal Reserve has embarked on a three-time interest rate cutting this year, investors still hold hopes of a better economy not as that predicted.
Upcoming this week is the U.S. ISM non-manufacturing report which will also impact the U.S currency.
On the other hand, the Yuan was insignificantly moved by the positivity on the U.S.-China deals as it remained at 7.0276 against the dollar while it edged a little to 7.0255/USD.
This could also be traced to the fact that for the first time in three years, the People's Bank of China slashed the interest rate on its medium-term lending facility with its intention to spur up the economy.
Safe havens currency, yen, and the Swiss franc experienced losses due to the ease of risk-taking by investors.
The Australian dollar maintained $0.6884 but rose by 0.15% to 74.92 yen.
This could be traced to the Reserve Bank of Australia, (RBA) stance on monetary policy which remains the status quo. The apex bank had been concerned about consumer spending thereby letting its cash rate slide to as low as 0.75 while reiterating that it may remain so for some time.
Broker
Benefits
Min Deposit
Score
Visit Broker
Share with other traders!