Falling under the top ten, Tron is boosting high when it comes to crypto, with one of the higher utility rates among existing cryptocurrencies. 
Now that the new year is approaching, it is crucial to know all you can before investing in Tron. Where it came from and its technical performance. Market and price predictions will help you decide on whether or not investing in Tron will be a worthwhile asset. Is it a feasible long-term venture? Or is it caught "in the moment"? Let's find out. 
We can begin with the basics. Tron is a blockchain platform that initially began in 2017 by Justin Sun. The founder had previously worked for Ripple, with the entire infrastructural idea based on decentralization. The company has since maintained a reputation in the crypto world with many of their achievements including their MainNet launch in May 2018, network independence, and their Tron Virtual Machine launch in August 2018. Additionally, they acquired BitTorrent, a torrenting software company with over 100 million active users, in July 2018.
Tron's long-term goals include revolutionizing the entertainment industry by transforming digital content and publications. As a content creator, Tron has made sharing content with major platforms and streaming sites such as YouTube or Facebook, among others, far easier. So is all the hype worth the investment? 
Initially, Tron emerged as ERC-20 token built on Ethereum. And by April 2018, the developers migrated for it to have its own unique smart computing system and blockchain. Moreover, thanks to its scalable and fast blockchain allowing for the higher product of transactions in a significantly less time frame, Tron's market cap has grown significantly. They've additionally looked further to innovate into small-scale transactions such as tips and in-game assets. There is an evident competition between Tron and Ethereum. As Tron's development toward dApp and smart contract sectors, with the goal of offering products and services, falls within the range of those of Ethereum's.
With that said, Tron has grown and expanded as a result of its innovative developments and strong partnerships. So far, some of their most attributable partnerships include Samsung, multinational bike-sharing company oBike, Baofeng, Baidu, and social networking site Global Social Chain. Their partnerships pose as strong facets for potential investors wanting in on the coin market.
Tron (TRX) 2020 price analysis
Let's take a short analysis of Tron's price performance in the past. So that we can use a basis for our 2021 prediction. Digitalcoin shows us that in September 2017, when Tron was initially launched, it was listed at $0.002, with its trading volume standing around $48,512. However, the coin had soon partaken in the most extensive crypto bull run to date, reaching its peak of $0.275647 in January of 2018. 
By the end of the first quarter in 2018, the price of TRX stepped down to a trenchant in the late second quarter of May 2018. Within that last quarter, the Tron coin was ranging between price values of $0.015 and $0.025. 
Overall throughout the last two years, the digital currency had minor fluctuations for short time periods. Therefore, it maintained a low but stable performance over time. Even with all its current popularity seeping up from the trenches, it's not far from its usual deviations. On November 23, the price hit only slightly above at around $0.030106 whereas when compared to Bitcoin (BTC) who had reached an approximate $1,500 from its record peak at a price of $18.600. The 2019 price resulted in quite different actual results than what was predicted.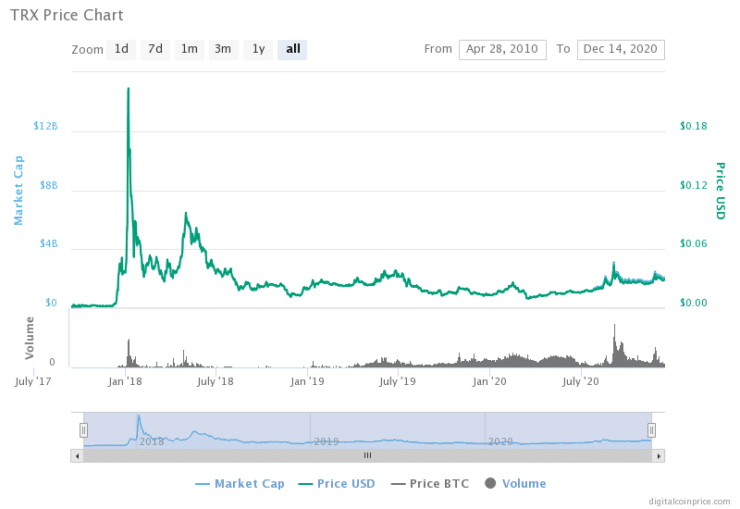 In 2020, Tron had started the year off trading at approximately $0.015. By the time February hit, Tron had reached $0.025 showing steady growth within the year's first quarter. By the end of 2020's first quarter, Tron's price had driven down to $0.008, hitting its base for the year, however, safe to say.
Throughout the second quarter of 2020, prices began climbing again and showing better performance around mid-April. The price rose to $0.015 again showing promising hopes for investors as it continued in May 2020. Be that as it may, an outpouring toward $0.02 set fruitless disappointments for TRX as prices dropped again. And it maintained a steady pace between $0.015 and $0.02 for the rest of the year. Prices for TRX performed with an average of $0.15 per TRX throughout 2020. This all is collected from a number of forecasts predicting the long-term TRX market can be compelling. 
eToro - Buy and Invest in Assets

Buy over 2,400 stocks at 0% commission
Trade thousands of CFDs
Deposit funds with a debit/credit card, Paypal, or bank transfer
Perfect for newbie traders and heavily regulated
Only real cryptos are available for US users

67% of retail investor accounts lose money when trading CFDs with this provider.
There has been recent news that Tron's dApp transaction volumes exceeded those of Ethereum's. Ethereum experienced a 79% growth in October whereas Tron's volume skyrocketed to a swinging 83% when compared monthly. This gives hope for many that Tron will soon surpass Ethereum, mainly credited to its dApp developments, which in particular were initially noted to be risky, TronCHAIN and Tron2GET. 
With that said, what are crypto experts predicting for Tron in 2021? Will it maintain the same small ups and downs throughout this year or is there a chance Tron will reach rocking trading volumes for the new year? Let's see what Tron's 2021 price prediction holds for us.
Tron (TRX) 2021 Price Prediction
With the new year approaching, let's take a look at what crypto experts are expecting from Tron this upcoming 2021. Digitalcoin has provided the following graph with forecasts on Tron's price levels for the new year.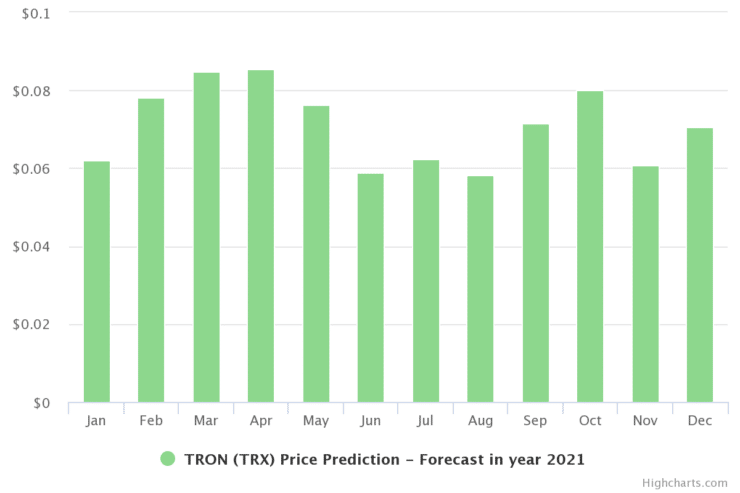 It's evident that Digitalcoin doesn't expect any big jumps outside the norm this year for Tron. It predicts roughly that the same volatility will continue to hold out throughout the upcoming months as well. Seeing as TRX's price is quite low, any changes can possibly shake things up and turn out for the better, above what's expected. Taking into consideration that Tron's peak back in 2018 was just $0.207022. And its current rate stands around $0.024168. Any slight deviations up can easily trigger excitement and make things seem bigger than what they really are. 
Digitalcoin predicts that the price of Tron aims to hit a peak of $0.07303966 in April 2021 just prior to reaching back down to a price of $0.04963468 in the middle of quarter three. However, predictions also propose a price rise again to 40.06829103 in quarter four just before ending the year off slightly over $0.06.
Established Tron investors should accept this prediction. Even the lowest forecasts presented by Digitalcoinni are beyond double its current prices. This could mean that in anticipating years, they could be well headed to scaling new pinnacles. According to this forecast, there are good chances Tron might surpass $0.1 which will gain great levels of attraction and opportunities for Tron. 
However, other crypto experts don't all agree with this prediction. CoinSwitch predicts that Tron may reach a price of $0.4 however also forecast higher volatility levels than usual. 
WalletInvestor predicts a more bearish forecast noting that Tron will begin $0.0458. However it will stabilize around $0.03 until falling further toward the middle of the fourth quarter. 
TradingBeasts predicts $0.05 to $0.08 in the beginning of the year to hopefully climb around $0.21 to $0.30 by the end of 2021. Their long-term predictions include the average price of TRX rising into 2022 and hitting $0.047, and even to $0.055 by the end of 2023.
Long-term price predictions for Tron (TRX)
What are crypto experts forecasting for Tron in the next five years? Let's take a look. Maybe one might think that 2021 is not the year to invest in Tron. Maybe instead 2022-2025 may be a more worthwhile wait to see what happens with prices then. 
Bull trends can be forecasted for Tron until 2025 according to Digitalcoin. Although there is an overall growing trend forecasted over the next five years, predictions show that 2023 will be a very volatile year for Tron. After a steep drop from $0.08 to $0.02 in the fourth quarter of 2022, distinct market swings will be punctuated in 2023. This steep fall, however, will account for Tron's price climb back up into 2024 and continuing on into 2026. Digitalcoin carries optimistic hopes that Tron won't fall below $0.1 following this downfall in 2023, hoping for another potential peak of $0.13 in July 2025.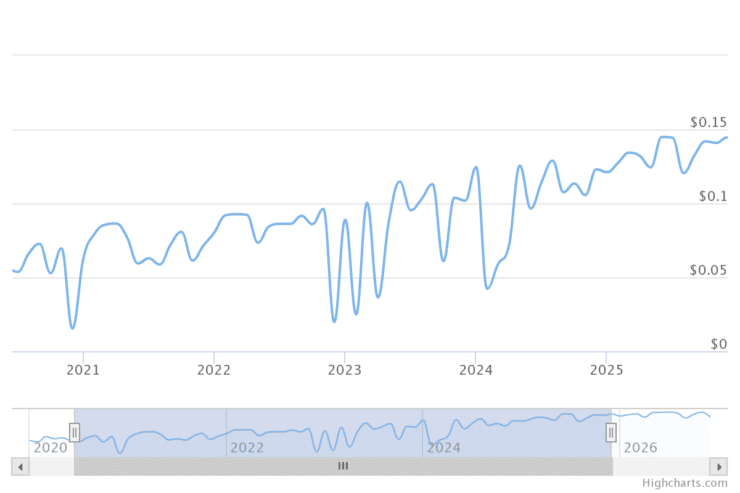 What potential factors can affect the price of TRX?
Prices change instantly and it's crucial to know what can affect the change in prices, especially when analyzing predictions. Here at Learn 2 Trade, we have come to a conclusion that the three most likely factors to cause fluctuations in the price of TRX to include supply and demand, a surge in dApps, and performance with legislation. 
Supply and demand is a given when speaking of any currency. The higher the demand over its supply for a currency, the higher their price will be. The same situation falls as prices will go down when supply overturns demand levels. 
With Tron's recent innovations in the dApps sector, making them number one in decentralized innovation globally ranked, it has given them a highly attractive quality pulling investors in. It becomes popular and doesn't look like it will go down anytime in the near future. The pull away from third parties such as Google and Apple put Tron on the forefront, making it more enticing.
With the worldwide adoption of cryptocurrency regulations as a result of its rise in popularity among investors, they're being forced to comply with laws and legislations as they're being more and more recognized by big government bodies, particularly when it comes to dApps. The more a cryptocurrency is able to comply with laws and regulations, the more stable it is to prosper in the future without having the need to deal with government bodies coming after them, therefore affecting market capitalization. 
What's next for Tron (TRX)? What to expect in 2021?
There's no doubt that the Tron crypto has a bright future set out ahead. Its innovative nature and recent developments in the entertainment industry make it attractive for many large multinationals and investors looking to expand their asset categories.
Trends and forecasts are always crucial if you're looking to invest in any cryptocurrency. Oftentimes experts will give you all the information you need to make the best decision and often provide as accurate information as possible. It's not uncommon for there to be different forecasts from different crypto platforms. However this is a result of different algorithms that will always end up in different predictions. 
It can be infamously difficult to estimate the crypto market. But nearly all of the projections discussed seem to come together and hold high hopes for the future growth of Tron. 
As for TRX, the future's looking good. Although it will not see dramatic rises that will carry it to $10 or more anytime quickly. Or perhaps, ever it is possible that Tron will see stable, steady development as its technologies and coins continue to see growth in acceptance. 

eToro - Buy and Invest in Assets

Buy over 2,400 stocks at 0% commission
Trade thousands of CFDs
Deposit funds with a debit/credit card, Paypal, or bank transfer
Perfect for newbie traders and heavily regulated
Only real cryptos are available for US users

67% of retail investor accounts lose money when trading CFDs with this provider.
Broker
Benefits
Min Deposit
Score
Visit Broker
Share with other traders!