In the past seven days, a new set of cryptos have arrived in the top 5 most searched crypto. Yet, all of this crypto currently presents a bearish market. Nevertheless, let's consider their price movements to get some insight into what could be expected of them soon.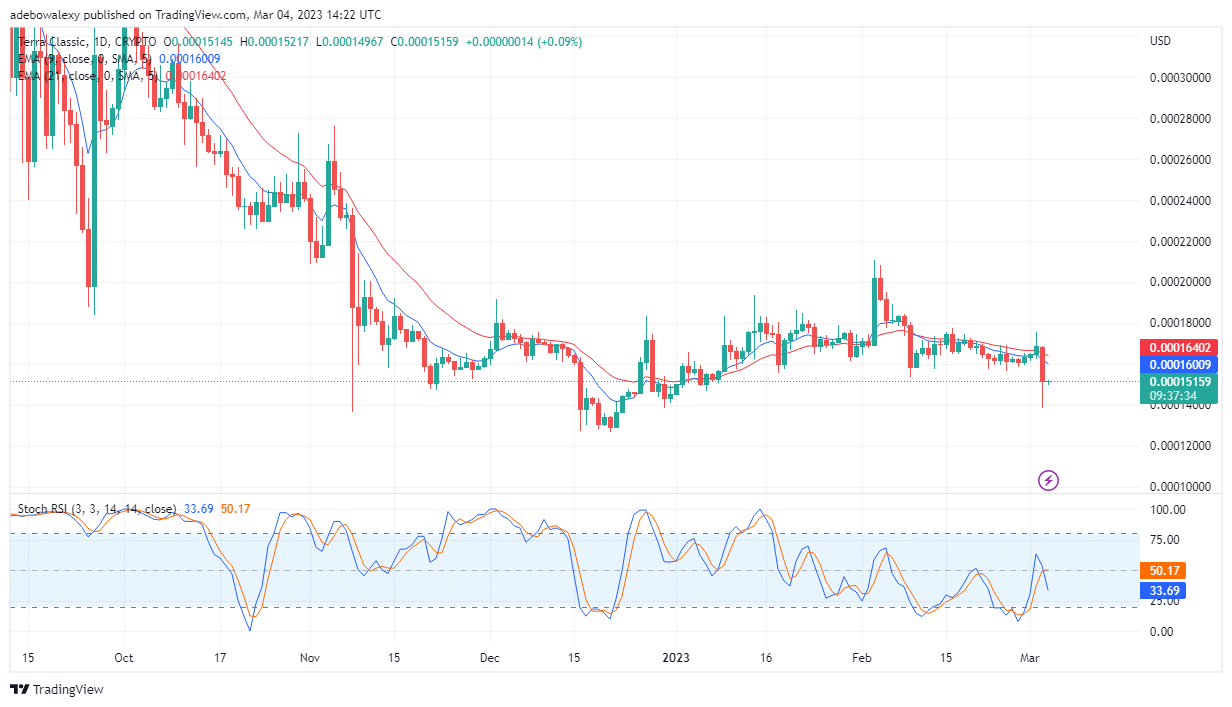 Terra Classic (LUNC)
LNUC has come in at the top of the weekly most searched token list on Coinmarketcap. Terra Classic has depreciated by 0.18%. Also, in the past seven days, it has depreciated by 6.99% with a trading volume of $59,185,294; the LUNC/USD daily chart revealed that the crypto took a long leg down from $0.0001640 to around $0.0001510. Consequently, this market now has a more bearish tone than in recent times. Nevertheless, a dashed-green price has appeared far below the 9- and 22-day EMAs. However, this seems insignificant for now, as the RSI indicator lines are now trending toward the oversold region following a crossover. Therefore, it appears price action may proceed further downward, perhaps to around $0.0001450.
Current price: $0.0001515
Market capitalization: $$891,561,072
Trading volume: $$59,185,294.
7-day gain/loss: 6.99%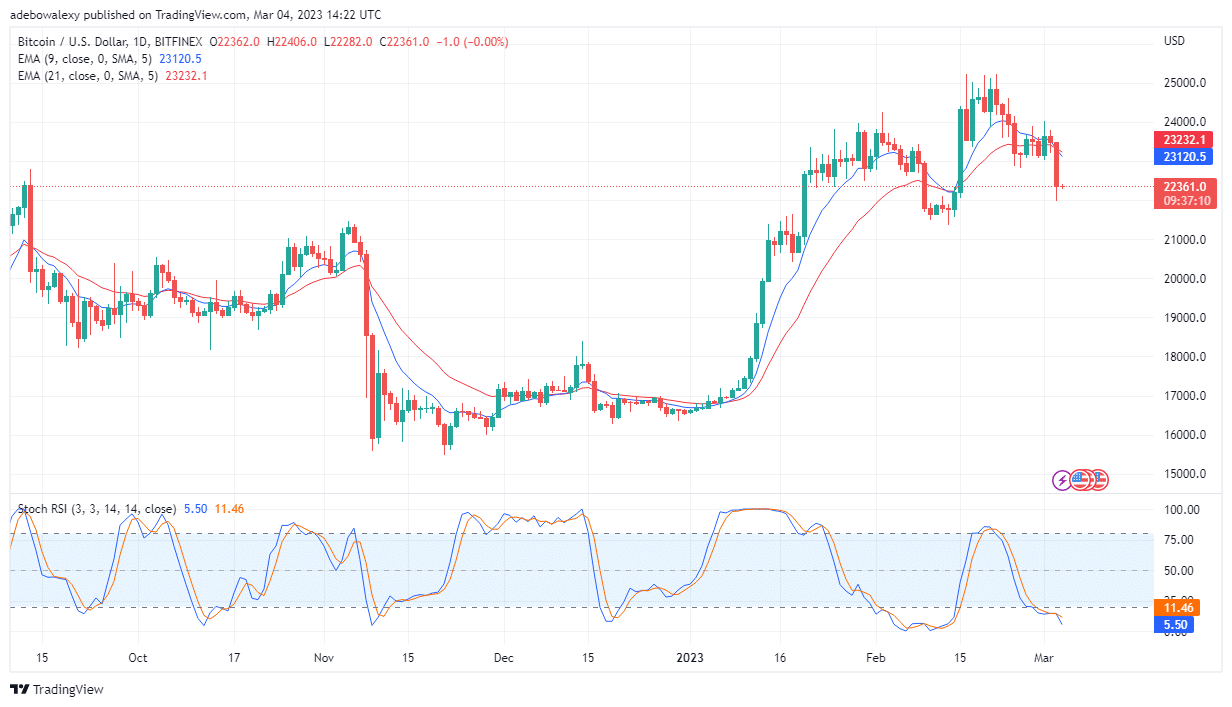 Bitcoin (BTC)
The crypto king – Bitcoin, has had an eventful week to come in second on the weekly most searched crypto. Over the past 24 hours, Bitcoin prices have increased by 0.07%. Meanwhile, its price has declined by 2.99% over the past 7 days, with a trading volume of $15,593,078,146. The daily chart for this crypto shows this market has turned bearish. This could be seen as price action having crossed below the EMA curves. Also, the Stochastic RSI indicator for this chart seems to have aborted an attempt to give a bullish crossover. Nevertheless, it appears as if the downtrend is running out of space, as the lines of the RSI are almost at their lowest in the oversold area. Bitcoin price may retrace resistance at $23,000 if enough buy orders are triggered around the $22,000 price mark.
Current price: $22,361
Market capitalization: $431,922,878,970
Trading volume: $15,593,078,146
7-day gain/loss: 2.99%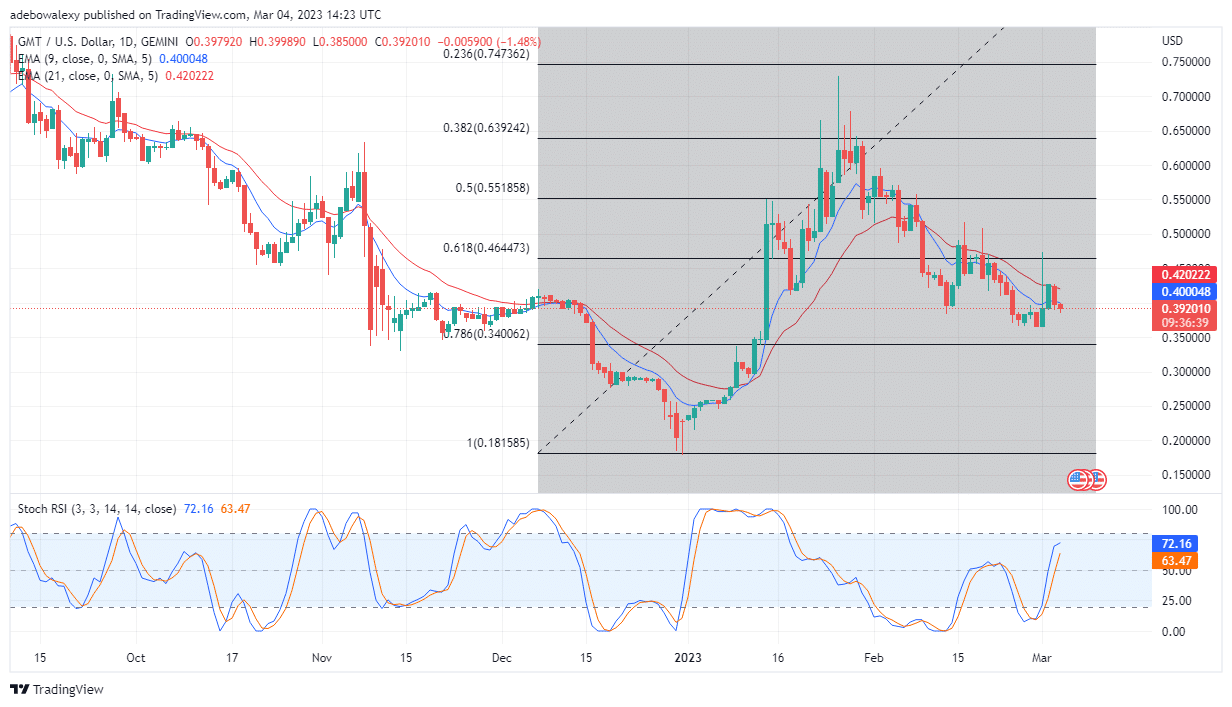 Stephen (GMT)
Stephen is the third most searched crypto on Coinmarketcap over the past 7-days. GMT has recorded a loss of about 1.37% in value over the past 24 hours and a gain of 3.04% over the past seven days. This implies that GMT has lost almost half of its accumulated profits over the past seven days. After price action tested the resistance formed by the 21-day EMA line, there was a short downturn in price movements. At this point, price action has fallen below the 9-day EMA curve. Furthermore, the leading line of the RSI indicator is now bent sideways, just above the 70 level of the RSI indicator. It appears as if the price may slide steadily toward $0.3900.
Current price: $0.3920
Market capitalization: $232,841,472
Trading volume: $59,127,069
7-day gain/loss: 3.04%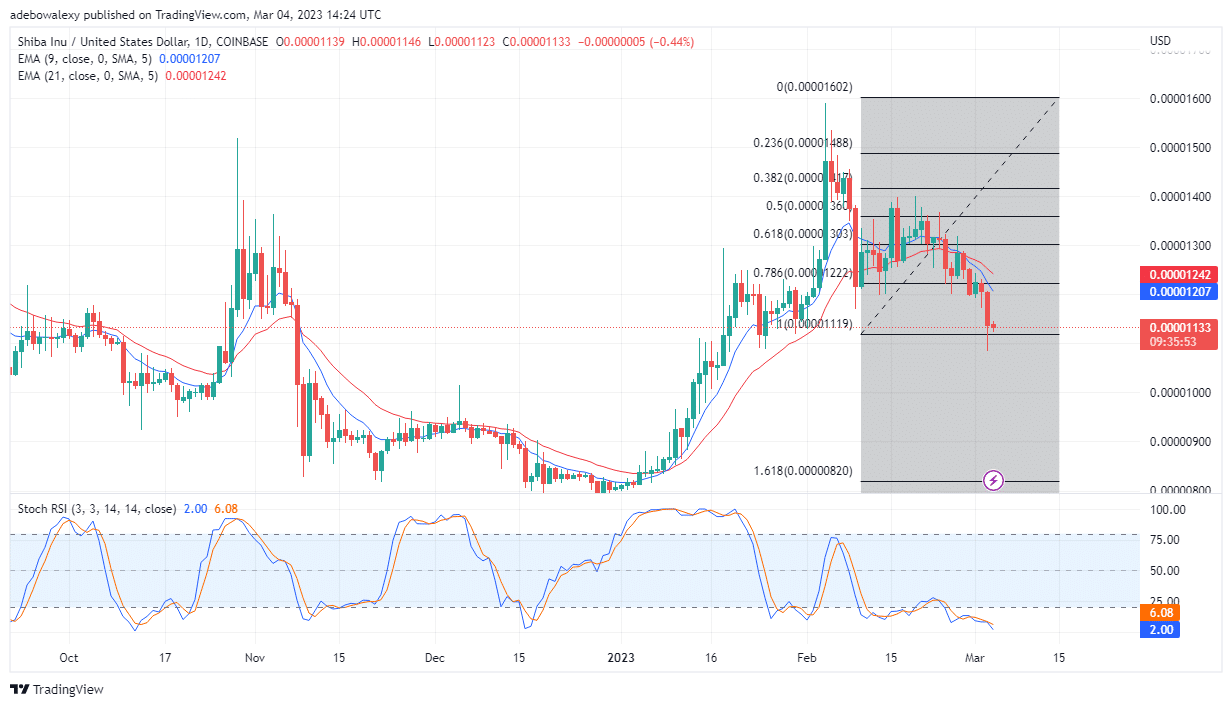 Shiba Inu (SHIB)
Shiba Inu comes in 4th on this week's weekly crypto list. This cryptocurrency has moved up in value by 0.05% and declined by 8.91%. By implication, this crypto has only been able to recoup a very small part of its recorded losses over the past week. For over four consecutive trading sessions, trading activities have been occurring under the EMA curves. At this point, price action seems poised to test the 100 Fibonacci Retracement support level at $0.00001119. Even the Stochastic RSI curves can be seen deep in the oversold zone. Therefore, traders can anticipate that the price will at least find support at the 100 level of the Fibonacci Retracement level at $0.00001119.
Current price: $0.00001133
Market capitalization: $6,216,428.157
Trading volume: $145,582,745
7-day gain/loss: 8.91%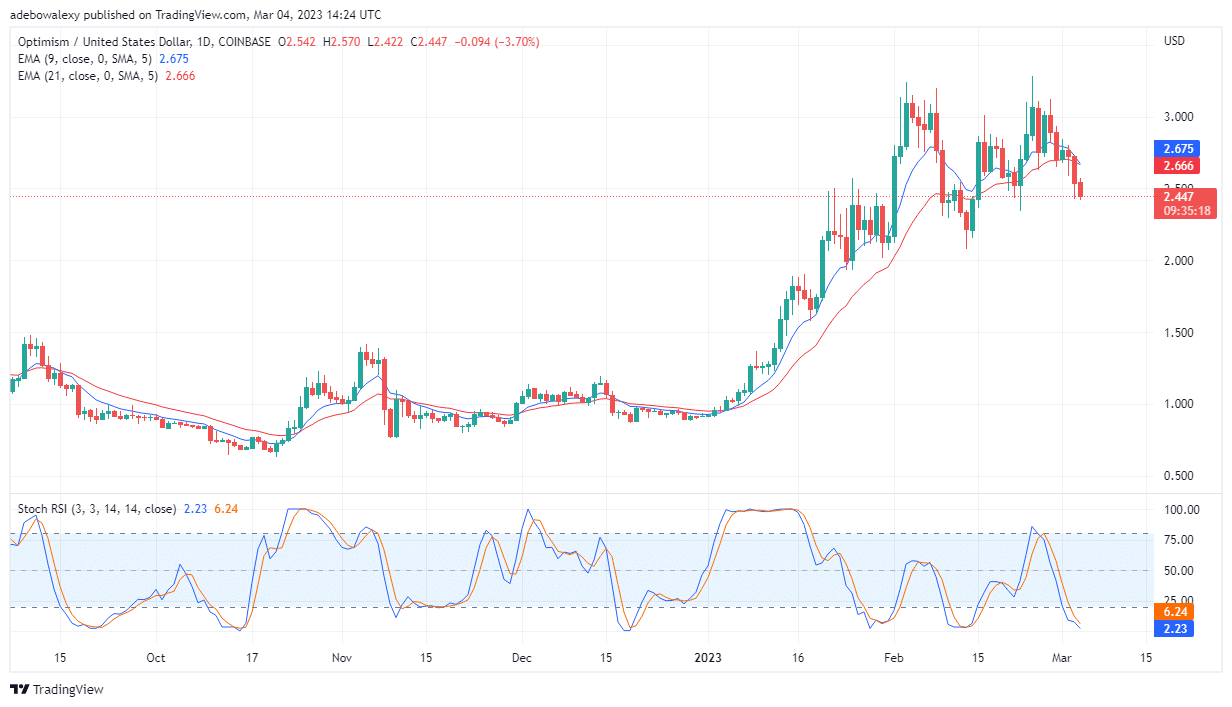 Optimism (OP)
Barely hanging on this list is Optimism. This cryptocurrency has recorded a more significant loss of about 4.32% within the last 24 hours and a value decline of 15.17% within the past 7 days. Optimism has a daily trading volume of $219,907,948 even in its bear market. Meanwhile, the daily market of OP/USD is revealing that this market has taken on a strong bearish tone. This inference is drawn from the fact that the EMA lines are about to perform a crossover above the price action here. By implication, such activities foretell that price action is bound to visit lower price levels. Additionally, RSI indicator line in this market continues to fall lower towards the 0.00 mark of the indicator. However, if enough buyers are waiting for price action to fall to $2.400, then we may witness some upside retracement in this market.
Current price: $2.447
Market capitalization: $770,710,118
Trading volume: $219,907,948
7-day gain/loss: 15.17%
Do you want to take your trading to the next level? Join the best platform for that here.
Broker
Benefits
Min Deposit
Score
Visit Broker
Share with other traders!