There are some new arrivals on this week's top five most searched cryptocurrencies. Meanwhile, the majority of the crypto on this list has been around for some time, yet keeps presenting a bearish market. Nevertheless, let's further examine this market to gain insight into possible future price moves.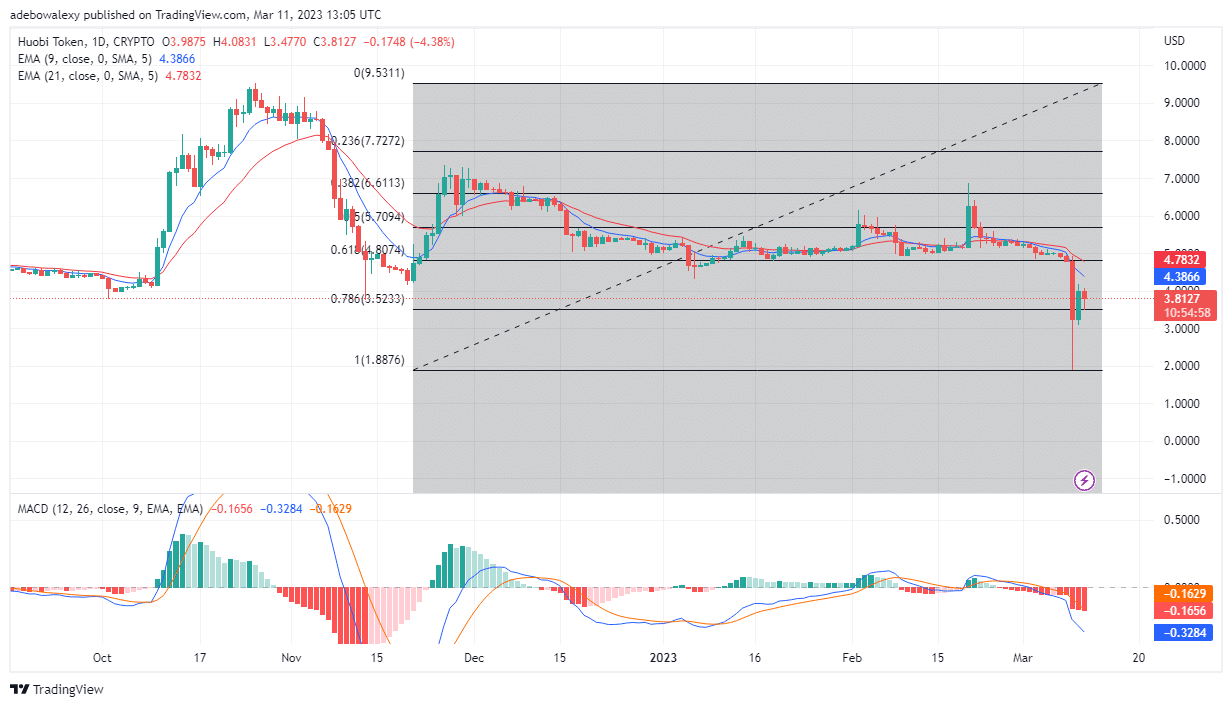 Huobi Token (HT)
Huobi Token has made it to the top spot on this week's top 5 most searched crypto. This crypto has a price decline of 3.77% in the last 24 hours and a price decline of 23.84% over the past 7 days. Furthermore, the HT/USD daily price chart for this token is revealing that the bears are winning the fight in this market. It can be noticed that price action in this market has been between $5.71 and $4.81. Nevertheless, about three sessions ago, headwind was able to break down the $4.81 support level to reach just below the 78.60 Fibonacci level and now at $3.52. Subsequently, HT/USD recovered above the 78.60 Fibonacci support level, but it appears as if the mentioned support may soon be broken down. The last price candle here is bearish, while the MACD indicator keeps revealing that the headwind is still active on price movements. This could be seen as the histogram bars are growing taller and red in the negative direction. Consequently, traders should brace for a further downturn in this market toward the $3.00 support.
Current price: $3.81
Market capitalization: $631,873,287
Trading volume: $21,870,624
7-day gain/loss: 23.84%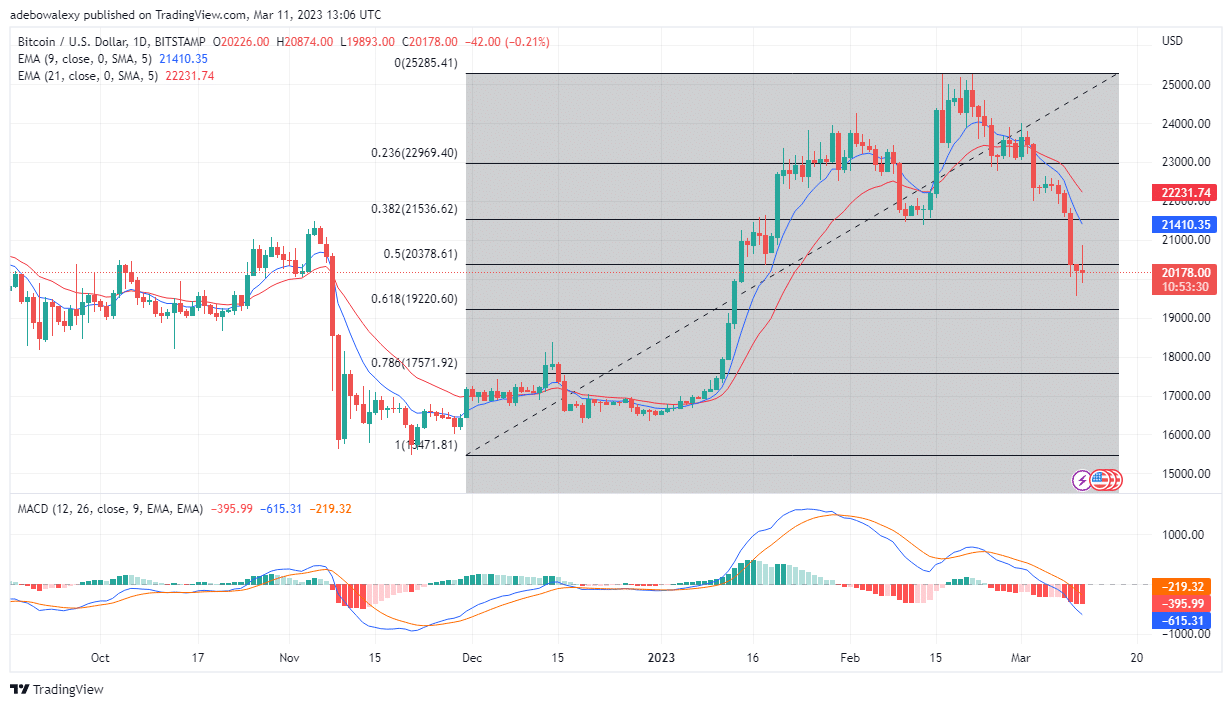 Bitcoin (BTC)
Bitcoin retained the number two spot from last week, even when it had witnessed a price decline. Within the last 24 hours, BTC has witnessed a gain in the price of 1.05% and a more significant 9.58% in the past 7 days. Also, Bitcoin has maintained the biggest trading volume of $36,506,952,804. On the daily chart, Bitcoin has been on a downtrend, with bears staying in control for about six trading sessions in a row. Considering the activities of the MACD indicator, it appears as if Bitcoin is preparing to fall lower into the $19,000 region. The mentioned inference comes from the fact that both the line and bars of the MACD keep moving in the negative direction.
Current price: $20.178
Market capitalization: $390,642,631,391
Trading volume: $36,506,952,804
7-day gain/loss: 9.58%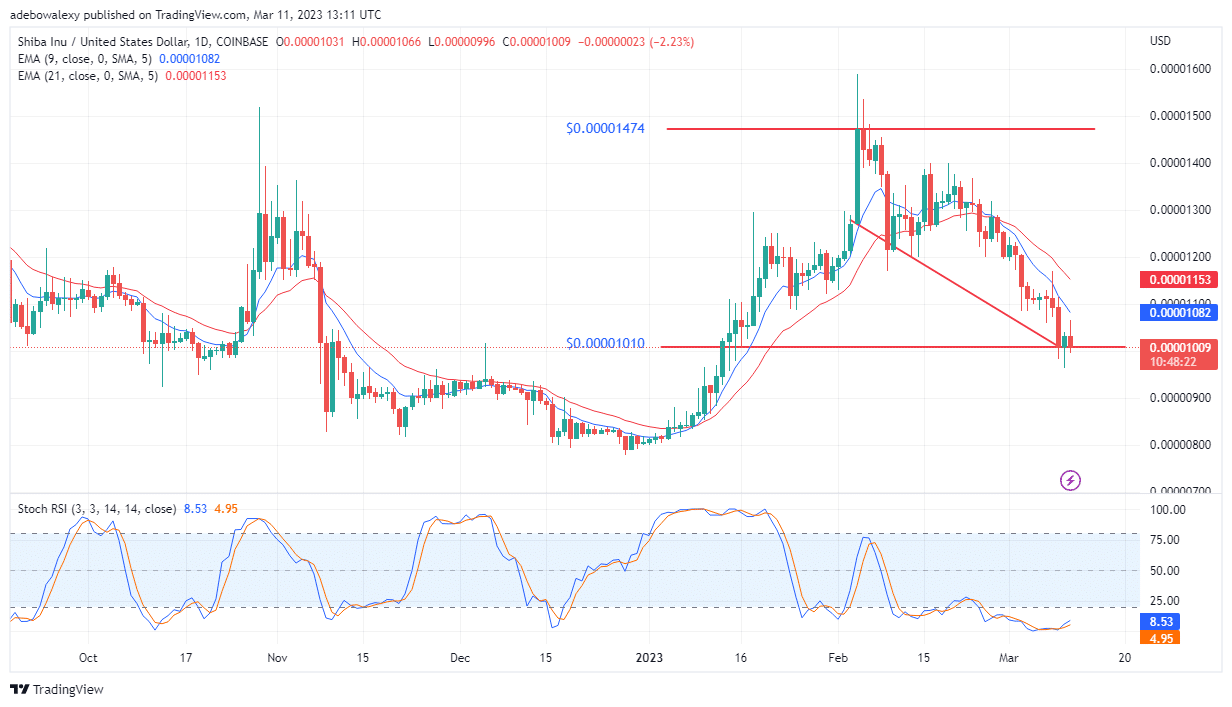 Shiba Inu (SHIB)
SHIB/USD price action has recorded a profit of 0.70% and a more pronounced loss of 10.71% in the last 7 days. Also, this crypto has a trading volume of $303,289,278. The price action in the daily SHIB/USD market looks like it has reached a strong support level at $0.00001008. This is because prices have previously tested this support but rebounded upwards in the following session. Although price action remains under the 9- and 21-day EMA lines, the RSI seems to be revealing that the support at $0.00001008 may not be broken. This is because the lines of this indicator are still moving upward despite the losses in the ongoing session. Therefore, Shiba Inu may rise toward the $0.00001082 price mark.
Current price: $0.00001008
Market capitalization: $5,534,349,920
Trading volume: $303,289,278
7-day gain/loss: 10.91%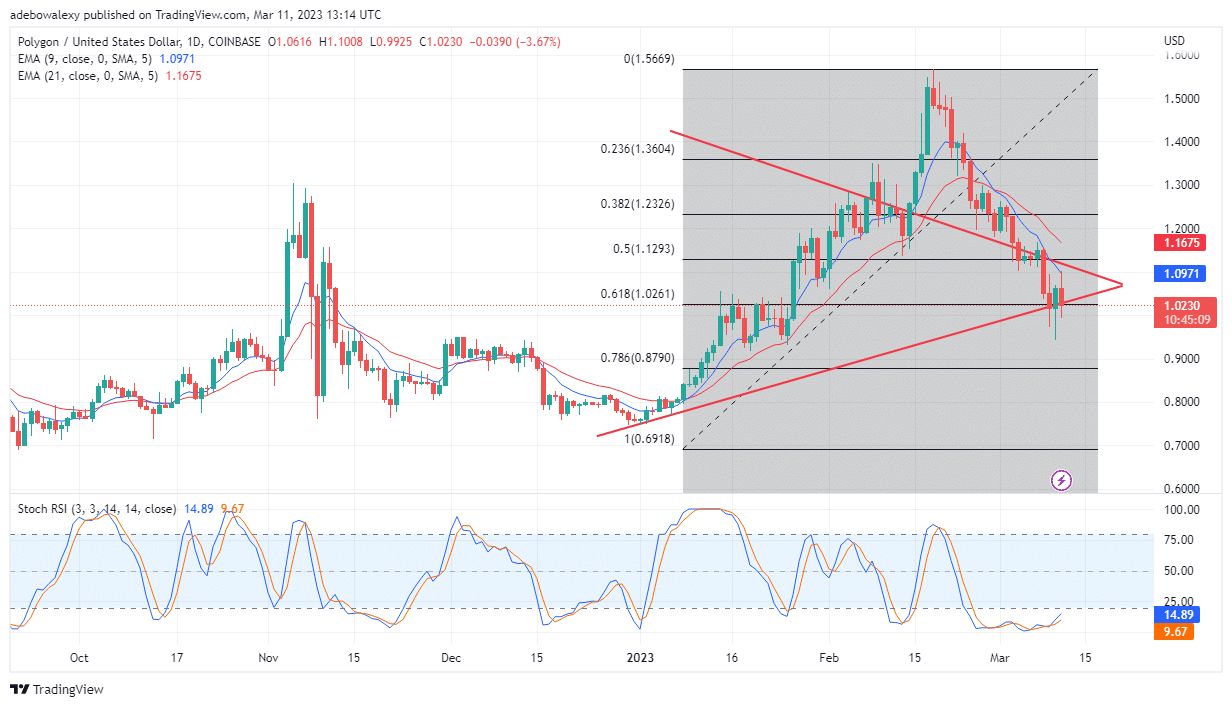 Polygon (MATIC)
Polygon has landed at the fourth position on the list of this week's most sought-after cryptocurrencies. MATIC has seen a price decline of 0.10% within the last 24 hours and a 10.77% decline in the past 7 days. After MATIC/USD poked through the $1.50 price mark, price action in this market has been trending downwards. However, recently, it appears as if price action has reached a strong support region around $1.02. Although price action remains under the EMA curves, RSI seems to bring some hope to price action in this market. Studying the lines of the RSI, one will see that despite the losses in this session, they maintain an upside bearing. Consequently, this shows that an upside momentum may be brewing in this market. Traders can place an entry of $1.055 to catch the possible price uptrend when it begins.
Current price: $1.02
Market capitalization: $8,943,122,884
Trading volume: $893,603,904
7-day gain/loss: 10.77%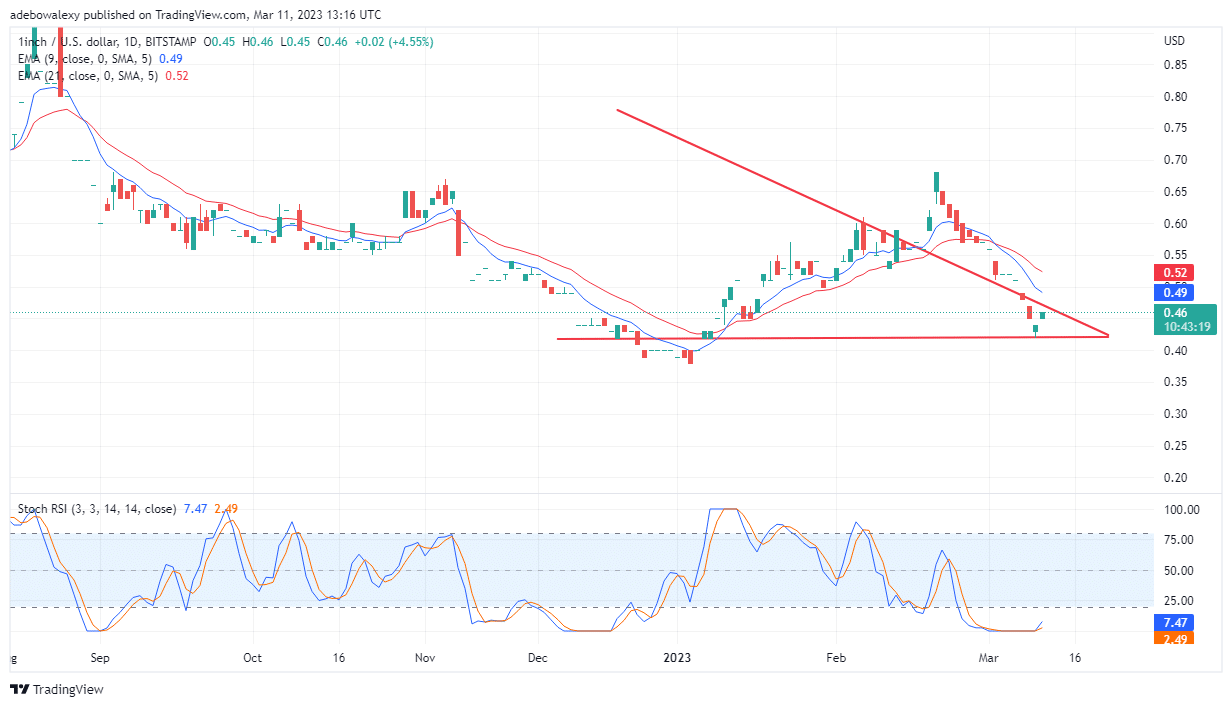 1inch (1INCH)
One of the latest additions to this list is the 1-inch Network. Although this crypto is just in the 5th spot on the list, it appears to be one of the best-performing cryptos in the past 24 hours. 1inch Network has recorded a price increase of 3.06% and a price decline of 16.20%. On the daily chart, 1INCH/USD another green price candle has appeared for the ongoing trading session. Also, studying the trading pattern of this crypto, it appears that trading activities are proceeding in a falling wedge pattern. Also, the lines of the Stochastic RSI keep rising upwards from the oversold region. Considering signs coming from trading indicators, it appears that price action may break out toward the $0.55 price level in this market.
Current price: $0.46
Market capitalization: $366,312,570
Trading volume: $26,590,180
7-day gain/loss: 15.85%
Do you want to take your trading to the next level? Join the best platform for that here.
Broker
Benefits
Min Deposit
Score
Visit Broker
Share with other traders!