The Revolution in Trading: the financial technology sector is large and yet still booming, predicted to reach $700 billion by 2030. It includes everything from payment apps to digital insurance, lending, trading, and so on. Trading is one of the most important segments of the sector, evidenced by its enormous market size. For reference, global equity trading volume in 2022 alone was $42 trillion. The global bond market is worth over $120 trillion. Add in other types of assets and we're talking about an unfathomable number.
Trading dates back to the 1500s and was performed manually up until the 1900s when computing advancements made it possible to handle a high volume of trades electronically. Further advancements in mobile phone technology have revolutionized trading in the 21st century. Many mobile brokerages have popped up that enable people to trade different types of assets, e.g., stocks, bonds, options, etc., from the convenience of their smartphones.
Table of Content
What are Mobile Brokerages?
They are brokers that provide mobile platforms for their clients to view their accounts and execute trades at the click of a button. The internet's launch in the 1980s made it such that traders no longer needed to call brokers to place trades on their behalf; they could do that themselves from their desktops. Circa 2010, mobile devices became much more advanced and enabled people to trade with them just as they did from their desktops.
Trading from a mobile device isn't much different than trading from a desktop. You can access the same features and perform the same activities. The slight difference is that you can open up a mobile phone anywhere, unlike a desktop or laptop that's inconvenient to use in most places outside the workplace. For instance, it's hard to trade from your desktop when commuting but very easy from a mobile phone.
Mobile Brokerage Example
The MetaTrader 5 Web Terminal is a brand-new example of a mobile brokerage. You can access the domain from your mobile browser, create an account, and start trading after account approval. This is one of the latest trading platforms with sophisticated features, released in October 2022. MetaQuotes, the company behind it, is one of the best-known and most reliable trading software vendors.
The good thing is that you don't need to download any app that'll eat up storage space on your smartphone. Just open the Web Terminal on your browser to trade, close it when you're done, and do that again when you want to monitor your portfolio or execute new trades.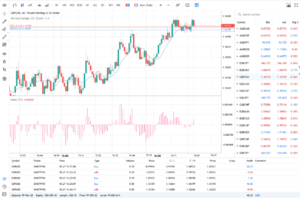 You can trade different types of assets from the Web Terminal, including stocks and bonds. The platform has an intuitive interface and offers instant trade execution, unlike many other platforms where trades take significant time to settle.
How is Software Development Transforming the Mobile Brokerage Landscape?
Market Data
Mobile trading apps can give users a stream of data concerning the assets they trade. For example, if you're trading equities, you can access live and historical quotes of a particular company and earnings results to measure the company's past performance. This is possible because software developers have built tools that automatically fetch data from different sources and show them to users. It's faster and easier to access financial data this way than searching them up by yourself on different websites and data providers.
Real-Time Updates
Gone are the days when you need to manually update your trading software. Now, you can just type in the domain on your browser and it'll automatically open the latest version of your trading software. This seems trivial but is important because many people forget to update their software, which can pose security risks and prevent them from accessing new features. With no need for constant manual updates, such people won't face the security risks that come with outdated software.
Safety and Security
One of the major concerns about electronic trading is keeping accounts secure and free from theft or other malicious activities. Software developers have this in mind and have built sophisticated security features to keep user accounts as safe as possible. It's common to see mobile trading apps that support biometric authentication using the device's sensors. Authentication apps on smartphones also help protect user accounts on other apps or websites.
Conclusion
Online mobile trading has removed geographical limitations and leveled the playing field in the capital markets. Ubiquitous mobile brokerages allow anyone that wants to trade to do so regardless of their occupation, location, or economic background. Software developers have built sophisticated features and are constantly adding more that enable people to trade seamlessly from their mobile devices.