US mailing and shipping solutions company Stamps.com (SMTP) reported stellar earnings in mid February but the shares nevertheless fell a whopping 19%.
Adjusted fourth-quarter earnings per share came in at $4.13, almost double analyst forecasts of $2.62.
Indeed, whichever valuation metric you choose to measure the firm on, it is among the best performers in its industry (software and IT services).
Price to book is 3.61, price to sales on 4.63 and enterprise value to EBITDA at 13.77, ranking it 40th in the industry out of 239.
The share price has dropped from $260 on the day of the earnings release to a low of $181 on 26 February. The bleeding hasn't stopped. At the time of writing the stock is 4.7% lower, again testing its near-term low.
Markets famously hate uncertainty, so when the company refused to provide forward guidance to accompany the earnings report, it was met with the same response seen by investors elsewhere – sell, sell, sell.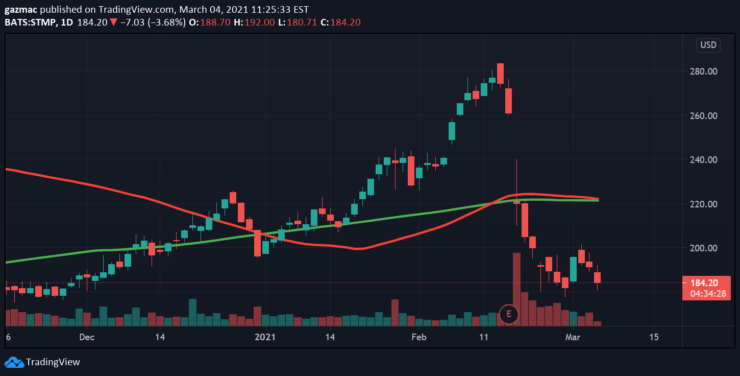 Although the company did not indicate that it thought revenue might not hold up as the company moves beyond the pandemic, it did say there was "substantial uncertainty in 2021".
The negative sentiment has for sure collided with wider selling off of tech stocks as investors to some extent rotate into consumer cyclicals.
However, on Tuesday the company announced that it has doubled its share buyback programme to $120 million, having executed the transaction on 26 February – but that hasn't helped to lift the mood either.
Stamp.com's exploding revenues
Let's dig a bit deeper into those earnings results.
Stamps.com revenue jumped $758 million on a year-end view, for a 33% improvement. Certainly, the growth comps were slightly down year on year for the third to the fourth quarter (42% versus 28%).
If we look at the 4Q GAAP eps figure it was even better than the adjusted figure, up 108% year on year ($2.36).
The customer count rose by 25% to 1.02 million on a year on year basis in Q4 too.
This is not a growth company with lots of customers but no profits – quite the reverse.
Now let's examine the business itself. The company has a clutch of brands that it operates through: Stamps.com, Endicia, ShipStation, ShipWorks and ShippingEasy.
Admittedly much of its operations are currently confined to the US but this should be seen as a positive given the opportunities for international expansion this opens up.
Clearly there are market participants who have determined that the e-commerce leap forward is well covered by the price, with little more to be had. Indeed, they would appear to be selling on the basis that the performance of 2020 will not be repeated in 2021, even if the company does hang on to all the new customers that it has captured.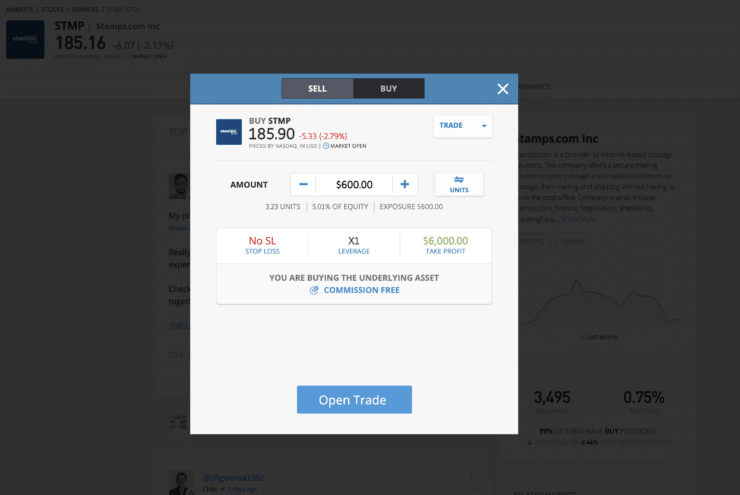 Low cost of expansion
Stamps.com caters mostly to small and medium-sized businesses and its offering is cheap, convenient and flexible. In the same way that a few years ago some sneered at Shopify's turnkey solutions, it would be a mistake to underestimate the stickiness of its products.
Take Shipstation for example. It comes as a WordPress plugin which makes it readily accessible to literally millions of small businesses. Around half of the sites on the internet are built on the WordPress platform.
The service makes it a breeze to organise and manage inventory and shipping, where businesses can hook up with a variety of shippers, from Hermes to Royal Mail or in the case of the US, the US Postal Service (USPS).
The Stamps.com and Endicia brands, is USPS-only solutions for the mailing and shipping of packages. As with Shipstation and users are able to print electronic postage directly onto envelopes, labels or plain paper with a standard PC and printer.
Therefore the marginal cost of acquiring new customers is therefore very low for Stamps.com.
Balance sheet strength
Stamps.com has a Piotroski F score of 7 out of 9, indicating that is has an extremely healthy balance sheet, with no debt and $433 million of cash on hand.
From a quality perspective return on equity is impressive at 21.8% and its P/E for 2020 was 20 and the estimate for this year is 24.2, making it reasonably priced.
On valuation and quality alone the multiples are all flashing buy stock signals.
This stock is a screaming turnaround stock that currently presents an excellent entry point. However, current volatility on the Nasdaq means investors interested in gaining exposure may want to pound cost average in.
Buy Stamps.com commission-free on eToro
eToro - Buy and Invest in Assets

Buy over 2,400 stocks at 0% commission
Trade thousands of CFDs
Deposit funds with a debit/credit card, Paypal, or bank transfer
Perfect for newbie traders and heavily regulated
Only real cryptos are available for US users

67% of retail investor accounts lose money when trading CFDs with this provider.
Broker
Benefits
Min Deposit
Score
Visit Broker
Share with other traders!